Choosing Your High School's Musical: Part 3
Choosing Your High School's Musical: Part 3
Welcome to the third blog post in our "
Choosing Your High School's Musical
" series. Our newest series of blog posts is designed to introduce you to some of our shows that we know work in a high school setting. Of course, it's up to you to determine if the shows are best-suited to your community, so we encourage you to order a perusal copy of the script to read before making your selection.
The following shows are some of the most popular shows in our collection, and are guaranteed to resonate with students and audiences alike! Read on for suggestions on which shows might be a smash hit for your school:
THOROUGHLY MODERN MILLIE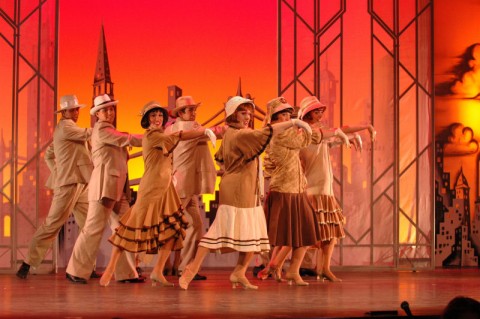 A high-spirited theatrical romp,
THOROUGHLY MODERN MILLIE
is the hilarious tale of Millie Dillmount and her new life in the big city. It's a New York full of intrigue and jazz - a time when women were entering the workforce and the rules of love and social behavior were changing forever. Based on the popular movie, the stage version of
THOROUGHLY MODERN MILLIE
includes a full score of new songs and bright dance numbers.
Winner of six Tony Awards,
THOROUGHLY MODERN MILLIE
is an excellent choice for high school groups as it offers many students the opportunity to shine. There are many featured roles, especially for your strong female performers. It also features heavy dancing, and a chance to showcase a large ensemble of talented singers and dancers. Costumes are primarily traditional flapper attire, including bobbed hair and period make-up, and the show offers a unique introduction to a time and place that will seem altogether foreign to your young students.
Related Posts


"High School Actors Play Broadway's Rising Stars" is a piece on the Paper Mill Playhouse Rising Star Awards, specifically a recent high school production of THOROUGHLY MODERN MILLIE.  Click here to read the article.


LITTLE SHOP OF HORRORS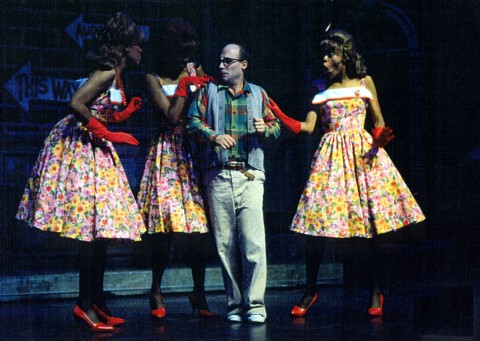 LITTLE SHOP OF HORRORS
is a charming musical that never fails to entertain. A down-and-out skid row floral assistant becomes an overnight sensation when he discovers an exotic plant with a mysterious craving for fresh blood. Soon "Audrey II" grows into an ill-tempered, foul-mouthed, R&B-singing carnivore who offers him fame and fortune in exchange for feeding its growing appetite, finally revealing itself to be an alien creature poised for global domination!
LITTLE SHOP OF HORRORS
is an awesome choice for school groups as it offers a flexible cast size and a range of roles for actors of differing shapes and sizes. In addition, the opportunities for fundraising and community involvement are endless! Intermission bake sales could feature "Audrey II" cupcakes and "Oreo dirt cake," and "flower grams" for the cast could easily be tied into Mushnik's Flower Shop. For related community service projects, students could plant "mini Audrey II" gardens and deliver flowers to local nursing homes or shut-ins.
Related Posts


"It's Suppertime with LITTLE SHOP OF HORRORS" gives a little more background into producing and performing the show.  Click here to read the article.


BEAUTY AND THE BEAST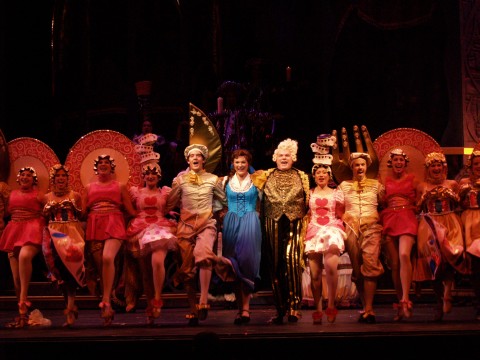 Step into the enchanted world of Broadway's modern classic! Based on the Academy-Award winning animated feature, the stage version of
Disney's BEAUTY AND THE BEAST
includes all of the wonderful songs written by Alan Menken and the late Howard Ashman along with new songs by Mr. Menken and Tim Rice. Your audiences will be transported to the heart of provincial life in a lovely French town. When Maurice becomes lost in the woods on the way to the fair, he seeks shelter in an old castle, but the master of the castle is a horrible beast that takes him captive. Maurice's daughter, Belle, must then give up her freedom to save his life. Belle's taming of the unfortunate Beast and his ultimate transformation back into a handsome prince enthralled Broadway audiences for over 13 years.
This "tale as old as time" is filled with spectacular costume and set opportunities, or even more simply staged,
Disney's BEAUTY AND THE BEAST
offers a great opportunity to bring your entire community together for family theatre at its best. This is yet another show that offers incredible opportunities for community engagement-- younger students at area elementary schools would love to witness their favorite story come to life before their very eyes, and literacy efforts would marry nicely to the leading lady who shows that women can embrace their intelligence. A sure bet in the box office, the show promises to be an experience both your cast and audience will not soon forget.
Related Posts


"Top Tips to Transform your High School Stage into a Magical Faraway Kingdom" is a piece focusing on bringing the magic and enchantment of the show to life for your audiences.  Click here to read the article.


URINETOWN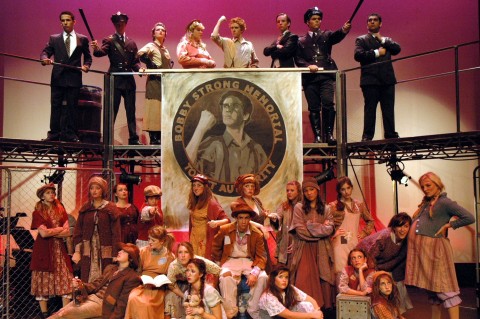 One of the most uproariously funny musicals in recent years,
URINETOWN
is a hilarious tale of greed, corruption, love, and revolution in a time when water is worth its weight in gold. In a Gotham-like city, a terrible water shortage, caused by a 20-year drought, has led to a government-enforced ban on private toilets. The citizens must use public amenities, regulated by a single malevolent company that profits by charging admission for one of humanity's most basic needs. Amid the people, a hero decides he's had enough, and plans a revolution to lead them all to freedom!
Inspired by the works of Bertolt Brecht and Kurt Weill,
URINETOWN
is an irreverently humorous satire in which no one is safe from scrutiny. Praised for reinvigorating the very notion of what a musical could be,
URINETOWN
catapults the "comedic romp" into the new millennium with its outrageous perspective, wickedly modern wit, and sustained ability to produce gales of unbridled laughter.
Related Posts


"URINETOWN: The Musical" features an in-depth look at producing and performing URINETOWN.  Click here to read the article.


INTO THE WOODS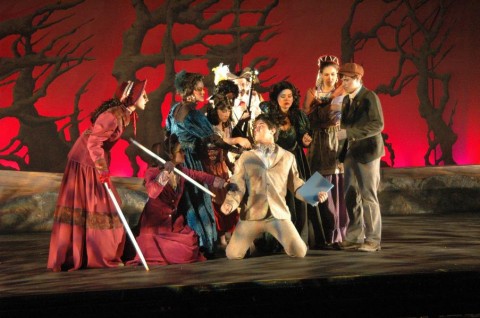 An ambivalent Cinderella? A blood-thirsty Little Red Ridinghood? A Prince Charming with a roving eye? A Witch...who raps? They're all among the cockeyed characters in James Lapine and Stephen Sondheim's fractured fairy tale,
INTO THE WOODS
. When a Baker and his Wife learn they've been cursed with childlessness by the Witch next door, they embark on a quest for the special objects required to break the spell, swindling, lying to and stealing from Cinderella, Little Red, Rapunzel and Jack (the one who climbed the beanstalk). Everyone's wish is granted at the end of Act One, but the consequences of their actions return to haunt them later, with disastrous results. What begins a lively irreverent fantasy in the style of "The Princess Bride" becomes a moving lesson about community responsibility and the stories we tell our children.
A true school classic,
INTO THE WOODS
provides a fascinating look at life beyond "happily ever after," and offers the opportunity to bring classic pieces of literature out of the classroom and onto the stage. The cast size is medium, with minimal dancing, and many featured roles allowing all of your students the chance to shine. Fundraisers can include storybook breakfasts and bake sales direct from the Baker's kitchen! With such central themes as integrity and accountability, community service ventures are easily adjusted to involve your students and audiences alike.
Related Posts


"Into the Woods Goes Into the Woods" is a piece focusing on a recent London production performed in an open-air theater.  Click here to read the article.