Choosing Your High School's Musical: Part 4
Choosing Your High School's Musical: Part 4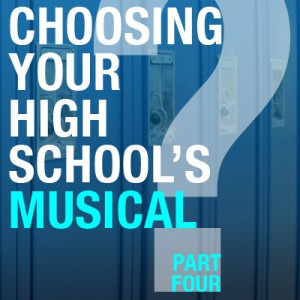 Welcome to the fourth blog post in our "
Choosing Your High School's Musical
" series. Our newest series of blog posts is designed to introduce you to some of our shows that we know work in a high school setting. Of course, it's up to you to determine if the shows are best-suited to your community, so we encourage you to order a perusal copy of the script to read before making your selection.
The following shows from our collection are considered contemporary hits and crowd pleasers that will guarantee fun for students and audiences alike! Read on for suggestions on which shows might be a smash hit for your school:
XANADU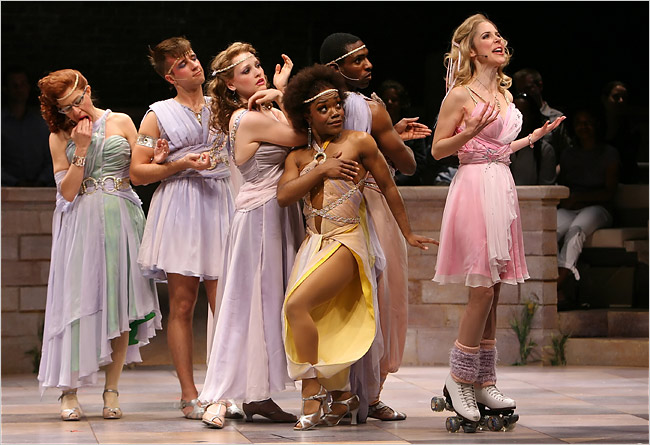 Based on Universal Pictures' cult classic movie
,
XANADU
follows the journey of a magical and beautiful Greek muse, Kira, who descends from the heavens of Mt. Olympus to Venice Beach, California in 1980 on a quest to inspire a struggling artist, Sonny, to achieve the greatest artistic creation of all time - the first ROLLER DISCO! (Hey, it's 1980!) But, when Kira falls into forbidden love with the mortal Sonny, her jealous sisters take advantage of the situation and chaos abounds. This hilarious, roller skating, musical adventure about following your dreams despite the limitations others set for you.
XANADU
is a great show for a small cast with comic instincts. With tons of featured roles and two principal characters (one male, one female), this musical will offer every member of the cast a moment in the spotlight. The classic disco music offers opportunities for fun dance routines and roller skate numbers, although the show can be as simple or dance-intensive as you like. With costumes that feature a bit of Greek influence, some 70's and early 80's disco outfits, and a flashback to the 40's, there are bountiful opportunities for students to be transported to foreign places and times, all the while having a groovy time!
Related Posts


"Xanadu the Musical - Sizzle!" is a video that shows some clips from the Broadway show and interviews with the performers. Click here to get a better sense of how this musical looks on stage!


DISNEY'S HIGH SCHOOL MUSICAL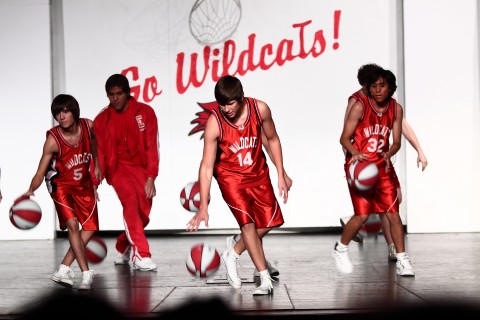 Disney Channel's smash hit
HIGH SCHOOL MUSICAL
comes to life on your stage! Follow Troy and Gabriella as they balance their athletic and braniac pursuits while working together for a shot to star in East High's Musical!  With the help of their friends, they try to outsmart Sharpay and Ryan, the resident theatre stars of the school.  And everyone sings and dances their way to a happy ending and a high school musical!
This musical could not be more perfect for a high school to perform -- after all, that is what it's all about! This show is fantastic for a large cast, and it offers opportunities for performers to show off their voices, dance moves, and whatever other talents they might have! The dance in this show is standard, mostly appearing in large group numbers -- it can be simplified to staging or made more complex with choreography depending on the dance levels of your cast members. As for costumes, many of the outfits can come straight out of students' closets!
DISNEY'S HIGH SCHOOL MUSICAL
is a great bet for any high school with a big cast with lots of energy and, of course, school spirit!
Related Posts


This video features a clip from "What I've Been Looking For" (the Troy and Gabriella version). Click here to get a sense of how this number looks on stage!


MOBY DICK! THE MUSICAL
MOBY DICK! THE MUSICAL
is a hilarious satire that is sure to entertain casts and audiences alike! The girls of St. Godley's School are in trouble! Money for the school has run out and the place will have to close. Leave it to these resourceful girls, and their unflappable headmistress (played by a man in drag), to come up with a plan to keep the school afloat. Using whatever they can find at hand, the girls mount an original production: a musical version of Moby Dick, featuring their headmistress in the coveted role of Captain Ahab.
Because this show takes place at a high school, it is only fitting that high school students should perform it! The cast size is medium, requiring around 11-20 performers, and it is truly an ensemble piece. A great show for a limited budget, costumes and sets are meant to be basic. Very little movement and dance are required. And this musical offers students an opportunity to tie in their Literature studies, learning about the classic Herman Melville novel and comparing it to the wild and comedic show!
Related Posts


MTI ShowSpace has several photo albums featuring pictures from past productions of MOBY DICK! THE MUSICAL. Click here to see some of these images.


BACK TO THE 80's
Remember when actors became American Presidents? When Bubble skirts and blue eye shadow were cool? When Atari was cutting edge technology ? From the era that brought the world The Rubik's Cube, Max Headroom and The Teenage Mutant Ninja Turtles comes this "totally awesome" musical in the style of movies such as Back To The Future, Ferris Bueller's Day Off, The Karate Kid and The Wedding Singer. Featuring songs like "Girls Just Wanna Have Fun", "Love Shack", and "Mickey",
BACK TO THE 80's
tells the story of the senior class of William Ocean High School that graduated in the 1980's, as remembered and seen through the eyes of Corey Palmer, who is now 30-something.
This show is the ultimate crowd-pleaser, offering classic after classic, which undoubtedly results in a fun and nostalgic evening of theatre. With a wide variety of costume and set options, all this show truly requires is a large cast of about 18 (or more!) that can dance and sing the night away. Parents and teachers are sure to get involved when they hear the next generation singing the songs that they grew up on. With fantastic songs and great opportunities to add in some fun choreography,
BACK TO THE 80's
is a sure bet for a high school production!
Related Links


To see how this musical looks on stage, check out these MTI ShowSpace production photos!


FAME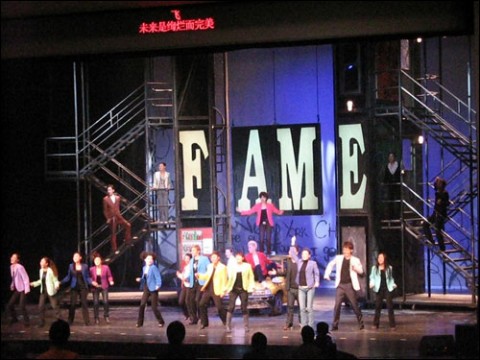 FAME
is nothing short of a global phenomenon. First came the hit motion picture, then the long-running television series. Now the screen sensation of the 1980's is the stage sensation of the 1990's and beyond!
Set during the last years of New York City's celebrated High School for the Performing Arts on 46th Street (1980-1984), "Fame-The Musical" is bittersweet but ultimately inspiring story of a diverse group of students as they commit to four years of grueling artistic and academic work. With candor, humor and insight, the show explores the issues that confront many young people today: issues of prejudice, identity, self-worth, literacy, sexuality, substance abuse and perseverance.
This show takes place in a high school, and so it is perfect for high school performers.
FAME
is a show that will certainly spark controversial discussions that unite communities. Great for a medium-sized cast (around 15 performers), this musical will showcase singers and trained dancers alike. Best for casts of strong dancers, this show is heavy in technical dance and larger choreographed numbers. It does not, however, require an extensive budget -- costumes and sets are minimal.
Related Links