Broadway Junior Student of the Month: August 2017
Broadway Junior Student of the Month: August 2017
Over the next several months we will be honoring MTI's Broadway Junior Student of the Month.
These students have been selected out of hundreds of outstanding applicants and display the exemplary qualities of dedication, passion, leadership and spirit. Their love of Broadway Junior and desire for learning and growing through musical theatre is palpable and we are proud to honor these Broadway Junior Stars.
Our Broadway Junior Student of the Month for August 2017 is Lauren Freed from Far Hills Country Day School in Far Hills, NJ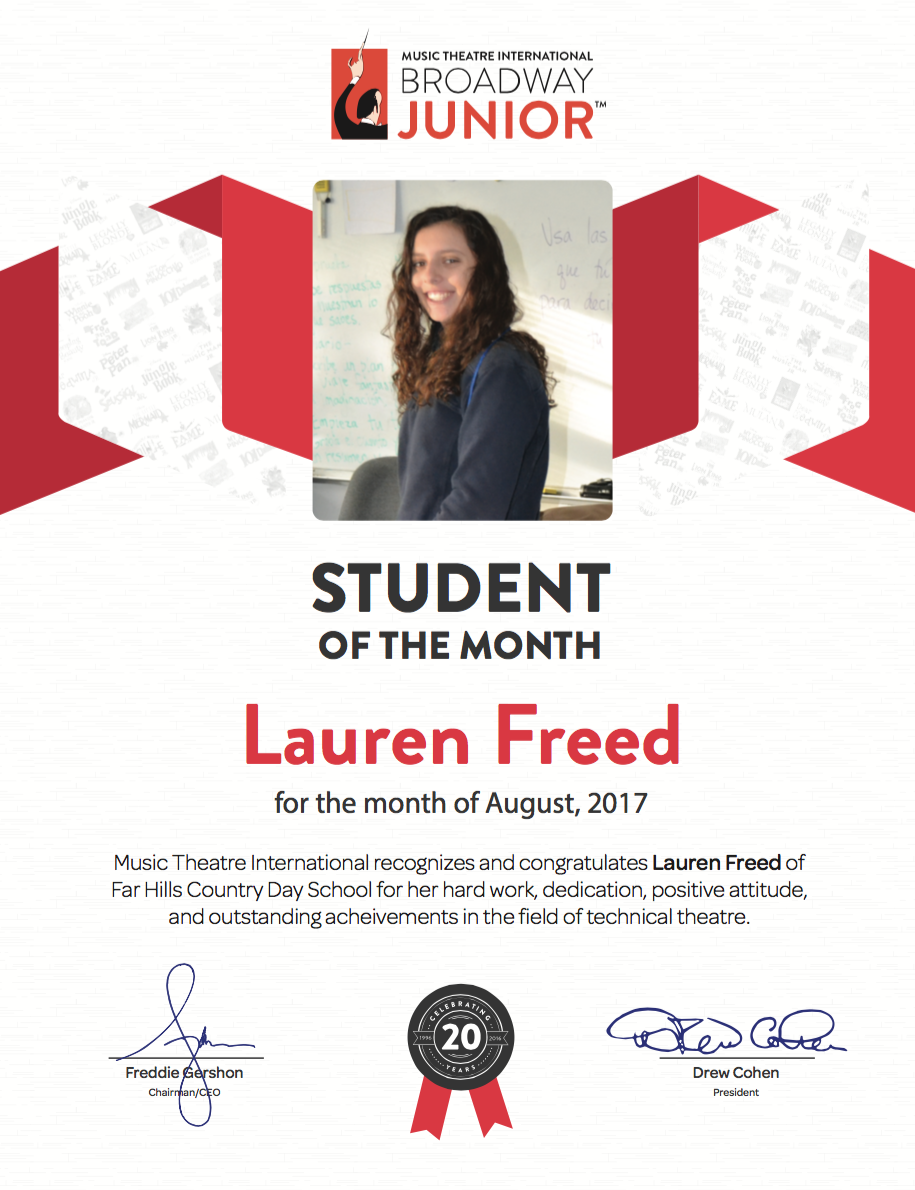 What Broadway Junior Means To Me - By Lauren Freed
Actors may put on the show, but people who work behind the scenes bring it to life. That's why I love Broadway Junior, because it allows me to lead, problem solve, and express my creativity by designing and creating costumes and sets. It is not only fun making costumes and sets, but I feel great accomplishment when I see them on stage, because it makes the show magical. Being involved in Broadway Junior taught me how to persevere and overcome some of the hardest challenges. It isn't easy to convert an idea to real life; it takes a great amount of designing, planning, and patience. I've also learned what it means to be part of a team from Broadway Junior. I've learned to listen to others, lead others, and work with others. Broadway Junior doesn't only teach important life skills such as creativity, teamwork, problem solving, and perseverance, it also brings a sense of accomplishment and magic to anyone who is involved. 
Nominating Essay - Callie Shafto
Lauren Freed is the Assistant Student Director in our school's production of Xanadu JR. She has been involved with the theater program at Far Hills Country Day School since she played the role of one of the GUARDS in Aladdin JR. three years ago. Since then, Lauren has been doing every job that needed to be done in every production she could join. Last year, Lauren stepped up when we had a need for Tech crew for the Lower School musical, Alice in Wonderland JR. For that show, she learned how to run our light board and monitor sound in our booth. For our Kestrel House (5th/6th graders) performance of Disney's The Little Mermaid, Lauren helped to design the whole set and, on her own, she designed and created the tentacled costume for our Ursula, the Sea Witch. She was also  instrumental in designing and creating the system that we used to drop a school of  dangling fish for the backdrop of  "Under the Sea." This system is still in place and will be used to hang clouds for the Mount Olympus scene in Xanadu JR. our current Peregrine House (7th and 8th graders) musical. Besides being an ensemble member, an understudy for URANIA, one of the MUSES, and the Assistant Student Director, Lauren has already created costume pieces for gods, symbols for each muse, and a complete costume and set plot. She helped to supervise and lead our set painting day, too. Finally, she has been busily prototyping and building the design for the back end of our centaur costume .  Lauren is one-in-a-million, and we are super lucky to have her on our team.