Cindy Says: The Rehearsal Schedule – A Game Plan You Can't Live Without!
Cindy Says: The Rehearsal Schedule – A Game Plan You Can't Live Without!
I just returned from assisting with an early makeup call for a HS production of the Addams Family. The 6 a.m. call rivaled those early flights for me, but I adore this teacher and having my hands back in the greasepaint was way more fun! 6 a.m. might not have been my choice to start my day, but I never have waivered following a rehearsal schedule.  Never. It is one of those keys to a successful production that I always talk about, at any age - elementary, middle, high school, adult!
Rehearsing a musical without a well-thought out schedule is like putting a toy together on Christmas Eve with no directions. You end up wasting time, repeating steps and the basic structure may collapse at any moment.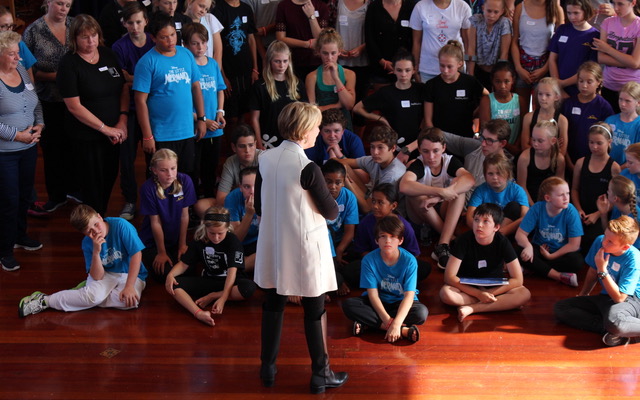 Here are a few strategies to create a rehearsal calendar that will work for you and your kids.
Set up a Rehearsal Schedule.  It's all about specific choices that involve you, your team and your school/facility.
List the factors that will affect when you can rehearse. Creative team conflicts, school calendar, athletics, holidays, community events and major life events all come into play here.
Select a performance date.  While many times this comes down to performance space availability, remember to check for conflicts ahead of time so the performance date works for everyone on your team.
Decide how much rehearsal you need. One of the questions we are often asked is "How many hours of rehearsal should I schedule?" There are a lot of factors that will determine this for you, but here is a standard formula for 60 and 30 minute shows.
JR/60- minute show, plan 75-100 hours of rehearsal
KIDS/30- minute show, plan 40-65 hours of rehearsal
Make the rehearsal schedule efficient for everyone.  Calling every student for every rehearsal wastes valuable time - think about scheduling a weekly ensemble rehearsal and moving forward with scene work. Save the full company calls for when you begin putting the pieces of your show together later in the rehearsal process.
Don't struggle with factors that are beyond your control, be creative and think out of the box.
Take the first rehearsal to welcome the cast, introduce the crew and creative team and play a theater game that lets everyone get to know each other, then discuss your general expectations.
Now the "anticipation magic" of a musical that you create with your kids can begin.
And we all know there is nothing that can equal that!  CR