Filichia Features: A Little on A Little Night Music
Filichia Features: A Little on A Little Night Music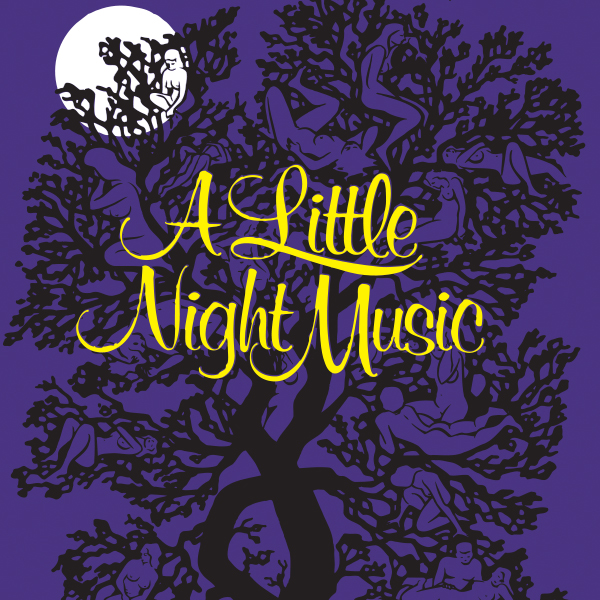 So was it true?

So many people who'd been in Boston to see the Huntington Theatre Company's production of A Little Night Music had warned me.

"You won't believe it!" they cried. "Madame Armfeldt actually comes on to Frid!"

Well, that would be on the scandalous side. Madame Armfeldt was originally played on Broadway by Hermoine Gingold when she was 75, while her butler Frid was portrayed by George Lee Andrews, who was then 30.

True, Madame Armfeldt did once consort as a courtesan – a fancy name for a prostitute who has fancy customers – but in Harold Prince's original 1973 Tony-winning production, there was nothin' dirty goin' on between the old woman and the young man.

Alarmists! That's what all these Little Night Music attendees turned out to be! Alarmists!

Director Peter DuBois and actress Bobbie Steinbach weren't nearly as blatant as I'd been led to believe. Instead, as the prologue came to a close, we could see that Madame Armfeldt did indeed have the thought of having sex with Frid cross her mind – but only for a sliver of a split-second before her tiny, wry and sad smile told us that she'd couldn't in good conscience bring it up. As much as Madame Armfeldt hated to admit it, she knew that such sexual possibilities were in her long-ago past. Even cougars get too old.

With all the complaints I'd heard, I'm surprised that no one mentioned DuBois' most audacious move that happened at the start of Scene Three. Perhaps the director was inspired from seeing Melchior's consorting with Wendla in Spring Awakening, for Henrik too was seen with his gluteus maximus totally exposed while he attempted to have intercourse with Petra the maid. How far he got (if at all) wasn't revealed, but we do know that Henrik had become more excited than he'd expected and that he did have to pull out a handkerchief. It's the frankest act I've seen in 13 productions of A Little Night Music dating back to its first-ever preview performance at the now-in-limbo Colonial Theatre in Boston.

Far less salacious was the move DuBois had Anne make a little earlier in the show. While the stage direction says that "Her ball of silk falls off her lap," DuBois had her purposely drop it onto the floor while Henrik wasn't looking – all so he could get close to her when he replaced it. That choice worked; there are plenty of moments in the show where Anne teases Henrik, so there's no reason why the taunting can't start here. (Kudos to Pablo Torres for his Henrik, who had a good solid amount of gravitas within him, and to Morgan Kirner, who reveled knowing how to wrap a man around her little fingernail.)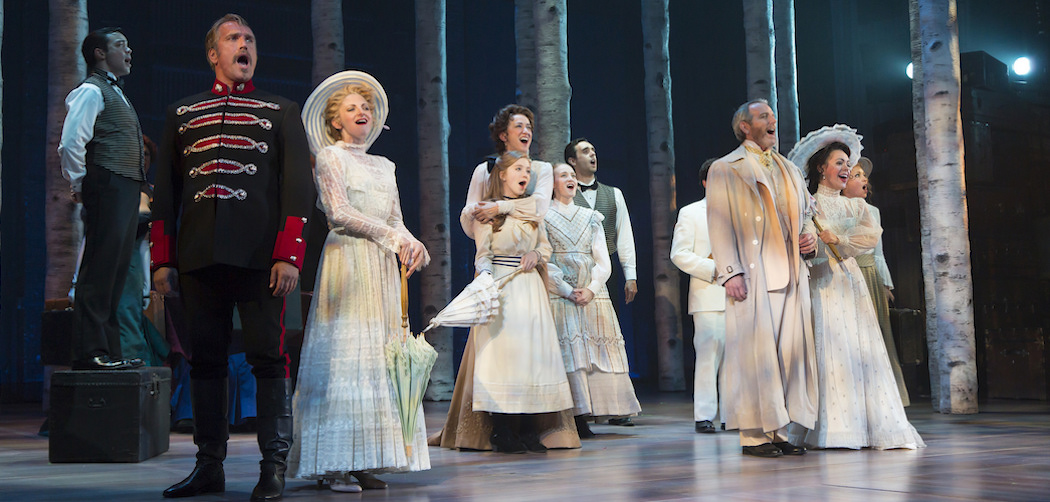 The Cast of A Little Night Music at the Huntington Theatre Company (Photo © T. Charles Erickson).

I've seen too many Night Musics where the director hasn't noticed (or hasn't deemed important) a marvelous joke that's right there in the stage directions. When Desiree sings of "cracks in the plaster" in "The Glamorous Life," she's not referring to hotel rooms where the walls are a-tumblin' down, but to her own face. Use it in your production, for Haydn Gwynne amused when she gave the mirror a defeated well-what-can-you-expect look.

Another stage direction states "dead pan" when Desiree asks the sex-deprived Fredrik "Why did you come to me?" Gwynne instead wanted to get down to business and zeroed in when she said the line. Who could blame her for being curt when an old lover who had broken with her 14 years ago suddenly reappeared and clearly wanted to take up where they'd left off?

But Fredrik, smartly played by Stephen Bogardus, pretended that desire for Desiree wasn't on his mind at all, which is why he sang "You Must Meet My Wife." After he finished the first A-section, Gwynne suddenly took a sip from her glass that showed she'd assumed that Fredrik had finished – unaware that he had measures to go before they'd sleep together.

Yes, it was a small thing, but it did get a laugh from a few of us and once again proved what Sondheim had written in Company-- "It's the little things" – and what architect Ludwig Mies van der Rohe was often known to say: "God is in the details." (At the risk of being sacrilegious, Sondheim did write a song, which you can hear in Sondheim On Sondheim, in which he jokingly referred to himself as God.)

Lauren Weintraub was the most worldly-wise Fredrika I've ever seen. DuBois may have taken his cue from the statement the lass makes to Fredrik: "I have toured with mother, you know." Such a characterization makes sense; anyone who has an actress for a mother and a retired courtesan for a grandmother is going to know what's what. No, Desiree doesn't spend much time at home, but when she does, she probably recounts a salty story or two while everyone's at the dinner table. And if we're a little surprised at how frank Madame Armfeldt is about her past to this girl of an impressionable age, we must remember that when people spend a l-o-t of time together, they eventually reveal quite a bit, no matter how ribald.

No one laughed when Fredrik sang his wish about Desiree: "If she'd only been fat." This may seem to be an odd observation, but believe me, when I attended a screening of the notorious film version in 1977, the crowd certainly roared when Len Cariou sang it -- for Desiree was now being played by a suddenly matronly Elizabeth Taylor.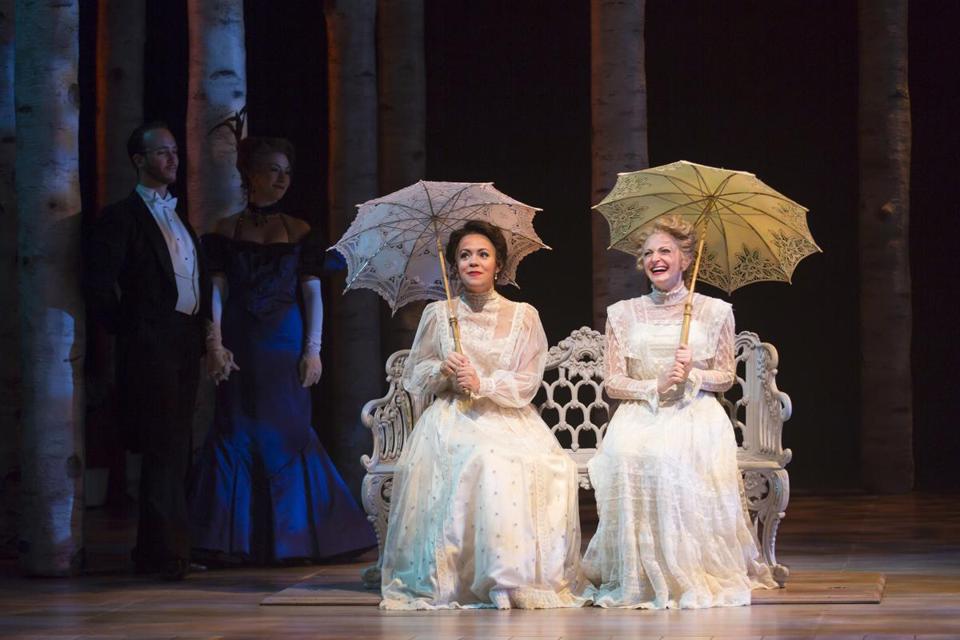 Morgan Kirner and Lauren Molina in A Little Night Music at the Huntington Theatre Company (Photo © T. Charles Erickson).

Hugh Wheeler's script has Henrik so upset by the ridiculous behavior from his so-called betters that at dinner he grabs a glass and in frustration smashes it onto the table. Set designer Derek McLane opted for no table, so DuBois had Henrik throw the glass into the wings. Well, that probably did save the production some money (not just on the broken glass, of course, but on the table, too).

All night long, DuBois and Donovan showed Petra to be wise beyond her years and station, which is imperative if the character is to be believable. "The Miller's Son," after all, has a very sophisticated lyric, and Petra must have convinced us by now that she's capable of such rarefied thoughts. As Petra reviewed her marital options in the song, McCaela Donovan touched the sleeping Frid as if to warn him that in the long run she might well choose the businessman or The Prince of Wales. Of course she did come to the conclusion that Frid would do, but her ambivalence made the scene more intriguing.

On the debit side, DuBois must have assumed that Night Music needed some broad comic relief, for he had Charlotte – Anne's old school chum -- provide it. He directed Lauren Molina to play her not unlike Lucy Ricardo and to contort her face to Carol Burnettian proportions. At one point, after her husband Carl-Magnus had made a suggestion, Molina responded by sticking out her tongue to show her displeasure. Some in the audience may have done the same. (Oh, well -- to quote one of Anne's lyrics, "What's one small shortcoming?")

A Little Night Music is often called "The 'Send in the Clowns' Musical" thanks to its now-classic song. Gwynne put her feelings on the line and made no-nonsense eye-contact with Fredrik when she sang "Finally knowing the one that I wanted was yours." She let him know in no uncertain terms that the time for pussyfooting was over.

What a shame that Judy Collins and Frank Sinatra vaulted the song to prominence only some months after the original Broadway production had closed. The sudden airplay might have helped A Little Night Music a little at the box office. In the end, it might have amassed more than the 601 performances it did achieve.

But because the song has literally had a thousand different artists record it, your production will get a nice lagniappe if you advertise it as "The 'Send in the Clowns' Musical." Do it, to quote Fredrik, "Now" and not "Soon" or "Later" as Anne and Henrik would have it.

You may e-mail Peter at pfilichia@aol.com. Check out his weekly column each Monday at www.broadwayselect.com, Tuesday at www.masterworksbroadway.com and Friday at www.kritzerland.com. His book The Great Parade: Broadway's Astonishing, Never-To-Be Forgotten 1963-1964 Season is now available at www.amazon.com.