Filichia Features: A Soulful Production of The Music Man
Filichia Features: A Soulful Production of The Music Man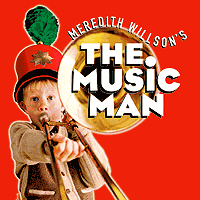 I didn't care that there were 47 fewer actors on stage than there had been in 1957 – or that the orchestra was 75 trombones shy.

Seeing The Music Man in a modest concert version in Newark, New Jersey (a c0-production between the New Jersey Performing Arts Center and the Two River Theater Company) last week proved that Meredith Willson's book, music and lyrics for his Tony-winning smash are so strong that they could stand tall all by themselves.

Some years ago, with special permission from MTI and the show's authors, Evans Haile did a fine job of adapting the quintessential American musical, judiciously cutting and only needing to eliminate only two characters: Zaneeta Shinn, the mayor's teenage daughter, and Tommy Djilas, her beau whom her father hates.

Other than these two, Haile kept everyone else in place: Harold Hill, the con-man who convinces the citizens of River City, Iowa that they need a boys' band; Marian Paroo, the piano teacher who sees through him as if he's a just-Windexed glass; Winthrop Paroo, her little brother whose stutter has made him painfully shy; Mrs. Paroo, their mother who thinks that Marian's not being married is a horrifying state of affairs; Marcellus Washburn, once Harold's partner-in-crime but a straight arrow who's in love with the ample Ethel Toffelmier; the not-too-bright Mayor Shinn and his wife Eulalie. Add to these a few traveling salesmen – and, in this 11-person reduction, traveling saleswomen.

Haile also economized on the four men whom Mayor Shinn enlists to secure Harold's musical credentials – until Harold bamboozles them into becoming a barbershop quartet. Actually, Haile may have made the show even better by dropping one of the four – not because he settled for a barbershop trio, but by having Mayor Shinn take his place. All four did wonderfully, both when singing a capella and when accompanied by the band of seven.

Of all the shows in the Broadway musical canon, The Music Man must be one of the most ideal for a concert presentation and Hailes' adaptation works perfectly. The opening sequence takes place on a train, so chairs must be in place for all the sales(wo)men to sit. After that opening, actors needed in each scene walked to the lip of the stage while those not needed already had those chairs ready to accommodate them.

Perhaps to compensate for the lack of Zaneeta and Tommy, director Robert O'Hara turned Winthrop and Amaryllis, Marian's piano student, into teenagers. This casting added a fascinating extra layer to the plot. Yes, little kids, whether or not they stutter, often suffer from shyness. But teenagers afflicted by these two conditions are even more likely to be withdrawn into a shell that's tougher than one found atop a thousand-year-old tortoise. Adolescent angst served Winthrop well throughout the first act, until the Wells Fargo Wagon arrived with his cornet. That's when he came alive, and when Marian officially fell in love with Harold, because no one else until now had been able to reach the kid and make him happy since their father's untimely death.

After Amaryllis insensitively referred to Marian as "an old maid," O'Hara didn't have his Marian become insulted or wounded; he ordered her to give a tiny eye-roll and convey an attitude of "Already this poor kid has that narrow-minded River City mentality." Then when she sang both "Goodnight, My Someone" and "My White Knight," she fully expressed a belief that the man of her dreams would indeed one day come along. This is a significant change from most Marians, for it kept the character from seeming dour and frumpish. Marian applied the old expression "Where there's life, there's hope" to romance, too.

Because this was a concert, there was virtually no dancing, although there was a tiny bit during "Marian the Librarian." O'Hara followed original choreographer Onna White's lead in creating a soft-shoe. Isn't that the perfect dance for a quiet library?

O'Hara apparently had decided that because his cast was small, he wanted everyone to sing in each choral number. That did pose a problem after "Rock Island," when Harold and the other salesmen stood and became townies. But Harold shouldn't be part of "Iowa Stubborn," in which the Hawkeye State natives tell us their philosophy and ground rules. One might try to defend O'Hara by saying that Harold ceased to be Harold during this song and was simply doubling as an Iowan. Not true, for he was still carrying his suitcase on which "Professor Harold Hill" was painted on its side.

Equally injurious was having Marian sing joyfully along in "76 Trombones." This gave the impression that she too had been suckered into believing Harold's claims as her gullible River City neighbors had. Marian would eventually be won over, yes, but not this quickly, and at this point we needed to see her stone-faced and even disgusted as her neighbors bought what Harold was selling hook, line and saxophone.

And, oh, did I mention that the cast was entirely African-American?

Indeed it was, although the first scene wasn't intended to be color-blind casting. Theatergoers knew that the cast was supposed to be black from the moment that they entered the theater; the curtain was already up and the modest train set had a sign atop it stating "For Colored Passengers." Thus everyone was reminded that The Music Man takes place when the hateful Jim Crow laws were still in effect (in 1912, to be specific), which forced train cars to be segregated.

That said, O'Hara should have removed the sign after Act One, Scene One (the only one set on the train). Perhaps he didn't want us to forget that these laws once existed. But The Music Man is ultimately a feel-good show, so after the point had been made in the opening scene, the sign should have left the stage.

But once theatergoers were taken to River City, the show DID employ color-blind casting. Mrs. Paroo is established as Irish in the script at least a half-dozen times, and Myra Lucretia Taylor played her with a stunningly accurate Irish brogue. No one laughed, partly because Taylor was so confident and matter-of-fact in her delivery that the audience gladly bought it and went along for the ride. The important point to be made here is that an audience takes its cue from the performers.

Take when Stephanie Umoh sang "My White Knight." True, the actual line that Willson gave Marian right before the song was "I'm not waiting for a man in shining white armor." So Marian wasn't referring to the knight's skin, but to what he was wearing.

Again: if Umoh had seemed at all tentative about singing "My White Knight," the audience would have smelled and felt her fear and wouldn't have gone along with her. Instead, her authority made theatergoers center on how wondrous she and the song were.

Most pleasing was learning that Willson's language could easily adapt to a black milieu. "Rock Island" ended with many a "Yes, sir!" which sounded right in the salesman's mouth. From Isaiah Johnson's riveting performance as Harold Hill, we were reminded that there isn't much difference between the speech patterns of a fast-talking salesman and a fervent preacher. While "Ya Got Trouble" isn't particularly religious in nature, the music has the feeling of a spiritual. So does "The Wells Fargo Wagon," which became a hand-clapping rouser. As for the townswomen who liked to "pick a little, talk a little," they seemed like Southern church ladies.

In fact, one of the show's running jokes was significantly enhanced by the African-American casting. Doesn't Mayor Shinn always start every speech with "Four score and seven years ago"? Well, who'd be more be interested in Abraham Lincoln's "Gettysburg Address" than a black man?

What the concert also proved was that The Music Man has so solid a book and score that it doesn't need much in the way of sets and costumes. Notice, however, that I'm not using an odious term that has cropped up over the years to describe scenery and clothes: "trappings." What a negative way of describing assets!

Repeat after me: "There is nothing wrong with sets and costumes and they should not be damned as 'trappings,' which suggest frivolities or even liabilities."

To be sure, if you can't afford sumptuous sets and costumes -- or if your designers have novel concepts that will set you back $1.50 -- fine. But don't denigrate time-honored elements that have frankly enhanced millions of productions.

On the other hand, don't be afraid to stage The Music Man in a bare-bones concert with mixed or matched races. A good cast will make the show shine as brightly as 76 trombones under a bright summer sun.
 
Check out Peter's weekly column each Tuesday at www.masterworksbroadway.com and each Friday at www.kritzerland.com.  Peter's newest book, Strippers, Showgirls, and Sharks: A Very Opinionated History of the Broadway Musicals That Did Not Win the Tony Award,is available for pre-order NOW!