Filichia Features: An Apology to Annie's director
Filichia Features: An Apology to Annie's director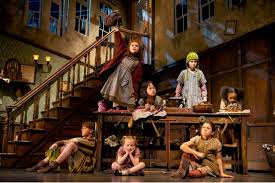 William Goldman said it best in his landmark 1969 book The Season.

"It's hard to be smart."

Yes, it certainly is. And while we have this message hammered home to us in some way or another most every day, I was reminded of it when I saw Annie a couple of weeks ago.

I had seen the new production at the Palace 13 months earlier just before it had officially opened. At the time, I was thrilled that new director James Lapine had tried to make sense of one aspect of the show that had always strained credulity from the time I saw the try- out at the Goodspeed Opera House in 1976.

We're at the very end of the show when everyone is having a wonderful time. Christmas Day has finally arrived. Miss Hannigan and her partners-in-crime have been thwarted and captured. Annie and her new Daddy are together at last, together forever. All of Annie's ol' friends are on hand as well as her new pal who's no less than President Franklin Delano Roosevelt.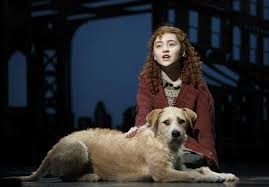 All well and good. And then, in the midst of this, the servants arrive with a big wrapped box with a marvelous bow atop it. What's in it? Why, no less than Sandy, the pooch with whom Annie bonded on her first night out of the orphanage, but from whom she was soon separated during the police raid on Hooverville.

How did Sandy get there? Neither director-lyricist Martin Charnin nor bookwriter Thomas Meehan ever had Annie tell Daddy Warbucks about the dog. And even if Annie had mentioned him, how could he have ever been able to track down a certain stray? This was a substantially harder task than finding Annie's parents -- genuine human beings who must have left some sort of paper trail, which a dog cannot.

These questions also apparently nagged director James Lapine, who staged the current production at the Palace. When I saw his production last year, I did applaud him for shedding a bit more light on how Sandy wound up at Warbucks' mansion on Christmas morning.

Midway through the first act, Lapine added a moment where Grace Farrell, Warbucks' secretary, happens to spy Sandy on the street while he's being pursued by a dogcatcher. She immediately goes over to the man, slips him a little money and points to the now-offstage dog. While we don't hear what she says to him, we infer that she's telling the dogcatcher to snag him for Annie.

Fine – but in my column of last year, I wrote "All right, we didn't hear Annie say anything to Grace about the dog, either. But still, this scenario is a little better, for it at least gives us some indication of how Sandy winds up with a ribbon around his neck on Christmas Day."

But now upon my return visit, I find that I erred. There IS a moment where Annie, out with Grace, spots Sandy, who's racing by. She points out the dog to Grace, and in more "dialogue" that we don't hear, we can guess that she's saying something like "Gee, Grace, that's the dog I really liked and lost." Because Sandy already has a strong head start and is too swift for them to run and catch him, all they can do is look and pine – until Grace spots him a few scenes later.

How did I miss this moment? My guess is that a few seconds before I'd just seen something on stage that I liked or disliked (the former is more likely) and was commenting on it in my notepad.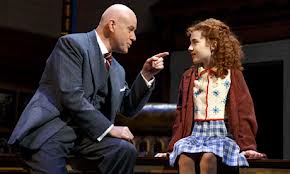 That's one of the problems of being a theater critic, one that can lead to a mistake such as this. Many, many times I have been looking down, busily taking a note – only to hear the audience burst into laughter or moan in pain. I look up, and find that whatever caused the reaction was no longer relevant. How I envy film and TV critics who are now sent screeners and can rewind and see any ol' scene any ol' time they want. In the theater, if you miss it, it's gone.

Of course, there IS a possibility, however slight, that Lapine DIDN'T have that scene in last year when I saw Annie, and later realized he needed it. If so, he needn't apologize to me. He's delivered a fine production of the show that still moves so slickly that I felt each act was ten minutes long.

If I were staging Annie at my theater, I'd "borrow" Lapine's two extra scenes and put Sandy to work twice more. And in case you can't get to the Palace in the next week to see the production (alas, Jan. 5 is its final performance), here are some other tidbits worth noting.

Molly, the littlest orphan, is so small that she sleeps in a bureau drawer. The audience loved seeing Annie open it and take out the unexpected child.

"It's the Hard-Knock Life" originally had the orphans scrubbing the floor with brushes and clunking them into their buckets. Here, the bigger orphans put mop-heads on the littlest orphans and make them into mops. It's a literal representation of Miss Hannigan's metaphorically wiping the floor with them.

From her first meeting with Miss Hannigan, Grace is more business-like and a lot colder than Sandy Faison was in the original production. This is a valid choice, because she's working for a man who's certainly all business and has been cold; employees often mirror their employee's moods. So just as Daddy Warbucks melts for Annie, so does Grace as the show continues.

Annie takes place in 1933 – which means that when it originally opened on April 21, 1977, fewer years had passed (34) from its time setting than have now passed: 37. As a result, some names that once held resonance for some old-timers don't mean as much or even anything to today's old-timers and youngsters. Consider making a glossary and identify people that the script mentions, be they real (Bernard Baruch, George Gershwin, Moss Hart, George S. Kaufman, Harpo Marx, Eliot Ness and Walter Winchell) or fictional (Helen Trent and Ma Perkins).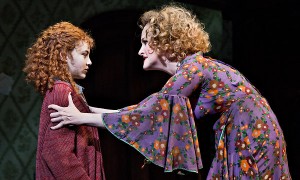 While you're at it, identify Bing Crosby as a singer who liked to croon "ba-ba-boo" in some of his songs – which is why those syllables are included in "I Don't Need Anything but You." In fact, in the original production, Annie went behind Daddy Warbucks, put each of her hands on one of his ears and thrust them forward – all to indicate that in real life, Crosby's ears did stick out a bit.

This was my 15th visit to a production of Annie, and I must say that only Reid Shelton got a good laugh out of a line that has evaded every Daddy Warbucks I've seen since. Once he arrives home after a trip and his employees ask him how his journey was, he says "Not bad. Seven hours and we only had to stop twice." Everyone since Shelton – including Ron Raines who just took over from Anthony Warlow – has said the line with irritation, the way any 21st century traveler would. Ah, but once again Annie, takes place in 1933, which is why Sheldon said the line with appreciation and awe, for air travel was still in its comparative infancy, and seven hours and two stops was then state-of-the-art smooth sailing.

The plot turns on a chance remark made by the evil Rooster when he first comes to visit his sister Aggie Hannigan. He bumps into the exiting Grace Farrell and says, "Pardon me, blondie." Later, when he's pretending to be Annie's father, he bumps into her again and repeats the phrase. That signals to Grace that Rooster is someone that she'd encountered before.

How well I remember that in 1977, the audience gasped, for they remembered the first exchange and knew that that it would now unravel the dastardly plot. Both times I've been in the Palace, however, I haven't heard that gasp from the audience. I daresay the reason is that Lapine has blocked the first encounter far too far upstage. Consider positioning your Rooster and Grace downstage, and you'll probably get the gasp, too.

Funny; when Martin Charnin first had the idea to musicalize Little Orphan Annie from the comic strip, he was repeatedly told by friends, "But she has no eyes!" Indeed, cartoonist Harold Gray did merely draw little circles to serve as her eyes. But while the newspaper Annie didn't have eyes, the stage Annie has certainly had legs.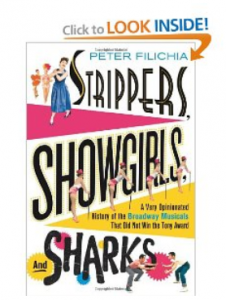 You may e-mail Peter at pfilichia@aol.com. Check out his weekly column each Tuesday at www.masterworksbroadway.com and each Friday at www.kritzerland.com. His new book, Strippers, Showgirls, and Sharks – a Very Opinionated History of the Broadway Musicals That Did Not Win the Tony Award is now available at www.amazon.com.