Filichia Features: Berlin (to Paris) to Broadway with Kurt Weill
Filichia Features: Berlin (to Paris) to Broadway with Kurt Weill
Next year marks the 90th anniversary of one of musical theater's most significant achievements: Kurt Weill and Bertolt Brecht's The Threepenny Opera.
However, it's an expensive show to produce. There are multiple sets, dozens of costumes and a horse for the deus ex machina ending that has a messenger arrive to say that the Queen has pardoned Mack the Knife.
Still, if you'd like to celebrate Weill, Brecht, and 11 other Weill collaborators in 2018, you have a far less expensive option. The York Theatre Company and director Pamela Hunt proved that a few weeks ago.
All you'll need is five actors, five music stands, and no costumes to speak of -- just what your actors bring from home -- and the sheet music and script to Berlin to Broadway with Kurt Weill: A Musical Voyage. What an an ideal one-night benefit concert it would make.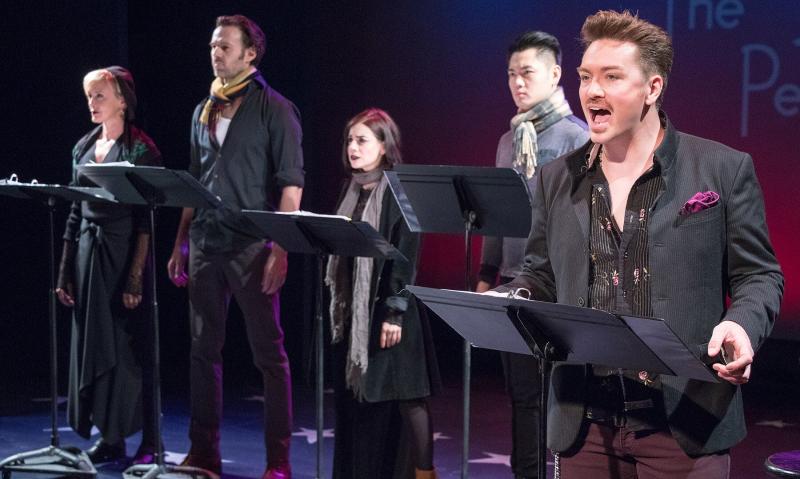 The cast of Berlin To Broadway with Kurt Weill at the York Theatre Company (Photo © Ben Strothmann)
Gene Lerner, who's credited for "text and format" for the 1972 off-Broadway revue, neatly divided the show into two parts. The first act examines the team's theatrical career in Berlin: The Threepenny Opera and Happy End (1929) are each showcased through six songs; The Rise and Fall of the City of Mahagonny (1930) gets four.
By 1933, however, both Weill and Brecht realized quicker than many others what Hitler's rise to power would mean. Each left the country, with Brecht going to Prague.
And Weill? Let's put it this way: Berlin to Paris to Broadway with Kurt Weill should really be the name of this revue, for that was the true trajectory of the composer's travels. Once in France, he teamed up with Jacques Deval, who'd just written Tovarich (which would be musicalized on Broadway in 1963). Together they created Marie Galante (1936), whose big song "I Wait for a Ship," is the penultimate number in Act One.
Then Weill emigrated to the United States. Considering that The Threepenny Opera had closed on Broadway in 1933 after all of 12 performances, we must applaud those four Pulitzer Prize-winners who were savvy enough to appreciate Weill's distinctive if dissonant sound: Paul Green (Johnny Johnson; 1936), Maxwell Anderson (Knickerbocker Holiday; 1938) and the team of Moss Hart and Ira Gershwin (Lady in the Dark, 1941). They wouldn't let a two-week flop keep them from working with Weill, which was also true of Ogden Nash, one of America's best purveyors of light verse; he gave Weill his biggest Broadway hit: One Touch of Venus in 1943.
Weill wrote a genuine opera (Street Scene; 1947) with Langston Hughes, the poet who'd created the phrase "a raisin in the sun." Then Weill and a just-off-Brigadoon Alan Jay Lerner created one of the first concept musicals (Love Life; 1948). Finally, Weill returned to Anderson for the anti-apartheid musical Lost in the Stars (1949). Lord knows what else Weill would have done had he not succumbed to a heart attack in 1950 at the mere age of 50.
Songs from each of those musicals are featured in Berlin to Broadway's Act Two. True, there's nothing from the 1945 flop The Firebrand of Florence, but there's still plenty to enjoy here.
Your customers will recognize at least one tune: "Mack the Knife." Bobby Darin's rendition became a Number One 1959 hit and the 1960 Grammy-winner as Record of the Year. It's also been recorded by such easy-listeners as Frank Sinatra, Tony Bennett, Ella Fitzgerald and Louis Armstrong, whose 1956 rendition reached the Top 20.
And while rock musicians love to mock and sneer at "show tunes," "Mack the Knife" has been recorded by the likes of Sting, The Psychedelic Furs, Roger Daltrey, Lyle Lovett and even Bill Haley and His Comets.
Has another German-born composer had such pre-rock and post-rock success? Disparate artists -- crooner Andy Williams and The Doors – respectively did "Bilbao Song" (from Happy End) and "Alabama Song" (from Mahagonny). So attendees from many different generations may well smile in delight and say "I know that song!" when enjoying Berlin to Broadway.
Director Hunt added some nice touches. When Rachel de Benedet came to the "Barbara Song" lyric "And I was pure like you," she pointed to an audience member and gave what seemed to be a compliment -- until she added "used to be." Similarly speaking, Hunt had a quartet sing "Oh, we never smoke cigars," suggesting their prudence, before pausing and then adding "that cost less than five cents." And despite Mary Martin's famously staying seated during One Touch of Venus' "That's Him," Meghan Picerno stood – and stood tall in the categories of height and worth.
The evening ended, of course, with "Mack the Knife." We were all invited to sing along, and a quick scan of the house showed theatergoers coming out with every lyric and clapping in unison. Aren't we glad that America took in this refugee?
You may e-mail Peter at pfilichia@aol.com. Check out his weekly column each Monday at www.broadwayselect.com and Tuesday at www.masterworksbroadway.com. His book, The Great Parade: Broadway's Astonishing, Never-To-Be Forgotten 1963-1964 Season is now available at www.amazon.com.