Filichia Features: The Return of Miss Saigon
Filichia Features: The Return of Miss Saigon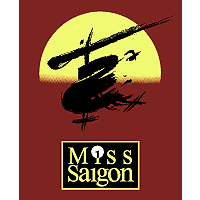 Right now, Sir Cameron Mackintosh is readying a revival of one of his biggest hits: Miss Saigon, which originally ran 10 years in London and just as long in New York.

With all the renewed interest in the show, perhaps the time has come for you to stage Miss Saigon at your theater, either in a new production or as one of your revivals.

Of course, you have to have enough actors of Asian descent. But even directors I've spoken to in Richmond, British Vancouver; Alameda, California and at the Massachusetts Institute of Technology – all of which have sizeable Asian-American populations – tell me that they think the show would be too hard to do.

They tell me they're most worried about the helicopter effect. They feel that they can't create a chopper that would swoop in stage right, travel to the middle of the stage, land, pick up its passengers, rise again and continue into the stage left wings.

That's when I know they never saw the original productions either in the West End or on Broadway. There the helicopter was seen only from the front and simply raised itself from the stage floor all the way up to the rafters.

"Yeah," they say, "but even creating a vertical helicopter would still be an impossibility for us. So we have to forget about this show."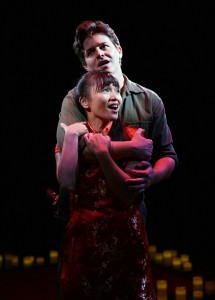 Then I tell them about the Miss Saigon I saw at The Marriott Lincolnshire (near Chicago) in August, 2001. It simply used the sound of a helicopter's approaching and leaving. Because The Marriott Lincolnshire is a theater-in-the-round, all those characters who desperately wanted to escape the impending Communist takeover ran wildly down the "spoke-ramps" that reached out from the stage.

It worked fine. Actually, a case can be made that having just the sound of a helicopter works better – because it allows an audience to better concentrate on the story. Miss Saigon has a mighty powerful one, partly in thanks to Illica, Giacosa and Puccini's Madama Butterfly which served as a template.

Chris, a young American soldier in the Vietnam War, goes with his enlisted buddies to a seedy establishment owned by a Eurasian who's only known as The Engineer. It's a place where men routinely purchase girls for the night.

We meet Kim, the 17-year old virgin whom John buys Chris for a night. The two are attracted to each other in musical theater's time-honored convention of love at first sight. Chris and Kim are "married" in a ceremony not unlike the one that West Side Story's Tony and Maria experience in the bridal shop.

But soon Thuy, an enemy soldier, shows up to claim Kim. Their parents had promised the two to each other at birth. Kim, however, feels that with her parents dead, the contract needn't be honored.

All this happens in April, 1975 – days before the United States endured the fall of Saigon to The People's Army of Vietnam. Here I do tell directors that they should do what Richard Stafford did last fall when he directed and choreographed a fine Miss Saigon at North Shore Music Theatre in Beverly, Massachusetts: project onto screens "April, 1975: Saigon" – and, far more importantly, provide another projection for the scene that follows, one that says "April, 1978: Ho Chi Minh City."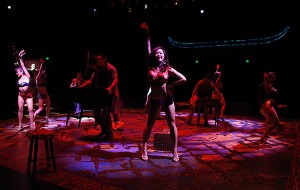 Neither the original London and Broadway productions offered these signposts, and while one can't argue with a pair of decade-long successes, one wonders how much more popular Miss Saigon might have been if the audience had understood better the switch in time (but not place: after Saigon fell, it was renamed Ho Chi Minh City.)

Three years have not dampened Thuy's feelings for Kim. He demands that The Engineer find her. Here directors should use another projection to let the audience know that it's being taken to "America: 1978" where they'll meet Ellen, Chris' wife.

That slide won't be up there long. "April, 1978: Ho Chi Minh City" returns for the scene in which The Engineer brings Thuy to Kim. Now she is far more adamant about spurning her promised groom for she believes that Chris will return to officially make her his wife and to become a father to their two-year-old son Tam.

Seeing Tam is enough to make Thuy take out a knife to kill the lad --and that is more than enough to have Kim take out the gun that Chris left behind and kill Thuy right then and there. The Engineer isn't the least bit ruffled, but thrilled that this half-American toddler can now be used as his passport to America. (At North Shore, after actor Francis Jue kissed the lad in joy, the cross-gender-cast Isabella Shee got a laugh by wiping off the kiss. Out of the hands of babes!)

The next necessary projection says "Atlanta: 1978." John is now working to reunite American fathers with their "boi-doi" – a term that this musical helped popularize, one that means Amerasian children whom their American fathers abandoned once they went home. During this stirring second-act opener, slides of these young inoocents are shown.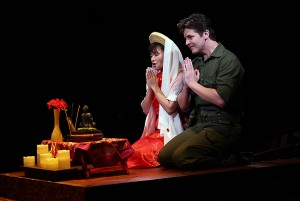 Since Miss Saigon debuted in London – and can that already be a quarter century ago? – there have of course been many technological innovations available to us through our home computers. How much easier it is now to create slides of "boi-dois." So directors needn't let that requirement deter them.

Once John informs Chris that he has a son who's now in Bangkok with Kim (and The Engineer), Chris must tell Ellen his backstory. After they and John fly over to find the two, the time arrives for a "Bangkok: October, 1978" projection.

It won't stay up long. Once John finds Kim and tells her at what hotel Chris is staying, she flashes back to their separation, as the previous projection of "April, 1975: Saigon" returns. The last day of the month was the last day of Saigon. Many desperately tried to leave the city, which is where the helicopter came in.

At North Shore, the vertical helicopter effect was indeed used, although it was stuck against the far wall of the building as far away in both distance and height from the stage as it could possibly be. As a result, some could see it better than others.

No one applauded it.

Did that mean that the audience didn't find it a dramatic enough effect? Was it simply too far away for some to see?

My guess is no to both questions. Credit where it's due, the effect was far more spectacular than I'd expected; I assumed that North Shore, a circular structure much like Marriott Lincolnshire, would rely on sound and lighting effects and call it a helicopter. The theater's trouble and expense should have been appreciated – but not necessarily applauded.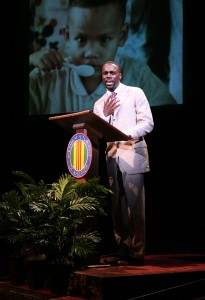 Silence instead of a burst of hand-clapping struck me as appropriate. The fall of Saigon, needless to say, is a very serious scene. Escape could literally mean the difference between life and death. The authors also personalized it by separating two devoted lovers for whom we'd come to care. For an audience to applaud a mere machine would mean that it had been distracted from the tragic human story here. Better that their hearts were more stimulated than their eyes.

More tears were to come. Musical theatre thrives on having a joyous scene or song before agony strikes. Miss Saigon has that, too, when Kim assumes that she and Chris will finally marry. She dons her wedding dress and heads to the hotel. What misery she'll soon endure – and not simply when she walks into their hotel room and Ellen assumes that she's the maid. After Kim realizes she and Chris can never be, she hands Tam over to them and then uses Chris' gun to kill herself.

In essence, Miss Saigon is a small show, so those with intimate stages will find a musical that reduces well. A small nightclub can suggests the teeming humanity and oppressive heat of Vietnam. So many scenes take place in bedrooms. And don't underestimate that the chaos in getting everyone out of Saigon will be more effective if everyone is cheek-by-jowl fenced in together. (Even a single chain link fence topped with razor wire will suffice.)

You don't even need that large a cast. At North Shore, the girls from The Engineer's club doubled as soldiers. It didn't look odd, for we can easily believe that the North Vietnamese pressed members of each sex into service.

It's often said that people age into theatergoers, so many who'll attend Miss Saigon will well remember the Vietnam War. Both at the Marriott Lincolnshire and at North Shore, the round configuration of each space allowed me to see the faces of those sitting across from me. Many were men who were crying substantial tears. Whether they knew someone like Chris, were someone like Chris or merely had memories of terrible times from the war, I cannot say. But Miss Saigon serves in a way that its authors may not have intended.

It's musical theater's Vietnam Memorial. For that reason alone, it needs to be produced more.

Note: This article has recently been edited.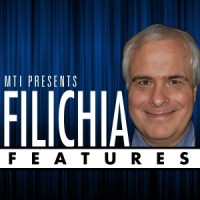 You may e-mail Peter at pfilichia@aol.com. Check out his weekly column each Tuesday at www.masterworksbroadway.com and each Friday at www.kritzerland.com. His new book, Strippers, Showgirls, and Sharks – a Very Opinionated History of the Broadway Musicals That Did Not Win the Tony Award is now available at www.amazon.com.