Filichia Features: This Kim Doesn't Miss in Miss Saigon
Filichia Features: This Kim Doesn't Miss in Miss Saigon
As much as I consider Miss Saigon a near-masterpiece, I've always felt it has one problem that the authors should rethink.

Needless to say, Miss Saigon has done extraordinary well without my butting in. After opening to much acclaim in the West End in 1989, it ran a bit over 10 years at Drury Lane. In 1991, it came to Broadway (literally: at the Broadway Theatre) and ran a little less than 10 years. In both London and New York, it wound up as the sixth-longest-running musical of all time.

Last month on a quick trip to London, I went to see the first West End revival of Miss Saigon at The Prince Edward Theatre. Some may wonder why, after seeing the show eight times in five different productions – and having a problem with it -- I'd want to return.

Two reasons: 1) it IS a near-masterpiece; 2) Eva Noblezada, who plays Kim.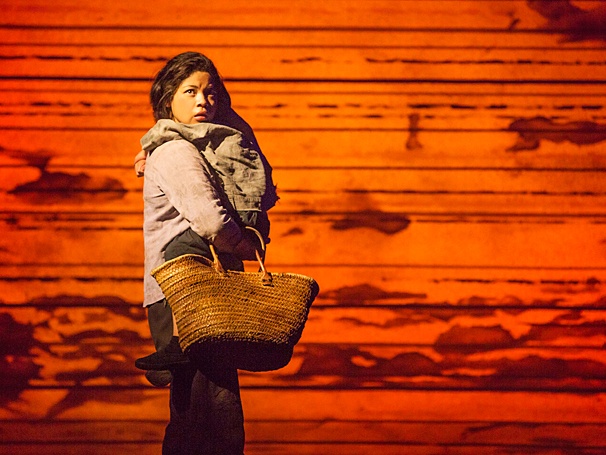 Eva Noblezada as Kim in Miss Saigon at The Prince Edward Theatre (©Matthew Murphy)

Did you see her reviews when the show opened last year? "Its most notable feature is 18-year-old Eva Noblezada, who seems a remarkable find," said Henry Hitchings in The Evening Standard -- not to be confused with Dominic Maxwell's assertion in The Times that she was "a sensational find." Hitchings also called her "admirably poised" and that she showed "grace and vulnerability" as well as "a voice of piercing purity.

Neil Norman in the Daily Express insisted that "Noblezada is a revelation in her professional debut as the emotional centre." David Benedict in Variety opted to say that "Noblezada makes an astonishing stage debut. At 18, she has poise, power and a superb voice throughout a seriously wide vocal range."

Michael Coveney for WhatsOnStage  said her "astonishing voice is flawless in a wide register and whose acting is assured and touching. When he commented on the "degree of snivelling around me in the last scene" he added that he "was too busy marveling at the simplicity and grace of Noblezada's performance to join in."

Charles Spencer of The Telegraph wasn't above stating that Noblezada's "raw, deeply felt performance and soaring voice lend the show its heart. There were moments when she moved me to tears."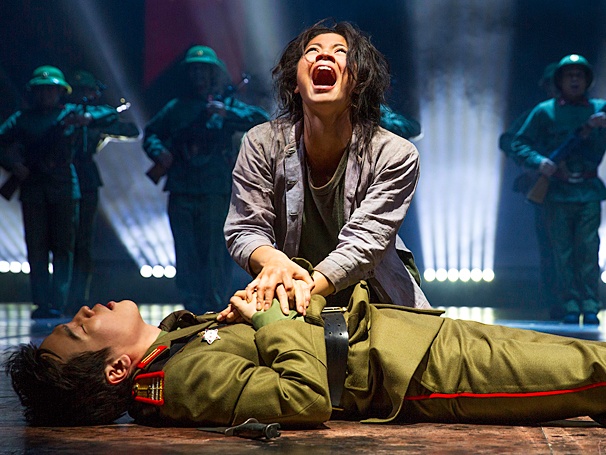 Eva Noblezada as Kim and Kwang- Ho Hong as Thuy in Miss Saigon at the Prince Edward Theatre (©Matthew Murphy)

Although those reviews would get any musical theater enthusiast to the box office, I wanted to see Noblezada for another reason. The story of how this American lass got the part is one of the best success stories of recent years.

Let's go back to early 2013, when 17-year-old Eva decided to try her luck at winning a National High School Theatre Award. It's more chummily known as "The Jimmy Award" because it's named for James M. Nederlander, chairman of The Nederlander Organization. The producer of more than 100 Broadway attractions decided in 2009 that high schoolers should have their chance to perform in one of his nine theaters.

Each May, hundreds of teens around the nation take to their local stages and deliver snippets of one song they'd sung in their high school musicals earlier in the academic year. Judges at each venue then decide on one boy and one girl who'll represent their region in New York City.

At the end of June, the two winners come to New York, meet the other victors and have a week-long series of workshops and rehearsals with a professional director and/or choreographer to create an opening and closing number. With help from the pros, they also work on the song that got them there and fold it into a medley with other students' songs. Now a new panel of judges decides on a male and female winner, each of whom gets a large trophy and a larger prize – $10,000, which goes to paying tuition at the college of choice.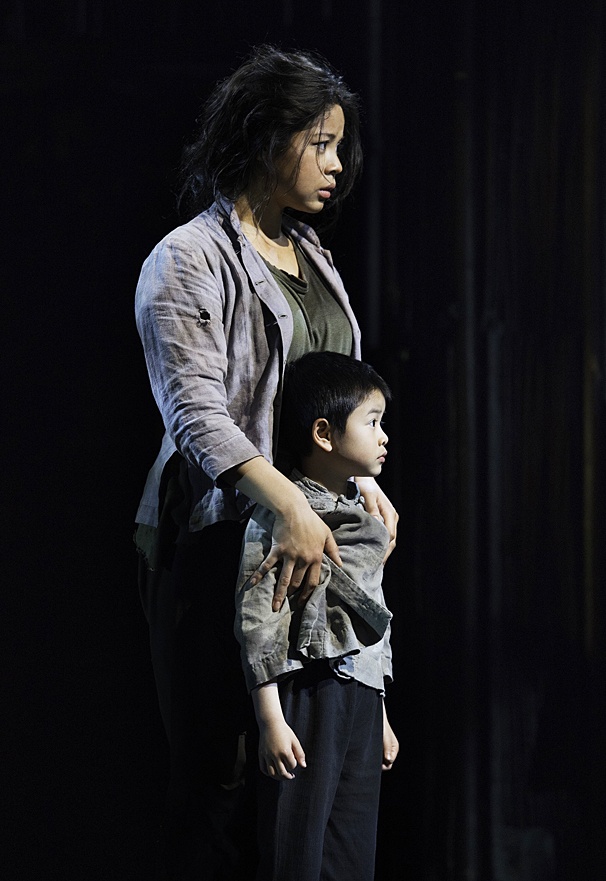 Eva Noblezada as Kim and William Tao as Tam in Miss Saigon at The Prince Edward Theatre (©Michael Le Poer Trench)

Eva's parents Jon and Angie Noblezada were grateful that Tom Gabbard, president and CEO of Blumenthal Performing Arts, had established the North Carolina branch of the Jimmys – called, of course The Blumeys. Said her mother, "We knew that Eva had received a gift from God when she was four years old and was singing every lyric from The Little Mermaid." Her father added, "I can't tell you how many times I had to rewind that videotape."

The couple was thus so committed to nurturing their daughter's talent that it even moved from Albemarle County to Mecklenburg County where The Northwest School of the Arts was located. "A church we liked was one reason," her father conceded, "but at least 50% of the reason was to give Eva better opportunities. We had to drive her 30 miles for seven years, but we didn't care."

Want evidence that it's a good school? What's more, Corey Mitchell, one of its teachers, was given the first annual Tony for Excellence in Theatre Education Award this past Sunday.

Eva showed her parents that their faith was not misplaced by playing everything from Mayzie in Seussical JR. to Maria in West Side Story – training that helped her in her quest for the Jimmys.

So, at the 2013 regional competition in Charlotte, Eva first sang a song from Footloose, the show in which she'd played the lead at the Northwest School of the Arts. After the judges chose her as one of the finalists, she sang "With You" from Ghost. Soon she was the female winner of the Blumey.

A month later, Eva and her parents drove 10 hours to Manhattan so that she could participate in the whirlwind week-long theatrical immersive. On Monday, July 1, 2013, she and the other teens appeared at the Minskoff Theatre on the same Broadway stage that hosts The Lion King the rest of the week.

Usually three boys and three girls are chosen for the final round, but this night turned out to be so competitive that the seven judges felt compelled to choose four girls as finalists – including Eva.

Of course you're expecting to hear that she emerged victorious. No. Sara Lynn Marion from Fullerton, California did. "When Eva didn't win," said her mother, "we weren't disappointed, for we accepted whatever God's plan was for her."

It was a significant one. "A couple of weeks later we got a call from Tara Rubin," said her father, citing the veteran casting agent of 42 Broadway productions -- including Ghost. "She'd been at the Jimmys and called because she thought Eva might be a good candidate to play Kim in the upcoming revival of Miss Saigon in London."

Says her mother, "So we drove back to New York right away. Eva had one audition and then one callback."

It wasn't your ordinary callback. Sir Cameron Mackintosh, the producer of the original Miss Saigon as well as this revival, attended. "We didn't even have to leave the theater and wait for a phone call," said Ms. Noblezada. "We were told right then and there that Eva had it."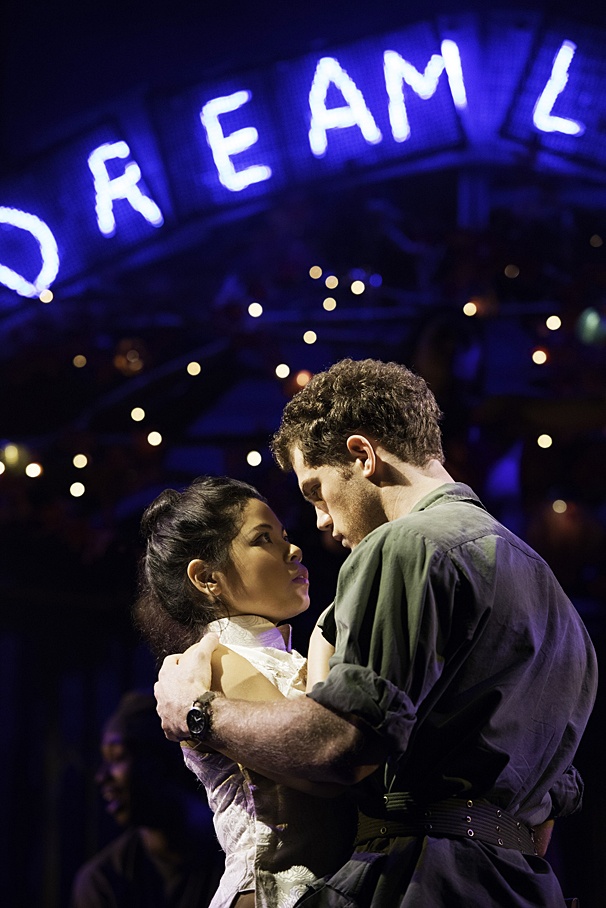 Eva Noblezada as Kim and Alistair Brammer as Chris in Miss Saigon at the Prince Edward Theatre (©Michael Le Poer Trench)

On January 9, daughter and mother went to London where Eva would start pre-production. Said her mother, "We knew that this year Eva would be moving away somewhere, but we assumed it would probably be to New York, because NYU was her first choice for college. But London?"

Yes, London. So while other high school stars were entering college and being thrown into the ensemble, Eva was becoming a far bigger star than she ever was in high school. Now I was to see just what the excitement was about – and with the fantasy in my head that the authors revised the work to rid the show of the problem I've seen for the last quarter-century.

The show opens in an "after-hours club" in Saigon in April, 1975. U.S. serviceman Chris meets Vietnamese 17-year-old Kim on her first day on the job as a prostitute. Chris is immediately protective of the virginal miss, and while they do have sex, Kim won't accept his money. They're soon in love and have a mock-wedding ceremony not unlike the one Tony and Maria have in West Side Story.

Trouble is, Kim was betrothed at 13 to Thuy, now a Vietnamese soldier who is furious when he discovers his fiancée is consorting with an enemy white man. Kim tells him because her parents have died, she's no longer bound by the agreement. Thuy storms off angrily.

Then, without so much as a helpful projection on the back wall saying "1978," three years pass. Although Kim, after a song from the Vietnamese soldiers, informs us in her song that her relationship with Chris was "years ago," the lyric is an easy one to miss.

Two more scenes in 1978 pass before we return to April, 1975 and "The Fall of Saigon." Why the time-switch from 1975 to 1978 and back to 1975 again when the show simply could proceed linearly and not confuse anyone?

The helicopter, that's why. "The Fall of Saigon" has this extra-special effect, and the authors may (I'm surmising here) have felt that if they brought out the chopper in Act One, they never could have topped it.

I disagree. The emotion behind a mother giving up her child is the true power behind Miss Saigon. And now that the show has long been established as a blockbuster hit, I hoped that if the authors felt that the helicopter couldn't be topped, the rivers of tears they saw after every performance might have convinced them otherwise.

Would they go linearly this time around?

They didn't – but you know what? It didn't matter, after all. Why? Because Noblezada's 1978 Kim immediately seemed older, wiser, far less naïve and raw with longing. The second that I saw her in this three-year later scene – and I mean the SECOND – I could tell that Kim had become an adult in a hurry just from her body language and a voice that suggested bitter experience.

I have never felt this from any other Kim. I also understand why Eva's reviews were so strong.

Moral of the story? If you're doing Miss Saigon, make certain that your Kim greatly ages between 1975 and 1978. Then the audiences are sure to realize that time has passed. (And you'll save on projection costs, too.)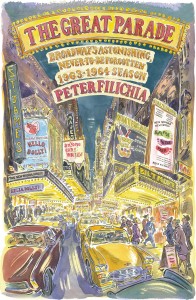 You may e-mail Peter at pfilichia@aol.com. Check out his weekly column each Monday at www.broadwayselect.com, Tuesday at www.masterworksbroadway.com and Friday at www.kritzerland.com. His book The Great Parade: Broadway's Astonishing, Never-To-Be Forgotten 1963-1964 Season is now available at www.amazon.com.