Mama, I Want to Sing Celebrates Its 30th Anniversary Season
Mama, I Want to Sing Celebrates Its 30th Anniversary Season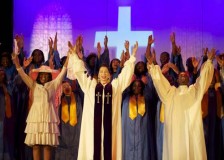 The 30th Anniversary of Mama, I Want to Sing, the longest running off-Broadway Black musical in theater history, To Benefit The Mama Foundation for the Arts and the Gospel for Teens Program Graciously Underwritten by Myrna and Freddie Gershon with a Gala Celebration to Benefit
THE MAMA FOUNDATION FOR THE ARTS' GOSPEL FOR TEENS Music Education Program - Profiled in an Emmy-Winning "60 Minutes" Feature

Hosted by an Illustrious Benefit Committee Including
ARETHA FRANKLIN, CHAKA KHAN, CISSY HOUSTON, SHIRLEY CAESAR, MELBA MOORE, VALERIE SIMPSON, LESLEY STAHL, DIONNE WARWICK, and VY HIGGINSEN

 To Take Place On Saturday, March 23, 2013 at 7:00 PM at The Dempsey Theater in Harlem (127 West 127th Street)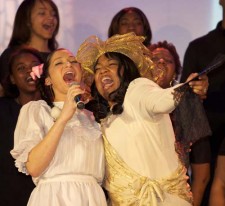 Mama, I Want To Sing,
the classic 1983 gospel musical created by Vy Higginsen, will celebrate its 30th anniversary on Saturday, March 23, 2013 with a very special performance of
Mama, I Want To Sing: The Next Generation
at The Dempsey Theater, located in Harlem at 127 West 127th Street, between Lenox and 7th Avenues.  This Gala event, taking place exactly 30 years to the day from when the original production opened in Harlem to great acclaim, benefits Gospel for Teens, a program of the Mama Foundation for the Arts' School for Gospel, Jazz, and R&B Arts.   Tickets, which include a post-performance celebration of culture and community -- featuring the most soulful food Harlem has to offer -- are $300.00 and are available by calling the Mama Foundation for the Arts at (212) 280-1045.
The Gala is hosted by an illustrious Benefit Committee, Chaired by Lesley Stahl (Emmy winner for her "60 Minutes" profile on Gospel for Teens), that includes numerous recording legends: with over twenty Grammys to her credit, the Queen of Soul, Aretha Franklin; 10-time Grammy Award-winner Chaka Khan (who won the prestigious Capitol Radio Listener's Poll Award for London's Best Actress for her performances in
Mama, I Want To Sing
in the West End); two-time Grammy Award-winner Cissy Houston (who appeared in Ms. Higginsen's production of
This Is My Song
at Madison Square Garden); 11-time Grammy Award-winner Shirley Caesar (who appeared in 
Mama, I Want To Sing
at the Theater at Madison Square Garden); five-time Grammy-winner Dionne Warwick; Tony Award-winner and four-time Grammy-nominee Melba Moore; and songwriter-performer Valerie Simpson, along with Ms. Higginsen. The event is being underwritten by Myrna and Freddie Gershon.
Mama, I Want To Sing
tells the story of a talented young girl who dreams of leaving her church choir to pursue a life in popular music, despite strong objections from her mother. A tribute to the many African-American artists with church choir roots who rose to fame in the 1950s, 60s, and 70s, creator Vy Higginsen based her musical on the life of her sister, Doris Troy, whose 1963 hit "Just One Look" launched her to international fame. 
Mama, I Want To Sing
has book and lyrics by Ms. Higginsen and Ken Wydro, and original music by Wesley Naylor.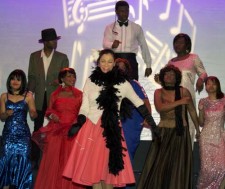 The original production of
Mama, I Want To Sing
opened on March 23, 1983 in Harlem at The Heckscher Theater.  The show played for eight years and over 2,500 performances in New York (1983-1991), becoming the longest-running Black Off-Broadway musical in history. 
Mama, I Want To Sing
went on to play another 1,000 performances through a three-year tour across the USA; a run in London's West End; several European tours (Switzerland, Germany, Austria, Italy, Greece, Yugoslavia); multiple appearances in the Caribbean; and seven tours throughout Japan. Over the years such noted performers as Doris Troy, Shirley Caesar, Chaka Khan, Patti Labelle, Deniece Williams, Tisha Campbell, Octavia Lambertis, Desiree Coleman, D'Atra Hicks, Stacy Francis, Ben Vereen, and Ciara have appeared in stage and film versions of
Mama, I Want To Sing.
Mama, I Want To Sing: The Next Generation
, a revival directed by Mr. Wydro, opened at The Dempsey in April 2011 and has been thrilling audiences ever since. 
Mama, I Want To Sing: The Next Generation
stars Ahmaya Knoelle Higginson as Doris, Bettina Pennon as Mama, Sandra Huff as Sister Carrie, Tyrone Flowers as Reverend Winters, and Elijah Ahmad Lewis as the Minister of Music. The cast also features members of the Gospel for Teens Choir in the ensemble.
Founded in 1998, The Mama Foundation for the Arts is a non-profit 501(C)3 whose mission is to present, preserve, and promote the history and fundamentals of gospel, jazz, and rhythm and blues music for current and future generations.  Inspired by the worldwide success of
Mama, I Want To Sing
, Ms. Higginsen established the Foundation as a cultural space in Harlem where both youths and adults have access to quality training and employment in the performing arts.  Through the Foundation's Gospel for Teens program, musical instruction in the art form of gospel music is offered to young people between the ages of 13 and 19 at no cost, providing desperately needed support to musically gifted children and replacing arts programs taken out of many inner city schools.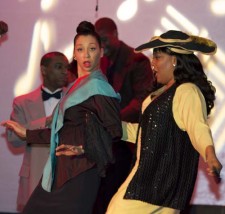 Gospel for Teens was the subject of an award-winning "60 Minutes" feature story (two 2012 Emmy Awards, including Outstanding Feature Story in a News Magazine; as well as a 2012 National Association of Black Journalists Salute to Excellence Award) that followed the program's students for a year - from auditions to their victory at their first competition, the open division at The Pathmark Gospel Choir Competition of Harlem, held at The Apollo in 2011.
Mama, I Want To Sing: The Next Generation
 resumes weekly performances --Saturdays at 5:00 p.m. -- at The Dempsey Theater (127 West 127th Street) on March 16th.
The Mama Foundation also presents
Sing, Harlem, Sing
! at The Dempsey (performing this Spring on Saturday, April 13 at 2:00 p.m. and Saturday, May 4 at 2:00 p.m.). Created by Vy Higginsen and inspired by the many years she spent behind the microphone at major urban radio stations (such as WBLS-FM and Kiss-FM),
Sing, Harlem, Sing!
is a musical revue that celebrates African-American music (including R&B, jazz, early rock 'n' roll, and gospel), urban radio, and the energy of one of the world's most legendary neighborhoods.  The show features songs made famous by Chuck Berry, Ben E. King, James Brown, Stevie Wonder, Aretha Franklin, Minnie Riperton, Gladys Knight and the Pips, Etta James, and Chaka Khan, among others, in addition to traditional gospel tunes.
Tickets for regular performances of 
Mama, I Want To Sing: The Next Generation
and
Sing, Harlem, Sing!
are priced at: $20 (children 14 and under), $30 (teens, students and seniors – with valid ID), and $35 (adults). The tickets for both shows are available through
SmartTix.com
(212-868-4444) or by calling the Mama Foundation for the Arts at 212-280-1045.
For more information, please visit
www.mamafoundation.org
.
The 30th Anniversary of Mama, I Want to Sing, the longest running off-Broadway Black musical in theater history, To Benefit The Mama Foundation for the Arts and the Gospel for Teens Program Graciously Underwritten by Myrna and Freddie Gershon