MTI Shows in Literature: DAMN YANKEES
MTI Shows in Literature: DAMN YANKEES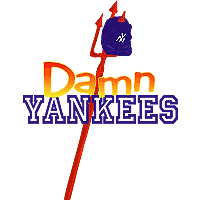 DAMN YANKEES
features a book by
George Abbott
and
Douglass Wallop
and a score by
Richard Adler
and
Jerry Ross
, a team also remembered fondly for their musical
THE PAJAMA GAME
. "
Faust
meets baseball" in this fun and touching show based on
Wallop's
novel
The Year the Yankees Lost the Pennant.
Die-hard Washington Senators fan Joe Boyd says he is willing to sell his soul, if only his hapless team would win the pennant. Enter Mr. Applegate, a fast-talking, charmer, who also happens to be the Devil. Mr. Applegate transforms Joe into Joe Hardy, a young, extremely talented shortstop and long ball hitter – although, Joe does manage to wrangle in an escape clause that will allow him to go back to his wife, Meg, if he wants to.  As Applegate tries to tempt Joe with fame and the company of Lola, Joe realizes how fervently he misses Meg. In the end, Joe's love and devotion win out over Applegate's trickery.
DAMN YANKEES
is an excellent example of a musical that manages to elevate its source material, while staying true to the original themes and intent. As it has turned out,
DAMN YANKEES
has had a more prominent place in cultural memory than the novel it's based upon has had. This longevity is a testament to the delightful way
Abbott, Wallop, Adler
and
Ross
tell the story. Numbers like "Whatever Lola Wants, Lola Gets" and "Six Months Out of Every Year" have become staples of the American musical theater cannon. Part of the success of the musical is due to the memorable, elating score, which features many great dance opportunities – both for individuals and for the chorus. Remember that the original choreographer was
Bob Fosse
, and
Gwen Verdon
played the original Lola.
The sizable cast and orchestra requirements for the show make
DAMN YANKEES
a great choice for schools and community theaters that are looking to be as inclusive as possible. Moreover, the subject matter is great for theater enthusiasts and sports fans alike. Often, a musical based on a novel potentially draws fans of the source material to the theater, but
DAMN YANKEES
may actually be a chance to draw fans of the musical towards a new book they may not have read. That certainly is what happened to me – I read
The Year the Yankees Lost
the Pennant because I love the musical.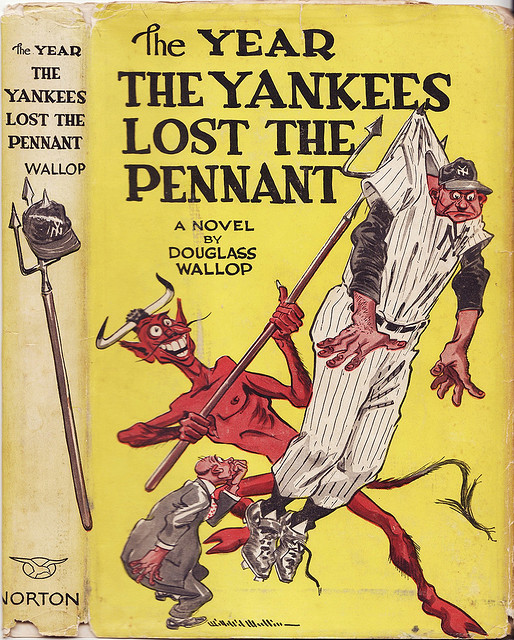 Like many of the shows in the MTI catalogue that are based on classic literature,
DAMN YANKEES
is an audience favorite.
EllaRC is a bookwriter/lyricist and musical theatre lover. She's a new contributor to MTI Marquee - add her as a friend on MTI Showspace or check out her musical theatre and social justice blog, Stageleft.