MTI Shows in Literature: THE APPLE TREE
MTI Shows in Literature: THE APPLE TREE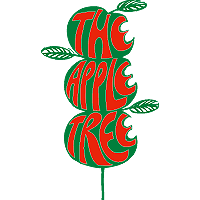 THE APPLE TREE
with a score by lyricist
Sheldon Harnick
and Composer
Jerry Bock
(best known for shows like
FIDDLER ON THE ROOF
and
SHE LOVES ME
) and a book by Bock, Harnick and
Jerome Coopersmith
,
THE APPLE TREE
is a unique adaptation.Rather than drawing from a single set of source material, this musical finds a way to connect three different pieces and tie them together into one related show:
The first act is based on
Mark Twain's
"Extracts from the Diary of Adam and Eve"
, and features the famous couple and their journey out of Eden.
The second act is based on the
Frank Stockton fable
of
"The Lady Or The Tiger"
, in which a woman is forced to decide whether to let her lover wed another or be devoured by a tiger.
The last is
"Pasionella"
based on
Jules Feiffer's
twist on the Cinderella story about a chimney sweep who wishes to be famous and her path to finding true love.
The success of the show comes from the writers' ability to take these three separate and unrelated classic stories and find the common threads. Themes like the relationships between romantic couples, the sacrifices people make for what they want, and the blindness of love weave the three acts together to make a complete piece. This is a non-traditional approach to adapting classic literature – most adaptations focus on one story; but, it can be a very successful method for putting a new spin on familiar material. In this case, the initial material is pretty well-known, especially to American musical theater audiences; however, the score which features rock and roll elements, as well as components of a traditional musical theater sound, transforms the familiar into something exciting and different.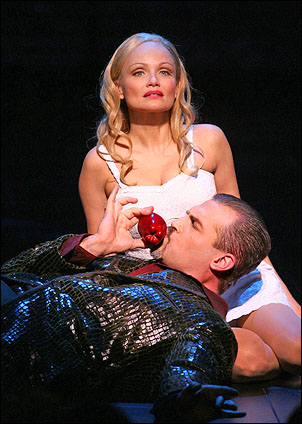 Kristin Chenoweth and Marc Kudisch in Roundabout's THE APPLE TREE
The recent success of the
Roundabout Theatre Company's
revival featuring
Kristen Chenoweth
indicates the timelessness of
THE APPLE TREE
. Furthermore, it can be produced as both a large cast show if different actors are used to play the leads in all three acts, or as a smaller cast show if all three acts use the same leads. It also provides a lot of opportunities for musicians, because it features a large orchestra.