NBC's 'SMASH' MAKE A MUSICAL, School #16 - Brittany Woods Middle School, St. Louis
NBC's 'SMASH' MAKE A MUSICAL, School #16 - Brittany Woods Middle School, St. Louis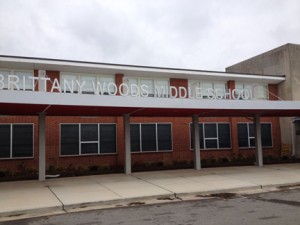 School #16: Brittany Woods Middle SchoolSt. Louis, MOReported by: Steven G. Kennedy, Resident Choreographer, iTheatricsFebruary 10, 2012
Upon my arrival in St. Louis, MO, I was struck by the beautiful Gateway to the West Arch. This structure, one of the tallest manmade monuments in the United States, was created to honor westward expansion. I could not think of a more fitting and 'metaphorical' welcome!
When I entered the school's main office, my gaze fell on its motto, "Where Everyone Belongs." I immediately knew this school was a perfect fit for
NBC's 'SMASH' MAKE A MUSICAL
.
While I waited for the Principal, Jamie Jordan, who was greeting students outside, I watched as students checked in at the front desk.  I got a great impression of the school by way of its office administrator, Portia House.  She was warm, sweet and listened to every child who had a question for her. I also took note of the number of students carrying musical instruments.
Jamie's energy and enthusiasm was apparent from the first moment she walked me through the halls of Brittany Woods.  This is a school clearly committed to encouraging its students to express themselves in many ways; I really enjoyed all of the imaginative art displayed in the hallways.  It was interesting to hear about the school's academic offerings as well as electives for music, foreign language, art and industrial technology.  Students at Brittany Woods are encouraged to participate in extracurricular activities which sound fantastic, for example:  The Soaring Eagles Robotics Club, Young Ladies of Elegance and the Gentleman's Quarterly Service Organization, to name a few.
Principal Jordan found out about the "NBC's 'Smash': Make A Musical" program from her friend and former colleague, Kim Hall. I had the pleasure of meeting Kim when she brought her group to the 2012 Junior Theater Festival.  Kim teaches at St. Louis' Crestview Middle School, which boasts a wonderful musical theater program. Knowing Brittany Woods had been interested in starting a musical theater program, she shared the application with Jamie.  Talk about expansion – these are two schools working together in the spirit of sharing, generosity and enrichment for the entire community!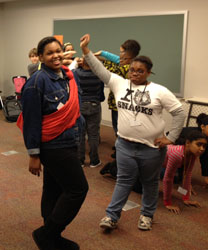 We settled into the library where I met the team: Nikki Lloyd (Communication Arts), Wu Bakeman (Music and GATE) and their assistant Andrea. Nikki leads the drama club and Wu is very active with the chorus. With so many wonderful arts programs already in place, this team is
still
aiming high by working towards a sustainable musical theater program.
As the fifth through eighth grade workshop participants entered, I could tell how inquisitive and confident they were. They each happily greeted me, shook my hand, and introduced themselves. I always say being part of a musical doesn't guarantee you will be a star, but it certainly makes you a better and stronger individual. These students already possess so much strength of character and they know how to welcome the new guy!
The student portion of the workshop was a huge success! I enjoyed watching Nikki and Wu see their kids develop new skills in a very short time, and I got to see them get more and more excited about their upcoming musical.
As we finished the day, more staff joined us. Assistant Principal, Dominic LeNoir and Librarian, Kelly Werthmuller were curious about what their school would be working on over the next several months. They sat in and asked questions, supporting their new production team!
The word 'expand' is defined as "to increase the extent, number, volume, or scope of." Well, the community of students, administrators and teachers at Brittany Woods Middle School, are doing just that. I look forward to seeing them work towards their next goal through "NBC's 'Smash': Make A Musical" – putting on a musical in their school and creating a new program for future generations in Saint Louis.
"NBC's 'Smash': Make A Musical"
program is administered by iTheatrics under the supervision of Timothy Allen McDonald.  For more information, or to apply to become a part of the program, logon to 
www.MAKEAMUSICAL.ORG
.