Nominate a Teacher for the 2015 Kennedy Center / Stephen Sondheim Inspirational Teacher Awards
Nominate a Teacher for the 2015 Kennedy Center / Stephen Sondheim Inspirational Teacher Awards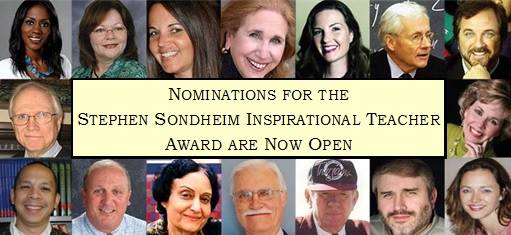 More than a Half Million Dollars in Award Money Remains Available for the 5th Annual Kennedy Center/Stephen Sondheim Inspirational Teacher Awards

Nominations Now Being Sought for the Series of Annual $10,000 Awards Named for Broadway Legend that Honors Teachers in all Fields of Education
(WASHINGTON, D.C.)—The John F. Kennedy Center for the Performing Arts is seeking nominations for the 2015 Kennedy Center/Stephen Sondheim Inspirational Teacher Awards –a series of annual grants that recognize inspiring teachers in any field of education across the United States. Now entering their fifth year, the awards were created in honor of Stephen Sondheim's 80th birthday in 2010. The program was initiated and funded through the generous support of arts philanthropists and friends of Mr. Sondheim, Freddie and Myrna Gershon.
Broadway legend Stephen Sondheim frequently attributes his success to the teachers in his life. The Kennedy Center/Stephen Sondheim Inspirational Teacher Awards are presented each year on Sondheim's birthday—March 22—to outstanding teachers, kindergarten through college in all areas of education, living or deceased, who are nominated via the Kennedy Center website.
A total of 32 teachers from across the nation have been recognized over four years for their outstanding influence on students in a wide variety of disciplines, not just the arts. Recipients each receive a $10,000 prize and their stories, as told by the nominating student, are featured on a website dedicated to inspirational teachers.
Most people have at least one teacher who made an impact on their life. These inspirational people are not often recognized for the life changing role they have played. The Kennedy Center/Stephen Sondheim Inspirational Teacher Awards seek to spotlight those teachers and to recognize them publicly for their significant role in society. The Kennedy Center/Stephen Sondheim Inspirational Teacher homepage features leaders and celebrities, including Warren Buffett, Dr. Jill Biden, J. J. Abrams, Bill Bradley and many others describing their favorite teachers and the impact good teachers make on communities and schools.
"Teachers define us," Stephen Sondheim has said. "In our early years, when we are still being formed, they often see in us more than we see in ourselves, more even than our families see and, as a result, help us to evolve into what we ultimately become. Good teachers are touchstones to paths of achieving more than we might have otherwise accomplished, in directions we might not have gone."
Winner of the Special Tony Award® for Lifetime Achievement in the Theatre, Stephen Sondheim has received more Tonys® than any other composer. Mr. Sondheim wrote the music and lyrics for Saturday Night, A Funny Thing Happened on the Way to the Forum, Anyone Can Whistle, Company, Follies, A Little Night Music, The Frogs, Pacific Overtures, Sweeney Todd, Merrily We Roll Along, Sunday in the Park With George (for which he received a Pulitzer Prize), Into the Woods, Assassins, Passion and Road Show, as well as lyrics for West Side Story, Gypsy, and Do I Hear a Waltz? and additional lyrics for Candide. Revues of his work include Sondheim on Sondheim, Side by Side by Sondheim, Marry Me a Little, You're Gonna Love Tomorrow, and Putting It Together. For films and television, he composed the scores of Stavisky and Reds and wrote songs for Dick Tracy, for which he received an Academy Award, and Evening Primrose. He was also the recipient of the Kennedy Center Honors in 1993. Mr. Sondheim is on the Council of the Dramatists Guild, having served as its president from 1973 to 1981.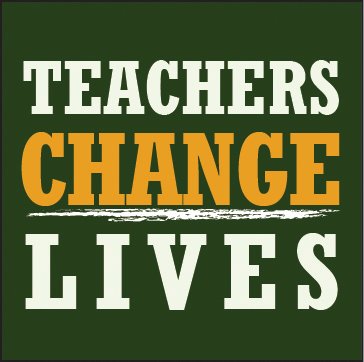 Nominate a Teacher Today!
Click here or visit kennedy-center.org/sondheimteacherawards
The nomination deadline is December 14, 2014.  Nominators for posthumous recognition of a teacher must designate a 501(c)3 organization or fund within a K-12 school, school system, college, or university in the United States to receive the $10,000 award in the deceased teacher's name.
Connect on Facebook
Visit the official Teachers Change Lives page
here
.