Rhyming Speech in Andrew Lippa's THE WILD PARTY
Rhyming Speech in Andrew Lippa's THE WILD PARTY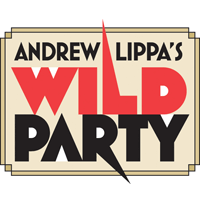 THE WILD PARTY, with book, lyrics, and music by Andrew Lippa (JOHN & JEN, THE ADDAMS FAMILY), is based on a poem of the same name by Joseph Moncure March.  Published in 1928, the poem was scandalous for the time and often banned due to its content.
Lippa's musical version - not to be confused with the musical adaptation by Michael John LaChiusa - focuses on Queenie and Burrs, the couple hosting the party.  Both show people, the two have a tumultuous, at times abusive relationship, and Queenie hopes that the party will help solidify them. But in reality, it has the opposite effect.
An interesting thing about THE WILD PARTY is Lippa's choice to rhyme much of the characters' dialogue - a decision that is a risk, since rhymed dialogue can easily sound silly and unnatural.  In THE WILD PARTY, however, this technique not only makes sense; it's also effective.
Much of the show is made up of songs, often character-driven, without much recitative.  Since the amount of spoken line between songs are minimal (and often nonexistent), there's not really a feel of transitioning from song to scene to song; the show and its characters continuously live on the song plane.  Having those characters rhyme when not singing keeps them on that level, as they're essentially speaking lyrics that aren't set to music.  This emphasizes and maintains the heightened emotions of the party.  Since speaking in rhyme generally means speaking in rhythm, doing so also keeps the show's momentum, as there are no energy drops between songs.
Moreover, using heightened speech indicates that these characters are in a very different world from our own - a world of intense passion and theatricality.  In addition to Queenie and Burrs being performers, many of the other guests are performers, and the party itself becomes a kind of performance, particularly on Kate's behalf as she tries to seduce Burrs.  Many of the songs themselves are performative to a degree: a song like "Let Me Drown," for instance, has raucous, fun dance music, but desperate, sad lyrics.  This contrast makes it clear that the hedonism of the party is simply a cover for the emptiness the guests actually feel.
With such a simple device, Lippa keeps up the show's momentum, reveals character, and furthers the theme of performance in THE WILD PARTY - all while showing that a poem that rocked the country in 1928 is all too relevant today.
To license THE WILD PARTY, visit its
MTI show page
. View production photos and discuss THE WILD PARTY on its
MTI ShowSpace page
.