The Freddie G. Awards Celebration - A Special Weekend on Broadway
The Freddie G. Awards Celebration - A Special Weekend on Broadway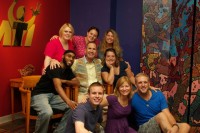 Freddie Gershon with the eight award-winning educators at the MTI office.
We just bid our eight outstanding teachers goodbye and wished them a safe journey home from what turned out to be an incredibly inspiring weekend in New York City.  The just-concluded Freddie G. Theatre Experience was the culmination of this past year's
MTI Junior Theatre Festival
in Atlanta, where these eight teachers were selected for their outstanding performances of school productions of Broadway shows.
To celebrate their collective achievements, the eight educators participated in Master Classes with some of Broadway leading choreographers, directors, producers, actors and designers including
Jeff Calhoun, Baayork Lee, Marc Shaiman and Scott Wittman as well as Ken Billington.
The weekend included a special reception with MTI and iTheatrics staff members (as well as luminary,
Marilyn Sokol
) at the legendary Chez Josephine restaurant, tickets to a performance of Mary Poppins, and a whole lot more.
Check Out Our Photos and Videos...
We look forward to sharing the local new coverage of all of these educators' adventures as well as some of our exciting photos and videos from the weekend.  You can get started by checking out our
Freddie G. Teachers GROUP on MTI ShowSpace
to see our current photos and hear our thoughts about this amazing weekend.
The eight award-winning teachers are:


Richard Hall: Social Circle Theater, Social Circle, GA. Outstanding Production 2010 - Thoroughly Modern Millie JR. Social Circle Theatre runs as a Non-Profit Organization providing opportunities for children in a community where more than 60% of the students in the Public School system are on a free or reduced priced lunch program.


Relana Gerami: Bay Area Theatre and Voice Academy (BATAVA), Big League, TX. Outstanding Production 2010 - Disney's Alice in Wonderland JR. BATAVA is owned and operated by Relana and her husband. It is a music academy offering voice and piano lessons in addition to producing musicals. Students come from a number of different school districts in the area from South Houston to Galveston.


Aaron Goodson: Atlanta Charter Middle School, Atlanta, GA. Outstanding Production 2010 - Into The Woods Jr. ACMS presently enrolls students in grades 6-8 from all over Atlanta with 52% of the students in the free and reduced meal program.


Nathan Gerrells: Dawson County Arts Council, Dawsonville, GA.  Outstanding Production 2010 - Seussical JR. The students include great diversity in socio-economic status.


Emily Moore: Boothbay Region YMCA, Boothbay, ME.  Outstanding Production 2010 - Seussical Jr. Boothbay Region YMCA offers a number of theatre classes including: Music Theatre Workshop, Children's Choir, Music Theatre Dance, Cooking with Showtunes, and the Freaky Friday Theatre Group.


Tina Reynolds: Bravo Academy! Gwendolyn Brooks Middle School, Oak Park, IL.  Outstanding Production 2010 - Seussical Jr. BRAVO! encompasses all of the arts programming for Oak Park Middle School. The school has just over 900 students in sixth - eighth grade with approximately 400 students involved in the theater classes and productions.


Heather Taft: Asheville Arts Center, Asheville, NC.  Broadway Junior Spirit Award 2010. Asheville Arts Center is a place for children and adults to join together for performing arts education. The students come from many different economic backgrounds, with a large majority being children of single parents.


Christie Jeter: Jeter Backyard Theatre, Gibsonia, PA.  Runner-up Broadway Junior Spirit Award 2010. The Jeter Backyard Theater is a teaching community theater, casting over 150 children (ages 5-18) per year.