The Marquee Q & A Series: Tituss Burgess
The Marquee Q & A Series: Tituss Burgess
In the first installment of our Marquee Q & A Series, Broadway actor Tituss Burgess catches up with MTI's Tyler Paul to  discusses GUYS AND DOLLS, Frank Loesser, and more...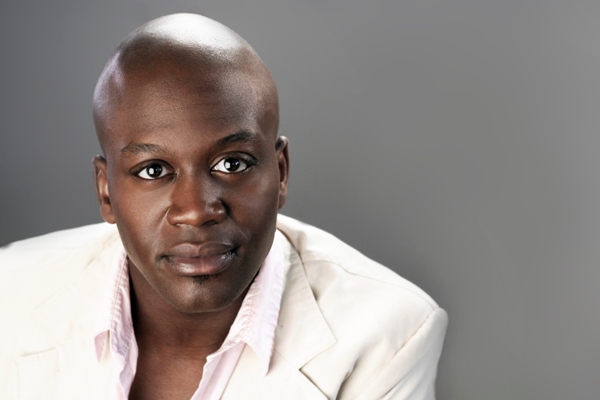 Vocalist extraordinaire and Broadway actor Tituss Burgess, best known for his portrayal of Sebastian in the Broadway mounting of DISNEY'S THE LITTLE MERMAID, began his theatrical career with The Beach Boys' musical GOOD VIBRATIONS followed, shortly thereafter, by the original Broadway production of THE JERSEY BOYS.
In 2009, Tituss was given the task of portraying Nicely-Nicely Johnson, the portly sidekick to Nathan Detroit, in the Des McAnuff revival of GUYS AND DOLLS. Music Theatre International recently caught up with the Broadway star, as he took a break from his busy concert schedule, to chat about Frank Loesser, GUYS AND DOLLS, and his career in musical theatre.
MTI: Artists and actors, in particular, typically talk about that life-changing revelation where they discover, "this is what I need to do." Tituss, did you ever have that epiphany?
TB: Honestly, it's more than that. I realized that it was the only way I knew to survive. The world of academia wasn't an option. It wasn't even on the radar! Music was/is my first [passion]. When I got to college I got cold feet about performing and tried to force myself to become a teacher but that didn't work out.
MTI: You began your artistic career with the aspiration of being a vocalist; studying music at the University of Georgia and dabbling in both studio singing and vocal performance. What is it that eventually pulled you into the practice and industry of Musical Theatre?TB:
This is the only way I can think to explain it... When babies are born they just sort of gravitate to their parents because they see them all the time and they don't question the connection. When you meet the love of your life often there isn't just one thing you love about that person; being with them just makes sense. It's a natural fit. Using elements of speech and music combined to tell a story makes sense to me and I never questioned the convention [of musical theatre].
MTI: You have appeared in a number of different roles and productions since breaking onto the theatre scene in 2005. Currently, what has been your most cherished character and/or production to be a part of?TB:
A few years back I had the great honor of playing the Cowardly Lion in the Des McAnuff production of
THE WIZ
. It's a role that I hold very close to my heart. I understand that character because he is me. You'd be surprised at the pep talks I have to give to convince myself that I can do, on the highest level, what I do naturally. You'd think it was a given but not so. Growing up I had terribly low self-esteem and playing the Lion gave me a chance to use that and exorcise and expel what's left of that negative energy. I wanted to use the Lion as a way to speak to the terrified person in all of us.
MTI: You assumed the role of Nicely-Nicely Johnson in the 2009 Broadway Revival of Frank Loesser's GUYS AND DOLLS, which is licensed by Music Theatre International. What advice can you offer to those organizations and schools that may choose to produce this musical? What are your thoughts on GUYS AND DOLLS as a musical theatre piece?TB:
GUYS AND DOLLS is one of the greatest musical theatre pieces of all time. Just look at how many times it has been revived or gone on tour. GUYS AND DOLLS has a very specific language to it that was tricky for me when we started rehearsals. Don't fight it...don't try and normalize it. Live in it. It works
for
you, not against you. As for the score, the only word I can think of is satisfying. It has everything...and of course "Sit Down, You're Rockin' the Boat" which seems to come out of nowhere. It sounds nothing like the rest of the score. To all the Nicely-Nicely's out there, you can't go wrong with that song! Knock 'em dead!
MTI: Des McAnuff's re-imagining of GUYS AND DOLLS added a new twist to the material. What was it like to be involved with such a uniquely different presentation of an adored classic?TB:
I expected nothing less. I've worked with Des about four times now and it's always new and fresh and ambitious. I knew I wasn't walking into a remounting of something old or dry. I was walking into a re-imagining of a classic!

MTI: How did you prepare for the role of Nicely-Nicely Johnson in GUYS AND DOLLS?TB:
Nicely is tricky. He doesn't have a lot of book scenes, which means there are not a lot of chances to make the audience fall in love with him. This made me nervous and I started to over-think it. Finally it dawned on me [that] what you fall in love with is his personality and energy. I stopped working so hard and just decided to flash a smile and sing...I think it worked.
MTI: We recently celebrated the 100th Birthday of Frank Loesser, legendary composer and co-founder of Music Theatre International. Briefly speak to us about your thoughts on the GUYS AND DOLLS score and how it compares to the recent shift of "alternative" music used in this generation's musicals.TB:
You certainly can't mention the word 'Broadway' without mentioning
Frank Loesser
who contributed a large portion to musical theatre history. I think what we must remember is that in
his
time, his work
was
contemporary. [Frank] met some audiences and producers that didn't understand what he was doing but now we embrace and praise him and consider this piece a classic. I believe the same school of thought should be applied when viewing new works. For example, it took me a while to get into
RENT
when I first heard it. The sound was
so
vastly different than what I considered "musical theatre". When I saw it I fell in love because it created a whole other world unto itself; that's the key. So onward all you writers out there! As Mr. Sondheim puts it...'Give us more to see.'
MTI: What makes a show like GUYS AND DOLLS so vastly different than others?TB:
Lately we've been getting a lot of shows with weak books
or
great books and weak scores. I think GUYS AND DOLLS should be used as a model for writing as both the score and book are very strong. There is a great play in there, by itself, and when you include the score they create a musical theatre masterpiece!
MTI: What is on the horizon, for you, in regards to projects and productions?TB:
I'm reading a few scripts here and there. I want to be
in love
with what I do next. Until I find a suitable project, I'm busy touring the country singing with different symphonies which tickles me. The average size of a Broadway orchestra is about 15 to 23 pieces; singing with 50 plus pieces a night is intoxicating and it's spoiling me!
MTI: One final question, Tituss. Recently a lot has been said about the current state of Broadway and musical theatre: the popularity of The Tony Awards telecast, the struggling economy and ticket prices, the increased Hollywood presence, and more. What are your thoughts on the current state of Broadway?
TB: We can't ignore the fact that Broadway is a business. We can't ignore the fact that commerce is winning over art. I think what's sad is that producers no longer trust consumers. When that happens you end up with flashy glitz and glam that looks like Times Square threw up on itself. I think it's time to truly think out of the box. I'm so pleased to see shows like IN THE HEIGHTS and FELA! and LIGHT IN THE PIAZZA see the light of day. These are all shows that didn't have enormous stars but, man, the shows certainly had substance. That's the type of theatre I wish to see; that is the type of theatre I wish to be in. WEST SIDE STORY had a terrible reception when it originally opened on Broadway but had a few producers not taken the chance, we wouldn't have that amazing piece of musical theatre today. Think about this...THE WIZ got panned but because of it, you have a whole generation of performers who thought, 'I want to do that.' That was me saying that. Now I'm not saying the producer's job is to educate and put on the most artsy show in the world but there is more to consider than who is above the title!
Tituss Burgess on the Web:


"Like" Tituss on Facebook: Access the official Facebook page of Tituss, here.


Follow Tituss on Twitter, by clicking here.


Licensing:
To find out more about the MTI titles and how you can license an MTI show, click here.