The Voice Across The Moors: JANE EYRE
The Voice Across The Moors: JANE EYRE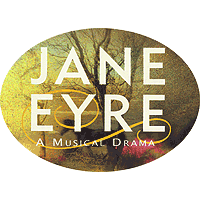 Insanity. Romance.  Secrets.  A beautiful and evocative score.   When choosing a show, MTI invites you to take a walk through the ethereal English moors with the 5-time Tony nominated Broadway musical, JANE EYRE.  Composer/lyricist Paul Gordon and bookwriter/lyricist John Caird (LES MISERABLES) have taken Charlotte Bronte's classic 19th century novel and turned it into a simple and intimate journey towards freedom and self-respect.
As a child, Jane Eyre lives with her emotionally unavailable aunt and bullying cousin.  Jane's only respite from their abuse is whatever she manages to hide in the attic-specifically, a bird guide and a doll.  But when her cousin destroys the book and blames it on her, Jane is sent to the Lowood School, where her aunt hopes Jane will learn to behave.  Jane, however, quickly befriends a fellow student, Helen, who passes to Jane her love of scripture and her faith in God.  Jane's newfound strength and comfort in Christianity serve her well when Helen dies not long afterwards-and when, after years of teaching at Lowood, Jane realizes she won't find happiness there.  Many days of travel bring her to a large and isolated estate called Thornfield.  Jane assumes the role of governess to the master's young ward, and fully becomes part of the household.
Marla Schaffel and James Barbour in the Broadway production of JANE EYRE--from playbill.com
But the mysteries at Thornfield keep Jane from growing complacent.  Who is Thornfield's master, this Mr. Rochester, and why is he so rarely home?  What are those sounds of hysterical laughter coming from a closed-off part of the house?  And when will Jane finally find the liberty she's always longed for?  In answering these questions, Jane finds herself experiencing a life she never thought was for her-but one she's destined to live.
This fall, Jane has embarked on yet another journey: this time, to Japan!  In early September, the Nissay Theatre in Tokyo began performances of JANE EYRE, proving that audiences everywhere can connect with Jane's resilience, self-reliance, and strong moral sense.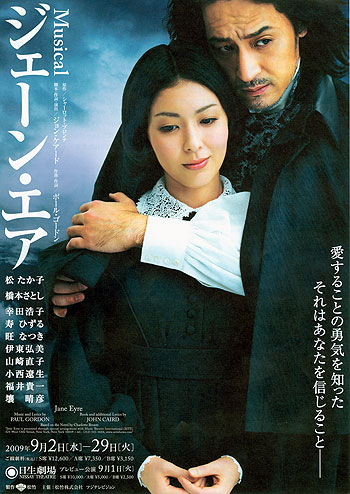 Tokyo JANE EYRE program
For more information and to license JANE EYRE, check out its
MTI show page
. To discuss the Tokyo production or to share your thoughts on the show, visit JANE EYRE's
MTI ShowSpace page
.