Urine Good Company with The New Generation Theatre!
Urine Good Company with The New Generation Theatre!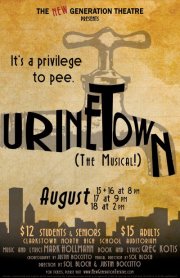 It's a privilege to...see young performers tackle sophisticated and edgy material with unparalleled commitment, talent and passion.  And that's just what the members of Rockland County's
The New Generation Theatre (NGT)
did this past weekend with a stellar production of
URINETOWN
.  Now in its second year, The New Generation Theatre (NGT) is an immersive summer theatrical and educational experience created by industry professionals,
Sol Bloch
and
Justin Boccitto
.   The program is designed to expose students to challenging and gritty works while giving them the opportunity to be involved in all aspects of putting on a show.  Not only do the students hone their craft as actors, singers and dancers, they learn about the importance of involving the community at large through innovative fundraising and marketing efforts.
Part of what makes the program and its actors so successful is that the 8th through 12th grade students are empowered to understand and "own" the material.   "Before each rehearsal," says Boccitto, "no matter how far behind we were, we talked about the show's themes to make it relevant to the lives of our cast members.   We want the students to tell US why the show is important and why this story needs to be told.  By examining the piece through current and historical events and having the actors share their feelings and experiences, we created a safe environment that allows them take risks on stage.  And that's what theatre is all about – expressing yourself and pushing the artistic envelope."
"We have high expectations for our performers," says Bloch who, along with Boccitto has been working to educate and develop the talents of young people for over 10 years.  "We both had exposure to the arts as kids and wanted to provide the same opportunity to the next generation of performers.  We want them to have fun, of course, but we also want them to respect the idea of being actors."
Last summer's inaugural season kicked off with
THE WHO'S TOMMY
and featured approximately 30 students from the area.  The program proved so successful that nearly half of the students returned this summer and enrollment swelled to 60.  To accommodate the enthusiastic performers, Bloch and Boccitto split the actors into two separate casts, giving each cast a chance to sell out two performances each.
Bloch added, "The program is growing by leaps and bounds and we couldn't be more excited.  This year we added a scholarship component – we awarded a graduating senior with a stipend and also recognized the achievements of our 'most improved cast member'.  Our hope is to expand even further next year – we're thinking about adding some kind of showcase for our performers in the spring so that the learning and development continues throughout the year."
The students met three nights a week and only had 60 hours of total rehearsal time to pull the whole thing together.  They were inspired by a special visit from
NEXT TO NORMAL
and PETER AND THE STARCATCHER star,
Adam Chanler-Berat
who gave them insights into the theatrical process and the confidence to tackle URINETOWN's deep social messages.

"This was a team effort," according to Boccitto.  "But the students were up to the challenge.  They supported one another and also had fun exploring dark comedy.  I think they really 'got' the comedic timing and the double-entendres in the script.  We left the theatre every night feeling energized and proud of their progress."
As the students developed as actors, they also learned how to run lights and sound, stage-manage and draft press releases.  Every aspect of the show had a student component including the importance of setting a tone for the performance. The theatrical experience began even before audience members entered the theatre.  A costumed cast greeted them outside as they sold merchandise and memorabilia to raise money for the program.  Little touches like letting audience members buy and send personalized greetings to cast members created a sense of intimacy and fostered a sense of community for everyone involved.  A group of ragamuffin actors stood outside the bathrooms and let audience members know they had the "privilege to pee".  Before the lights went down or the first note of the overture was heard, audience members had bought into the central conceit of the show - a terrible water shortage, caused by a 20-year drought, has led to a government-enforced ban on private toilets. The citizens must use public amenities, regulated by a single malevolent company that profits by charging admission for one of humanity's most basic needs.
URINETOWN
, with Music by
Mark Hollmann
, Lyrics by Mark Hollmann and
Greg Kotis
and Book by Greg Kotis is inspired by the works of Bertolt Brecht and Kurt Weill.  It's an irreverently humorous satire in which no one is safe from scrutiny.  The cast and crew of NGT embraced this dark and philosophical material with wicked wit and were able to produce gales of unbridled laughter throughout the performance.
The principal actors from Officer Lockstock and Little Sally to Bobby Strong and Hope Cladwell shined in their roles, but a special shout out must also go to the ensemble members for creating a believable reality on stage.  Each actor was committed to his or her character and found movements and expressions to suit every new mood and plot point.  The result was a seamless and integrated performance that truly suited the work.
Congratulations to NGT on another fantastic season – we can't wait to see what's in store for next year!
View NGT's and other group's photos, videos, forums, blogs and more about URINETOWN on MTIShowSpace: