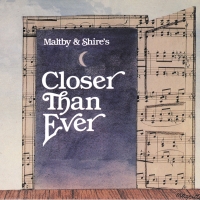 Maltby and Shire's Closer Than Ever
A riveting song cycle exploring the everyday struggles of love in the modern world.
Full Synopsis
Act One
The lights come up on four people standing in front of "Doors." They are modern, timeless, urban, hip, sophisticated, lost and awestruck by the overwhelming choices before them.
The closed doors of unrequited love show us one man who bemoans unreturned affections. The lady in question pines after another man, whom it seems yearns for the first man ("She Loves Me Not"). A man tells a woman that she's a goddess, then proceeds to break up with her and, not surprisingly, the woman responds tersely ("You Want to Be My Friend?"). An obsession with a woman drives a man to do crazy things. He resolves to stop, but then misses his obsessive behavior when he does stop ("What Am I Doing?"). After one too many bad relationships, a female zoologist resolves to be more like female animals that need the male species to reproduce and nothing more ("The Bear, The Tiger, The Hamster and The Mole").
The rigors of being a father and husband are solved with a simple solution ("I'll Get up Tomorrow Morning"). A seemingly quiet, shy, unnoticed woman has a sexy secret to tell… but she's not saying a thing ("Miss Byrd").
Newly divorced people in their forties rejoin the singles pool ("Dating Again"). The longings for lives that he could have led makes a man realize that, even if those longings are a given, he has happily made his choice ("One of the Good Guys"). An obsession with staying young makes physical exercise a seeming necessity and, even though painful, the end result will be worth it ("There's Nothing Like It"). In a bittersweet recounting, a woman surrenders to the life that she's lived without complaining ("Life Story").
Doors opening and closing, good and bad choices, happy and sad times – the ups and downs of life and love make us ever-hopeful for something better ("Next Time"). We continue opening and closing doors on the positive and the negative but, in the long run, wouldn't change a thing ("I Wouldn't Go Back").
Act Two
As we begin Act II, doors continue opening and closing as three college friends grow up and grow apart but work to remain connected ("Three Friends"). A career-obsessed couple has trouble compromising their work for the sake of their baby ("Fandango"). Another couple comes apart because the man is not "there" for his wife until it's too late. A woman in a midlife dilemma is troubled by feelings of unrest, yet, in the end, takes comfort in her surroundings ("Patterns").
Doors open on an ode to weddings ("There Is Something in a Wedding"). A man and woman each venture into a second marriage (to each other) with a lovely, philosophical outlook ("Another Wedding Song"). With great pride and joy, a man pays tribute to his father, who taught him the love of music and life in general ("If I Sing"), and a woman pays a jazzy, tongue-in-cheek tribute to her bass-playing boyfriend ("Back on Base").
Transitional doors show us that getting older is inevitable. Facing all of the changes that happen along the way can be scary and frustrating – yet we move forward ("The March of Time"). The legacy and life cycle between parents and children is sweetly reflected by the men in "Fathers of Fathers." The heartbreak of love, both lasting and fleeting, is shared by the women in "It's Never That Easy / I've Been Here Before."
Finally, some doors that have been locked open up and shed light on the trials, hopes, joys and pains that other doors have exposed. Whether opened or closed, these doors "can only make us stronger than ever, clearer than ever... 'Closer Than Ever.'"
Show History
Inspiration
Closer Than Ever is a two-act musical revue with music by David Shire and lyrics by Richard Maltby, Jr.  Back in 1984, Maltby compiled several songs that were not used in his previous musicals to create an evening of musical short stories called the "Urban File."  In addition to songs, the "Urban File" contained many fragments of different ideas, including biographical materials from friends as possible song material.  But, because Maltby was directing and writing the musical, Song and Dance, and Shire was working on various film scores, the file was put in the corner.
In 1987, Lynne Meadow, the artistic director of the Manhattan Theatre Club, came to Maltby and Shire for music to use for a topical revue on urban themes.  After showing Meadow his "Urban File," Meadow decided to use six of their songs for his revue, bringing the unused songs back into the light.  The next year, playwright/director/pianist, Steven Scott Smith, then Maltby's assistant, approached them about creating another revue that used their music entirely.  The revue, titled Next Time, Now! opened in January 1989 at the Greenwich Village nightclub, Eighty-Eights. Its critical success pushed the creators to expand the show to a full-length revue.
Productions
Closer Than Ever came into existence at the Williamstown Theatre Festival in Massachusetts in the summer of 1989.  The show then moved to New York only a few months later, opening on November 6 at the Cherry Lane Theatre Off-Broadway. The production starred Brent Barrett and Sally Mayes and ran for over 300 performances before closing.
The musical has had a significant number of revivals in regional theatres all over the United States through the years.  Such notable productions include the Westport Country Playhouse in 1991; the Fleetwood Stage in 1996; the MetroStage in Washington, D.C., in 2002; and the Porchlight Music Theatre in Chicago in 2005.  In April 2010, Closer Than Ever celebrated its 20th anniversary with concurrent shows at Queens Theater in the Park and the Bristol Riverisde Theatre.  The musical returned to the New York scene in 2012, where it ran from June to November, once again Off-Broadway.
Critical Reaction
"Charming material presented charmingly and sometimes marvelously... among the abundant charms of this pocket-size 1989 revue... is its assertion that folks with a few miles on the odometer also have stuff to sing about. More stuff, in fact. ...Mr. Shire s score continually finds the jaunty rhythms in even the most melancholy subjects."
– The New York Times
"There are a number of equally compelling reasons – aside from [Maltby and Shire's] instantly memorable melodies and smartly crafted lyrics – for the enterprise's current success."
– TheaterMania
"Cripplingly unrequited yearnings. Break-ups gone hideously wrong. Urban neuroses. Squandered opportunities. The pleasures and pain of exercise. All-consuming loss. Maddening parenting, and dealing with your own parents. Acceptance of what is and working to make it something better. All are among the themes that lyricist Maltby and composer Shire address in the 26 breathlessly contemporary songs comprising the taut evening, minus any apology or subterfuge."
– Talkin' Broadway
"Polished, witty, tuneful... a pocket-size classic of the American musical theater."
– The New York Post
"An enchanting evening... a refreshing burst."
– Entertainment Weekly
Drama Desk Award
1989
-
Outstanding Actress in a Musical,
Nominee
(Lynn Wintersteller)
1989
-
Outstanding Music,
Nominee
(David Shire)
1989
-
Outstanding Lyrics,
Nominee
(Richard Maltby, Jr.)
1990
-
Outstanding Actress in a Musical,
Nominee
(Lynne Wintersteller)
1990
-
Outstanding Lyrics,
Nominee
(Richard Maltby, Jr.)
1990
-
Outstanding Music,
Nominee
(David Shire)
Outer Critics Circle Award
1989
-
Best Off-Broadway Musical,
Winner
(Closer Than Ever)
1989
-
Best Actress in a Musical,
Nominee
(Sally Mayes)
Connect
Billing
Requirements
You must give the authors/creators billing credits, as specified in the Production Contract, in a conspicuous manner on the first page of credits in all programs and on houseboards, displays and in all other advertising announcements of any kind.
Percentages listed indicate required type size in relation to title size.
Maltby & Shire's
CLOSER THAN EVER
Music by

David Shire

Lyrics by

Richard Maltby Jr.
Conceived by
Steven Scott Smith
Co-Directed by 
Steven Scott Smith*

Originally Produced Off-Broadway by Janet Brenner, Michael Gill and Daryl Roth
CLOSER THAN EVER was developed at The Williamstown Theatre Festival
Authors' Credit must appear on the title page of program, and on all posters and all ads of over 1/3 of a page size, immediately following the title of the Play.
The conceiver credit must immediately follow Authors' Credit. It is not necessary to include Conception Credit in teaser ads or ABC's where Maltby and Shire receive possessory credit. 
*If Richard Maltby is the director of the production, Steven Scott Smith shall receive credit as co-director of the Play, on the title page only, in the size indicated above.  Such credit shall appear among the credits accorded to the designers of Licensee's production.
The credits to the original off-Broadway Producers and Williamstown Theatre Festival must appear in a conspicuous place on the title page of the program and on all posters and in all ads and promotional materials where full credits are accorded all individuals entitled to billing credit, in a size and boldness no less than 50% of size and boldness of credit provided to the designers of Licensee's production.
Video Warning
In accordance with the Performance License, you MUST include the following warning in all programs and in a pre-show announcement:

ANY VIDEO AND/OR AUDIO RECORDING OF THIS PRODUCTION IS STRICTLY PROHIBITED.
Included Materials
| Item | Quantity Included |
| --- | --- |
| LIBRETTO | 8 |
| PIANO VOCAL SCORE | 6 |
Production Resources
Resource
HOW DOES THE SHOW GO ON-10/CS
HOW DOES THE SHOW GO ON?
PRODUCTIONPRO-DIGITAL SCRIPT/SCORE
REFERENCE RECORDING
STAGE WRITE APPLICATION
VIDEO CONVERSATIONPIECE
STANDARD ORCHESTRATION
| Instrumentation | Doubling |
| --- | --- |
| BASS | |