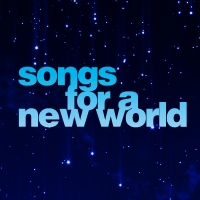 This contemporary song cycle weaves characters and history together, illuminating the timelessness of self-discovery.
Full Synopsis
Act One
Lights come up on a single woman. Another woman and two men soon join her. Their hopes and dreams, their fears and failures conjure up images of explorers setting out to find new lands ("Opening: The New World").
The first snapshot of the American experience brings us onboard a sixteenth century ship as the passengers plead to the Lord to give them the strength to survive the journey. Just as their struggle becomes too much to bear, the passengers find renewed hope of a better life ("On the Deck of a Spanish Sailing Ship, 1492").
We next see a woman standing on the window ledge of her New York penthouse, carrying on with grievances about her husband, Murray. As a crowd gathers below, she threatens to step off of the ledge and take her own life. She is left with nothing but the fear of taking one step to a new and genuinely better life ("Just One Step").
A young, adventurous mother and wife appears. She is seemingly ready for all of life's challenges and questions the fears of her children, parents and husband. We see that her strength is perhaps the very thing that is keeping a wall between her and the people she loves ("I'm Not Afraid of Anything").
We move from expectations of love to expectations of money. Two men wrestle with the dream of rewards that hard work should promise. Wealth flows easily for some, but others aren't as lucky ("The River Won't Flow").
Elsewhere, a woman who married very well looks back on the path that she chose. She knew wonderful men who were willing to give her laughter, love, companionship, adventure and passion, but she chose money over everything else. She now regrets the misguided priorities of her youth ("Stars and the Moon").
In a different type of frustrating relationship, a man goes through many ups and downs with the woman that he loves. She lies, and he heads out the door... but he finds himself coming back to her. Although manipulative, her tears are a window to the woman with whom he fell in love ("She Cries").
Meanwhile, in the Bronx, a determined young man dreams of life as a famous basketball star. His sadness, anger and passion have ignited an internal fire to realize the fantasy of his own new world ("The Steam Train").
Act Two
Act Two opens with a man struggling to reconcile his father's failure in a risky business venture with his education and the commitment that he's made to his fiancée, Amy. His continual fear of failure makes him unable to choose what he truly wants ("The World Was Dancing").
Mrs. Claus appears. It seems that being married to Santa Claus proves to be too much or, in her case, not enough. She loves, wants and needs him, but she just can't take another Christmas alone. With a flourish and a few choice words, she slams the door on their relationship for good ("Surabaya-Santa").
Next, a woman who is a bit less ferocious than Mrs. Claus looks to her faith to lift her up while contemplating her life and soul. She feels blessed and assured that her life will have meaning in the grand design of the world ("Christmas Lullaby"), but faith is shaken when we meet a desperate man in a prison cell, crying foul of his accused sins. He does not understand why he is there and questions the good he was trying to do ("King of the World").
A separated couple appears on stage. Now, as they are reunited, they look back and understand that they ran away out of a fear of love. Although the adventures were thrilling, they realize that they are home with each other at last ("I'd Give It All for You").
The mother of an American Revolutionary soldier anxiously awaits the end of the brutal war with no other way to manage her worry and frustration than to sew a flag ("The Flagmaker, 1775"). Echoes of the flagmaker linger as a young man hears the call of angels who will accompany him to where he belongs ("Flying Home").
In the finale, we discover that our hopes and dreams will continue to help light the way to a new world ("Hear My Song").
Show History
Inspiration
Songs for a New World is a unique hybrid of musical and song cycle, a revue of songs by composer, Jason Robert Brown.  When Brown arrived in New York as a man with no connections, he began to frequent cabarets with many different songs. Through this experience, he happened to meet Daisy Prince, daughter of the legendary Broadway producer and director, Harold Prince. The two hit it off instantly and, although Prince had never directed before, he asked her to direct a revue of his songs.


As they started working on the revue, they realized that Brown's songs had virtually no connection.  After much trial and error, Brown realized that the show was about "one moment. It's about hitting the wall and having to make a choice or take a stand, or turn around and go back."  With that as an overarching theme, the songs began to find their place, and the show found a structure. Brown's music covers a broad range of styles, amongst them pop, gospel and jazz.  Many numbers in Songs for a New World combine two or more of these styles.


Productions
After a workshop in Toronto, Songs for a New World made its New York premiere Off-Broadway at the WPA Theater on October 11, 1995.  The 28-performance production featured performances from Jessica Molaskey, Andrea Bruns, Brooks Ashmanskas and Billy Porter. Although it did not catch on in its initial run, the release of the original cast album made the revue a cult hit, and it became popular among college theatre departments, in particular.  The show had its British premiere at the Bridewall Theatre in 2001 and, in 2005, three members of the original cast reunited for a benefit concert at New York's Symphony Space.  New York has seen a couple of revivals of Songs for a New World:  one in October 2008 that featured an additional fourteen-member youth ensemble, and a benefit performance in March 2013 that starred Nick Adams, Ashley Brown, Jessica Rush and Michael James Scott.  The show recently premiered in 2013 in Paris France, after numerous productions in the United States, the UK and Australia.


Cultural Influence
Songs for a New World was composer, Jason Robert Brown's, first produced show. The notoriety that he gained from it would allow him to write for other musicals, including The Last Five Years, 13 and Parade.
The song, "Stars and the Moon," has received many popular covers from Broadway artists such as Audra McDonald and Betty Buckley.
Trivia
Songs for a New World was featured in the Festival of New Musicals in 1997, sponsored by the National Alliance for Musical Theatre. NAMT has nurtured the creation, development, production and presentation of new musicals since 1985.

Harold Prince has won more Tony Awards than anyone else (20): eight for directing, eight for producing, two as producer of the year's Best Musical and two special Tony Awards.

The original production of Songs for a New World at the WPA theatre was directed by Harold Prince's daughter, Daisy.
Critical Reaction
"Anyone interested in glimpsing the future of the American musical theater would do well to catch this new revue. ...The songs some of them close to miniature plays capture a wide variety of moods, from sweetly contemplative to sturdily inspirational."
– The Hollywood Reporter

"Brown is dizzily, unabashedly confident, and infuses his songs with optimism, as the hummable title song, The New World, suggests. ...The revue drifts through a series of gospel-driven ballads, funky R&B's, drolly funny set pieces and heart-twisting love songs, the lyrics shot through with wit, intelligence, and enthusiasm for life s crazy possibilities."
– Time Out New York

"[Jason Robert Brown] manages to combine the tuneful accessibility of Alan Mencken [sic] with the probing introspection of Stephen Sondheim, a combination that should prove irresistible in a full-fledged book musical.  Here the revue style tantalizes, giving several glimpses at Brown s gifts without placing them in any overarching context. ...He looms as a possible bridge between the old-style show-stoppers and the more recent character studies.  You tap your toes while thinking long and hard about what you re watching.  The kid is good."
– Backstage
"The show's best numbers are illuminated by character and wit."
– The New York Times
"The power [Brown] exhibits attacking the keyboard is similarly evident in his music which has a great sense of propulsion, a genuine sense of drama.  He is equally skillful at creating harmonies and using the four voices to good dramatic effect."
– New York Daily News

Connect
Billing
Requirements
You must give the authors/creators billing credits, as specified in the Production Contract, in a conspicuous manner on the first page of credits in all programs and on houseboards, displays and in all other advertising announcements of any kind.
Percentages listed indicate required type size in relation to title size.
SONGS FOR A NEW WORLD
Music and Lyrics by JASON ROBERT BROWN
Originally Produced by the WPA Theatre, New York City, 1995
(Kyle Renick, Artistic Director)
(The size of the WPA credit above must not be less than 25% of the size of the title of the play, except that if any other Producer's credit is less than 25% of the title, so may WPA's credit be the same size as the other Producers' credit)
Original Orchestration by Brian Besterman and Jason Robert Brown
(No billing shall appear in type larger or more prominent than the billing to the Author, except for the title of the play)
The videotaping or other video or audio recording of this production is strictly prohibited
Included Materials
| Item | Quantity Included |
| --- | --- |
| LIBRETTO | 8 |
| PIANO CONDUCTOR'S SCORE | 6 |
Production Resources
Resource
HOW DOES THE SHOW GO ON-10/CS
HOW DOES THE SHOW GO ON?
KEYBOARDTEK
LOGO PACK
LOGO PACK DIGITAL
LOGO TEES SIX-PACK ADULT LARGE
LOGO TEES SIX-PACK ADULT MEDIUM
LOGO TEES SIX-PACK ADULT SMALL
LOGO TEES SIX-PACK ADULT X-LARGE
LOGO TEES SIX-PACK ADULT XX-LARGE
LOGO TEES SIX-PACK CHILD LARGE
LOGO TEES SIX-PACK CHILD MEDIUM
LOGO TEES SIX-PACK CHILD SMALL
PRODUCTIONPRO-DIGITAL SCRIPT/SCORE
REFERENCE RECORDING
STAGE WRITE APPLICATION
STREAMING LICENSE
TRANSPOSITIONS-ON-DEMAND
VIRTUAL STAGE MANAGER
STANDARD ORCHESTRATION
| Instrumentation | Doubling |
| --- | --- |
| BASS | |
| CELLO | |
| DRUMS | |
| GUITAR | |
| PERCUSSION | |
| VIOLA | |
| VIOLIN | |
| VIOLIN 2 | |