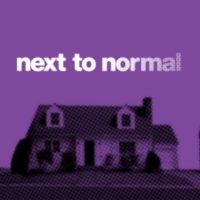 An unflinching look at a suburban family struggling with the effects of mental illness.
Full Synopsis
Act One
Following the "Prelude – Light," lights go out before revealing suburban mother, Diana Goodman, alone, waiting. Gabe, her 17-year-old son, enters. Diana scolds him over his curfew, then quickly pushes him away as father, Dan, enters to check on his restless wife. Natalie, their equally restless and overachieving daughter, crosses with an exorbitant amount of homework. Soon it is morning, and each family member prepares individually for "Just Another Day." But, when Diana starts making extraneous sandwiches on the floor, the music stops. Dan helps the disoriented Diana as Natalie and Gabe exit.
Next, we find Natalie seeking refuge in a school practice room with the structure of classical piano ("Everything Else"). Her precious time preparing for an impending recital is prematurely interrupted by Henry, who introduces himself and confesses listening to her play daily. While it's clear that he likes her, Natalie pushes him out and returns to rehearsing diligently.
We then find Diana receiving prescriptions from Doctor Fine while Dan questions his own depression in the car ("Who's Crazy / My Psychopharmacologist and I"). Fine diagnoses Diana as bipolar depressive with delusional episodes. The song takes us through several weekly visits, echoed by voices selling myriad pharmaceuticals and warning of side effects. Although she's been medicated unsuccessfully for sixteen years, Doctor Fine continues to adjust her medications over the visits until Diana says that she doesn't feel anything... at which point, he declares her stable.
Over the same weeks, Natalie and Henry have grown closer over hours spent together in the practice room. We find Natalie at Henry's house as he prepares a bong. When Natalie declines smoking because she's scared of being a disaster, Henry struggles to articulate his love for her ("Perfect for You"). The song carries them to the Goodman's house, where they kiss for the first time.
Diana witnesses this event of burgeoning love, triggering memories of extreme highs and lows ("I Miss the Mountains"). With her son's encouragement, coupled with her desire to feel again, Diana flushes all of her new medications down the toilet.
We flash back to Dan, bouncing through his days ("It's Gonna Be Good"). When he discovers Henry and Natalie together on the porch, he invites Henry to stay for dinner, much to Natalie's chagrin. Dinner goes along swimmingly until Diana emerges with a cake exclaiming, "It's someone's birthday!"
Dan goes to Diana and explains "He's Not Here." Their son died 16 years ago. Devastated, Natalie storms out to her room. Henry politely excuses himself and follows Natalie. Diana confesses to Dan that she flushed all of her new medication. When Dan empathetically offers to call Doctor Fine for a new round, Diana lashes out on him ("You Don't Know"). Dan tries to calm her down and regain her trust as Gabe joins him ("I Am the One"), attempting the same.
In her room with Henry, Natalie vents about her mother. Henry attempts to placate her by making a pipe out of an apple. Natalie dismisses the offer and further explains her anger ("Superboy and the Invisible Girl"). Diana comes in and unsuccessfully appeases the situation, followed by an unseen Gabe. When Henry offers the pipe again, Natalie takes it.
Meanwhile, Dan found highly regarded Doctor Madden by networking over depression online and at work. Diana spends several weeks with Doctor Madden, who appears to her as a rock star. Gabe joins her sessions to assert his existence ("I'm Alive").
Simultaneously, Dan and Natalie are continuing to struggle with Diana's problems. Natalie, trying to cope, is lead to sample some of the her mother's pills. When she takes the stage at her recital days later, her parents' empty seats escalate her emotional turmoil. Clearly affected, Natalie verbally rejects her classical selection and launches into a sloppy rock improvisation. Henry goes to her and helps her off the stage.
Meanwhile, Doctor Madden is using hypnosis ("Make up Your Mind / Catch Me I'm Falling") to root Diana's trauma. Through this device, we learn about Diana's history with Dan, Gabe and Natalie. Finally, Diana agrees that it's time to let her son go. She goes home and begins to purge her son's things. Upon finding and opening a music box, Diana becomes drenched in a vision of dancing with her son ("I Dreamed a Dance"). When Gabe invites her to come away with him ("There's a World"), she does.
Doctor Madden enters with Diana's hospital chart. Diana Goodman was discovered in her home unconscious with self-inflicted razor wounds. Diana is treated, sedated and restrained. Doctor Madden is upset.
Dan joins Doctor Madden at the hospital. Madden explains that ECT (electroconvulsive therapy) is the next standard course of treatment for drug-resistant patients who are imminently suicidal. However, the therapy requires both Dan and Diana's consent. Dan goes home to clean up, sort his thoughts and decide what to do ("I've Been").
The next day, Diana (with Gabe at her side) receives Doctor Madden's suggestion. She lashes out at Doctor Madden, refusing the treatment ("Didn't I See This Movie?"), until Dan arrives and convinces her that it may be their last hope ("A Light in the Dark"). Dan and Gabe watch as she signs the consent form and is ushered out, briefly pausing to look back.
Act Two
While Diana begins a two-week series of ECT treatments, we find Natalie losing her discipline and further experimenting with drugs and clubs ("Wish I Were Here"). Natalie is home when Dan brings Diana home from the hospital. Diana doesn't recognize her daughter. The Goodman family realizes that Diana has lost 19 years of memories ("Song of Forgetting").
Natalie leaves for school, where Henry confronts her ("Hey #1"). He questions her avoidance, sobriety and commitment, as well as asks her to the spring formal dance. She leaves him without an answer.
Dan and Diana visit Doctor Madden, who assures them that Diana's memory loss may be partly psychogenic ("Seconds and Years"). Doctor Madden encourages Dan to use pictures and keepsakes to trigger memories and help Diana recover. Dan and Natalie gather to do so ("Better than Before") with minor success. When the music box emerges from the pile of keepsakes, Dan whisks it away, leaving Diana puzzled. Gabe appears, unseen and unheard, as he sings about which is worse – the symptom or the cure ("Aftershocks").
Diana continues searching the mementoes for days, trying to uncover a memory that's tugging at her. When Henry arrives looking for Natalie, Diana is given great pause, studying his face and asking his age. Not phased, Henry hurries up to Natalie's bedroom to convince her to go to the dance. ("Hey #2"). When Natalie avoids accepting, Henry promises to try again the following evening. He leaves her with a ticket to attend.
Diana returns to Doctor Madden ("You Don't Know – Reprise") by herself. He nearly discloses the root of her trauma (which is Gabe's death) before suggesting that she further explore her history and talk with her husband. Diana goes home and finds the music box. Dan tries to stop her, but the irrevocable memories of her baby boy rush back ("How Could I Ever Forget?"). When Diana confesses remembering her son as being older, Dan quickly insists they return to Doctor Madden ("It's Gonna Be Good – Reprise"). At the same time, Henry arrives to pick up Natalie for the formal. Dressed for the dance, Natalie emerges in time for both to witness Dan grab and smash the music box to pieces on the floor. Natalie is crushed and runs to her room. Henry follows.
Diana confronts Dan, wondering why he perseveres after how much trouble she's been. Upstairs, Natalie echoes her mother's sentiments to Henry ("Why Stay?"). Dan and Henry both answer with vows to stay steadfast and true ("A Promise"). Natalie and Henry embrace as Gabe reappears downstairs ("I'm Alive – Reprise"). Seeing him, Diana bolts to see Doctor Madden. Natalie agrees to drive her and tells Henry that she will try to meet him later. Gabe lingers with Dan.
Diana asks Doctor Madden what can be done now. Madden assures her that relapse is common. Diana discovers that it's not her brain that's hurting; it's her soul ("The Break"). Doctor Madden urges her to continue ECT treatment ("Make up Your Mind / Catch Me I'm Falling – Reprise"). If left untreated, her chronic illness could be catastrophic. Diana declines further treatments and walks out.
Diana explains her decision ("Maybe – Next to Normal") to Natalie outside, opening up to her daughter for the first time. She urges Natalie to go see Henry at the school dance. Natalie arrives and finds Henry standing alone ("Hey #3 / Perfect for You – Reprise"). Immediately struck by her beauty, Henry then calms Natalie's fears that she might end up crazy. They embrace and kiss.
At the same time, Diana finds Dan at home and tells him that she's leaving him ("So Anyway"). She explains that he can't always be there to catch her. She needs to take a chance and deal with things on her own. She departs, leaving Gabe with Dan.
As Dan ponders how she could have left him ("I Am the One – Reprise"), Gabe slowly approaches. Dan grows increasingly distraught until he, at last, faces the boy and calls him by his name for the first time: Gabriel.
Natalie returns home to find her father, sitting alone in the dark, in tears. She comforts him, assures him that they will be okay and begins to turn the lights on in the house ("Light"). We come across Diana, alone and still hurting, yet happy to be alive. We see Henry and Natalie the next day, committed, come what may. We view Dan visiting Doctor Madden. Although he entered to get an update on Diana, he stays to talk about his own struggle. Finally, we see Gabriel arrive, watching over them all. Normal life continues.
Show History
Inspiration
Next to Normal is an original musical that began largely as a critique of the medical establishment and the medical treatment for mental illnesses like those from which Diana suffers but, as the show continued to develop, the writers chose to focus on the family and their struggles instead.
Productions
Next to Normal began in 1998 as a ten-minute workshop sketch about a woman undergoing electroshock therapy and its impact on her family, titled Feeling Electric. Book and lyrics writer, Brian Yorkey, brought the idea to composer, Tom Kitt, while both were at the BMI Lehman Engel Musical Theatre Workshop, and the pair began to write together. This eventually led to the show receiving several NYC readings before debuting Off-Broadway at the Second Stage Theatre from January 16, through March 16, 2008.
Following its Off-Broadway debut, Next to Normal continued development in a regional premiere production at the Arena Stage in Crystal City, Virginia, from November 21, 2008, through January 18, 2009. With critical and audience reception highly favorable, the musical then leapt to Broadway, starting previews at the Booth Theatre on March 27, 2009, before officially opening on April 15, 2009. The Broadway production later closed on January 16, 2011, after 21 previews and 733 regular performances.  The show was directed, as it had been Off-Broadway and at the Arena Stage, by Michael Greif with Sergio Trujillo doing the musical staging. The opening-night cast included Alice Ripley, J. Robert Spencer, Louis Hobson, Aaron Tveit, Jennifer Damiano and Adam Chanler-Berat.
After its successful Broadway run, Next to Normal began its first national tour of North America and Canada at the Ahmanson Theatre in Los Angeles, California, on November 23, 2010. The tour played in 16 cities in the U.S., ending in Toronto, Ontario, Canada, on July 30, 2011. Alice Ripley reprised her Tony Award-winning role as Diana.
The show has also gone on to a very successful regional and international life, playing in such cities as: Milwaukee, San Francisco, Atlanta, Chicago, Tucson, Orlando and Charleston, to name a few, as well as such foreign markets as: Japan, Sweden, South Korea, Australia, Brazil, Israel and Argentina.
Cultural Influence
About six weeks into the Broadway Production, Next to Normal made history by publishing an adapted version of the show over Twitter. Over 35 days, the serialized version of the show was published in short messages. The Twitter performance ended the morning of June 7, 2009, the day of the 2009 Tony Awards.
On May 12, 2009, the Next to Normal Original Broadway Cast Recording was released by Sh-K-Boom Records.
Trivia
When Next to Normal won the 2010 Pulitzer Prize for Drama, it became just the eighth musical in history to receive the honor. The previous musical to win the Pulitzer was Rent, in 1996, which was also directed by Michael Greif.
The musical set a box office record at the Booth Theatre for the week ending January 3, 2010, by grossing $550,409, only to beat that record a year later in its final week of performances, grossing $552,653 for the week ending January 16, 2011.
Besides the awards it won, Next to Normal was nominated for two Drama Desk Awards and an additional eight Tony Awards, including Best Musical and Best Book of a Musical .
Next to Normal was originally slated to open in the Longacre Theatre on Broadway with a closed balcony to create a more intimate space, but when the smaller Booth Theatre became suddenly available, producers made the switch.
Since 1918, only eight musicals have been awarded the Pulitzer Prize for Drama – of those eight, six are MTI Musicals: Of Thee I Sing (1932), Fiorello! (1960), How to Succeed... (1962), Sunday in the Park with George (1985), Rent (1996) and Next to Normal (2010).
Critical Reaction
"No show on Broadway right now makes as direct a grab for the heart or wrings it as thoroughly as Next to Normal does... brave, breathtaking... a work of muscular grace and power."
– New York Times
"...heart-melting... sensitively crafted show... something inordinately powerful in the music and the story, which have been meticulously woven together by the songwriting team of Tom Kitt and Brian Yorkey... beautiful songs that get to the heart of this deceptively complex story – and simply get to the heart."
– Washington Post
"Truly the go-to show of the winter season."
– Washington Times
"An honest, truthful story about a family with problems but a whole lot of love for each other& beautiful, artful, deeply moving."
– Chicago Tribune
Connect
Billing
Music by

Book and Lyrics by
Requirements
You must give the authors/creators billing credits, as specified in the Production Contract, in a conspicuous manner on the first page of credits in all programs and on houseboards, displays and in all other advertising announcements of any kind.
Percentages listed indicate required type size in relation to title size.
CREDITS: You agree to bill the Play and the Authors in all programs, houseboards, displays and in all advertising and all paid publicity, in the following manner: Specifically, you must bill the Play and the Authors as follows:                       
NEXT TO NORMAL
Music by

TOM KITT

Book & Lyrics by

BRIAN YORKEY
No one but producers, prior presenters of the Play and stars of the Play may receive billing above the title, and no one except stars receiving billing above the title may receive larger or more prominent billing than that afforded to Authors.
The following credit shall appear on the title page of all programs and in all advertising and publicity wherever and whenever the full production credits are given, in a type size not less than 25% of the type size used for the non-logo title of the Play, in substantially the following form:
Original Broadway Production Produced by David Stone,
James L. Nederlander, Barbara Whitman, Patrick Catullo and Second Stage Theatre
The following credits shall appear on the title pages for all programs of the Play in a size equal to the designers' credit:
Orchestrations by Michael Starobin and Tom Kitt
Vocal Arrangements by AnnMarie Milazzo
The following credit shall appear only on the title page of all programs:
New York Premiere Produced by Second Stage Theatre, New York. February  2008
Carole Rothman, Artistic Director         Ellen Richard, Executive Director
'Next To Normal' was subsequently produced by Arena Stage in November 2008.
Developed at Village Theatre, Issaquah, WA (Robb Hunt, Executive Producer, Steve Tomkins, Artistic Director).
An earlier version was presented in the 2005 New York Musical Theatre Festival.
Support for the development of "Next To Normal" was provided by the Jonathan Larson Foundation.
In advertisements of 1/4 page size or less or where only the title of the play, performance dates and venue are provided, the following "shortened billing" is permissible:
NEXT TO NORMAL
Video Warning
In accordance with the Performance License, you MUST include the following warning in all programs and in a pre-show announcement:

ANY VIDEO AND/OR AUDIO RECORDING OF THIS PRODUCTION IS STRICTLY PROHIBITED.
Included Materials
| Item | Quantity Included |
| --- | --- |
| AUDIO GUIDE | 1 |
| LIBRETTO | 10 |
| PIANO CONDUCTOR'S SCORE ACT 1 | 1 |
| PIANO CONDUCTOR'S SCORE ACT 2 | 1 |
| PIANO VOCAL SCORE ACT 1 | 7 |
| PIANO VOCAL SCORE ACT 2 | 7 |
Production Resources
Resource
HOW DOES THE SHOW GO ON-10/CS
HOW DOES THE SHOW GO ON?
KEYBOARD PATCH SOLUTIONS
KEYBOARDTEK
LOGO PACK
LOGO PACK DIGITAL
PERFORMANCE ACCOMPANIMENT RECORDING
PRODUCTIONPRO-DIGITAL SCRIPT/SCORE
REFERENCE RECORDING
REHEARSAL ACCOMPANIMENT RECORDING
REHEARSCORE APP
SCENE PARTNER
STAGE MANAGER SCRIPT
STAGE WRITE APPLICATION
TRANSPOSITIONS-ON-DEMAND
STANDARD ORCHESTRATION
| Instrumentation | Doubling |
| --- | --- |
| BASS | ACOUSTIC BASS , ELECTRIC BASS |
| CELLO | |
| DRUMS | CONGA , DJEMBE , DRUM KIT , FINGER CYMBAL , GLOCKENSPIEL , SHAKER , SMALL TRIANGLE , SUSPENDED CYMBAL , TAMBOURINE , TIMPANI , TRIANGLE , VIBES , WOOD BLOCK |
| GUITAR | ACOUSTIC GUITAR , ELECTRIC GUITAR |
| VIOLIN | |