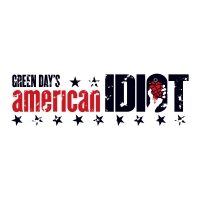 Green Day's American Idiot
Green Day's powerhouse album is brought to life in this electric-rock musical of youthful disillusion.
Full Synopsis
Prologue: Dozens of televisions announce random bits of news, gossip and commercials. Everyone is fixated on his or her own television. Fed up with the state of the union, the company explodes in anger ("American Idiot").
We find ourselves in a suburban wasteland at some point in the recent past. We meet Johnny. He's almost 30 and he's done nothing with his life. He goes to commiserate with his friend, Will ("Jesus of Suburbia"). Their friend, Tunny, shows up, and they party. When the three of them run out of beer, they head to the 7-11, where Tunny exposes the do-nothing, go-nowhere quicksand of their lives ("City of the Damned"). They get riled up, and Johnny challenges his friends to care ("I Don't Care"). Heather appears. She is pregnant, and doesn't know what to do ("Dearly Beloved"). Meanwhile, a decision is made. Johnny, Will and Tunny will head to The City to start a new life. At the last moment, Heather reveals to Will that she is pregnant with his child, and Will decides to stay home ("Tales from Another Broken Home").
Johnny and Tunny take a bus across the country. As expected, the America they find sickens them, and they redouble their commitment to forging their own path ("Holiday"). They arrive in The City and share a cheap room at a dive hotel. Days pass. Tunny sleeps, but Johnny walks out into the night to claim his connection to the city. He even sees a lonely girl in a window and flirts with her ("Boulevard of Broken Dreams"). Back in the hotel, Tunny wakes up. Disillusioned with The City, he has a television-induced mystical revelation ("Favorite Son"). Mesmerizing images of power and patriotism inspire Tunny to enlist in the military ("Are We the Waiting"). Johnny returns to the hotel to find Tunny gone. Alone and desperate, Johnny conjures an all-powerful alter ego, St. Jimmy. Surrounded by disciples and jacked up on St. Jimmy's charisma and drugs, Johnny tracks down the girl in the window, Whatsername, and makes his move ("St. Jimmy").

Johnny hooks up with Whatsername. Back in suburbia, Will and Heather struggle to keep their relationship alive, but Will's inertia threatens to get the best of him. Meanwhile, in the Middle East, we find Tunny in combat, where he is injured ("Give Me Novocaine"). Johnny is smitten with Whatsername and wants to celebrate, but St. Jimmy has other plans for them ("Last of the American Girls/She's a Rebel"). St. Jimmy gives Johnny and Whatsername some high-grade heroin, and they shoot up. By this time, Will and Heather's baby has been born, and Will is increasingly oblivious as Heather tenderly commits herself to her baby's future ("Last Night on Earth"). Heather has had enough of Will's pot-and-alcohol-fueled apathy. Despite Will's protestations, she takes the baby and walks out ("Too Much Too Soon").
Tunny is in a military hospital in the Middle East with three other injured soldiers ("Before the Lobotomy"). His left leg has been severely wounded. In a morphine-induced hallucination, a mysterious burqa-clad seductress appears to him from the sky. She pulls him into an ecstatic mid-air dance ("Extraordinary Girl"). The mirage disappears, and he is left with his fellow soldiers in agony ("Before the Lobotomy – Reprise"). In The City, Johnny sings Whatsername a beautiful love song that he has written for her ("When It's Time"). This propels St. Jimmy to action. Threatened by Johnny and Whatsername's intensifying connection, he retaliates by trying to separate them. Johnny's need for drugs suddenly increases. As he ties off and shoots up, he pictures Will, and they reiterate their old credo ("Know Your Enemy").
Three simultaneous events: In the military hospital, Tunny's leg has been amputated. His nurse, the Extraordinary Girl from his fantasy, gives him a sponge bath and comforts him. Back in suburbia, Will is alone, and Heather is somewhere far away, with their child. In The City, Whatsername appeals to Johnny to clean up and get serious about his life and their relationship ("21 Guns"). Johnny can't handle it and taunts her under the continuing influence of St. Jimmy. Whatsername has had it and she leaves Johnny ("Letterbomb"). Johnny hits rock bottom. He longs for better days ahead, Tunny longs for home, and Will longs for all the things he's lost ("Wake Me up When September Ends").
Johnny commits to getting clean. St. Jimmy relaizes that his days are numbered, and the Johnny/St. Jimmy matrix explodes in the metaphorical suicide of St. Jimmy ("The Death of St, Jimmy"). Johnny joins the work force. He doesn't like it too much ("East 12th St."). Will, out of grass and all alone with his television, bemoans his outcast state ("Nobody Like You"). He finally gets up off the couch when, suddenly, Heather appears on television with her new rockstar boyfriend ("Rock and Roll Girlfriend"). Will freaks. He heads to the 7-11, waiting for something to happen. Johnny returns home, as does Tunny. The three friends reunite in the parking lot of the 7-11. Tunny introduces his Extraordinary Girl, who has returned home with him. Heather and her rock and roll boyfriend arrive. In an uneasy truce, she allows Will to show his kid to his two best friends. Other friends show up, too, to greet the three guys, whom they haven't seen in a year ("We're Coming Home").
Epilogue: A year has gone by. Johnny reflects on the mistakes of his past and, for the first time, he can live inside the struggle between rage and love that has defined his life. With this acceptance comes the possibility of hope ("Whatsername").
Show History
Inspiration
American Idiot, with a book by Billie Joe Armstrong and Michael Mayer, lyrics by Billie Joe Armstrong and music by the band, Green Day, is based on the concept album of the same name by Green Day. The score includes all of the songs from the 2004 album, although it also pulls from other material: the album 21st Century Breakdown, B-sides to the initial album and a completely new song titled "When It's Time." While recording American Idiot, the band members each recorded 30-second songs, eventually pieced together into suite songs such as "Homecoming" and "Jesus of Suburbia." They then created a concept album; their basis stemmed from many different sources like previous concept records from The Who,The Rocky Horror Picture Show and the original concept-album-musical, Jesus Christ Superstar. When director, Michael Mayer, heard the album, he expressed an interest in collaborating with the band to adapt it for the stage.
Productions
American Idiot premiered at the Berkeley Repertory Theatre on September 15, 2009, and extended twice up to November 15. The musical moved east to the St. James Theatre on Broadway. With a creative team that included much of the same team from the Broadway production of Spring Awakening, it ran until April 24, 2011.

The first national touring production of the musical launched in Toronto on December 28, 2011. Numerous tours have launched since then, including a non-union tour in late summer 2012, a UK and Ireland tour from October to December 2012, and yet another United States tour in early 2014. The show also premiered in Asia with a Tokyo/Seoul tour in 2013.
Cultural Influence
The world premiere tryout production of American Idiot became the top-grossing show in the Berkeley Repertory Theatre's history.
Green Day frontman and bookwriter/lyricist, Billie Joe Armstrong, stepped into the role of St. Jimmy several times over the run of the musical on Broadway. This event marks one of the extremely rare times that a writer has stepped into play a character in his own play.
Broadway Idiot, a documentary showing Armstrong's journey to the Broadway stage, premiered at the South by Southwest Film Festival on March 15, 2013. It was later released in theatres and Video on Demand on October 11, 2013.
Critical Reaction
"American Idiot knows no limits – it's a global knockout. Blows your mind while it blows the roof off. Looking for a groundbreaking musical event? You just found it."
– Rolling Stone

"Invigorating, moving and thrilling! A true rock opera."
– The New York Times

"Kinetically entertaining in a way that intentionally reflects the shallow, media-saturated culture the album rails against."
– LA Times
Connect
Billing
Music by

Lyrics by

Book by
Requirements
You must give the authors/creators billing credits, as specified in the Production Contract, in a conspicuous manner on the first page of credits in all programs and on houseboards, displays and in all other advertising announcements of any kind.
Percentages listed indicate required type size in relation to title size.
You agree to bill the Play and the Authors in all programs, houseboards, displays and in all advertising and all paid publicity, in the following manner:
[IMAGE HERE]
Music by

GREEN DAY

Lyrics by

BILLIE JOE ARMSTRONG

Book by

 BILLIE JOE ARMSTRONG and MICHAEL MAYER
NOTE:  The size of the billing for the names Green Day, Billie Joe Armstrong and Michael Mayer must be at least 35% of the size of the letters in the word "IDIOT" in the authorized logo.
Billing credit for the Authors shall be equal in type, size and prominence.  No one may receive billing larger than Authors.
NOTE:  Licensees are not permitted to create their own original logo.  You must use one of the three authorized logos provided by MTI, which are included in your rental materials.
You also agree to include the following credits on (i) the main credit page of all theater programs, in a size equal to 40% of the size of the credit to the Authors and (ii) in all advertising and publicity whenever and wherever the full production credits are given:
Original Broadway Production Produced by  Tom Hulce & Ira Pittelman
Ruth and Stephen Hendel     Vivek Tiwary and Gary Kaplan     Aged In Wood and Burnt Umber
Scott M. Delman   Latitude Link   HOP Theatricals and Jeffrey Finn    Larry Welk
Bensinger Filerman and Moellenberg Taylor    Allan S. Gordon/Élan V. McAllister
Berkeley Repertory Theatre
in association with Awaken Entertainment and John Pinckard and John Domo
and
Was originally produced by Berkeley Repertory Theatre, Berkeley, CA 
Tony Taccone, Artistic Director / Susan Medak, Managing Director
You agree to provide the following credits (in the size, prominence and style of type no less than that used for the designers' credits) on the main credit page of all theater programs and in any paid print advertising in which all designers are billed:
Musical Arrangements and Orchestrations
Tom Kitt
You also agree to include approved author biographies in all programs that include the biography of any other creative team members. You can find approved author biographies at http://www.mtishows.com/authorbios
In advertisements of 1/4 page size or less where only the title of the play, performance dates and venue are provided, the following "shortened billing" is permissible:
[IMAGE HERE]
Video Warning
In accordance with the Performance License, you MUST include the following warning in all programs and in a pre-show announcement:

ANY VIDEO AND/OR AUDIO RECORDING OF THIS PRODUCTION IS STRICTLY PROHIBITED.
Included Materials
| Item | Quantity Included |
| --- | --- |
| GUITAR 3 | 5 |
| KEYBOARD1 - CONDUCTOR SCORE | 2 |
| LIBRETTO/VOCAL BOOK | 22 |
Production Resources
Resource
HOW DOES THE SHOW GO ON-10/CS
HOW DOES THE SHOW GO ON?
KEYBOARDTEK
PRODUCTIONPRO-DIGITAL SCRIPT/SCORE
REFERENCE RECORDING
STAGE MANAGER SCRIPT
STAGE WRITE APPLICATION
TRANSPOSITIONS-ON-DEMAND
STANDARD ORCHESTRATION
| Instrumentation | Doubling |
| --- | --- |
| BASS | ELECTRIC BASS |
| CELLO | |
| DRUMS | DJEMBE , DRUM KIT , OCTOPAD-STADIUM HITS, TAMBOURINE |
| GUITAR | ELECTRIC GUITAR , STEEL STRG ACOUSTIC |
| GUITAR 2 | ELECTRIC GUITAR , STEEL STRG ACOUSTIC |
| VIOLA | |
| VIOLIN | |