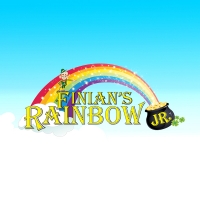 Finian's Rainbow JR. is unavailable for licensing at this time. MTI and the Authors are refurbishing the materials, please check back for updates.
Full Synopsis
On a spring day in Rainbow Valley, the Sheriff is about to auction off a parcel of land for non-payment of taxes. Property owner, Susan Mahoney, who was born mute, delays the auction until her brother, Woody, can arrive ("This Time of the Year"). Susan heads off to meet Woody's train as Finian and his daughter, Sharon, arrive from Ireland ("How Are Things in Glocca Morra?") Finian reveals that he has "borrowed" a leprechaun's gold and plans to bury it so it will grow into more money.
Finally, Woody arrives ("Woody's Entrance") and, with a little help from Sharon, pays off the debt. To show his thanks for the help, Woody gives Sharon and Finian a share of the land. Finian now has a place to bury his gold. Sharon tells the people of Rainbow Valley about her home ("Look to the Rainbow"), and she and her father are soon welcomed in like old friends. That evening, Og, the leprechaun, shows up, demanding that Finian return his stolen gold. Og is scared away when Sharon and Woody arrive, looking for Finian ("Old Devil Moon").
The next morning, knowing that gold has been found in Rainbow Valley, the Senator tries to buy the land now owned by Finian, but he will not sell. Before leaving, the Senator disparages the workers on the land for "looking different" than he does.
Sharon is washing clothes ("How Are Things in Glocca Morra? – Reprise"), when she is approached by Og, who is quite smitten with her ("Something Sort of Grandish"). Og hides as Woody approaches. The lovers begin to quarrel, but they are interrupted by the arrival of friends. Finian has hatched a plan to get Woody betrothed to his daughter ("We're Havin' a Party," "Sharon's Getting Betrothed," "Woody's Getting Betrothed"). The Senator tries to buy the land again, making bigoted comments about the "rainbow-colored" Sharecroppers. Sharon is not happy and wishes the Senator looked just like the Sharecroppers... and, because she is standing over the buried gold, the wish comes true!
A Sharecropper announces that gold has been found in Rainbow Valley ("That Great Come-and-Get-it Day"). Finian and Woody convince the Sharecroppers not to dig for it, but once Susan is alone, she discovers Finian's gold and moves it ("Dance of the Golden Crock"). A few weeks later, the people of Rainbow Valley are rejoicing ("When the Idle Poor Become the Idle Rich"), and Finian has convinced Sharon and Woody to marry. The Sheriff enters and threatens a murder charge on Susan if the Senator, who has not returned since Sharon "changed" him, is not found by Tuesday.
In the woods, Og encounters the transformed Senator and realizes that what he really needs is a new inside ("Fiddle-Faddle"), not outside. The "cured" Senator is happy again and is soon welcomed as a member of the Passion Pilgrim Gospeleers ("The Begat").
Just before the deadline, Finian finds Og and pleads with him to change the Senator back. Og doesn't know where the gold is, but when he mistakes Susan for Sharon ("When I'm Not Near the Girl I Love") he falls in love with her. As Og searches for his gold, he wishes that Susan could speak since she might know where the gold is hidden. His wish comes true, and Og realizes where his gold is buried. Og decides to stay mortal so he can be with Susan, and uses the last wish to change the Senator back. Sharon and Woody are saved, and the Senator returns a changed man. Finian sets off to keep hope alive throughout the world ("Look to the Rainbow – Reprise," "Finale Ultimo/How Are Things in Glocca Morra?" "Curtain Act II/That Great Come-and-Get-it Day").
Connect
Curriculum Connection
Metric Units and Conversions
Billing
Music by

Lyrics by

Book by

Adaptation by
Requirements
You must give the authors/creators billing credits, as specified in the Production Contract, in a conspicuous manner on the first page of credits in all programs and on houseboards, displays and in all other advertising announcements of any kind.
Percentages listed indicate required type size in relation to title size.
In accordance with the Dramatic Performing Rights License, all advertising, such as posters and program covers, must include the show logo as provided in the ShowKit® Director's Guide and all of the following author billing.
It is a violation of your contract if you crop or edit this logo in any way.
The [Licensee]
Production of

Music By:

BURTON LANE

Lyrics By:

YIP HARBURG

Book By:

YIP HARBURG and FRED SAIDY
Adaptation by
Deena R. Harburg
The videotaping or other video or audio recording of this production is strictly prohibited
Included Materials
Production Resources
Resource
ACTOR'S BOOK TENPACK
CUSTOMIZABLE SHOW POSTER
FAMILY MATTERS
FAMILY MATTERS (PACK OF 10)
HOW DOES THE SHOW GO ON-10/CS
HOW DOES THE SHOW GO ON?
LOGO PACK DIGITAL
LOGO TEES SIX-PACK ADULT LARGE
LOGO TEES SIX-PACK ADULT MEDIUM
LOGO TEES SIX-PACK ADULT SMALL
LOGO TEES SIX-PACK ADULT X-LARGE
LOGO TEES SIX-PACK ADULT XX-LARGE
LOGO TEES SIX-PACK CHILD LARGE
LOGO TEES SIX-PACK CHILD MEDIUM
LOGO TEES SIX-PACK CHILD SMALL