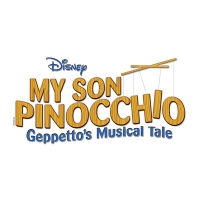 Disney's My Son Pinocchio: Geppetto's Musical Tale
The classic tale of an aging toymaker and his beloved wooden puppet is given a touching finish in this Disney gem.
Full Synopsis
Act One
The syrupy-sweet and very self-satisfied Blue Fairy, along with her four fairies in training, greets the audience ("When You Wish upon a Star"). She explains that tonight we'll celebrate the story of one of her "perfectly granted wishes" – the transformation of the puppet, Pinocchio, into a real boy at the request of his creator, Geppetto.
Geppetto promptly arrives and asks the Fairy to take Pinocchio back, explaining that he's defective. The Blue Fairy is outraged at this request and arranges to take a trip back in time in order to learn the truth about Geppetto's complaint.
The Blue Fairy transports herself back in time, arriving in Geppetto's toyshop the morning before the wish was made. Geppetto entertains a steady stream of child customers eager for his toys ("Toys"). He envies the parents who have children and bemoans his childless state. Once the children have gone, he puts the finishing touches on his puppet, Pinocchio.
Before going to bed, Geppetto wishes for his empty heart to be filled ("Empty Heart"). The Blue Fairy appears and brings Pinocchio to life.
The Blue Fairy points out that she granted Geppetto's wish. He insists that Pinocchio was not a success at all, and she agrees to jump ahead in time to learn more of the story ("Rise and Shine").
Geppetto is preparing to introduce Pinocchio to the Town Fathers. He teaches Pinocchio a song ("Geppetto and Son"). The meeting does not go smoothly, as Geppetto gets agitated when Pinocchio asks several awkward questions in front of the Town Fathers and then gets distracted and wanders off.
The Blue Fairy is not impressed by this alleged example of Pinocchio's defectiveness. The two again travel forward in time ("Rise and Shine #2") to a day when Geppetto tried to teach Pinocchio about toy making ("Geppetto and Son – Part 2"). Pinocchio informs Geppetto that he doesn't want to be a toy maker; he'd prefer to be a train engineer. Geppetto dismisses this idea. Pinocchio then accidentally knocks over some shelves and lies about it, causing his nose to grow.
Geppetto cites this episode as proof that Pinocchio is an unacceptable answer to his wish. He will provide a further example to prove this. He and the Fairy again travel forward in time ("Rise and Shine #3").
It is Pinocchio's first day of school. Geppetto gives him careful instructions on his behavior ("Geppetto and Son – Part 3"). Pinocchio soon gets into a fight with another student. It turns out that the fight was a result of Pinocchio misunderstanding Geppetto's instructions to "act like everyone else."
As a frustrated Geppetto escorts Pinocchio home from school, a large (and desperately out-of-work) puppeteer named Stromboli arrives. Stromboli is immediately interested in Pinocchio, but Geppetto sends Pinocchio inside the house, and the Blue Fairy frightens Stromboli away with her wand. Pinocchio becomes distraught when he overhears Geppetto telling the Fairy that he doesn't want Pinocchio. The Fairy informs Geppetto that the "problem" isn't Pinocchio; it's Geppetto himself. He angrily dismisses her, but she assures us that these things have a way of working themselves out ("When You Wish upon a Star – Reprise").
Pinocchio runs away from home, leaving a note of apology for being such a disappointment, and stating his intention to sing and dance in Stromboli's show. Upon finding the note, Geppetto convinces himself that Pinocchio will be happier with Stromboli. He is lonely, however, and decides that he will visit Pinocchio just to make sure that the boy is indeed happy with Stromboli.
Pinocchio performs with Stromboli's marionettes ("I've Got No Strings"). The performance is a success, but Stromboli is abusive toward Pinocchio. Geppetto arrives, looking for Pinocchio, but Stromboli denies that the boy is with him. Soon afterward, Pinocchio escapes. When Stromboli discovers this, he rages among his marionettes and vows to recover Pinocchio ("Bravo Stromboli").
Geppetto searches far and wide for Pinocchio. He encounters the Blue Fairy, who observes that Geppetto does seem to care for Pinocchio after all. Geppetto denies this, and the Fairy finally agrees to take Pinocchio back if Geppetto can find him. Geppetto demands that the Fairy use her magic to find Pinocchio, but she demurs, explaining that magic is not the answer to everything ("Just Because It's Magic").
Act Two
Greeting the audience as they return from intermission, the Blue Fairy expresses aloud her growing regret at having granted a wish to "a moron." Geppetto overhears this, and the two squabble until they are interrupted by a pair of well-behaved children, with whom Geppetto is immediately impressed.
The children introduce Geppetto and the Fairy to Maria and Bernardo, a couple who are waiting to see Professor Buonragazzo. It is soon revealed that the Professor custom-builds "perfect children" to the specifications of their parents. As Geppetto watches, the Professor's machine creates "Talia," a custom-designed child for Maria and Bernardo ("Satisfaction Guaranteed"). The Professor creates a series of possible Pinocchio replacements, but Geppetto is horrified, rejecting them and running away.
Geppetto and the Blue Fairy next encounter a talking pig. The pig claims that it is a dog and frequently barks. A talking lamb that believes itself to be a duck soon arrives, followed by a succession of other animals, all of whom believe themselves to be something they are not because of the misguided expectations of their parents. Geppetto reflects that parents should allow their children to grow up to be themselves.
The Blue Fairy interjects to inform us secretly that she is responsible for the talking animals. A horse directs Geppetto to follow Pinocchio to Pleasure Island.
After Geppetto departs, Stromboli arrives and encounters the Blue Fairy. He wishes that he had Pinocchio back. The Blue Fairy reflects that at least Stromboli wants Pinocchio, unlike Geppetto. She tells Stromboli to go home, and that she will bring Pinocchio to him. Stromboli is surprised and elated ("Bravo Stromboli – Reprise").
A Ringleader and his Roustabouts introduce us to Pleasure Island ("Pleasure Island"). It is a children's paradise – part circus and part carnival, a place where delinquents run wild. Geppetto arrives and is immediately accosted and menaced by said delinquents. Pinocchio emerges from the crowd and accuses Geppetto of not wanting him. He states that Pleasure Island is his new home. At that moment, Pinocchio and the other delinquents turn into donkeys. The Ringleader orders them hauled away.
Geppetto, in a rowboat, pursues a ship containing the transformed Pinocchio and the other donkeys leaving Pleasure Island. A whale swallows Geppetto and his rowboat whole.
Geppetto and Pinocchio find each other inside of the whale (Pinocchio is now restored to his normal self). Geppetto promises Pinocchio that their relationship will be different from now on ("Geppetto and Son – Whale Reprise"). They escape when they devise a plan for Pinocchio to lie continually until his nose is long enough to tickle the whale's throat, and it sneezes them out.
Geppetto and Pinocchio return to the toyshop, only to find Stromboli and the Blue Fairy waiting for them. Geppetto offers Stromboli anything in exchange for letting him keep Pinocchio ("Since I Gave My Heart Away"). Stromboli refuses to cooperate, but the Fairy intercedes, transforming Pinocchio into a real boy (and therefore rendering him worthless to Stromboli).
The Blue Fairy, satisfied that Geppetto and Pinocchio are now a real father and a real son, notes that her perfect wish record is still intact.
Show History
Inspiration
David Stern and Stephen Schwartz completed a made-for-TV film, Disney's Geppetto, in 2000. Several years later, the idea for a stage musical adaptation came up. Much like the movie upon which it is based, Disney's My Son Pinocchio: Geppetto's Musical Tale is a retelling of the children's book, The Adventures of Pinocchio, but this story is told from Geppetto's perspective.
Bookwriter, David Stern, discovered a child-appropriate way to make the show stageworthy. Stern begins with Geppetto's challenge to the Blue Fairy and allows the rest of the story to be a kind of proof of Pinocchio's value. As with the film, when Pinocchio runs away to become a star in a traveling show, Geppetto must negotiate through a maze of adventures and comic encounters to find him.
Schwartz said in production notes for Disney's My Son Pinocchio: "I believe Disney's My Son Pinocchio is a show that is entertaining while at the same time dealing with such important themes as individuality, self-esteem and the relation of parents and children. I am pleased that the Coterie Theatre feels this is an important work. I have written several other shows and films that I believe have had a positive impact on young audiences, such as Disney's Pocahontas, Godspell, Children of Eden, and the current Broadway show Wicked. I believe Disney's My Son Pinocchio is a strong addition to this group."
Disney's My Son Pinocchio is a lighthearted spin on the classic Pinocchio story. The show now incorporates a new song not included in the 2000 Disney's Geppetto movie, along with "When You Wish upon A Star" and "I've Got No Strings" from the original Disney Pinocchio movie.
Productions
With a book by David Stern and featuring lyrics by Stephen Schwartz, as well as two songs from the original 1940 Disney film, Pinocchio, Disney's My Son Pinocchio premiered under its former name, Disney's Geppetto & Son, at The Coterie Theatre in Kansas City, Missouri, on June 27, 2006, where it ran until August 6, 2006.
It has subsequently had great success around the country at regional, community and educational theatres as the story of a beloved and familiar character.
Cultural Influence
In addition to Disney's My Son Pinocchio, MTI also licenses a Junior version of the show to be performed by children.

 
Critical Reaction
"First-rate music... this production may be a new high."
– Fort-Worth Star Telegram
"It positively glistens."
– TheatreMania
"My Son Pinocchio is magical."
– TheatreJones.com
"A must-see treat."
– The Herald Bulletin
Connect
Billing
Music and Lyrics by

Book by
Requirements
You must give the authors/creators billing credits, as specified in the Production Contract, in a conspicuous manner on the first page of credits in all programs and on houseboards, displays and in all other advertising announcements of any kind.
Percentages listed indicate required type size in relation to title size.
CREDITS: You shall use the following title and incorporate your credit above the title and otherwise comply with the size specifications on the title page of all playbills and programs, in all houseboards and displays and in all other advertising, press releases and any other promotional material, as follows:
The (Licensee)
Production of
DISNEY'S
MY SON PINOCCHIO
IN ADDITION TO THE ABOVE BILLING, on the title page of playbills and programs, and in houseboards and displays, the following credits shall also be included:
Book by

DAVID I. STERN

Music & Lyrics by

 STEPHEN SCHWARTZ
"When You Wish Upon a Star" and "I've Got No Strings" 
Music by Leigh Harline, Lyrics by Ned Washington from the
Walt Disney Motion Picture PINOCCHIO
The billing to you must be in the form specified above, including the words "Production of" below your billing, which shall be visually contiguous with the title, all so that the audience is informed that you are the producer. Your billing shall be no less than 50% of the size of the logo or artwork title, as measured by the proportion of the average size of your name to the largest letter in the logo or artwork title.  The name "Disney's" shall be no more than 33% of the title, as measured by the proportion of the size of the "D" in "Disney's" to the size of the largest letters in the title, and in no event may you duplicate the the logo and title from the Disney Channel movie "Gepetto & Son" (the "Movie"), although you separately license the right to use the stage license logo (the "License Logo").  If you do separately license the right to use the License Logo, then you shall duplicate such logo and billing credits exactly as provided, including the fonts.  The credits to the authors below the title need not appear in advertising and promotional material.  The size of the credit to the authors shall be no less than 50% of the regular title, and if there is no regular title, then no less than 20% of the logo or artwork title. A sample of appropriate billing size and placement is attached hereto for your reference (without constituting a grant of rights in the License Logo).
For professional licensees:  If you elect not to purchase the License Logo, then you shall submit your logo or artwork title for approval prior to any public use thereof.  All television and radio advertising, both the content and the media plan, shall be subject to the prior approval of MTI, in its sole discretion.  
Video Warning
If you purchase a separate license to allow non-commercial video recording of this production, you must print the following in your program. ANY VIDEO RECORDING MADE OF THIS PERFORMANCE IS AUTHORIZED FOR PERSONAL, AT-HOME, NON-COMMERCIAL USE ONLY. THE SALE OR DISTRIBUTION OF SUCH RECORDING IS STRICTLY PROHIBITED UNDER FEDERAL COPYRIGHT LAW. If you do not purchase the separate license for video recording, you must print the following in your program. The videotaping or other video or audio recording of this production is strictly prohibited
Included Materials
| Item | Quantity Included |
| --- | --- |
| LIBRETTO/VOCAL BOOK | 25 |
| PIANO CONDUCTOR'S SCORE | 2 |
Production Resources
Resource
HOW DOES THE SHOW GO ON-10/CS
HOW DOES THE SHOW GO ON?
LOGO PACK
LOGO PACK DIGITAL
LOGO TEES SIX-PACK ADULT LARGE
LOGO TEES SIX-PACK ADULT MEDIUM
LOGO TEES SIX-PACK ADULT SMALL
LOGO TEES SIX-PACK ADULT X-LARGE
LOGO TEES SIX-PACK ADULT XX-LARGE
LOGO TEES SIX-PACK CHILD LARGE
LOGO TEES SIX-PACK CHILD MEDIUM
LOGO TEES SIX-PACK CHILD SMALL
PERFORMANCE ACCOMPANIMENT RECORDING
PRODUCTIONPRO-DIGITAL SCRIPT/SCORE
REFERENCE RECORDING
REHEARSAL ACCOMPANIMENT RECORDING
STAGE MANAGER SCRIPT
STAGE WRITE APPLICATION
TRANSPOSITIONS-ON-DEMAND
VIDEO LICENSE
STANDARD ORCHESTRATION
| Instrumentation | Doubling |
| --- | --- |
| ACCORDION | |
| BASS | |
| DRUMS | |
| GUITAR | |
| TRUMPET | CORNET , FLUGELHORN , TRUMPET |
| TUBA | ACOUSTIC BASS , TUBA |
| VIOLIN | |