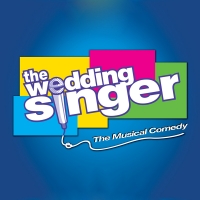 The year is 1985. The place is New Jersey. A wannabe rock star (aka a professional wedding singer) is left at the altar and finally changes his tune.
Full Synopsis
Act One
Ridgefield, New Jersey – 1985. Robbie Hart, wedding singer extraordinaire, is in high demand. Not only do Robbie and his band members, Sammy and George, cover all of the hits, Robbie has a special knack for making everyone in attendance feel welcome and special… and for keeping the party going when emotions run high or family members get out of hand ("It's Your Wedding Day"). A rocking wedding reception comes to life as Robbie finesses the audience, but the stars align when he meets Julia Sullivan, who is catering with her cousin, Holly. It's Julia's anniversary with her boyfriend, Glen, and she hopes he will surprise her with something nice. Holly wonders if Glen is going to "pop the question." Julia stares at the bride, wondering when it will be her turn ("Someday / Someday Playoff"). She catches the bouquet.
Sammy wants the band to be a big success, but Robbie is tied to helping people enjoy the most important night of their lives and refuses to break a gig for the Schwartz wedding to play at the "Battle of the Bands" in Paramus, New Jersey. Robbie's also busy writing a song for his own wedding, which is right around the corner. Julia thinks that Robbie is sweet for writing his fiancée, Linda, a song, but Robbie insists that he is the lucky one. Julia asks to hear what he's written so far and gives him helpful advice on the lyrics ("Awesome"). Julia invites Robbie to sing at her wedding… if she ever has one. Glen calls Julia from his car phone and breaks their date. He promises to make it up to her.
It's Linda and Robbie's wedding day, and his grandmother, Rosie, unveils her surprise: a coin-operated, queen-size bed for his basement apartment. His grandmother tries to tell him about the birds and bees, but Robbie assures her that he knows the basics. He hopes that he and Linda will be as happy as his grandparents have been ("Someday – Robbie's Reprise").
At the church, Robbie takes his place at the altar. The Priest is worried that Linda is so late. Sammy gives Robbie a note from Linda: she's not coming. She just can't see herself married to a wedding singer ("A Note from Linda"). Sammy tells the guests that the wedding is off as George breaks down in tears and Robbie runs off ("It's Your Wedding Day – Reprise"). In the bathroom, Holly and Julia try to think of a way to cheer up Robbie. Julia's mom, Angie, comes in and she and Holly give Julia advice on how to make sure Glen pops the question ("Pop!") At the restaurant, Glen brags to Julia about his job in junk bonds. Around them, one happy couple after another gets engaged as Julia looks on. Finally, Glen asks Julia... and she accepts.
Alone in his basement apartment, Robbie sings to the tiny bride from the wedding cake ("Somebody Kill Me"). Sammy and George arrive to try to cheer him up, but it's no use; he's completely depressed. Sammy gives Robbie a note from his grandma that tells him not to worry – Linda was trash anyway ("A Note from Grandma"). The boys encourage Robbie not to give up and remind him that they have a gig to play that night.
Robbie tries his best to give a good performance, but he sinks into a depression by the end of the first verse. His surly comments crash the party ("Pre-Casualty – Wedding Day"). Julia pulls Robbie offstage and tries to help him put things into perspective, but Robbie can't be stopped. Other unloved wedding guests join in ("Casualty of Love"). The bride punches Robbie in the face, and the party dissolves into a brawl.
Robbie is tossed out into the garbage dumpsters by the groom. Julia comes out to talk to him. Things are going well until Robbie finds out that Julia is newly engaged. Still, she asks him to sing at her wedding ("Come out of the Dumpster"). Julia gets him to pick himself up, but Robbie swears off singing at any more weddings.
Robbie, Sammy and George are playing Jared Shapiro's bar mitzvah. George gives a special blessing in Hebrew ("George's Prayer"). Afterwards, Julia asks Robbie to help her pick out things for her registry because Glen has clients in town and can't make it. She confesses that she doesn't know why Glen is interested in her. Holly and Sammy briefly reconnect on the dance floor, remembering when they used to date.
At the mall, Julia and Robbie argue over china patterns. The clerk mistakes them for a couple and tells them not to worry about getting pre-wedding jitters. At first, they deny they're together, but eventually they play along ("Not That Kind of Thing"). Robbie and Julia meet up with Holly and head to the bridal salon. After Julia selects her wedding dress, Holly makes Julia practice her wedding kiss on Robbie. As they kiss, a feeling of true connection overtakes them. Holly starts to think of Robbie as a potential catch. Glen arrives with a CD player for Julia and ruins things by seeing her wedding dress before the big day. Robbie makes a quick escape and, while Glen is making a deal on the phone, Holly confesses that she's going to ask Robbie out.
Holly, Julia, Glen, George, Sammy and Robbie prepare for a hot night on the town in New York City ("Saturday Night in the City"). Holly is focused on Robbie, trying to get him to like her. Slightly jealous, Julia pounds back the drinks. Behind Julia's back, Glen checks out other girls and tells Robbie that he plans to keep sleeping around after he's married. Sammy is jealous that Holly is paying attention to Robbie instead of him, and Holly realizes that Robbie has a thing for Julia. The evening falls apart as Robbie runs after Julia just in time to see her zip off in Glen's fancy car.
Act Two
Robby has a horrible dream, where Holly tells him that all women care about it money and security. He wakes up in a panic and decides to ask Glen to help him get a real job. Glen starts him out in the mailroom. ("All about the Green")
Holly is cleaning up after a banquet when Julia enters, recovering from a hangover. Julia asks if anything happened with Robbie, and Holly confesses that she kissed him but didn't feel anything. She tells Julia that she thinks Robbie is a little jealous of Glen's success. Julia thinks Glen was nicer when he had less money ("Someday – Julia's Reprise"). Sammy enters to drop off some decorations for Julia's bachelorette party. Before he leaves, Sammy tells Holly that, if she is not careful, she will lose her chance with him. Holly wonders if he might be right ("Right in Front of Your Eyes").
Julia drops by Robbie's grandmother's house with some blank sheet music for Robbie, but Rosie tells her that Robbie went down to Wall Street to get a real job. Julia can't believe that Robbie would give up his music and is furious that he's gone to work for Glen. Robbie arrives and tries to impress Julia with his new outlook on life. He accuses Julia of being into material things and says that she's marrying Glen for his money. She throws the sheet music at Robbie and storms off. When he picks it up, he sees that Julia has had them monogrammed. Robbie realizes that he has made a huge mistake. He goes to a bar to drown his sorrows ("All about the Green – Reprise").
Sammy and George find Robbie in the bar. Robbie confesses that he's in love with Julia, but that he's done with love – he's just going to get a new woman every night. Sammy acts like he agrees and champions the single life ("Single"). Instead of convincing Robbie to live alone for the rest of his life, Robbie realizes that he has to tell Julia how he feels.
Julia asks Angie if she really likes Glen. Angie assures her that Glen's got it all – money, looks, charm – but Julia isn't sure that she is in love with him anymore. She admits that she's been spending a lot of time with Robbie. Angie can't believe that her daughter would throw Glen over for a wedding singer. Julia, in her wedding dress, stares in the mirror, trying to imagine herself as Mrs. Glen Guglia... Julia Guglia... but it isn't working. She imagines herself as Mrs. Robbie Hart and smiles. Sammy, George and Robbie watch from outside. Robbie thinks that she's dreaming about Glen. Julia and Robbie imagine what they would say to each other if they could ("If I Told You"). Glen drives by with some friends and strippers on the way to his bachelor party. Glen pulls over to invite Robbie, and Robbie tells him to stop cheating on Julia. Glen punches him in the face and fires him.
Robbie wakes up to find Linda in his bed. He tells her to get lost, but she refuses. Linda wants to come back to where it's easy and safe ("Let Me Come Home"). Robbie passes out on the bed before he can kick Linda out. Holly drags Julia to Robbie's house so that she can tell him how she feels, but Linda surprises them by opening the door. Linda says that she's Robbie's fiancée again, and Julia leaves. Robbie wakes up and is surprised to see Linda there. He kicks Linda out for good.
Robbie arrives late to his grandparents' anniversary party just as George finishes playing them a little riff on his guitar for their present ("50 Years"). Robbie apologizes for his recent behavior. Holly asks if he is back with Linda and tells him that Julia was so upset when she found Linda at Robbie's place that she jumped on a plane to Vegas with Glen to elope. Robbie wonders if it's too late. Julia appears in an airplane window, wondering if she's making the right decision ("Not That Kind / If I Told You – Reprise"). Robbie is struck with an idea for a new song for Julia. His friends and family encourage him to go after her as his grandmother takes over the party with a hip hop rap ("Move That Thing").
At the airport, Robbie uses Sammy's credit card to pay for a flight to Las Vegas. Holly is impressed by Sammy's wallet full of credit cards and jumps into his arms. In Vegas, Billy Idol, Mr. T and Ronald Reagan impersonators help Robbie find Julia and Glen.
At the chapel, Julia looks out of sorts. Glen tries to cheer her up, assuring her that they can play blackjack afterwards. Robbie and the impersonators sneak in and, as the fake Ronald Reagan begins to marry Glen and Julia, Robbie steps in to sing his new song – a song about how he wants to spend the rest of his life with Julia ("Grow Old with You"). Glen is furious. To hurt her, Glen tells Julia that he has cheated on her a hundred times. A Tina Turner impersonator punches Glen in the face and drags him out. Robbie asks Julia to marry him. She says yes... as long as Robbie agrees to sing at the wedding.
Robbie and Julia's wedding reception is in full swing. The impersonators from Vegas entertain the crowd as Sammy and George sing. Julia and Robbie have found true love at last ("Act II Finale")!
Show History
Inspiration
The Wedding Singer is based on the 1998 hit movie of the same name. Written by Tim Herlihy and directed by Frank Coraci, the romantic comedy starred Adam Sandler as a wedding singer in the 1980s and Drew Barrymore as a waitress with whom he falls in love. The film was produced by Robert Simonds for $18 million and grossed $80.2 million in the United States and $123.3 million worldwide.
Productions
Featuring music by Matthew Sklar, lyrics by Chad Beguelin and a book by Beguelin and Tim Herlihy, The Wedding Singer had its world premiere at the 5th Avenue Theatre in Seattle, Washington. Previews began on January 31, 2006, before officially opening on February 8, 2006, and running a limited engagement through February 19, 2006.
The Wedding Singer then went on to begin previews on Broadway at the Al Hirschfeld Theatre on March 30, 2006, opening officially on April 27, 2006, and closing on December 31, 2006, after 284 performances and 25 previews. It was directed by John Rando, with choreography by Rob Ashford and featured Stephen Lynch as Robbie.
Follwing its Broadway run, a national tour of The Wedding Singer was launched in the Fall of 2007, playing 31 cities through the fall of 2008. Another U.S. and Canadian tour ran from 2009 to the Spring of 2010. In addition to these productions, The Wedding Singer has had huge regional and international success, playing to markets in the UK, Spain, Australia and Germany, to name only a few.
Cultural Influence
The original Broadway cast recording of The Wedding Singer was released by Sony on June 6, 2006.
Trivia
The Wedding Singer was nominated for five Tony Awards, including Best Musical, Best Book of a Musical and Best Original Score, as well as eight Drama Desk Awards, including Outstanding Musical, Outstanding Music and Outstanding Lyrics.
The song, "Pop!", was removed for the U.S. national tour because the set pieces for the song were too big. With this plot change, Glen proposes to Julia over the phone instead of at the restaurant in "Pop!"
Only two songs from the 1998 film also made it into the musical and both were co-written by Adam Sandler and Tim Herlihy.
Although the major plot of the musical is the same as that of the 1998 film upon which it is based, there are numerous little differences throughout.
Critical Reaction
"A series of knockout comic numbers and a handful of exuberant supporting players provide the foundation for a good deal of thick frosting."
— Time Out NY
"Composer Matthew Sklar and lyricist Chad Beguelin in this, their Broadway debut, have put together a truly clever, and often hilarious score... a real winner."
– New York Theatre Guide
"Another instant crowd-pleaser is born."
– Variety
"Surefire barnburner."
– LA Times
"As they said in the '80's, this show is awesome... as colorful, sweet, and tasty as a jar of Ronald Reagan's jellybeans."
– WCBS-TV
Connect
Billing
Music by

Book by

Lyrics by
Based on the New Line Cinema film written by Tim Herlihy
Requirements
You must give the authors/creators billing credits, as specified in the Production Contract, in a conspicuous manner on the first page of credits in all programs and on houseboards, displays and in all other advertising announcements of any kind.
Percentages listed indicate required type size in relation to title size.
THE WEDDING SINGER
Book by

CHAD BEGUELIN and TIM HERLIHY

Music by

 MATTHEW SKLAR

Lyrics by

CHAD BEGUELIN
Based upon the New Line Cinema film
Written by Tim Herlihy
The names of the Composer, Lyricist and Bookwriter shall be equal in size, type, coloring, boldness and prominence. No billing shall appear in type larger or more prominent that the billing to the Authors except for the title of the Play. If the credit to the Authors is greater than 50%, the film credit shall be no less than 60% the size of the Authors' credit.
In addition, you agree to include the following on the main credit page in all programs:
Originally produced by
Margo Lion New Line Cinema The Araca Group
Roy Furman Douglas L. Meyer / James D. Stern
Rick Steiner / The Staton Bell Osher Mayerson Group JAM Theatricals
Original Broadway production directed by John Rando
Orchestrations by Irwin Fisch
The videotaping or other video or audio recording of this production is strictly prohibited
Included Materials
| Item | Quantity Included |
| --- | --- |
| KEYBOARD1 - CONDUCTOR SCORE | 1 |
| LIBRETTO/VOCAL BOOK | 25 |
| PIANO VOCAL SCORE | 1 |
Production Resources
Resource
CUSTOMIZABLE SHOW POSTER
CUSTOMIZABLE SHOW POSTERS
HOW DOES THE SHOW GO ON-10/CS
HOW DOES THE SHOW GO ON?
KEYBOARD PATCH SOLUTIONS
KEYBOARDTEK
LOGO PACK
LOGO PACK DIGITAL
LOGO TEES SIX-PACK ADULT LARGE
LOGO TEES SIX-PACK ADULT MEDIUM
LOGO TEES SIX-PACK ADULT SMALL
LOGO TEES SIX-PACK ADULT X-LARGE
LOGO TEES SIX-PACK ADULT XX-LARGE
LOGO TEES SIX-PACK CHILD LARGE
LOGO TEES SIX-PACK CHILD MEDIUM
LOGO TEES SIX-PACK CHILD SMALL
ORCHEXTRA
PERFORMANCE ACCOMPANIMENT RECORDING
PRODUCTIONPRO-DIGITAL SCRIPT/SCORE
REFERENCE RECORDING
REHEARSAL ACCOMPANIMENT RECORDING
REHEARSCORE APP
SCENE PARTNER
STAGE WRITE APPLICATION
STREAMING & REMOTE LICENSE
TRANSPOSITIONS-ON-DEMAND
VIRTUAL STAGE MANAGER
STANDARD ORCHESTRATION
| Instrumentation | Doubling |
| --- | --- |
| BASS | |
| DRUMS | |
| GUITAR | ACOUSTIC GUITAR , ELECTRIC GUITAR |
| GUITAR 2 | ACOUSTIC GUITAR , ELECTRIC GUITAR |
| GUITAR 3 | ACOUSTIC GUITAR , ELECTRIC GUITAR |
| KEYBOARD 2 | |
| KEYBOARD 3 | |
| PERCUSSION | |
| REED 1 | ALTO SAXOPHONE , Bb CLARINET , FLUTE |
| REED 2 | BARITONE SAXOPHONE , ENGLISH HORN , FLUTE , OBOE , TENOR SAXOPHONE |
| TRUMPET | FLUGELHORN , TRUMPET |