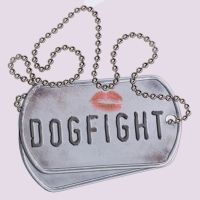 A young soldier learns the power of compassion when he plays a cruel joke on an unsuspecting girl.
Full Synopsis
Act One
In 1967, Eddie Birdlace, a U.S. Marine just returned from Vietnam, rides a Greyhound bus that is heading for San Francisco. As he travels through the night, he remembers Rose Fenny ("Prelude – Take Me Back") and the night he spent in San Francisco four years earlier. Memories overwhelm him... and suddenly it's November 21, 1963.
The Greyhound bus becomes a military bus, carrying Private First Class Birdlace and his rowdy fellow Marines, all fresh out of training and ready for action. Arriving in San Francisco, they're eager to take the town by storm on their last night in the United States ("Some Kinda Time"). Birdlace and his two best friends, Boland and Bernstein, who call themselves the Three Bees ("We Three Bees"), are participating in a dogfight, a cruel game with simple rules. Each Marine puts $50 in the pot. The one who brings the ugliest date to the party wins the money. Birdlace and his friends set off to scour the city for potential dates ("Hey Good-Lookin'").
Birdlace ends up in a diner, where he sees Rose, a shy waitress, quietly playing guitar in a corner booth. He flirts with, and eventually invites, her to be his date ("Come to a Party"). Not knowing the true purpose of the evening, she's excited to go on her first date. She tears items from her closet, searching for the perfect dress ("Nothing Short of Wonderful"). Meanwhile, other Marines find their dates, including Boland, who breaks the established rules of the dogfight by inviting Marcy, a wisecracking, near-toothless prostitute, who is eager to win a share of the cash prize that comes with being deemed the ugliest date ("Come to a Party – Reprise").
As Birdlace and Rose walk to the party, she is chatty, revealing her folk music aspirations and her burgeoning pacifism. When they reach the Nite Lite, a club rented for the party, Birdlace finds himself questioning his plan to subject her to the event. He suggests that they go somewhere else and get a bite to eat. Rose believes his change of heart means he's embarrassed by her, that he doesn't want his friends to meet her. Conflicted, Birdlace acquiesces, and they enter the party.
At the table with his friends and their dates, Birdlace drinks heavily and grows sour. He tries unsuccessfully to keep Rose off the dance floor during the slow dance, when the contest is officially judged. As they dance, each Marine presents his date for judging ("That Face"). It's determined that Marcy is the ugliest, crowning Boland the big winner. Later, in the ladies room, Marcy reveals to Rose the true nature of the party ("Dogfight"). A distraught Rose returns to Birdlace. She is deeply hurt and, furious, slaps him hard across the face. "I hope there's a war and you get killed," she tells him, before escaping in shame. Back home in her bedroom, surrounded by rejected dresses and dashed hopes, Rose beats herself up for having believed Birdlace's lies ("Pretty Funny").
Act Two
The Marines, reckless and invincible, continue their debaucherous last night with a trip to the arcade and then by visiting a prostitute ("Hometown Hero's Ticker Tape Parade"). But Birdlace can't bring himself to revel as his friends do. Feeling terrible about how he treated Rose, he leaves them and goes to her. He apologizes as best he can and offers to make it up to her by taking her out to a fancy dinner. At first incredulous, Rose sees that Birdlace's apology, though misguided and inarticulate, is, in fact, genuine. She consents to the date, demanding that they never again discuss the dogfight ritual and its indignities. They cautiously set out on their date ("First Date, Last Night").
At a swanky restaurant, Rose challenges Birdlace's tough exterior and cuts through his posturing, lies and bravado. They share a meal and inch closer to understanding each other. Later, they take in the late-night view from the Golden Gate Bridge. Rose tells Birdlace that, despite its unpleasantness, what happened earlier that night has helped her attain a new understanding: she can no longer allow herself to be defined by what other people think of her ("Before It's Over"). In the remaining hours before Birdlace must report and ship out, Rose nervously invites him home with her. They share an awkward and romantic first sexual experience ("Give Way").
The next morning, Birdlace returns to his buddies and the world of casual cruelty that shaped him ("Some Kinda Time – Reprise"). The Marines head overseas, where they will be pawns in the growing Vietnam conflict. Birdlace sees his friends, including Boland and Bernstein, killed in action. These harsh memories linger as Birdlace arrives in San Francisco in 1967, a broken, confused and lost man, unwelcome and derided ("Come Back"). Birdlace makes his way through the changed city to find an older, wiser Rose at the diner. Compassionate as ever, she welcomes him home ("Finale – Take Me Back").
Show History
Inspiration
Dogfight is a musical adaptation of the 1991 film of the same name, which starred River Phoenix and Lilli Taylor. Bookwriter, Peter Duchan, always held a soft spot for the lesser-known film and felt that the characters were worth exploring further. He reached out to childhood friend, Justin Paul, who then joined the project with his writing partner, Benj Pasekj. The musical received a Richard Rodgers Award for Musical Theater in 2011, an award that enables new composers and playwrights to produce new musicals by providing financial support. With help from that recognition, the musical was picked up by the reputable Second Stage Theatre Company.
Productions
Dogfight debuted off-Broadway at the Second Stage Theatre Company in New York City on June 27, 2012. The production was directed by Tony Award winner, Joe Mantello. It ran until August 19, 2012. Pace University staged the first production following the off-Broadway premiere, running from October 2–9, 2013.
Critical Reaction
"Dogfight is something special! Studded with impressive songs, an unexpected love affair, and a genuine and charming soul."
– The Associated Press

"An intimate little heart-breaker of beguiling freshness."
– Newsday

 "A musical with no shortage of fine attributes: tenderly moving score, spot-on performances and a heart of gold.  Easily the most delicate, surprising musically satisfying score since Spring Awakening. You gotta hear Dogfight sing!"
– Time Out New York

"Superbly crafted, gratifyingly intelligent, richly observant, and immensely enjoyable. This is musical theater at its finest."
– Backstage
Connect
Billing
Music and Lyrics by

Book by
Based on the Warner Bros. film and screenplay by Bob Comfort
Requirements
You must give the authors/creators billing credits, as specified in the Production Contract, in a conspicuous manner on the first page of credits in all programs and on houseboards, displays and in all other advertising announcements of any kind.
Percentages listed indicate required type size in relation to title size.
Music and Lyrics by

BENJ PASEK & JUSTIN PAUL

Book by

PETER DUCHAN
Based on the Warner Bros. Film and Screenplay by Bob Comfort
The following billing must appear on the title page of all programs:
Produced by Second Stage Theatre, New York, 2012
Carole Rothman, Artistic Director
Orchestrations by Michael Starobin
In advertisements of 1/4 page size or less, and online and mobile ads where in each case only the title of the play, performance dates and venue are provided and in outdoor advertising, transit and taxi ads and marquees where no other person is billed,the following "shortened billing" is permissible:
DOGFIGHT
Video Warning
In accordance with the Performance License, you MUST include the following warning in all programs and in a pre-show announcement:

ANY VIDEO AND/OR AUDIO RECORDING OF THIS PRODUCTION IS STRICTLY PROHIBITED.
Included Materials
| Item | Quantity Included |
| --- | --- |
| GUITAR 2 | 1 |
| KEYBOARD1 - CONDUCTOR SCORE | 1 |
| LIBRETTO/VOCAL BOOK | 15 |
| PIANO VOCAL SCORE | 1 |
Production Resources
Resource
FULL SCORE ACT 1
FULL SCORE ACT 2
HOW DOES THE SHOW GO ON-10/CS
HOW DOES THE SHOW GO ON?
KEYBOARDTEK
LOGO PACK
LOGO PACK DIGITAL
LOGO TEES SIX-PACK ADULT LARGE
LOGO TEES SIX-PACK ADULT MEDIUM
LOGO TEES SIX-PACK ADULT SMALL
LOGO TEES SIX-PACK ADULT X-LARGE
LOGO TEES SIX-PACK ADULT XX-LARGE
LOGO TEES SIX-PACK CHILD LARGE
LOGO TEES SIX-PACK CHILD MEDIUM
LOGO TEES SIX-PACK CHILD SMALL
PRODUCTIONPRO-DIGITAL SCRIPT/SCORE
REFERENCE RECORDING
STAGE MANAGER SCRIPT
STAGE WRITE APPLICATION
TRANSPOSITIONS-ON-DEMAND
STANDARD ORCHESTRATION
| Instrumentation | Doubling |
| --- | --- |
| BASS | |
| CELLO | |
| DRUMS | |
| GUITAR | |
| VIOLIN | |