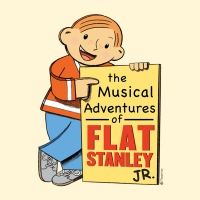 The Musical Adventures of Flat Stanley JR.
Based on the best-selling book series, Stanley folds his way around the world with his flat-tastic hijinks.
Full Synopsis
The curtain opens, and the audience is introduced to the Lambchop Family, including our title character, Stanley ("Meet the Lambchops"). Stanley Lambchop is a ten-year-old boy who wishes to do amazing things no one has ever seen before. He wants to have adventures and be a hero, and Stanley wants to begin his adventures as soon as possible.
The scene changes, and the audience sees Stanley, his little brother, Arthur, and the rest of their Slumber Party Guests getting tucked in for the night by Mr. and Mrs. Lambchop ("Lambchop Lullaby"). Stanley begins to think about the things he would do if he really could wish upon a star ("I Wish I Were"). All of a sudden, a star falls from the sky. Stanley, Arthur and the slumber party guests watch in awe and then head back to their sleeping bags. As Stanley starts to fall asleep, the bulletin board hanging over his bed comes to life. The Bulletin Board lets Stanley know his wish may just come true... but with a twist.
In the morning, Stanley's family and friends discover that Stanley has been flattened by the bulletin board, which fell on him in the middle of the night. Even though Stanley seems okay, Mr. and Mrs. Lambchop are quite worried ("My Child Is Flat"). Mrs. Lambchop takes Stanley to see Doctor Dan, who isn't able to find anything wrong with him, except for the fact that he's flat. Stanley is afraid to go back to school, but Mr. and Mrs. Lambchop convince him that everything is going to be just fine ("The Funny Side").
After Stanley and his parents leave, Arthur rushes on, convinced that he is going to be in big trouble. The Cool Kids talked Arthur into making Stanley into a kite, and Arthur left him stuck in a tree. However, being stuck in a tree gives Stanley time to think about his new life as a flat person ("In a Tree"), until the letter carrier, Mrs. Cartero, realizes being flat could lead Stanley on an amazing adventure through the mail! He could put himself in an envelope and travel the world as a human letter ("Travelin' through the Mail")! This new thought thrills Stanley and, with the blessing of his family, Stanley starts his adventures by visiting his friend, Samantha, in Los Angeles.
Before Stanley can find Samantha, he meets a Hollywood Agent who decides that, with a little more life experience, Stanley could be a star ("Talent"). The Hollywood Agent encourages Stanley to visit his old friend in Paris, an idea that both excites and scares Stanley. Stanley finally runs into Samantha, who encourages him to go to Paris and have the adventures he's always wanted. With newfound courage, Stanley makes the trip across the ocean. While Stanley is traveling in the mail, Arthur sends him a letter ("Arthur's Letter"), letting him know how much he misses him. Stanley arrives in Paris and heads straight to the Louvre, as directed by the Hollywood Agent. Stanley meets two paintings, the Mona Lisa and a portrait of Napoleon. Mona Lisa and Napoleon convince Stanley to help them catch the Sneak Thief. After putting on a disguise, Stanley is able to trick and capture the thief.
As Stanley is being congratulated, he receives another letter from his Mom and Dad ("Mom and Dad's Letter"). Stanley realizes he really misses his family, but, before he gets too sad and lonely, he gets a call from the Hollywood Agent. Stanley has been cast in a movie shoot in Honolulu, Hawaii! Stanley heads straight to Hawaii and films his big scene ("Surfin' the Mail"). After the film shoot, the Hollywood Agent approaches Stanley with lots and lots of new job opportunities, but Stanley realizes the best kind of adventure is any adventure you share with the family you love. The Hollywood Agent sends Stanley back home.
Meanwhile, Mr. and Mrs. Lambchop and Arthur are missing Stanley terribly, when Mrs. Cartero brings them a giant letter. They open the letter to find Stanley and greet him with hugs. And, surprise! Stanley's not flat anymore! Now that Stanley and his whole family are reunited, they sing a big finale ("Travelin' through the Mail – Finale").
Connect
Curriculum Connection
Communications and Writing Letters
Parent and Child Relationships
Billing
Lyrics by

Music by

Book by
Based on the book, "Flat Stanley" by Jeff Brown.
Requirements
You must give the authors/creators billing credits, as specified in the Production Contract, in a conspicuous manner on the first page of credits in all programs and on houseboards, displays and in all other advertising announcements of any kind.
Percentages listed indicate required type size in relation to title size.
Author Billing – The Musical Adventures of Flat Stanley JR.
In accordance with the Dramatic Performing Rights License, all advertising, such as posters and program covers, must include the show logo as provided in the ShowKit® Director's Guide and all of the following author billing.
It is a violation of your contract if you crop or edit this logo in any way.
[Name of School]
Production of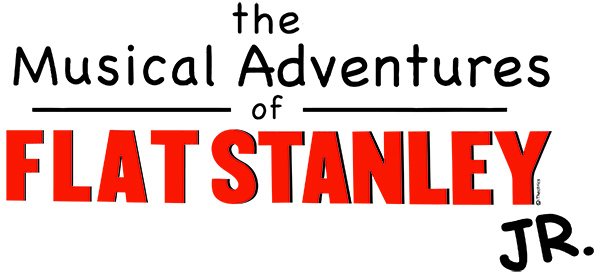 Book by TIMOTHY A. McDONALD
Lyrics by TIMOTHY A. McDONALD, JONATHAN K. WALLER
Music by DAVID WEINSTEIN, JONATHAN K. WALLER,
TIMOTHY A. McDONALD, and STEPHEN GABRIEL
Based on the book Flat Stanley by JEFF BROWN
Illustrations by SCOTT NASH
The Musical Adventures of Flat Stanley was originally produced by Work Light Productions
under license agreement granted by The Trust U/W/O Jeff Brown, Marc Ginsberg, Trustee.
Video Warning
If you purchase a separate license to allow non-commercial video recording of this production, you must print the following in your program. ANY VIDEO RECORDING MADE OF THIS PERFORMANCE IS AUTHORIZED FOR PERSONAL, AT-HOME, NON-COMMERCIAL USE ONLY. THE SALE OR DISTRIBUTION OF SUCH RECORDING IS STRICTLY PROHIBITED UNDER FEDERAL COPYRIGHT LAW. If you do not purchase the separate license for video recording, you must print the following in your program. The videotaping or other video or audio recording of this production is strictly prohibited
Included Materials
Production Resources
Resource
ACTOR'S BOOK TENPACK
FAMILY MATTERS
FAMILY MATTERS (PACK OF 10)
HOW DOES THE SHOW GO ON-10/CS
HOW DOES THE SHOW GO ON?
LOGO PACK
LOGO PACK DIGITAL
LOGO TEES SIX-PACK ADULT LARGE
LOGO TEES SIX-PACK ADULT MEDIUM
LOGO TEES SIX-PACK ADULT SMALL
LOGO TEES SIX-PACK ADULT X-LARGE
LOGO TEES SIX-PACK ADULT XX-LARGE
LOGO TEES SIX-PACK CHILD LARGE
LOGO TEES SIX-PACK CHILD MEDIUM
LOGO TEES SIX-PACK CHILD SMALL
PRODUCTIONPRO
STUDENT REHEARSAL CD
VIDEO LICENSE