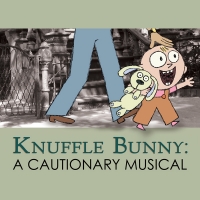 Knuffle Bunny: A Cautionary Musical
A trip to the Laundromat takes a turn when "somebunny" is left behind in this musical that is full of adventure and gigantic dancing laundry.
Full Synopsis
A single screen appears on a black stage. Projected on the screen are familiar New York and Brooklyn landmarks. We end up at Trixie's house. Mom and Dad stand on the stoop, and Mom warns an overconfident Dad how tricky it is to do laundry with Trixie ("Tricky with Trixie"). Nevertheless, Dad and Trixie head off to the Laundromat, Knuffle Bunny in hand.
On the walk to the Laundromat, Trixie continually zooms off, leaving Dad in her dust ("Walkin' Dad"). Dad notices her playing with a pigeon but does not realize that she's having fun; he thinks that pigeons are dirty. He tries to distract her by pointing out a fire truck, but, when the siren goes off, she is terrified. Dad consoles her. He tries to get her to say, "Daddy," but it doesn't work. They head off again ("Walkin' Dad – II").
They arrive at the Laundromat, where Trixie is entranced by the wonder of the machines. Puppeteers join in the washing as Dad tells Trixie all about getting clothes clean ("Wishy Washy"). While they're having a good time with the laundry, Dad accidentally puts Knuffle Bunny in the washer. Dad and Trixie leave the Laundromat to go tell Mom what a good job they did. Trixie realizes that Knuffle Bunny isn't there. She protests to Dad and refuses to go home. When she goes "boneless" and really won't move, Dad tries to figure out what's wrong. Trixie floats into a dream, where she dances with a giant puppet version of Knuffle Bunny ("Aggle Flaggle Klabble"). During the dance, her beloved Knuffle Bunny is taken from her. She comes back to reality, and Dad urges her onward toward home.

Dad and Trixie make their way home through a series of tableaus. We see a less-triumphant Dad pulling an increasingly frustrated Trixie along several Brooklyn streets... then, we see the Pyramids... then, another street, a park – lots of time has passed. Dad finally snaps at Trixie and immediately feels bad. He doesn't know what's wrong but he promises that he's doing his best ("Really, Really I Love You"). Finally, they make it home, and Mom knows right away. She asks Dad where Knuffle Bunny is. He realizes that he doesn't know. They all rush back to the Laundromat.
The family is at the Laundromat. Dad searches valiantly for Knuffle Bunny in each of the three washers but, alas, he cannot find it. Trixie begins to go sadly back to her dream world, but Dad cuts her off and renews the search ("Aggle Flaggle Klabble"). Mom tells Trixie that, even though things sometimes go badly with Daddy, he always comes out in the end ("Don't Worry"). During this sequence, Dad battles bravely with various clothes-puppets and the three washers. In a huge sequence, Dad defeats the menacing snake tie and other clothes-puppets to rescue Knuffle Bunny. Dad emerges victorious, and Trixie speaks her first words: "Knuffle Bunny!" The family is thrilled. As they celebrate, Trixie's vocabulary grows ("Knuffle Bunny"). The family reunites on the stoop; they all agree that this is the last time that Dad will do the laundry. As they go inside, a pigeon swoops down and steals Knuffle Bunny off of the stoop. Offstage, we hear Trixie call after her Knuffle Bunny.
Show History
Inspiration

Knuffle Bunny: A Cautionary Musical is based on the popular children's books, Knuffle Bunny: A Cautionary Tale and Knuffle Bunny, Too: A Case of Mistaken Identity by Mo Willems, who also wrote the book for the musical.
Willems is a #1 New York Times best-selling author and illustrator and has been awarded a Caldecott Honor on three occasions. His debut, Don't Let the Pigeon Drive the Bus!, was inducted into the Indies Choice Picture Book Hall of Fame in 2009. Other favorites include Naked Mole Rat Gets Dressed; the Geisel Award-winning Elephant & Piggie series; and City Dog, Country Frog, illustrated by Jon J. Muth. 


About the Books
Knuffle Bunny: A Cautionary Tale

Trixie, Daddy and Knuffle Bunny take a trip to the neighborhood Laundromat, but the exciting adventure takes a dramatic turn when Trixie realizes "somebunny" has been left behind.... 



Knuffle Bunny Too: A Case of Mistaken Identity
Trixie can't wait to bring her one-of-a-kind Knuffle Bunny to school and show him off to everyone. But, when she gets there, she sees something awful: Sonja has the same bunny. Suddenly, Knuffle Bunny doesn't seem so one-of-a-kind anymore. Chaos ensues until the bunnies are taken away by Ms. Greengrove. After school, Trixie finally gets her beloved bunny back. But, in the middle of the night, Trixie realizes something she has the wrong bunny!
Productions

Knuffle Bunny: A Cautionary Musical was commissioned in 2010 by the Kennedy Center for the Performing Arts in Washington, D.C.
After a sold out run, the show went on tour around the United States, where it played in 80 cities and 36 states. Knuffle Bunny returned to the Kennedy Center in 2012.
Knuffle Bunny made its international debut at Arad Fort in Arad, Bahrain, as a part of Spring of Culture, the nation's largest cultural event in March of 2012.
Trivia

Knuffle Bunny: A Cautionary Musical's composer, Michael Silversher, is a Grammy Award winner.
The original cast of Knuffle Bunny: A Cautionary Musical featured Tony Award-winning actress and puppeteer, Stephanie D Abruzzo.
Critical Reaction
"You're bound to leave the theater smiling"
– DC Theatre Scene
"Knuffle Bunny: A Cautionary Musical... is highly recommended for parents and children, as well as the young at heart."
–  MD Theatre Guide
PRAISE FOR THE BOOKS:

Knuffle Bunny: A Cautionary Tale

"Willems once again demonstrates his keen insight with a story that is both witty and wise."
– Publishers Weekly


"A comic gem."
– Booklist


"A seamless and supremely satisfying presentation of art and text."
– The Bulletin




Knuffle Bunny Too: A Case of Mistaken Identity

"Not a word or image feels out of place."
– Publishers Weekly 


"Too often, sequels come off as obviously calculated attempts to cash in on success; this offering, with its technical brilliance and its total and sympathetic understanding of the psychology of the preschooler, stands as magnificent in its own right."
– Kirkus Reviews


"Irresistibly funny, tender, and universal, this is another consummate star turn for Trixie, daddy, bunny, and their creator."
– School Library Journal
Connect
Billing
Script and Lyrics by

Music by
Based on the book, Knuffle Bunny: A Cautionary Tale by Mo Willems
Requirements
You must give the authors/creators billing credits, as specified in the Production Contract, in a conspicuous manner on the first page of credits in all programs and on houseboards, displays and in all other advertising announcements of any kind.
Percentages listed indicate required type size in relation to title size.
KNUFFLE BUNNY: A CAUTIONARY MUSICAL
Based on the book KNUFFLE BUNNY: A CAUTIONARY TALE by Mo Willems
Published by Hyperion Books for Children
Script and Lyrics by MO WILLEMS
Music by MICHAEL SILVERSHER
You must also provide the following credit on the title page for all programs:
"This play was commissioned by the John F. Kennedy Center for the Performing
Arts and was first produced at the Kennedy Center during the 2009-2010
season."
In addition, you must also provide the following credit in advertisements where full production credits are given:
"This play was commissioned by and first produced at the John F. Kennedy
Center for the Performing Arts."
In advertisements of 1/4 page size or less, or where only the title of the play, performance dates and venue are provided, the following "shortened billing" is permissible:
KNUFFLE BUNNY:
A CAUTIONARY MUSICAL
The videotaping or other video or audio recording of this production is strictly prohibited
Included Materials
| Item | Quantity Included |
| --- | --- |
| LIBRETTO/VOCAL BOOK | 10 |
| PIANO VOCAL SCORE | 2 |
| TYA PERFORMANCE TRACKS | 1 |
Production Resources
Resource
HOW DOES THE SHOW GO ON-10/CS
HOW DOES THE SHOW GO ON?
LOGO PACK
LOGO PACK DIGITAL
PRODUCTIONPRO-DIGITAL SCRIPT/SCORE
REFERENCE RECORDING
STAGE WRITE APPLICATION
STREAMING & REMOTE LICENSE