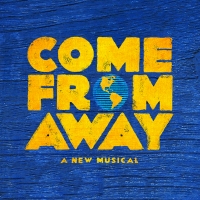 Show History
Inspiration
Come From Away is the brainchild of Michael Rubinoff, a dean of visual and performing arts at Sheridan College near Toronto, Canada. He approached the composer/lyricist team of Irene Sankoff and David Hein to further develop the musical about a small Newfoundland town and the days immediately following the September 11 attacks. Real residents of Gander, Newfoundland inspire many of the characters in Come From Away.
Productions
The initial show was presented as a 45 minute workshop as part of the Canadian Music Theatre Project at Sheridan College in 2012. In 2013, a full production at Sheridan College was presented as part of the regular season. The show was included in the 2013 National Alliance for Musical Theatre in New York and presented in a full production where it attracted the attention of Junkyard Dog Productions.
The musical debuted in 2015 as a collaboration between La Jolla Playhouse and the Seattle Repertory Theatre. It then had full productions in Washington, DC and Toronto, Ontario where it broke box-office records.
Come From Away officially opened on Broadway at the Gerald Schoenfeld Theatre on March 12, 2017 starring many original cast members from the La Jolla Playhouse/Seattle Repertory co-production, including Chad Kimball and Jenn Colella. 
Billing
Book, Music, and Lyrics by
Requirements
You must give the authors/creators billing credits, as specified in the Production Contract, in a conspicuous manner on the first page of credits in all programs and on houseboards, displays and in all other advertising announcements of any kind.
Percentages listed indicate required type size in relation to title size.
You agree to bill the Play and the Authors in all programs (on the title page), houseboards, displays and in all advertising and all paid publicity, in the following manner:
COME FROM AWAY
A New Musical*
Book, Music and Lyrics by
IRENE SANKOFF and DAVID HEIN
*NOTE: The tagline "A New Musical" shall only be used for the initial production of the Play in a given territory.
Furthermore, you agree to include the following credits on the title page of all programs, substantially as follows:
Original Broadway Production produced by
Junkyard Dog Productions
At the bottom of the title page:
Come From Away (NAMT Festival 2013) was originally developed at the Canadian Music Theatre Project, Michael Rubinoff Producer, Sheridan College in Oakville, Ontario, Canada, and was further developed at Goodspeed Musicals' Festival of New Artists, in East Haddam, Connecticut. The Canada Council for the Arts, The Ontario Arts Council, and The Fifth Avenue Theatre, Seattle, Washington, also provided development support. Come From Away was originally co-produced in 2015 by La Jolla Playhouse and Seattle Repertory Theater and presented in 2016 by Ford's Theatre
Additionally, you agree to include the following credits on title pages for all programs and playbills for the Play:
Orchestrations by August Eriksmoen
Arrangements by Ian Eisendrath
Additionally, licensees are required to acknowledge the other above-the-title producers of the Broadway production in programs for its production, in a location determined by the applicable licensee, as follows:
Junkyard Dog Productions
Jerry Frankel  Latitude Link  Smith & Brant Theatricals
Steve & Paula Reynolds  David Mirvish  Michael Rubinoff  Alhadeff Productions
Michael Alden & Nancy Nagel Gibbs  Sam Levy  Rodney Rigby  Spencer Ross  Richard
Winkler  Yonge Street Theatricals
Sheridan College  Michael & Ellise Coit  Ronald Frankel
Sheri & Les Biller  Richard & Sherry Belkin  Gary & Marlene Cohen  Allan Detsky & Rena
Mendelson  Lauren Doll  Barbara H. Freitag  Wendy Gillespie
Laura Little Theatricals  Carl & Jennifer Pasbjerg  Radio Mouse Entertainment  The Shubert
Organization  Cynthia Stroum  Tulchin Bartner Productions
Gwen Arment/Molly Morris & Terry McNicholas   Maureen & Joel Benoliel/Marjorie & Ron
Danz  Pamela Cooper/Corey Brunish  Demos Bizar/Square 1 Theatrics
Joshua Goodman/Lauren Stevens  Just for Laughs Theatricals/Judith Ann Abrams Productions  Bill
& Linda Potter/Rosemary & Kenneth Willman
SHORTENED BILLING:
In advertisements of 1/4 page size or less or where only the title of the play, performance dates and venue are provided, the following "shortened billing" is permissible:
COME FROM AWAY
A New Musical*
*NOTE: the tagline "A New Musical" shall only be used for the initial production of the Play in a given territory.
Video Warning
In accordance with the Performance License, you MUST include the following warning in all programs and in a pre-show announcement:

ANY VIDEO AND/OR AUDIO RECORDING OF THIS PRODUCTION IS STRICTLY PROHIBITED.
Included Materials
Production Resources