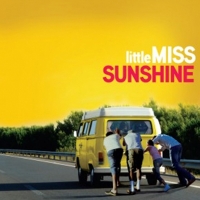 Based on the Academy Award-winning film, on life's winding road, sometimes you need to pull over and change direction.
Full Synopsis
Lights come up on an almost bare stage, where we see Grandpa Hoover, late sixties and a little worse for the wear, snorting something off of a dining room table. Opposite Grandpa is Frank, a man in a wheelchair with bandages on his wrist from a recent suicide attempt ("Prologue").
The rest of the Hoover family enters, including Sheryl Hoover, the matriarch of the family and Frank's older sister. Sheryl's husband, Richard, a self-help entrepreneur and Grandpa's son, and their two children – teenaged Dwayne, who recently took a vow of silence, and ten-year-old Olive, an aspiring beauty pageant queen ("The Way of the World").
Assembling in the dining room for a KFC dinner, Frank questions Dwayne's motives for taking a vow of silence for the last 85 days – refusing to speak until he attends the Air Force Academy and becomes a test pilot. Richard, Olive and Grandpa arrive after practicing some new moves for future pageants, high off of the rush of a recent runner-up placement. The dinner is interrupted by a message that's been left on the machine from Uncle Jeff, who informs the family that the winner of the recent pageant that Olive was in had to forfeit her crown, making Olive the winner. Olive is thrilled with this news and immediately begins to pack. The rest of the family figures out logistics: Richard has to forgo staying home in case a book agent contacts him in order to drive the stick shift Volkswagen Van, Grandpa must go as Olive's coach, Frank must go because his doctor's told Sheryl not to leave him alone and Dwayne must go because he is too young for a weekend alone.  They share the news with Olive that the whole family will be chaperoning to the pageant ("For the First Time in My Life").
The whole family has loaded into the bus on their way to California. During the long car ride, we learn that Frank's attempt at suicide was triggered by the loss of his first love, a graduate student of his named Joshua Rose. Another Proust scholar named Dr. Lawrence Sugarman wooed Joshua.
Hours pass. Grandpa is now seated with Dwayne and offers him some unsolicited advice ("The Happiest Guy in the Van"). Suddenly there is a loud pop as smoke begins to fill the van. The clutch cable has broken without a mechanic nearby and the whole family must push the van to get it moving and back on the road ("Pushing the Bus").
Continuing towards California, Sheryl and Richard reminisce about all of the years with the Volkswagen Van. Sheryl and Richard flashback 17 years to their college days and are alone in the back of the van. Sheryl tells Richard that her period is late and they may be pregnant. They discuss what's to come and weigh their options ("Always Make Me Proud").
Back in present time, the family is stretching their legs, and Olive asks for ice cream. Richard tells her that eating too much ice cream can cause her to get a belly. He goes off, and Olive escapes to her imagination ("Poor Olive"). She opts for a Coke Zero instead and practices her routine.
Frank has an unexpected encounter in the bathroom with his former lover, Joshua Rose, who happens to be in Sedona for a conference with Dr. Larry Sugarman. Frank gives them both a piece of his mind ("How Have I Been?").
A frustrated Frank rejoins the family, and all listen to Richard on the payphone with Stan, a prospective publisher for Richard's book... the news is not good. In frustration, they begin pushing the bus to get it moving, realizing after acceleration that they have left Olive behind. Richard makes a quick U-turn to pick her up and then drives in silence. Grandpa breaks the silence by trying to console Richard. They reach their motel in California.
The family retires to their various rooms in the hotel. Frank and Dwayne share a room, Olive and Grandpa in another and Sheryl and Richard in the last ("Motel Sequence – Part 1"). Grandpa reassures Olive that she is "The Most Beautiful Girl in the World." Sheryl and Richard argue ("Something Better Better Happen") until Olive, who reveals that she thinks Grandpa is sick, interrupts them.
In a hospital waiting room, the family is told that Grandpa has died. Instead of waiting and handling the death of Grandpa, the family stages a coup to escape with Grandpa and not miss the Little Miss Sunshine pageant ("Nothing Gets in the Way"). After a successful escape, the family is back on the road ("Something Better – Reprise").
To pass the time in the van, Olive and Dwayne take eye tests from the hospital. It is discovered during another test that Dwayne is colorblind, rendering him inapplicable for flight school. Dwayne breaks his vow of silence and vents his many frustrations ("Dwayne").
The family finally arrives at the pageant a few minutes late and, after some negotiating, get Olive registered. Richard begins to go through his father's belongings ("What You Left Behind").
The pageant begins with hosts, Buddy and Miss California ("LMS Pageant Theme"). Richard panics at the thought of Olive failing and runs off to stop her from performing. Sheryl stops Richard from projecting his fear of failure onto Olive ("The Way of the World"). They wish Olive luck one last time, and she goes on ("Shake Your Badonkadonk"). Buddy tries to stop the performance, but the whole family joins Olive onstage to encourage her, instead.
In the parking lot after the pageant, we learn that Olive came in last. The family breaks into arguments but decide to enjoy the rest of the weekend and deal with their issues when they get home ("Finale"). 
Show History
Inspiration
Little Miss Sunshine is a musical with a score by William Finn (The 25th Annual Putnam County Spelling Bee, A New Brain, Elegies) and a book by James Lapine (Into the Woods, Falsettos, Passion). It is based on the Oscar-nominated 2006 film of the same name, which tells the story of a quirky family that treks west to enter their youngest daughter in a child beauty pageant.
Productions
Little Miss Sunshine had workshops at the Sundance Institute Theatre Lab at White Oak in Yulee, Florida. It then had its world premiere at the La Jolla Playhouse in a run from February 15, to March 27, 2011. La Jolla then did another private reading in La Jolla in September 2011 before moving east. The musical premiered Off-Broadway at the Second Stage Theatre on November 14, 2013. It was directed by bookwriter, James Lapine, and, after the run was extended, closed on December 15 of the same year.
Trivia
Celebrities that have starred in Little Miss Sunshine include: Dick Latessa, Raul Esparza, Sherie Renee Scott, Hunter Foster, Stephanie J. Block, Malcolm Gets, Will Swenson, Rory O'Malley, Jennifer Laura Thompson and Taylor Trensch.
Little Miss Sunshine changed significantly from the La Jolla tryout to its Off-Broadway run. Composer, William Finn, only retained three of his songs in the show between productions.
Critical Reaction
"An ingenious, jaunty, sweet but not sticky sweet invention that honors the hit movie while, unlike so many adaptations, happily justifies its life on the stage.  Lapine's book is full of such smart little throwaways."
– Newsday
"Without straying too far from the structure of and characterizations in that film, Lapine and Finn put their own spin on the story, emphasizing and fleshing out certain relationships. Lapine's generally witty book [provides] enough such high points to sustain Little Miss Sunshine."
– USA Today
"The show's moving central ballad, 'Something Better Better Happen,' really hits the show-tune sweet spot, heightening a moment without simplifying or sentimentalizing it."
– The New York Times
"[The song,] 'The Way of the World,' is terrific – a jaunty kvetch from that master of the form, William Finn."
– Vulture
"[The] mix of dark and light – the bitter, almost nihilistic humor counterbalanced by an innocent sparkle – [is] the source of its curiously potent beguilement."
– The LA Times
"Memorable movie scenes where the van gets cantankerous and the family has to give it a rolling start are handled effectively."
– NBC News
Connect
Billing
Book by

Music and Lyrics by
Requirements
You must give the authors/creators billing credits, as specified in the Production Contract, in a conspicuous manner on the first page of credits in all programs and on houseboards, displays and in all other advertising announcements of any kind.
Percentages listed indicate required type size in relation to title size.
LITTLE MISS SUNSHINE
| | |
| --- | --- |
| Book by | Music & Lyrics by |
| JAMES LAPINE | WILLIAM FINN |
Based on the film "Little Miss Sunshine," written by Michael Arndt
Originally Directed by James Lapine
Additionally, you agree to included the following credit on your title pares for all programs of the Play in a size no less than 50% of the size of the Author's credit:
| | |
| --- | --- |
| Orchestrations | Vocal and Dance Arranger |
| Michael Starobin | Will Aronson |
Furthermore, you agree to include the following credits in a conspicuous manner on the title page of all programs:
New York Premiere Produced by Second Stage Theatre, New York, October 2013
Carole Rothman, Artistic Director
World premiere of "Little Miss Sunshine" Produced by La Jolla Playhouse
Christopher Ashley, Artistic Director & Michael S. Rosenberg, Managing Director
Shortened billing:
In advertisements of 1/4 page size or less, and online and mobile ads where in each case only the title of the play, performance dates and venue are provided and in outdoor advertising, transit and taxi ads and marquees where no other person is billed, the following "shortened billing" is permissible:
LITTLE MISS SUNSHINE
Video Warning
In accordance with the Performance License, you MUST include the following warning in all programs and in a pre-show announcement:

ANY VIDEO AND/OR AUDIO RECORDING OF THIS PRODUCTION IS STRICTLY PROHIBITED.
Included Materials
| Item | Quantity Included |
| --- | --- |
| KEYBOARD1 - CONDUCTOR SCORE | 1 |
| LIBRETTO/VOCAL BOOK | 16 |
| PIANO VOCAL SCORE | 1 |
Production Resources
Resource
FULL SCORE
HOW DOES THE SHOW GO ON-10/CS
HOW DOES THE SHOW GO ON?
KEYBOARDTEK
PRODUCTIONPRO-DIGITAL SCRIPT/SCORE
REFERENCE RECORDING
STAGE WRITE APPLICATION
TRANSPOSITIONS-ON-DEMAND
STANDARD ORCHESTRATION
| Instrumentation | Doubling |
| --- | --- |
| CELLO | |
| DRUMS | CONGAS , COWBELL , DRUM KIT , FINGER CYMBAL , FLEXATONE , GLOCKENSPIEL , MARK TREE , SCRATCHER , SMALL CABASA , SMALL TRIANGLE , SUSPENDED CYMBAL , TIMPANI , TRIANGLE , WOOD BLOCKS |
| HORN | |
| KEYBOARD 2 | |
| REED 1 | ALTO SAXOPHONE , CLARINET , ENGLISH HORN , FLUTE , OBOE , PICCOLO |