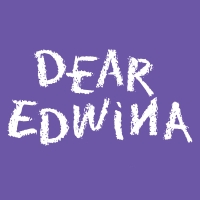 Thirteen-year-old problem solver, Edwina, dishes out advice with the help of her friends and a little song and dance.
Full Synopsis
In sunny Paw Paw, Michigan, the members of the Spoonapple Repertory Theatre introduce themselves as thirteen-year-old Edwina, advice-giver extraordinaire and director of the group, tries to ready them for the day's performance ("Paw Paw, Michigan"). She reminds them that today is "the" day, the day that the talent scout from the Kalamazoo Advice-a-Palooza Festival will be in the Paw Paw audience, looking to fill a final festival spot!
When Edwina gets news that one of the Spoonapple Rep members has been injured in a sledding accident, she tries to convince her new next-door neighbor, Bobby, to join their troupe as a last-minute replacement. She sadly reveals to a reluctant Bobby that, while her siblings, Katie, Myra and Joe, all have prizes for their various achievements tacked up on the family fridge, Edwina has nothing to show for her own talent of giving advice. However, if she can get an invitation to the Kalamazoo festival, she will finally have something of her own of which to be proud ("Up on the Fridge"). Bobby is convinced to help out.
Edwina makes her show entrance in a wheelbarrow filled to the brim with letters ("Dear Edwina"). In the first letter, Edwina is asked what to do about Hephaestus' little brother, Aristotle (played by Billy), who constantly refuses to eat the delicious foods that his mother serves him ("Hephaestus"). Edwina, with help from that fabulous rock group, Susie and the Napkins (a.k.a. Annie and the rest of the kids), demonstrates how a similar little boy named Johnny learned the trick to being polite ("Say No Thank You").
Edwina cues Scott to bring out the next letter but, as he hands her the letter, Edwina immediately notices that it isn't the one they rehearsed. Everyone knows that he's in love with Edwina, so she fears for what the letter might contain ("Another Letter!"). Over Scott's protests, Edwina reads the audience a letter by Abigail instead, who wants to know how to make her brother stop acting like an "obnock" before her upcoming birthday party ("Abigail"). The answer is given by Edwina's scary Uncle Vladimir (a.k.a. Billy) of Transylvania, who tells the story of the rudest, most rambunctious guest in the world, who was finally cured when everyone stopped paying him any attention ("Frankenguest").
Scott again tries to substitute his own letter for the next one that they have rehearsed. However, he is foiled by Kelli, who brings Edwina a postcard from her summer camp friend, Carrie (a.k.a. Kelli). Carrie has a serious problem: she was asked by her grandmother to set the table but, unfortunately, she has no idea where each utensil should go ("Carrie"). Luckily, Edwina has the answer – in fact, she has composed a whole opera on the do's and don'ts of setting the table ("Fork, Knife, Spoon").
As intermission is announced ("Time for Intermission"), the audience is invited to Kelli's lemonade stand as Scott pleads with Edwina to read his letter. However, Edwina, along with the rest of the kids, is more interested in finding the talent scout. After searching through the crowd, they soon notice a woman with the Kalamazoo Advice-a-Palooza baseball cap – and she's sleeping! Alarmed, they try to start the second act number about Lola, the shy girl from Peru who learns the importance of saying hello ("Here Comes More Letters / Hola Lola") loudly and with a bang.
As Scott again tries in vain to give Edwina his letter, Billy interrupts him with a calypso yell, pulling him into the next scene. They are transformed into the steel drum section of the Paw Paw marching band, hoping to participate in the big steel drum parade happening in Jamaica ("Ziggy"). Ziggy (played by Billy) tells Edwina that, while they worked hard to raise money for their trip, holding bake sales, car washes, etc., they then spent every cent at a sale down at the mall. What to do? Edwina advises them on the importance of saving for a rainy day as her cousin, Mary Sue Betty Bob (a.k.a. Annie), demonstrates how to be careful with your nickels ("Put It in the Piggy").
Edwina endeavors to bring the show to a close ("Thanks for Coming I"), but Scott refuses to end it, insisting upon reading his letter. Before Edwina can stop him, Scott begins to sing about the girl he loves, whose name he has carved into a heart in his dad's woodshop – the lovely Edwina herself ("Edwina"). Edwina begs Scott not to embarrass himself, but Scott insists that he will not be denied. The kids, impressed with Scott's persistence, sing backup as he waxes poetic about his beloved. Finally, full of newfound bravado, Scott throws Edwina over his shoulder, uttering the four winning words: "You! Me! Dairy Queen!"
As the kids end the show ("Thanks for Coming II") and congratulate Scott, the phone rings: it is Ann Van Buren from the Kalamazoo Advice-a-Palooza Festival! The talent scout announces that, after what she just heard, there is a definite spot in the festival – for Scott! Edwina is crushed ("Up on the Fridge Breakdown") and wonders if she'll ever have something up on the family fridge when suddenly, her little sister, Katie (played by Kelli), enters crying. Katie tells Edwina that she has run away from the Summer Math Olympics because, when she finished her equations first, two of her competitors made fun of her. Edwina comforts her sister, advising her that she must always remember to do her own thing and be unafraid of achieving her dreams ("Sing Your Own Song"). Katie agrees to go back to the Olympic Village, and Edwina's friends enter, telling Edwina that she gives the best advice of all and that perhaps she should follow her own advice. Edwina happily realizes that, while she may not have an invitation to put up on the fridge, a hug from her sister is a better reward, and that, if you do what you love, that's the best thing of all ("Up on the Fridge – Reprise").
Show History
Inspiration
Lyricist, Marcy Heisler, was just out of college when she met Zina Goldrich at the BMI Musical Theatre Workshop. The two became creative partners, charged with the task of writing a story around songs about manners. As Marcy Heisler recounts, "[We] borrowed from our childhoods, created homages to our friends, and put the songs in the head of advice-giver extraordinaire, Edwina Spoonapple, a girl who understands both the value of dreams and friendship, who takes the extra step to make things happen, who trips on her own ambition but gets great joy out of helping those she loves." Heisler and Goldrich developed the show through the Northwoods Theatre Institute, ASCAP and Second Stage, where they were Artists in Residence at various times. Composer, Maury Yeston, served as a mentor to the duo during the development.
Productions
In July of 2006, the Rattlestick Playwrights Theater in New York City produced Dear Edwina as a special benefit featuring Kate Wetherhead as Edwina.
Dear Edwina premiered Off-Broadway at the DR2 Theatre in New York City, opening November 14, 2008, and closing April 19, 2009. Directed by Timothy McDonald with choreography by Steven G. Kennedy, the production received Drama Desk Award nominations for Outstanding Music (Zina Goldrich) and Outstanding Lyrics (Marcy Heisler). A return engagement ran at the DR2 Theatre from December 11, 2009, to February 15, 2010. The musical returned once more to play a holiday season run at the DR2 Theatre from December 17, 2010, to February 25, 2011.
Critical Reaction
"You're in good hands with Dear Edwina."
– Roma Torre, NY1
"GLEAMS with originality; a tour de force!"
– The New York Times
"A RARE GEM! Go see Dear Edwina!"
– Time Out Kids
"BREATHTAKINGLY WITTY! The show is bright, cheery and fast-paced!"
– Backstage
Connect
Billing
Book by

Music by

Lyrics by
Requirements
You must give the authors/creators billing credits, as specified in the Production Contract, in a conspicuous manner on the first page of credits in all programs and on houseboards, displays and in all other advertising announcements of any kind.
Percentages listed indicate required type size in relation to title size.
DEAR EDWINA
Music by

ZINA GOLDRICH

Book and Lyrics by

MARCY HEISLER

 
The names of the Composer and the Lyricist/Bookwriter shall be equal in size, type, coloring, boldness and prominence. No billing shall apepar in type larger or more prominent than the billing to the Authors except for the title of the Play.
Video Warning
If you purchase a separate license to allow non-commercial video recording of this production, you must print the following in your program. ANY VIDEO RECORDING MADE OF THIS PERFORMANCE IS AUTHORIZED FOR PERSONAL, AT-HOME, NON-COMMERCIAL USE ONLY. THE SALE OR DISTRIBUTION OF SUCH RECORDING IS STRICTLY PROHIBITED UNDER FEDERAL COPYRIGHT LAW. If you do not purchase the separate license for video recording, you must print the following in your program. The videotaping or other video or audio recording of this production is strictly prohibited
Included Materials
| Item | Quantity Included |
| --- | --- |
| LIBRETTO/VOCAL BOOK | 12 |
| PIANO VOCAL SCORE | 2 |
Production Resources
Resource
HOW DOES THE SHOW GO ON-10/CS
HOW DOES THE SHOW GO ON?
LOGO PACK
LOGO PACK DIGITAL
PRODUCTIONPRO-DIGITAL SCRIPT/SCORE
REFERENCE RECORDING
STAGE WRITE APPLICATION
STREAMING LICENSE
TRANSPOSITIONS-ON-DEMAND
VIDEO LICENSE
STANDARD ORCHESTRATION
| Instrumentation | Doubling |
| --- | --- |
| DRUMS | |