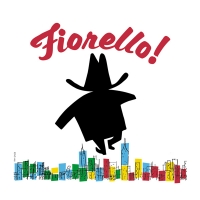 The story of New York's little man with the big heart, Mayor Fiorello LaGuardia.
Full Synopsis
Act One
Mayor Fiorello H. LaGuardia reads the comics over the radio to the children of New York City during the newspaper strike. As he reminisces about the city's corrupt past, we travel back in time to 1915 to Fiorello's Greenwich Village law office. The usual congregation of impatient citizens waits to speak to Fiorello. Neil, Fiorello's law clerk, and Morris, his office manager, assure their visitors that Fiorello will help them ("On the Side of the Angles"); Fiorello will aid any person in need who comes to him, no matter his finances or stature.
Fiorello's secretary, Marie, comes into the office to greet her friend, Dora, who brings news of the latest crisis: Thea, President Wilson's daughter, has been arrested for helping the women shirtwaist strikers. Fiorello rushes in, ignoring everyone's problems for the moment. He needs Marie to introduce him to Ben Marino, the leader of the Fourteenth District who is looking for a candidate for Congress. Then, true to his nature, Fiorello promises to help the women strikers and the citizens waiting in his office.
Later that that day, Ben Marino and his cronies play their usual poker game ("Politics and Poker"). Marie arrives with Fiorello and convinces Ben to back Fiorello in beating the corrupt political machine of Tammany Hal,l which dominates city politics.
Meanwhile, Dora and her fellow workers walk the picket line in front of their factory ("Unfair") as they suffer the jibes of hecklers. Floyd, the policeman on duty, gets into a fight with Dora. Just as Floyd is on the verge of arresting Dora, Marie and Fiorello arrive on the scene. To the deep admiration of Marie, Fiorello protects the women's rights and chases away the hecklers. His duty done, he timidly asks Marie to dinner. On the heels of her accepting his invitation, Thea arrives. Just out of jail, she is anxious to know how Fiorello can help them win the strike. She asks him to take her out for dinner. For the sake of the cause, he must accept.
Back at the office, Marie receives a call from Fiorello, telling her that he must cancel their dinner plans. She reveals to Morris her disappointment and feelings for Fiorello. She feels like such a fool for caring so much while Fiorello cares so little ("Marie's Law").
A year later, Fiorello is actively campaigning for Congress, with Ben as his backer. Neil warms up the crowd that has come to hear Fiorello. Dora re-meets Floyd, the policeman who almost arrested her. Animosity evaporates as Floyd congratulates her on winning the strike. Thea then introduces the crowd to Fiorello. Fiorello takes the platform by storm, promising to break the stranglehold of Tammany Hall ("The Name's Laguardia!"). And, guess what? Fiorello wins the election ("The Bum Won")!
One year later, Dora and Floyd are an item ("I Love a Cop"). On her way to Washington, D.C., to see Fiorello, Marie stops by at Dora's. Marie reveals to Dora that Ben's convinced her to try talking Fiorello into halting his Draft Act rhetoric. It's obvious to Dora that Marie still has feelings for Fiorello, but she refuses to express them. Once in Washington, neither Marie nor any of Fiorello's associates can dissuade his avocation for America joining the war. In his true fanatical fashion, Fiorello plans to make a grand statement to Congress. He's also enlisted in the Air Force.
Back in New York, Ben gives Fiorello a big send-off party. As expected, each person has his or her own feelings about the war. Floyd is upset that the army won't accept him, as his feet are too flat. Marie is upset that she might never see Fiorello again. Fiorello, confident that he will return, asks Thea to marry him. She needs time to think about it. Marie and Fiorello share their own goodbyes along with the rest of the somber partygoers ("'Till Tomorrow").
When the war is over, Fiorello, along with thousands of other servicemen, arrives home ("Home Again"). Both Marie and Thea wait for him at his ship's gangplank. He rushes straight to Thea, who has accepted his marriage proposal. Morris comforts Marie as she turns away from the happy couple.
Act Two
It's 1929, and Fiorello is running to be the Mayor of New York City. He and Thea have made themselves a happy home. Since Floyd and Dora have gotten married, Floyd has long since left the police force, and his alternate careers flourish. Thea has just made a visit to the doctor – the outcome of which she keeps from Dora and Fiorello. Even she can't believe how much she loves Fiorello ("When Did I Fall in Love").
At Dora and Floyd's penthouse apartment, there is a meeting of the corrupt backers of Fiorello's competitor for mayorship, Jimmy Walker. Floyd's boys have invited a group of chorus girls who are to perform for the campaign ("Gentleman Jimmy"). A mobster has the idea to have Fiorello killed as he gives his speech to the public. This is information that Dora can't keep to herself. She rushes over to Fiorello's headquarters to talk to Marie in confidence. Fiorello's office is having its own set of problems. Ben has been outspoken over the way Fiorello's handling his campaign, and Fiorello fired him. Fiorello's concerned over his wife's health, which appears to be deteriorating.
On the day of Fiorello's public speech, his opposition's plan to kill him is foiled, but Thea dies. Maria waits until the end of the day to tell him. Jimmy Walker wins the race for mayor. Instead of being crushed by personal tragedy, Fiorello is inspired to renewing his energy in his work.
It's now 1933; Ben and his political cronies play poker in his old office ("Little Tin Box"). Marie makes a visit. She has decided to quit her job and marry the very next man who asks her ("The Very Next Man"). But, before she leaves Fiorello's office, she must persuade Ben to return to Fiorello and help him win the upcoming mayoral election. She then returns to Fiorello's headquarters and convinces Fiorello to overcome his fear of losing a second time to run for mayor once again. Not only does he concede to run, with Ben's backing, but he also asks Marie to marry him. She accepts, of course, and, as history tells, Fiorello finally wins the race for mayor.
Show History
Inspiration
Fiorello!, with a book by Jerome Weidman and George Abbott, music by Jerry Bock and lyrics by Sheldon Harnick, is a musical depicting the work of New York City Mayor Fiorello H. LaGuardia. The musical draws much of its inspiration from the 1955 book, Life with Fiorello, which shows how Fiorello went from a law clerk to a reform Republican who vowed to take on the corrupt political machine at Tammany Hall.
Given the subject material, it is understandable that Bock and Harnick based their music substantially on politics. The song, "Politics and Poker," for example, takes the idea of finding a proper Congressional candidate while simultaneously comparing it to the game of poker, and using a waltz tempo "to underscore the frivolity of their cynicism." The song, "Gentleman Jimmy," uses ragtime music to depict former Mayor Jimmy Walker, while other tunes cover topics, such as factory strikes and campaign corruption.
The book of the musical does play a bit fast and loose with some of the facts from LaGuardia's life. For example, the character of Thea dies during LaGuardia's 1929 mayoral campaign in the musical, when she died eight years before that in real life. The book also severely downplays LaGuardia's successful Congressional career to create more of an underdog story for his eventual mayoral win in 1933.
Productions
Fiorello! opened on Broadway at the Broadhurst Theatre on November 23, 1959, produced by the famous team of Robert E. Griffith and Harold S. Prince (The Pajama Game, Damn Yankees, West Side Story). The production transferred to The Broadway Theatre on May 9, 1961, and closed on October 28 of the same year, totaling 795 performances. The musical returned briefly to the New York City Center on June 13, 1962, even though it only ran for sixteen performances.
More than thirty years later, in 1994, the New York City Center hosted a concert production of the musical, the first in their now-famous Encores! series. In late January 2013, Fiorello! had yet another revival run at the New York City Center to celebrate the twentieth season of Encores! The production included an additional song from the composing team of Jerry Bock and Sheldon Harnick.
Cultural Influence
Fiorello! kickstarted the career of actor, Tom Bosley. Playing the titular role, he went on to star in a number of plays, television shows and movies, most famously playing Howard Cunningham on the series, "Happy Days."
Fiorello! is one of only two musicals to tie for the Tony Award for Best Musical. It tied with the original Broadway production of The Sound of Music in 1960.
Fiorello! is one of the first musicals to win the Pulitzer Prize for Drama. 
Fiorello! served as the first major collaboration between Jerry Bock and Sheldon Harnick. The two would move on to work on such notable musicals as Fiddler on the Roof, Tenderloin and She Loves Me.
Trivia
Celebrities who have starred in Fiorello! (aside from those mentioned above) include: Jerry Zaks (Fiorello), Sorrell Booke (Fiorello), Faith Prince (Marie), Shuler Hensley (Ben), Howard Da Silva (Ben), Erin Dilly (Marie), Kate Baldwin (Thea), Dody Goodman (Dora), Paul Lipson (Morris), Art Lund (Ben), Bob Holiday (Neil), Ellen Hanley (Thea), Danny Rutigliano (Fiorello), Philip Bosco (Ben), Pat Stanley (Dora) and Rosalind Cash (Ensemble).
 
Since 1918, only eight musicals have been awarded the Pulitzer Prize for Drama – of those eight, six are MTI Musicals: Of Thee I Sing (1932), Fiorello! (1960), How to Succeed... (1962), Sunday in the Park with George (1985) Rent (1996) and Next to Normal (2010).
Critical Reaction
"The whole show comes to life with gusto... a comic carnival"
– The New York Times
"Not since Guys and Dolls has there been a musical as down-to-the-sidewalks New York as Fiorello!"
– Daily News
"A smashing victory... a box-office landslide"
– Daily Mirror
"A song-and-dance jamboree"
– Herald Tribune
"[An] eye-and-ear-popping line-up that Harnick and Bock turned out so's to put themselves on the list of important songwriters for a new generation. ...Bock's melodies are refreshingly catchy. Harnick's lyrics are genuinely witty and always genuinely warm."
– The Huffington Post
"Composer Jerry Bock and lyricist Sheldon Harnick contributed a sparkling, witty, and melodic score with real heart."
– Backstage
"The songs in Fiorello! now feel like a cross between... Guys and Dolls and an imitative 1776, New York smarts mixed with bouncy Americana, with a nod to the sounds of the period in which the musical takes place. What stands out about the songs for me now is Harnick s witty, cynical, sometimes inspiring, often inspired lyrics. Nearly every song has a memorable turn of phrase."
– NewYorkTheater.me
"Married big-hearted sentiment and political satire.... The pleasures, as before, come from the onstage orchestra and from the songs – especially such comic-gem choruses as "Politics and Poker" (a cynical polka) and "Little Tin Box" (crooked politics as a soft shoe). ...Harnick's lyrics are smart, without pretension, about both psychology and rhythm."
– Newsday
Tony® Award
1960
-
Best Conductor and Musical Director,
Nominee
(Hal Hastings)
1960
-
Director -- Musical,
Winner
(George Abbott)
1960
-
Musical Director-Conductor,
Nominee
(Hal Hastings)
1960
-
Musical Play,
Winner
(Jerome Weidman and George Abbott (book), Sheldon Harnick (lyrics), Jerry Bock (music), Robert E. Griffith and Harold S. Prince (producers))
1960
-
Scenic Designer -- Musical,
Nominee
(William and Jean Eckart)
1960
-
Best Musical,
Winner
(Fiorello!)
1960
-
Best Featured Actor in a Musical,
Winner
(Tom Bosley)
1960
-
Best Featured Actor in a Musical,
Nominee
(Howard Da Silva)
1960
-
Best Direction Of A Musical,
Winner
(George Abbott)
1960
-
Actor -- Musical Featured,
Nominee
(Howard Da Silva)
1960
-
Best Scenic Design,
Nominee
(William and Jean Eckart)
1960
-
Actor -- Musical Featured,
Winner
(Tom Bosley)
1960
-
Best Choreography,
Nominee
(Peter Gennaro)
1960
-
Choreographer,
Nominee
(Peter Gennaro)
New York Drama Critics Circle Award
1960
-
Best Musical,
Winner
(Fiorello!)
Pulitzer Prize
1960
-
Best New American Drama,
Winner
(Jerome Weidman & Jerry Bock George Abbott,Sheldon Harnick)
Connect
Billing
Book by

Music by

Lyrics by
Requirements
You must give the authors/creators billing credits, as specified in the Production Contract, in a conspicuous manner on the first page of credits in all programs and on houseboards, displays and in all other advertising announcements of any kind.
Percentages listed indicate required type size in relation to title size.
FIORELLO!
| | | |
| --- | --- | --- |
| Book by | Music by | Lyrics by |
| JEROME WEIDMAN and GEORGE ABBOTT | JERRY BOCK | SHELDON HARNICK |
Original Production presented by Robert E. Griffith and Harold S. Prince
"The names of the Composer, Lyricist and Bookwriters shall be equal in size, type, coloring, boldness and prominence and shall always appear together. No billing shall appear in type larger or more prominent than the billing to the authors except for the title of the play."
The videotaping or other video or audio recording of this production is strictly prohibited
Included Materials
| Item | Quantity Included |
| --- | --- |
| ERRATA LIST | 1 |
| LIBRETTO/VOCAL BOOK | 30 |
| PIANO CONDUCTOR'S SCORE ACT 1 | 1 |
| PIANO CONDUCTOR'S SCORE ACT 2 | 1 |
Production Resources
Resource
HOW DOES THE SHOW GO ON-10/CS
HOW DOES THE SHOW GO ON?
PRODUCTIONPRO-DIGITAL SCRIPT/SCORE
REFERENCE RECORDING
STAGE WRITE APPLICATION
STANDARD ORCHESTRATION
| Instrumentation | Doubling |
| --- | --- |
| BASS | DOUBLE BASS , TUBA |
| CELLO | |
| GUITAR | BANJO , GUITAR |
| PERCUSSION | BASS DRUM , BELLS , COWBELL , CYMBAL , GLOCKENSPIEL , RACHET , SNARE DRUM , TOM TOM , TRIANGLE , TYMPANI , WOOD BLOCK , XYLOPHONE |
| REED 1 | CLARINET |
| REED 2 | |
| REED 3 | |
| REED 4 | BASS CLARINET , CLARINET , FLUTE , SOPRANO SAX , TENOR SAXOPHONE |
| REED 5 | |
| TROMBONE | |
| TROMBONE 2 | |
| TRUMPET | |
| TRUMPET 3 | |
| VIOLA | |
| VIOLIN | |
ALTERNATE ORCHESTRATION
| Instrumentation | Doubling |
| --- | --- |
| ALT:ACCORDIAN | |
| ALT:BASS | |
| ALT:GUITAR | |
| ALT:PERCUSSION | |
| ALT:REED 1 | ALTO FLUTE , FLUTE , PICCOLO |
| ALT:REED 2 | ALTO SAXOPHONE , CLARINET |
| ALT:REED 3 | CLARINET , TENOR SAXOPHONE |
| ALT:REED 4 | BARITONE SAXOPHONE , BASS CLARINET |
| ALT:TROMBONE 1 | |
| ALT:TROMBONE 2 | |
| ALT:TRUMPET 1&2 | |