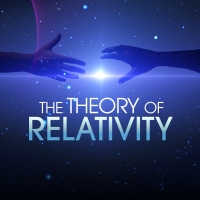 This moving and unconventional song cycle bursts with originality as it examines the interconnectedness of us all through life's shared experiences - from the hilarious to the heartbreaking.
Full Synopsis
A simple physics test question prompts a group of young people to consider their lives ("Person A"). As each one separately ponders personal dilemmas of connection, they begin to become aware of each other ("Relativity"). One young man steps forward to tell the story of an anxiety-filled dinner with a man whom he's trying to impress ("I'm Allergic to Cats"). Buoyed by that young man's story, one by one, each of the people gathered shares their own tale.
A young physics major grapples with the infinite uncertainty of love and the finite certainty of mathematics ("Pi – Part 1"). 
Two women, friends since childhood, recount the beginning of their lopsided friendship and its inevitable and surprising end ("The End of the Line"). 
Two others find a bond in the clash between parental expectations and personal aspirations ("Great Expectations"), an issue shared by the entire group. 
As the stories unfold, the group begins to sense that there may be a deeper connection between them ("Relativity – Reprise 1"). 
A responsible college student from a stable home experiences upheavals in his life that challenge his once-solid foundation ("Footprint"). 
The young physics major begins to find out, to his horror, that mathematics may not be as finite as he once thought ("Pi – Part 2"). 
A crowded city street becomes the unlikely backdrop for a fantasy of love ("Lipstick").
A man with a secret desire (a love of oranges in the Washington apple region) finds another young man who shares that love and more ("Apples & Oranges"). 
A steely young woman tells the saga of a relationship gone wrong... that left her forever changed ("Me & Ricky"). 
A woman with a troubled upbringing shares the story of her miraculous relationship with her mother ("Promise Me This").
A young woman breaks the news to her friends that she has accepted a proposal of marriage ("Julie's Song"). 
Meanwhile, the young physics major, thrown by his growing uncertainty about math and his growing certainty about love, begins to succumb to the charms of the latter ("Pi – Part 3"). 
Spurred by an overwhelming desire to experience real life ("Relativity – Reprise 2"), the entire group breaks into a wordless a cappella piece that escalates into a contagious expression of human connection ("Relative Pitch").
A regular customer in a coffee shop spies another and tries to gather the courage to say hello ("You Will Never Know"). The entire company joins in, each trying to find the same courage. By now, the group has become a motley, but cohesive, community, able to reframe the simple physics problem into a deeper question about the nature of human relationships ("Person A – Reprise"). Together, the full company celebrates the remarkable interconnectedness of life ("Nothing without You").
Show History
Inspiration
With music and lyrics by Neil Bartram and a book by Brian Hill, creators of Broadway's The Story of My Life, The Theory of Relativity offers a fascinating look into the unexpected connections among unrelated people.
The song cycle began after Neil Bartram and Brian Hill were invited to develop a show with the musical theatre students at Sheridan College in Toronto. While there was an opportunity to develop existing works further, the creators opted instead to write a show to which college-aged performers could relate on a more personal, direct level.  Through interviews and conversations with the students, Neil and Brian were inspired by the shared human experiences that connect us all.
Productions
The Canadian Music Theatre Project at Sheridan College in Toronto originally commissioned The Theory of Relativity in 2012.
In 2014, the show was part of the Festival of New Musicals at Goodspeed Musicals in Connecticut. It received a full production in the spring of 2015 at Goodspeed's Norma Terris Theatre.
The show had its London premiere at the Drayton Arms Theatre in the spring of 2015.
The show was produced in April 2016 at Cleveland, Ohio's, PlayhouseSquare, in collaboration with Baldwin Wallace University.
Cultural Influence
The musical was performed at Feinstein's/54 Below in October 2015, featuring many members of the cast from Goodspeed Musicals. 
Critical Reaction
"A brilliant show, you'll leave the theatre with a big grin on your face."
– Everything Theatre
"I defy anyone, whatever may be happening in their lives, to leave this production without feeling renewed hope, being profoundly uplifted"
– London Theatre 1
"Take a Physics manual, blend it with the sound of The Book of Mormon, the hilariously nerdy references of The Big Bang Theory, a sprinkle of Chicago, few drops of 'Glee,' bake it in a Broadway bowl, use all the originality you can have.... That's the successful recipe for the spectacular The Theory of Relativity."
– Live Like Tom
"Whether you're a fan of musicals or not, make sure you give The Theory of Relativity a go."
– www.ayoungtheatre.com
"The Theory of Relativity is a joyous, youthful musical exploration of the surprising interconnectedness of our own personal orbits as we stand 'motionless' on this little rock hurtling through space."
– Broadway World
"The music presents a mix of comedy and heart."
– www.westendwilma.com
Connect
Billing
Music and Lyrics by

Book by
Requirements
You must give the authors/creators billing credits, as specified in the Production Contract, in a conspicuous manner on the first page of credits in all programs and on houseboards, displays and in all other advertising announcements of any kind.
Percentages listed indicate required type size in relation to title size.
(100%)
Music & Lyrics by

NEIL BARTRAM

(50%)

BRIAN HILL

(50%)
ADDITIONAL TITLE  PAGE BILLING:
The following credit shall appear in all programs of the Play:
"The Theory of Relativity  was developed at the Canadian Music Theatre Project,
Sheridan College in Oakville, Ontario, Canada."
The following credit shall appear at the end of all further billing:
"Originally Produced by Goodspeed Musicals, East Haddam, CT"
The Musical was presented at the National Alliance for Musical Theatre's
Festival of New Musicals in 2015
Video Warning
In accordance with the Performance License, you MUST include the following warning in all programs and in a pre-show announcement:
ANY VIDEO AND/OR AUDIO RECORDING OF THIS PRODUCTION IS STRICTLY PROHIBITED.

If you purchase a video license to allow non-commercial video recording of this production, then you MUST include the following warning in all programs and in a pre-show announcement:
ANY VIDEO RECORDING MADE OF THIS PERFORMANCE IS AUTHORIZED FOR PERSONAL, AT-HOME, NON-COMMERCIAL USE ONLY. THE SALE OR DISTRIBUTION OF SUCH RECORDING IS STRICTLY PROHIBITED UNDER FEDERAL COPYRIGHT LAW.
Included Materials
| Item | Quantity Included |
| --- | --- |
| ERRATA LIST | 1 |
| LIBRETTO/VOCAL BOOK | 20 |
| PIANO CONDUCTOR'S SCORE | 1 |
| PIANO VOCAL SCORE | 1 |
Production Resources
Resource
CUSTOMIZABLE SHOW POSTER
HOW DOES THE SHOW GO ON-10/CS
HOW DOES THE SHOW GO ON?
LOGO PACK DIGITAL
PERFORMANCE ACCOMPANIMENT RECORDING
PRODUCTIONPRO-DIGITAL SCRIPT/SCORE
REFERENCE RECORDING
REHEARSAL ACCOMPANIMENT RECORDING
STAGE WRITE APPLICATION
SUBPLOT CUSTOMIZED SHOW POSTER
TRANSPOSITIONS-ON-DEMAND
VIDEO LICENSE
STANDARD ORCHESTRATION
| Instrumentation | Doubling |
| --- | --- |
| BASS | |
| GUITAR | |
| KEYBOARD 2 | |
| PERCUSSION | |