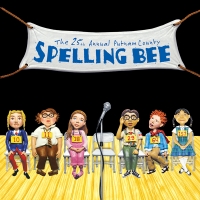 The 25th Annual Putnam County Spelling Bee
Six awkward spelling champions learn that winning (and losing) isn't everything.
Full Synopsis
In a high school gym, long time hostess, Rona Lisa Peretti, finalizes the preparations for the annual county spelling bee, reminiscing about her own spelling bee victory, many years prior. The current crop of spelling contenders arrives ("The 25th Annual Putnam County Spelling Bee"). The contestants include last year's champ, Chip (a boy scout), Schwarzy (the youngest and most politically aware contestant), Coneybear (the somewhat wide-eyed offspring of hippie parents), Barfee (an allergy-plagued student), Marcy (an over-achieving Asian-American) and Olive (a tentative newcomer).
Rona also calls on four volunteers from the audience to join the competition (these are real audience members who have been selected through an interview process before the show).
It is revealed that Olive has failed to pay her $25 entrance fee, but Rona assures her that it will be worked out later. Barfee rudely fends off Olive's attempts to befriend him. Rona introduces Vice Principal Douglas Panch, a last-minute substitute word pronouncer, and Mitch Mahoney, a menacing ex-con who is serving as "Comfort Counselor" as a part of his community service sentence. Panch, Rona and the spellers review the contest's elimination-style rules ("The Rules").
The contest begins. As the students are individually called upon, Rona provides color commentary, revealing background info about each of them. A flashback reveals that Coneybear only made in into this contest because his school's winner and first runner-up were unable to attend due to a Bar Mitzvah. He appears to have no hope of spelling words correctly, but snaps into abrupt trances, during which he performs perfectly.
Olive reflects on a lonely childhood, where her main source of companionship (and spelling excellence) was a dictionary ("My Friend the Dictionary"). The audience volunteers are also called upon to participate. Volunteers who answer incorrectly are eliminated ("Goodbye #1"). Barfee uses a bizarre "magic foot" technique to spell his words.
Rona reveals that Marcy placed high in the ranking for last year's national spelling bee, impressing all of the contestants. One of the audience volunteers is asked to spell "cow," prompting outrage from the contestants. The contest swings into high gear ("Pandemonium") as Panch requests spellings for words that vary enormously in their level of difficulty.
A flashback reveals Schwarzy, drilling for the contest with her two overbearing gay dads. Coneybear, for the second consecutive time, is asked to spell a word related to South American rodents. He confesses that his family does not consider him to be particularly intelligent ("I'm Not That Smart").
Barfee calls upon his magic foot technique to help him spell the word, "hasenpfeffer" ("Magic Foot"). By this point in the contest, all but one of the audience volunteers have probably been eliminated. Chip is eliminated after getting distracted by seeing Coneybear's attractive sister, Marigold, in the audience ("Pandemonium – Reprise"). Mitch escorts him from the stage ("Chip Goodbye").
Rona is excited by the unexpected early elimination of last year's champ ("Rona Moment #2").
The final audience volunteer is eliminated when asked to spell a ridiculously difficult word. Mitch consoles the loser ("Prayer of the Comfort Counselor").
During a snack break, Chip distributes free candy to the audience and laments the fact that his sexual arousal cost him a victory in the spelling bee ("My Unfortunate Erection"). Chip bickers with Barfee and terrorizes him with a packet of peanut M&Ms before being ejected. Olive comforts Barfee.
As the break ends and the bee resumes, Schwarzy reflects on the tremendous pressure placed on her by her dads ("Woe Is Me"). A lighting-fast blaze of spelling ensues, and Coneybear is eliminated when he fails to spell chinchilla correctly ("I'm Not That Smart – Reprise").
Rona reveals that Marcy speaks six languages. Marcy is exasperated at always being thought of as superior in every way ("I Speak Six Languages"). She is asked to spell the word, "camouflage," whereupon she rhetorically exclaims "Dear Jesus, can't you come up with a harder word than that?" Much to her astonishment, Jesus Christ immediately appears and reveals that He doesn't care who wins this contest. Marcy, relieved, deliberately misspells her word, joyfully eliminating herself.
Only Schwarzy, Olive and Barfee remain. Olive receives a phone call from her dad. Taking advantage of the pause, Schwarzy seizes the microphone and makes a political statement. One of Schwarzy's dads attempts to sabotage Barfee by pouring a can of Coke onto the stage, hoping the stickiness will immobilize Barfee's magic foot. It is implied that Olive's father is unwilling to pay her $25 entrance fee.
Olive is given the word "chimerical," which means "wildly fanciful and highly unrealistic." This prompts her to fantasize about her neglectful parents ("The I Love You Song").
Barfee's magic foot is foiled by the spilled Coke, but he manages to spell "crepuscule" correctly anyway. Schwarzy is eliminated ("Woe is Me – Reprise"). Only two spellers remain, and Rona is breathless with excitement ("Rona Moment #3").
After a volley of correctly spelled words, Olive misspells a word ("Second, Part One") and Barfee hesitates before claiming victory, sensitive to Olive's feelings. Olive reassures him, and he claims the victory. Panch, taking pity on Olive, invents a $25 prize for "runner up," which he produces out of his own pocket to cover Olive's entrance fee. Rona is moved by Panch's kind gesture. Olive and Barfee warmly congratulate each other.
A series of epilogues reveal the future fates of the characters and explains how their experiences during the spelling bee shaped each of their lives ("Finale").
Show History
Inspiration
Initially, The 25th Annual Putnam County Spelling Bee started as a non-musical play, entitled C-R-E-P-U-S-C-U-L-E, done by the improvisational group "The Farm." One of the performers in the play, Sarah Saltzberg, happened to be the nanny of playwright, Wendy Wasserstein. Impressed by what she saw, Wasserstein suggested to friend, William Finn, that he may be able to take the show to the next level. Finn, his former student, Rachel Sheinkin, and C-R-E-P-U-S-C-U-L-E creator, Rebecca Feldman, worked together to turn the piece into a full-length musical.
Productions
Spelling Bee, first conceived by Rebecca Feldman with music/lyrics by William Finn and a book by Rachel Sheinkin, began development at the Barrington Stage Company of Pittsfield, Massachusetts, in two different stages. In February 2004, a workshop was held, in which a first act and parts of a second act were created. In July 2004, the script was fleshed out and the show was given a fuller production with direction by Feldman and Michael Unger and choreography by Dan Knechtges.
Following its development into a full-scale musical, Spelling Bee then moved Off-Broadway to the Second Stage Theatre under the direction of James Lapine with continued choreography by Dan Knechtges. Opening for previews on January 11, 2005, and officially on February 7, 2005, Spelling Bee received glowing reviews, sold out its limited engagement, broke box office records at Second Stage, and extended its run. Then, with its eye on Broadway, the musical concluded its short but successful Off-Broadway stint on March 20, 2005.
One month later, on April 15, 2005, Spelling Bee transferred to Broadway at the Circle in the Square Theatre, again receiving outstanding critical and box-office achievement. The show closed on January 20, 2008, after 1,136 performances and has since lived on with huge success in two national tours, numerous international productions and regional productions at such theaters as Drury Lane, North Shore Music Theatre, Barrington Stage and Playhouse on the Square.
Cultural Influence
Although he had enjoyed some prior success, Jesse Tyler Ferguson's role as Leaf Coneybear in Spelling Bee helped boost his career, leading to his star turn as Mitchell on TV's "Modern Family" just a few short years later.
An Original Broadway Cast Album of The 25th Annual Putnam County Spelling Bee was released on May 31, 2005, by Ghostlight Records.
Trivia
There is a song on the cast album called "Why We Like Spelling." This song is sung by all the spellers, but is not in the Broadway production or in the licensed productions.
Sarah Saltzberg, who was a part of Spelling Bee's original source material, C-R-E-P-U-S-C-U-L-E, remained a part of the process all the way through to being an original cast member of the Broadway production.
Beyond the awards the musical won, Spelling Bee was nominated for an additional four Tony Awards, three Drama Desk Awards (including one for Outstanding Musical) and two Lucille Lortel awards. Its cast and creative team also won a Tony Award, a Drama Desk Award, a Lucille Lortel Award and two Theatre World Awards.
Critical Reaction
"Effortlessly endearing.... Gold stars all around."
– The New York Times
:Composer-lyricist William Finn and book writer Rachel Sheinkin's winsome and winning new musical is so generously warm-hearted, only the most bitter misanthrope could resist its charms."
– Variety
"Great news! The American musical comedy – with equal emphasis on the 'musical' part and the 'comedy' part – is alive and well.... A treat and a half."
– TheatreMania
"Delightful confection.... Remarkably effective."
– Time Out
Connect
Billing
Conceived by

Additional Material by

Music and Lyrics by

Book by
Requirements
You must give the authors/creators billing credits, as specified in the Production Contract, in a conspicuous manner on the first page of credits in all programs and on houseboards, displays and in all other advertising announcements of any kind.
Percentages listed indicate required type size in relation to title size.
You agree to bill the Play and the Authors and all other parties specified below in all programs, houseboards, displays and in all advertising and all paid publicity, in the following manner:
Specifically, you must bill the Play and the Authors and all other parties specified below as follows:
THE 25th ANNUAL PUTNAM COUNTY SPELLING BEE
Music and Lyrics by 

WILLIAM FINN

Book by

RACHEL SHEINKIN

Conceived by

REBECCA FELDMAN
Additional Material by
Jay Reiss
Originally Directed on Broadway by James Lapine
Originally produced on Broadway by
David Stone, James L. Nederlander, Barbara Whitman, Patrick Catullo
Barrington Stage Company, Second Stage Theatre
You also agree to include the following on the staff credits page of any program, in capital letters and separated by a line from other staff, as follows:

In the first position:
Based upon C-R-E-P-U-S-C-U-L-E, an original play by The Farm.
In the second position:
The Barrington Stage Company workshop of THE 25TH ANNUAL PUTNAM COUNTY SPELLING BEE was originally co-directed by Michael Barakiva and Rebecca Feldman.
In addition, the following biography must appear in all programs of the Play: 
The Farm
Video Warning
In accordance with the Performance License, you MUST include the following warning in all programs and in a pre-show announcement:

ANY VIDEO AND/OR AUDIO RECORDING OF THIS PRODUCTION IS STRICTLY PROHIBITED.
Included Materials
| Item | Quantity Included |
| --- | --- |
| LIBRETTO/VOCAL BOOK | 12 |
| PIANO CONDUCTOR'S SCORE | 2 |
Production Resources
Resource
CUSTOMIZABLE SHOW POSTER
HOW DOES THE SHOW GO ON-10/CS
HOW DOES THE SHOW GO ON?
KEYBOARD PATCH SOLUTIONS
KEYBOARDTEK
LOGO PACK
LOGO PACK DIGITAL
LOGO TEES SIX-PACK ADULT LARGE
LOGO TEES SIX-PACK ADULT MEDIUM
LOGO TEES SIX-PACK ADULT SMALL
LOGO TEES SIX-PACK ADULT X-LARGE
LOGO TEES SIX-PACK ADULT XX-LARGE
LOGO TEES SIX-PACK CHILD LARGE
LOGO TEES SIX-PACK CHILD MEDIUM
LOGO TEES SIX-PACK CHILD SMALL
ORCHEXTRA
PERFORMANCE ACCOMPANIMENT RECORDING
PRODUCTIONPRO-DIGITAL SCRIPT/SCORE
REHEARSAL ACCOMPANIMENT RECORDING
REHEARSCORE APP
SCENE PARTNER
STAGE MANAGER SCRIPT
STAGE WRITE APPLICATION
SUBPLOT LOGO PACK
TRANSPOSITIONS-ON-DEMAND
VIRTUAL STAGE MANAGER
STANDARD ORCHESTRATION
| Instrumentation | Doubling |
| --- | --- |
| CELLO | |
| KEYBOARD 1 | |
| PERCUSSION | BELLS , BONGOS , BOWED CYMBAL , CABASA , DRUM KIT , DUMBEK , FINGER CYMBAL , GLOCKENSPIEL , MARACAS , METAL GUIRO , SHEKERE , SMALL TRIANGLE , SPLASH CYMBAL , SUSPENDED CYMBAL , TABLA , TAMBOURINE , TIMPANI , VIBES , WOODBLOCK , XYLOPHONE |
| REED 1 | ALTO SAXOPHONE , Bb CLARINET , FLUTE , OBOE |