Filichia Features: Broadway Junior Springs into the Winter Garden
Filichia Features: Broadway Junior Springs into the Winter Garden
On Tuesday morning, the seventh and eighth graders from P.S./I.S 327K in Brooklyn got a better response than they could have ever imagined.
For soon after they began performing on the Winter Garden stage, the audience, full of their peers from other New York City boroughs, began clapping in rhythm.
It's one of the greatest compliments that a song and its performers can get. But not all songs are created equal, and some seem to invite or even entice this kind of handclapping.
Here was one of the best: "We're All in This Together" from Disney's High School Musical JR. For while the hundreds in the audience were applauding the wonderfully accomplished performers, they were endorsing what the lyric was saying, too. The students who were watching made clear that everyone here was indeed in all of this together – "this" being the making of musical theater.
So on this May 9th morning, The 12th Annual Shubert / MTI Broadway Junior Finale brought kids, mostly sixth to eighth graders, from more than a dozen of the city's schools to do selections from the Broadway Junior musical they'll soon perform at their schools.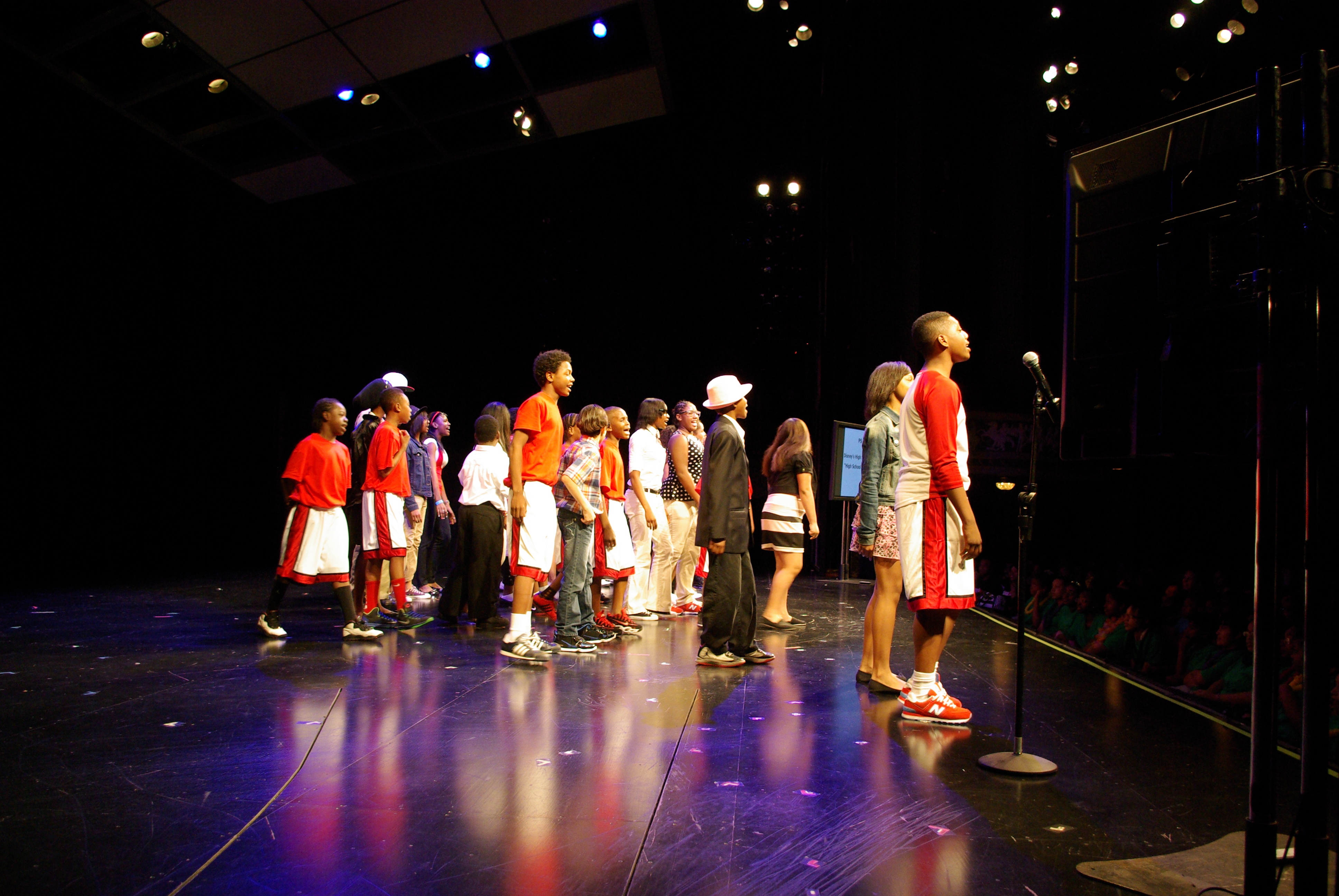 Co-host Chad Kimball -- currently in Come From Away -- got a big laugh from his co-host and castmate Rodney Hicks and the crowd when he told of how he's forgotten his lines on more than one occasion. Perhaps Kimball was subtly saying "Kids, if you blow a line, don't hate yourselves." If so, he needn't have; every soloist came in with perfect timing.
That standard was set when M.S. 217 from Queens opened with "Welcome to the Sixties" from Hairspray JR. The song demands that Edna turn from a frump to a trump lady fair; the lass conveyed this not only from the snazzy new outfit she wore when she re-entered but also from her confident smile that showed that she was ready to be a fashion plate.
P.S./I.S. 208 in Queens got the audience to scream with delight when Shrek got on one knee to propose to Fiona during "I'm a Believer." He got up quickly and then adopted a stance that would have made Elvis proud.
The lad from Redwood Middle School in Queens who played Willy Wonka had a high note to hit at the end of "The Candy Man." Hit it he did. The resulting applause showed not only appreciation but respect; the students know just how difficult hitting that note is, and they wanted him to know that they'd recognized his achievement.
Entrada Academy from the Bronx urged us to take Disney's High School Musical JR.'s advice and "Get'cha Head in the Game." The performers wore red "Wildcats" shirts, as befitting East High School's basketball team. There might have been a time when we would have questioned that the girls on the team outnumbered the boys, but since the WNBA recently celebrated its 20th anniversary, these young misses seemed right at home.
From its name -- The Laboratory School of Finance and Technology -- few would assume that this Bronx center of learning would deliver much in the way of musical theater. Nevertheless, all their feet told them "Go!" when they sang "Good Morning, Baltimore" with the confident spirit of roosters at sunrise.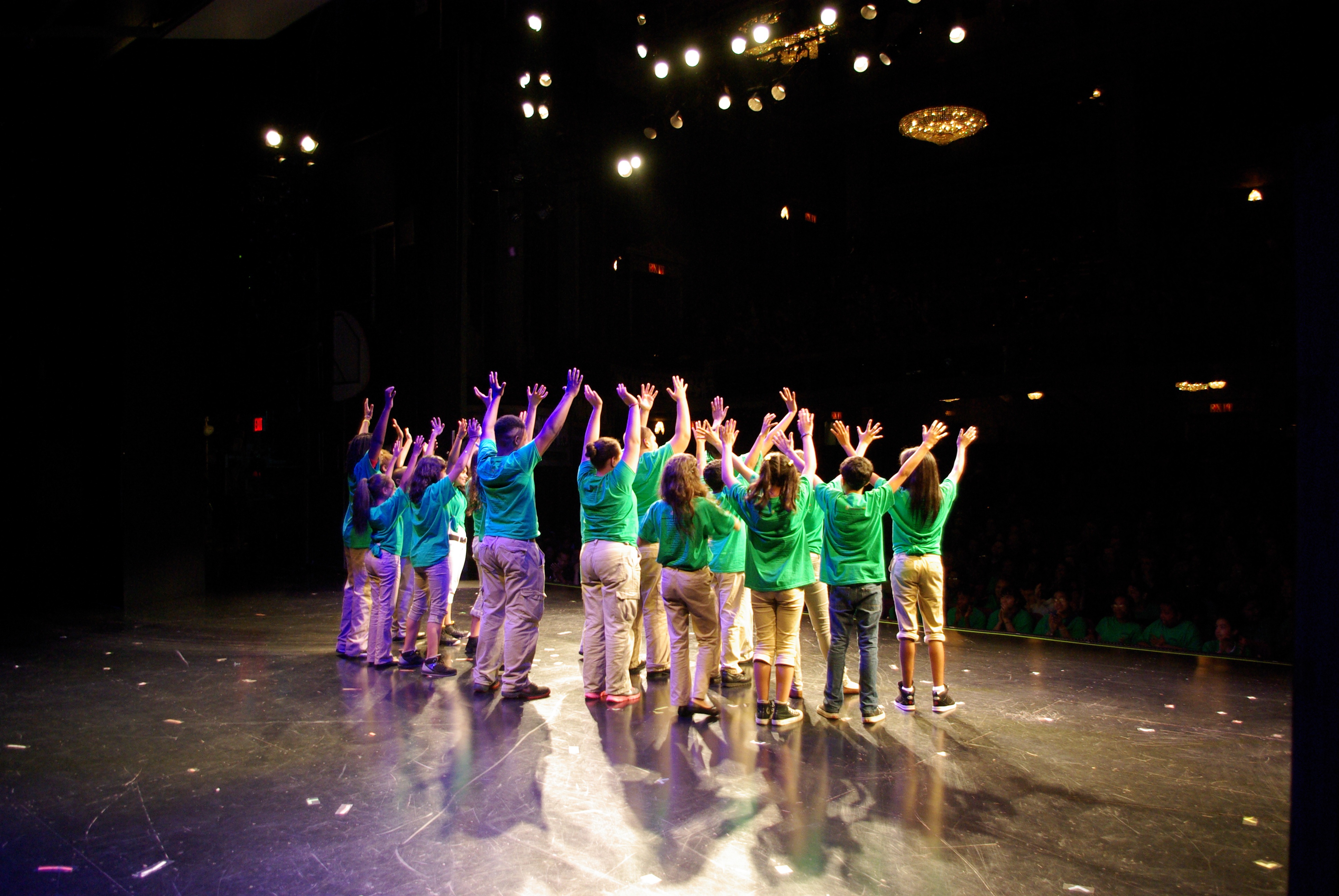 Students From Year Three Broadway Junior Schools, creating a rainbow of colored T-shirts, instructed us to "Let your freak flag fly" (from Shrek JR.). I'll agree with the sentiment, but these kids certainly didn't look freaky to me. (The freaks, of course, are those who don't embrace musicals.)
By far the most poignant moment came from The Richard H. Hungerford School in Staten Island. This is a special-needs school, but teachers Stacy Acevado, Tom Gillen, Sara Signorelli and Jessica Thompson wanted their students to have their on-stage moment and memories.
A long orchestral medley gave the students time to adjust. They didn't sing, dance or move, but simply prepared. The delay could have been awkward, but a thoughtful audience member started clapping in unison and the house soon followed.
Sad to say, we all know that there are bullies who'd be cruel and rude when encountering these students -- but not these theater kids. And after the Hungerford students finally felt at home enough to sing "Neverland" from Peter Pan JR., they were rewarded with a standing ovation. Yes, theater kids learn from doing show after show that being supportive is an important by-product.
The lad who played Lumiere in Brooklyn's I.S. 392's Disney's Beauty and the Beast JR. proved that good theater is part illusion. He didn't have torches at the end of his sleeves; still, from the way he held his hands, he let us know they were supposed to be there.
The P.S. 184 kids from Manhattan, during the title song of Thoroughly Modern Millie JR., crowed "This is 1922!" They certainly looked the part, for the boys were in snazzy-jazzy suits and the girls in flapper dresses. Best of all, they could do a mean Charleston, too.
And speaking of dances, The East Fordham Academy for the Arts from the Bronx stated "We Dance" from Once on This Island JR. before proving that they indeed could.
Castle Hill Middle School of the Bronx got the greatest amount of entrance applause. My theory? The theatregoers saw Annie JR. T-shirts on all, which brought back memories of the show that introduced them to musical theater. Happily, the applause was just as rapturous after they did "It's the Hard-Knock Life."
Given that we had girl Wildcats in High School Musical JR. we enjoyed seeing boy orphans here. And when Ronald Edmonds Learning Center of Brooklyn performed The Lion King JR., the excellent Simba was a girl. No, non-traditional casting needn't be limited to professionals! Besides, don't most names that end with "a" belong to girls, anyway?
"You ain't never had a friend like me," the genie from Disney's Aladdin JR. sang via The R. Vernam School in Queens. True, this ungrammatical lyric must have rankled those theater instructors who double as English teachers. Here's hoping that they were assuaged by how well these spirited kids did. (Nice, too, that The Broadway Junior Finale took place on May 9th -- National Teachers' Day.)
A bevy of students who'd been graduated from Broadway Junior programs brought the morning to a close with "You Can't Stop the Beat" from Hairspray JR. Actually, that's a lie, for the beat could easily be stopped if it weren't for the financial support and intense interest from Phil Weinberg of New York City's Department of Education; Peter Avery, the school system's Director of Theater; Freddie Gershon, CEO of MTI; and Michael I. Sovern, President of The Shubert Foundation. Because of them, the beat goes on.
Handclapping in rhythm isn't enough for these gentlemen. Give them a torrent of sustained applause.
You may e-mail Peter at pfilichia@aol.com. Check out his weekly column each Monday at www.broadwayselect.com and Tuesday at www.masterworksbroadway.com. His book, The Great Parade: Broadway's Astonishing, Never-To-Be Forgotten 1963-1964 Season is now available at www.amazon.com.