Filichia Features: Happy Birthday, Stephen Sondheim
Filichia Features: Happy Birthday, Stephen Sondheim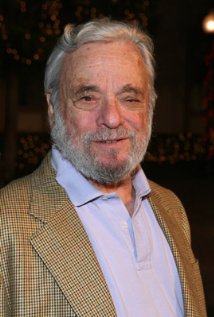 Stephen Sondheim has always loved New York, and, for the most part, Gotham has returned the love.
Broadway's greatest composer-lyricist who turns 85 this week has been a New York presence since his lyrics for West Side Story reached Broadway in 1957. There has never been a year that a Stephen Sondheim lyric hasn't had at least a semblance of an audience – be it on Broadway, off-Broadway, television, in night clubs and, to quote the title of an actual Sondheim song, "In the Movies."
In tribute, I've chosen one lyric for each year that a song was heard in The Big Apple either during the start, middle or end of a Sondheim show's Broadway run or at some venue. These are lyrics with which I Fell in Love at First Hear, and while they may not be your particular favorites, I won't be surprised if they are.
1957: "And make this endless day endless night." – "Tonight," West Side Story
1958: "You can live it up and die in bed." -- "Cool," West Side Story
1959: "Said this bum'll / Be Beau Brummel" – "All I Need Is the Girl," Gypsy
1960: "Living life in a living room." -- "Some People," Gypsy
1961: "I wonder how old I am." -- "Little Lamb," Gypsy
1962: "Weighty affairs will just have to wait." – "Comedy Tonight," A Funny Thing Happened On The Way To The Forum
1963: "I pine, I blush, I squeak, I squawk / Today I woke too weak to walk." -- "Love, I Hear," A Funny Thing Happened On The Way To The Forum
1964: "Shub's a boob and / You-b / Elong to me." – "Simple," Anyone Can Whistle
1965: "Such lovely blue Danube-y music / How can you be / Still?" -- "Do I Hear a Waltz?" Do I Hear A Waltz
1966: "When all the screaming has died away / Come and visit my hideaway / I will be glad to provide a way." -- "If You Can Find Me -- I'm Here," Evening Primrose
1967: "Sweet and warm and winsome / Radiant as in some / Dream" – "Lovely," A Funny Thing Happened On The Way To The Forum film
1968: "That Puerto-Rican punk'll / Go down / And when he's hollered 'Uncle!'" -- "Quintet," West Side Story at Lincoln Center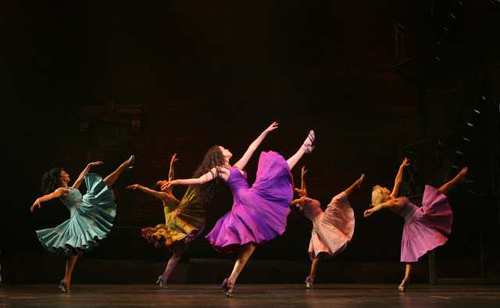 1969: "Does anyone still wear a hat?" – "The Ladies Who Lunch," sung by Sondheim in his apartment in the middle of a 1969  night until an angry Katharine Hepburn banged on his door and demanded that he stop.
1970: "Exclusive you / Elusive you / Will any person ever get the juice of you?" – "You Could Drive a Person Crazy," Company.
1971: "Beauty celestial / The best, you'll agree … Faced with these Loreleis / what man can moralize? … Each in her style a / Delilah reborn." – "Beautiful Girls," Follies
1972: "And though I'll do my utmost / To see you never frown / And though I'll try to cut most / Of our expenses down / I've some traits, I warn you / To which you'll have objections / I too have a cornu- / Copia of imperfections" --  "Love Will See Us Through," Follies
1973:  "I acquired some position / Plus a tiny Titian" – "Liasions," A Little Night Music
1974: "The one who played the harp in her boa / Thought she was so a- / Dept ... You acquiesced / And the rest is a blank" – "Remember?" A Little Night Music
1975: "Life is absolute perfection / As is true of my complexion / Ev'ry time I look and see me / I'm reminded life is dreamy." – "Life Is Happiness Indeed," Candide
1976: "An herb / That's superb / For disturb-ances … While we plan / If we can / What our an- / swer ought to be .. If the tea the Shogun drank will / Serve to keep the Shogun tranquil" -- "Chrysanthemum Tea," Pacific Overtures
1977: "But who needs Albert Schweitzer when the lights're low?"-- "Can That Boy Fox-Trot," Side By Side By Sondheim
1978: "It's spreading each minute / Throughout the whole vicinit- / Y" -- "Love Is in the Air," Side By Side By Sondheim
1979: Oh, you're not going to make me cite more than the four dozen clever rhymes in "A Little Priest" from Sweeney Todd, are you?
1980: Ditto "Pirelli's Miracle Elixir."
1981: "And Ethel and Ted and Eunice and Pat and Joan and Steve and Peter and Jean and Sarge and Joe and Rose / And rows and rows and rows" -- "Bobby and Jackie and Jack," Merrily We Roll Along
1982: "We could share our kippers / With the odd paying guest from the weekend trippers / Have a nice sunny suite for the guest to rest in / Now and then, you could do the guest in." -- "By the Sea," Sweeney Todd on TV
1983: "Louie drinks a bit / Louie blinks a bit." -- "Everybody Loves Louis," Sunday In The Park With George off-Broadway
1984: "Tending to his (mother), though, is perfectly fine / It pays for the nurse that is tending to mine." – "The Day Off," Sunday In The Park With George
1985: "More red! / More blue! / More beer!" – "Color and Light," Sunday In The Park With George
1986: "Look, I made a hat / Where there never was a hat." – "Finishing the Hat," Sunday In The Park With George on TV
1987: "We've no time to sit and dither / While her withers wither with her" – "Prologue," Into The Woods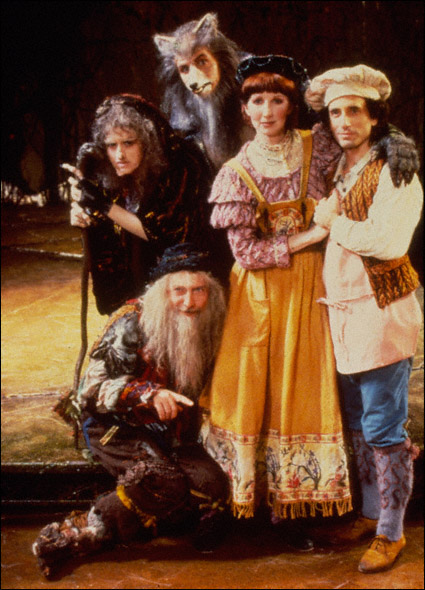 1988: "If the end is right, it justifies the beans." – "Maybe They're Magic," Into The Woods 
1989: "I found a casket / Entirely of glass / No, it's unbreakable / Inside – don't ask it -- / A maiden, alas / Just as unwakeable." --"Agony" reprise, Into The Woods
1990: "Something is better than nothing / But nothing is better than more." -- "More," Dick Tracy
1991: "Trouble with your tummy? / This-a bring you some re- / Lief" -- "Everybody's Got the Right," Assassins, off-Broadway
1992: "Once, yes, once for a lark / Twice, though, loses the spark /
Once, yes, once is delicious / But twice would be vicious / Or just repetitious." -- ("I Never Do Anything Twice," Sondheim: A Celebration At Carnegie Hall
1993: "Should there be a marital squabble / Available Bob'll / Be there with the glue." -- "What Would We Do without You?" Company revival
1994: "They hear drums / You hear music / As do I." – "Scene Three," Passion
1995: "A love as pure as breath / As permanent as death." –"Scene Seven," Passion
1996: "Someone who'll be busy as a bumblebee / And even if you grumble, be / As graceful as a grouse." – "Everybody Ought to Have a Maid," A Funny Thing Happened On The Way To The Forum revival
1997: (Sung by "Old Lady," hence the accent): "My important, you're ignoring / I'm no singer, but I esk you / Ven the story's getting boring / Who'll be coming to the rescue?" – "Life Is Happiness Indeed," Candide revival
1998: PSEUDOLUS: "Father and mother / Get one another" DOMINA: "Something for everyone!" SENEX: "A tragedy tonight!" – "Comedy Tonight" reprise, A Funny Thing Happened On The Way To The Forum revival
1999: "In the depths of her interior / Were fears she was inferior / And something even eerier / But no one dared to query 'er / Superior exterior." -- "Ah, But Underneath," Putting It Together
2000: "Can't send a dame home / Who lives in the same home / with you." -- "One Wonderful Day," Saturday Night
2001: BUDDY: "A fella she prefers." SALLY stand-in: "Furs! Furs!" -- "Buddy's Blues," Follies revival
2002: "Sometimes people leave you / Halfway through the wood." --"No One Is Alone," Into The Woods revival
2003: "When the audience boos / We don't miss our cues / We always can use / what they throw"  – "Together, Wherever We Go," Gypsy revival
2004: "We'd have been left / Bereft / of Fd- / D / R." – "How I Saved Roosevelt," Assassins on Broadway
2005: "I read Spinosa every day. Formidable!" -- "A Bowler Hat," Pacific Overtures revival
2006: "Time's so fast / Now goes quickly – see? / Now is past." – "Wait," Sweeney Todd revival
2007: "Could I leave you? No, the point is / Could you leave me? / Well, I guess you could leave me the house / Leave me the flat / Leave me the Braques and Chagalls / And all that." – "Could I Leave You?" Follies at Encores!
2008: "We'll never make our fortune / Just by sittin' on the porch 'n' / looking wistful." – "Gold," Road Show
2009: "I like the island Manhattan / Smoke on your pipe and put that in." – "America," West Side Story revival
2010: "Grass on the sidewalk, but not in the park." – "Me and My Town," Anyone Can Whistle at Encores!
2011: "And be hopelessly shattered / By Saturd- / Ay night" – "A Weekend in the Country," A Little Night Music revival
2012: "We had a good thing going -- going, gone." -- "Good Thing Going," Merrily We Roll Along, at Encores!
2013: "If you are a woman, you either are a daughter or a wife." – "Scene Nine," Passion, off-Broadway revival
2014: "In stately homes and palaces / Stella went to all extremes / Till finally a wealthy fella / Showed at Stella Dallas's / Stella worked it pretty well / But in the last analysis / Thought Stella's daughter got the swell / All Stella got was calluses." – "In the Movies," Saturday Night at the York.
2015: "Children can only grow / From something you love / To something you lose" -- "Children Will Listen," Into The Woods, off-Broadway revival
All right, New York producers – start planning for 2016! Keep the streak alive!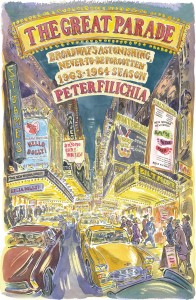 You may e-mail Peter at pfilichia@aol.com. Check out his weekly column each Tuesday at www.masterworksbroadway.com and each Friday at www.kritzerland.com. His upcoming book The Great Parade: Broadway's Astonishing, Never-To-Be Forgotten 1963-1964 Season is now available for pre-order at www.amazon.com.