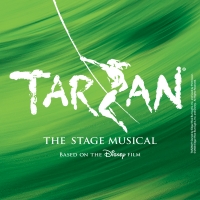 The king of the apes and his lady love swing to the stage in this adaptation of the Disney film.
Full Synopsis
Act One
Off of the coast of Africa, a small British ship is thrown about the sea. A Victorian Father, Mother and baby wash up on a tropical beach. As the father begins to construct a shelter, a family of apes enters. The apes, Kala and Kerchak, play with their own baby. The apes and humans are of separate worlds but they share a common love of family. A leopard enters and steals the apes' baby, devastating Kala. The leopard proceeds to kill Father and Mother, but not before Mother puts her baby in a trunk for protection. Kala finds the human baby in the trunk, alone and crying. She takes him in ("Two Worlds"), and, when Kerchak finds Kala with the human baby, he is not pleased; this human baby cannot replace their son. Kala knows this but she also knows that the baby needs a family. She names the baby Tarzan. Kala comforts a crying Tarzan, promising that she will always be here for him ("You'll Be in My Heart").
Ten years pass. Tarzan is the odd man out amongst the other ape children. A group of apes are picking on him when Terk comes to his rescue. Tarzan says that he can take care of himself, but Terk points out that they both have special skills and can help each other – Terk can save Tarzan from the bullies, and Tarzan can help Terk pick fruit from a high tree. Tarzan isn't sure how he benefits in this deal, but Terk claims that he has a lot to teach Tarzan ("Who Better than Me?")
Tarzan is quite pleased with himself that he fashions a fruit picker from a stick and a stone. Kerchak sees Tarzan threaten the apes with this "weapon" and leads him deep into the jungle. Kerchak believes that the only way to protect his true ape family is to abandon Tarzan in the jungle ("No Other Way"). Kala is very distraught by Kerchak's decision, but he insists that Tarzan will hurt them when he becomes a man.
Alone in the jungle, Tarzan is confused and hurt by the rejection from his father ("I Need to Know"). Kala finds him trying to put mud on his skin to be more like an ape. She insists that he is no different from her, but he protests. She points out that they both have two hands and a heart – they are the same. However, they have to live away from the group for awhile. Tarzan vows to be the best ape ever. As Tarzan and Terk grow, Tarzan gains strength and ingenuity. Kala watches as they grow from boys to adults ("Son of Man"). Kala goes to visit Kerchak, who is not doing well without her. She tells him that Tarzan is working hard to please him, but Kerchak is still very worried for Kala, alone in the jungle, and for the threat to his family of a nearby human. Kala reassures Kerchak that she loves him despite his stubbornness, and he asks her to come home... but she insists that she can't come home alone ("Sure as Sun Turns to Moon").
In the jungle, Tarzan and Terk try to build a leopard trap; Tarzan's ability to tie knots allows him to build the trap and he tries to teach Terk to tie knots, but it doesn't work. As Terk and Tarzan bicker about Tarzan's new skill set, Terk gets caught in the trap. Just then, the leopard arrives. Tarzan manages to spear and kill the leopard, which he presents to Kerchak. Satisfied that Tarzan is not a threat to his family, Kerchak welcomes him back home. At that moment, a gunshot is heard. Kerchak knows what this means and ushers the family back home and away from the gunshot, but Tarzan disobeys and goes in the direction of the noise.
Jane, a young Victorian woman, enters. She excitedly writes down the names of the new and enchanting flora before her eyes ("Waiting for This Moment"). In her ecstatic daze, Jane doesn't notice that she has become trapped in a plant web and that a giant creature is approaching her. Luckily, Tarzan has been watching and he rescues her. They are each shocked by the other but slowly start to get acclimated. Jane teaches Tarzan a few words, including one another's names. Tarzan is enchanted by this creature that is so different from him... and yet so similar ("Different").
Act Two
Led by Terk, the apes are trashing the human camp ("Trashin' the Camp"). Tarzan and Jane enter just in time to see the destruction. Jane is awestruck by the apes and then realizes that Tarzan is one of them. There is another gunshot, and Kerchak leads the apes – including Tarzan – off. Clayton, the expedition guide, and Porter, Jane's father, arrive. Clayton is angry that Jane has gone off on her own. She points out that she has managed to do just fine and has made an amazing discovery: apes do live in family groups as her father has always suspected. Jane also tells them about Tarzan, but Clayton dismisses the idea of an ape-man. While Jane and Porter revel over the discovery of the gorillas, Clayton schemes with his henchman about catching a few of them to take back to England to sell.
Back in the depths of the jungle, Kerchak leads the family further from the humans. Tarzan assures him that Jane means no harm, but Kerchak knows better. He tells Kala that she must tell Tarzan the truth about his origins. She is worried, but Kerchak is also worried that he'll lead the humans right to them.
Meanwhile, Jane is sketching Tarzan as they learn more about each other. Jane returns to her father, and he realizes that there is more going on with Jane and Tarzan than even she realizes ("Like No Man I've Ever Seen"). Porter goes off to do more exploring as Clayton enters. He is very critical of Jane's enthusiasm and compassion for the apes. As they are arguing, Tarzan enters. Porter returns and is pleased to meet him, but Clayton sees the potential for money. Jane asks Tarzan to take them to the apes, but he refuses because of Kerchak. Clayton is not happy about Tarzan's resistance.
Jane takes over Tarzan's education and shows him pictures of the human world. Tarzan is fascinated to learn about all of these creatures that are just like him ("Strangers Like Me"). Tarzan introduces Jane to his mother, Kala, and Jane realizes how much the apes really are Tarzan's family.
Later, Kala asks Terk to help her find Tarzan. Kerchak wants to move the family; it's time for Tarzan to come. Terk is bitter that Tarzan has been spending so much time with Jane. Jane and Tarzan muse about how much they mean to each other ("For the First Time").
The ship arrives to take Jane and Porter home. Jane wants to bring Tarzan back to England, but he is conflicted about leaving his family and home forever. Clayton lies to Tarzan: if he shows him to the gorillas, Jane can stay with him. Tarzan convinces Terk to help him win Jane by leading the humans to the gorillas; Terk agrees against, his better judgment ("Who Better than Me – Reprise"). When Tarzan takes the humans to meet the gorillas, Jane explains that there has been a misunderstanding. Kerchak enters angrily and yells at Tarzan for endangering the family by bringing the humans. He tells Tarzan that he must decide whether he is a human or an ape. Kala takes Tarzan to his family's old house and shows him the truth of his parentage. Tarzan is stunned ("Everything That I Am"). Tarzan decides that he is a man, which means he is leaving. Kala is heartbroken, but says that she will always be with him ("You'll Be in My Heart – Reprise").
Back at the human camp, Tarzan shows up, dressed in his father's suit. Jane goes off to pack, and the apes enter to study Tarzan's garments. Clayton emerges with a rifle; he starts to shoot them. Kerchak is struck. Tarzan takes Clayton's gun, but he doesn't shoot him – he forces Clayton into the cage that Clayton had prepared for Tarzan. As Kerchak lays dying, he finally accepts that Tarzan is his son and passes along advice for how to lead the family ("Sure as Sun Turns to Moon – Reprise").
As the crew prepares to board the ship, Porter points out that, while Jane was trying to teach Tarzan, he was actually the one teaching her. They say their goodbyes. Moments later, Jane reappears – she is staying with Tarzan... because she is home ("Two Worlds – Finale").
Show History
Inspiration
Tarzan was based on the 1999 Disney animated film of the same name, which was, in turn, based on the 1912 story, Tarzan of the Apes by Edgar Rice Burroughs. Both the animated film and the original story were huge successes, the film opening at #1 at the box office and garnering over $448,000,000 worldwide, and the book spawning a dozen sequels and eight live-action movies. Although the music in the stage musical was written by the same Phil Collins that wrote for the animated movie on which it was based, libretto writer, David Henry Hwang, was entirely new to the title, adapting the work of a team of writers who had penned the animated screenplay.
Productions
Tarzan began its stage musical life with a reading in late 2003, starring "Glee's" Matthew Morrison in the title role. A workshop then came to fruition in January of 2004 with Morrison again reprising his role as Tarzan with Laura Bell Bundy of Legally Blonde fame joining as Jane and Adam Pascal, the original Roger from Rent, as the Tarzan Storyteller.
With a book by David Henry Hwang, Phil Collins, the composer and lyricist of the 1999 Disney animated film of the same name, stepped back in to flesh out the musical by expanding upon the songs he had written for the film and adding nine new, original numbers.
After continued development that included tackling the many technical aspects of how to create a landscape in which the actors could swing and fly, Tarzan began its Broadway previews at the Richard Rogers theatre on March 24, 2006, officially opening just over a month later on May 10, 2006. The production was helmed by director, Bob Crowley, and choreographer, Meryl Tankard, and starred Josh Strickland, Jenn Gambetese, Merle Dandridge, Chester Gregory, II, and Shuler Hensley.
Following a run of 35 previews and 486 performances, Tarzan then closed on Broadway on July 8, 2007. Successful productions have followed internationally in the Netherlands, Philippines, Sweden and in Germany, where the actors playing Tarzan and Jane won their respective roles on a casting television show.  Regional productions have abounded as well, with such theatres as TUTS, Tuacahn Center for the Arts, North Shore Music Theatre, The Barn and Arizona Broadway Theatre mounting productions of the high-flying musical.
Cultural Influence
The Broadway cast album, entitled Tarzan: The Broadway Musical Original Broadway Cast Recording, was released on June 27, 2006.
Trivia
Tarzan is the only Disney show to arrive on Broadway without an out-of-town tryout.
Tarzan's best friend, Terk, who was a female in the 1999 Disney animated film, is a male in the musical.
Critical Reaction
"No matter how cool you like to act, you are going to be amazed."
– NY Magazine
"A splendid new musical."
– Theatre Mirror
"A spectacular, kinetic theatrical event."
– Talkin' Broadway
"Draws you into its jungle world from the first moment."
– Wicked Local
Connect
Billing
Book by

Music and Lyrics by
Based on the story, Tarzan of the Apes by Edgar Rice Burroughs, and the Disney film, Tarzan
Requirements
You must give the authors/creators billing credits, as specified in the Production Contract, in a conspicuous manner on the first page of credits in all programs and on houseboards, displays and in all other advertising announcements of any kind.
Percentages listed indicate required type size in relation to title size.
You shall incorporate the following credits and comply with all size and other restrictions on the title page of all playbills and programs, and in all houseboards and displays and in all other advertising, press release and any other promotional material, except as otherwise provided below, as follows:
TARZAN®
The Stage Musical
Based on the Disney Film
Music and Lyrics by

PHIL COLLINS

Book By

DAVID HENRY HWANG
Adapted from the story "Tarzan of the Apes" by Edgar Rice Burroughs
Originally Produced on Broadway by Disney Theatrical Productions
TARZAN ® owned by Edgar Rice Burroughs, Inc.
The billing to you must be in the form specified above, including the words "Production of" below your billing, which shall be visually contiguous with the title, all so that the audience is informed that you are the producer. Your billing shall be no less than 50% of the size of the logo or artwork title, as measured by the proportion of the average size of your name to the largest letter in the logo or artwork title.  The name "Disney" below the title shall be no more than 50% of the title, as measured by the proportion of the size of the "D" in "Disney" to the size of the largest letters in the title, and in no event may you duplicate the logo and title from the Disney film "Tarzan" (the "Film"), although you separately license the right to use the stage license logo (the "License Logo"). In no instance shall you refer to the title as "Disney's Tarzan"  or any other possessive use of "Tarzan" in connection with stage license for any advertising, press, billboards, playbills or other collateral related to title;  approved billing shall include "Tarzan, the stage musical based on the Disney film." If you do separately license the right to use the License Logo, then you shall duplicate such logo exactly as provided.  The size of the credit to the authors shall be no less than 50% of the regular title, and if there is no regular title, then no less than 20% of the logo or artwork title.  The size of the credit below the authors to Disney Theatrical Productions and Edgar Rice Burroughs shall be no less than 30% of the regular title, and if there is no regular title, then 16% of a logo title.
(For professional licensees:  If you elect not to purchase the License Logo, then you shall submit your logo or artwork title for approval prior to any public use thereof.  All television and radio advertising, both the content and the media plan, shall be subject to the prior approval of MTI, in its sole discretion).
Video Warning
If you purchase a separate license to allow non-commercial video recording of this production, you must print the following in your program. ANY VIDEO RECORDING MADE OF THIS PERFORMANCE IS AUTHORIZED FOR PERSONAL, AT-HOME, NON-COMMERCIAL USE ONLY. THE SALE OR DISTRIBUTION OF SUCH RECORDING IS STRICTLY PROHIBITED UNDER FEDERAL COPYRIGHT LAW. If you do not purchase the separate license for video recording, you must print the following in your program. The videotaping or other video or audio recording of this production is strictly prohibited
Included Materials
| Item | Quantity Included |
| --- | --- |
| KEYBOARD1 - CONDUCTOR SCORE | 2 |
| LIBRETTO/VOCAL BOOK | 20 |
| PRODUCTION HANDBOOK DIGITAL | 1 |
Production Resources
Resource
CUSTOMIZABLE SHOW POSTER
CUSTOMIZABLE SHOW POSTERS
HOW DOES THE SHOW GO ON-10/CS
HOW DOES THE SHOW GO ON?
KEYBOARD PATCH SOLUTIONS
KEYBOARDTEK
LOGO PACK
LOGO PACK DIGITAL
LOGO TEES SIX-PACK ADULT LARGE
LOGO TEES SIX-PACK ADULT MEDIUM
LOGO TEES SIX-PACK ADULT SMALL
LOGO TEES SIX-PACK ADULT X-LARGE
LOGO TEES SIX-PACK ADULT XX-LARGE
LOGO TEES SIX-PACK CHILD LARGE
LOGO TEES SIX-PACK CHILD MEDIUM
LOGO TEES SIX-PACK CHILD SMALL
PERFORMANCE ACCOMPANIMENT RECORDING
PRODUCTIONPRO-DIGITAL SCRIPT/SCORE
REFERENCE RECORDING
REHEARSAL ACCOMPANIMENT RECORDING
REHEARSCORE APP
SCENE PARTNER
STAGE WRITE APPLICATION
TRANSPOSITIONS-ON-DEMAND
VIDEO LICENSE
VIRTUAL STAGE MANAGER
STANDARD ORCHESTRATION
| Instrumentation | Doubling |
| --- | --- |
| BASS | ELECTRIC BASS , FRETLESS BASS , 5-STRING ELECTRIC |
| DRUMS | CAXIXI , CHINA CYMBAL , DJEMBE , DRUM KIT , DRUMPAD , FINGER CYMBALS , LOW COWBELL , RAINSTICK , SHAKER , SLAPPY TALKING DRUM , SMALL SHAKER , SUSPENDED CYMBAL , TAM-TAM , TAMBOURINE , THUNDER RODS , YARN MALLETS |
| GUITAR | ELECTRIC GUITAR , NYLON STRG ACOUSTIC , STEEL STRG ACOUSTIC |
| HORN | |
| KEYBOARD 2 | |
| KEYBOARD 3 | |
| PERCUSSION | ANKLE BELLS , BELL TREE , BELLS , BIG AFRICAN DRUMS , BIG LO DRUM , BONGOS , CAXIXI , CHIMES , COCONUTS , CONGAS , COWBELL , CROTALE , DJEMBE , DJUN DJUN , ETHNIC BELLS , FINGER CYMBALS , GLOCKENSPIEL , GRAN CASSA , JINGLE SHAKER , MARK TREE , MOUNTED TAMBOURINE , SCRAPE FX , SHAKER , SHEKRE , SMALL SHAKER , SURDO , SUSPENDED CYMBAL , TALKING DRUM , TAMBOURINE , TIMBALE , TIMPANI , WOODBLOCKS , XYLOPHONE |
| PERCUSSION 2 | BLAST BLOCK , BONGOS , BRAKE DRUM , CONGAS , CYMBAL , DJEMBE , DJUN DJUN , FINGER CYMBAL , GRAN CASSA , HAND DRUMS , HIGH-LIGHT SHAKER , LOW DJEMBE , MARK TREE , RAINSTICK , SHAKER , SMALL TRIANGLE , SURDO , SUSPENDED CYMBAL , TALKING DRUM , TAMBOURINE |
| REED 1 | CLARINET , FLUTE , TENOR SAXOPHONE |
| REED 2 | ENGLISH HORN , OBOE |
| TROMBONE | BASS TROMBONE , TROMBONE |
| TRUMPET | FLUGELHORN , TRUMPET |