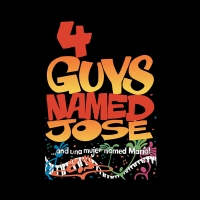 4 Guys Named José... and una Mujer Named María
A musical celebration of the rich and vibrant history of Latin America.
Full Synopsis
(Note: This is a show-within-a-show. The majority of songs mentioned in the Synopsis are part of the live "performance.")
Act One
José Cubano, José Domincano, José Mexicano and José Boricua met in Burrito World in Nebraska. They decided that, since they each love to sing and dance so much, they should put on a show of the golden oldies that they learned from their parents. The local Veterans' Hall is thus transformed into a tropical paradise.
The 4 Guys introduce themselves and their onstage band, El Trio los Omahaenos ("Feel It"). Next, the performers begin "María Bonita" to commence the entrance of their fifth performer, María, but she doesn't arrive. The men panic until they hear activity offstage. They again prepare for María's entrance. She arrives but she is the wrong María.
This María begins her wild story: the original María, her roommate, could not make the show, so this María has taken her place... but her boyfriend dumped her that day, so she's a mess. With "Piensa en Mi" and "Perfidia," she culls sympathy from the audience and the Guys about her broken heart. José Cubano, however, scolds them. They are not following what has been scripted for the show. They shoo María offstage so that she can get into costume.
When María returns, José Cubano gives María cue cards to keep her on track. She does not want to follow them. José Cubano gently guides her back to the script, and they delve into the "Here and Now Medley," featuring performances of: "I Make My Money with Banana" (à la Carmen Miranda); "La Bamba" (à la Ritchie Valens); "Bidi Bidi Bom Bom" (à la Selena); "Bailamos" (à la Enrique Iglesias) "Livin' la Vida Loca" (à la Ricky Martin); and "Macarena."
With "Oiga Usted," the company gives the history of Latin music and prepares the audience to hear lyrics in both Spanish and English. This leads into "Frenesi," a song about passionate love. They fall into a Spanish lesson game with the audience through "Burundanga" and "Corazon de Melon."
Next, the Guys give a lesson to the audience in Latin Dance, which begins with "Cumbia" and goes into a Cuban Conga, a Merengue of Santo Domingo and "Salsa." María suddenly jumps in, but the men have not rehearsed a dance number with this María. Eventually, they permit her to join them in "Mambo Fuego." Something about her dancing entrances the men. They are all smitten with her ("La Mulatas del Cha Cha Cha"). Now a competition for María's affections has began.
María is cast as the muse. She begins "Amore" and is soon serenaded by the Guys with "Te Quiero Digiste." After "Besame Mucho," María expresses her distaste of romance, which leads to the men wooing her with "Quien Sera" and "Quizas Quisa." María has had enough. She sings "Es Mentiroso," thus enforcing her cynicism of love and romance.
Act Two
At opening, María is dressed as a traditional peanut vendor. The Guys join her in "La Manisera." Changing tone, the company performs the traditional Puerto Rican plena with "Muchachita Borincana," featuring María as a Puerto Rican girl leaving New York. José Boricua tells the audience of his family's immigrant history and sings "En Mi Viejo San Juan" with the others. José Cubano, José Mexicano and José Dominicano also tell about their homelands with "Veracruz," "Nostalgia Habanera" and "Mi Tierra."
María then goes off-script for a third time to wonder aloud if the man who just dumped her still thinks of her fondly. The Guys quickly get her back on track with "Rhythm Divine." The men then fight over María's attention, beginning with "Buche y Pluma" and transitioning into the María Medley: "María Bonita," "María Elena," "María la O" and "123 María." Each Guy is convinced that María carries his particular Latin heritage. María, however, reveals the truth – she is from L.A. One by one, each José tells the truth of his origin as well.
The Guys then ask María to make a choice between them. To their great surprise, she chooses the band's piano man – José de Nebraska! María again sings "Piensa en Mi" and "Gracias la Vida" in celebration. The Guys, having squelched their jealousy, perform three group numbers toclose the show: "La Murga," "Bang Bang / Oye Como Ya" and "I Like It Like That."
Show History
Inspiration
4 Guys Named José... and una Mujer Named María (hereafter referred to as 4 Guys Named José) was conceived by David Coffman and Dolores Prida, with a book written by Dolores Prida and musical arrangements by Oscar Hernandez.  All of the music used comes from previously written Latin songs, covering standards like "La Bamba," "Guantanamera," "I Like It Like That" and "Bang Bang / Oye Como Va."
Prida and original director, Susana Tubert, write that the musical "grew out of a timely desire to celebrate through song and dance the diversities and commonalities of four cultural heritages in the U.S. – the Cuban, Puerto Rican, Dominican and Mexican."  The titular characters had met by chance in Nebraska and constantly meet to sing the golden oldies of Latin music.  María becomes the catalyst in the equation, as the four friends begin to turn on each other to grab her attention.
Productions
4 Guys Named José opened Off-Broadway at the John Houseman Theater on April 21, 2000.  The production was produced by Grammy-winning artist, Enrique Iglesias, and moved to the Blue Angel Theater on September 21, to play until March 4, 2001.  Shortly after closing in New York, a regional production opened at the Actors Playhouse in Coral Gables, Florida, to sold-out houses.
Cultural Influence
4 Guys Named José was one of the first musicals to feature an entirely Latin American cast, inspiring such popular shows as In the Heights.
Trivia
The original Off-Broadway production of 4 Guys Named José was nominated for two Lucille Lortel Awards in 2001, including Outstanding Choreographer.
Critical Reaction
"Qué Viva! Qué Bueno! Olé!"
– Chita Rivera
"The show delivers... in the style of old movie musicals, perfect!"
– The New York Times
"All Singing, all dancing... fun terrific, dazzling!"
– The New York Daily News
"What Forever Plaid did for all-white male quartet pop of the 1950s, Off Broadway tuner 4 Guys Named José does for Latin ballads that have become standards throughout the Spanish-speaking world. ...The show offers an impressive retrospective of some truly memorable Latin hits."
– Variety
"Irresistible. ...The titular Josés are your cruise directors on a dizzying journey through Latin music, and they're great fun, whether channeling Tito Puente or serenading María. Don't worry if you no habla español: The Josés are excellent interpreters."
– Entertainment Weekly
"It's the music that counts here, and thanks to Oscar Hernandez's musical supervision and arrangements... 4 Guys is an entertaining, undemanding evening."
– Backstage
"Thanks to four very likable and different Joss and one ultra-lovable María (together with a selection of infectious Latin songs and dances), the evening doesn't slack and instead inspires."
– EasyReader
Connect
Billing
Lyrics by

Music by

Conceived by

Musical Supervision and Arrangements by

Book and Song Selection by

Originally directed by
Requirements
You must give the authors/creators billing credits, as specified in the Production Contract, in a conspicuous manner on the first page of credits in all programs and on houseboards, displays and in all other advertising announcements of any kind.
Percentages listed indicate required type size in relation to title size.
4 GUYS NAMED JOSÉ... AND UNA MUJER NAMED MARÍA
Conceived by
David Coffman & Dolores Prida
Book and Song Selections by
Dolores Prida
Musical Supervision and Arrangements by
Oscar Hernandez
Off-Broadway world premier production directed by
Susana Tubert
Off-Broadway Premier production produced by
Dasha Epstein and Enrique Iglesias
Original New York Development Production by
Amas Musical Theatre
Rosetta LeNoire, Founder; Donna Trinkoff, Producing Director
The videotaping or other video or audio recording of this production is strictly prohibited
Included Materials
| Item | Quantity Included |
| --- | --- |
| LIBRETTO/VOCAL BOOK | 11 |
| PIANO CONDUCTOR'S SCORE | 2 |
Production Resources
Resource
HOW DOES THE SHOW GO ON-10/CS
HOW DOES THE SHOW GO ON?
REFERENCE RECORDING
TRANSPOSITIONS-ON-DEMAND
STANDARD ORCHESTRATION
| Instrumentation | Doubling |
| --- | --- |
| ALTERNATE ORCH PART 1 | |
| DRUMS | |
| PERCUSSION | |