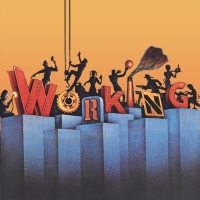 Working (2012 Revised Version)
This examination of 26 people from all walks of life proves that it's more than just a job for the average working American.
Full Synopsis
This revamped version of Working begins with a raw stage that is being prepared by actors and technicians for the performance that is about to begin. It starts on Monday morning, as the actors introduce their characters and prepare for their day ("All the Livelong Day"). Mike Dillard, an ironworker, is the first whom we meet, as he shares the pride of his manual labor and his frustrations in the lack of recognition that he receives for his simple, yet important, work.
Meanwhile, in the land of office cubicles, Amanda McKenny, a project manager at a major business, and several other employees whose personalities are confined to their cubicles, comment on what they do to pass the time of their boring jobs. Amanda, however, has aspirations that are bigger than her current job and shows her determination to work her way up through the ropes.
Next, Freddy Rodriguez, a fast food worker who is thrilled when he gets to deliver food and receive tips ("Delivery"), talks of his hopes of saving enough money to live out his dreams one day. Rex Winship, a hedge fund manager and Amanda's boss, tells us of his enjoyment in leadership and the attraction of women to money. He speaks of his aspirations to share his experiences and values as a teacher.
Rose Hoffman, a third grade teacher, shares her experiences in dealing with different types of children and the changing times since she began working in 1967 ("Nobody Tells Me How"). Rose tells of one special student, Terry Mason, who enters to share a story of a recent experience traveling as a flight attendant.
A horn honks as Frank Decker expounds on his love of cruising through the country as a delivery truck driver ("Brother Trucker"). Going home to visit his wife is a hassle for Frank and, even though he may find himself within minutes of his home, he finds it too difficult to go back to his family. He tries to call his wife to tell her that he will not be coming back home, but his cell phone problems lead him to a phone call with Raj Chadha, an operator for Verizon tech support. Raj deals with the struggles of wanting to be a voice for someone in need but with the limitations that his job puts on customer communication. Sharon Atkins, a receptionist, steps in and joins Raj, discussing the negative aspects of jobs that are communication-based.
Kate Rushton, a housewife, receives a phone call that forces her to deal with the challenges of simple housework ("Just a Housewife"). Conrad Swibel, a UPS man, startles Kate when he arrives to deliver a basket. Conrad relates the excitement that he receives from catching dogs and women unaware in an effort to spice up his job.
A hustler, Roberta Victor, and a fundraiser, Candy Cottingham, discuss the necessities of working, scrambling to make money and getting lost in work. Grace Clements, a millworker, illustrates the dangers of a typical day at the factory and the hardships of living under a constant clock, but offers her secrets to get through it ("Millwork"). Next, Allen Epstein, a community organizer, shares the necessities and troubles in fighting for a better way of life. The cast enters, assuming various characters from the show, remembering their dreams and aspirations and the challenges that changed their plans along the way ("If I Could've Been").
An incredible lover of rocks, Anthony Coelho, a 60-year-old stone mason, remarks on the joy that he finds in his craft, as shown by his incredible attention to detail... that goes unnoticed by all but him ("The Mason"). Eddie Jaffe, a publicist, honestly reflects on his shortcomings as a person and how this is reflected in his work. Then, Delores Dante, a waitress, explains her job as a personal passion that she has perfected over the past 16 years ("It's an Art"). Several other common people enter to lament on getting laid off, the economy and the battle to stay above it all.
Joe Zutty, a retired fireman, offers advice on how to stay active after retirement ("Joe"). Tom Patrick, a current firefighter, expresses the intensity of having a life-threatening, yet life-saving, job. Utkarsh Trujillo, a caregiver, comes to take Joe back to his room and explains that, while his job may not pay much, it is incredibly rewarding work; meanwhile, Theresa Liu, a nanny, talks about the joy that she finds in caring for children of careless parents ("A Very Good Day").
Part of a family line of cleaning ladies, Maggie Holmes finds hope and strength in the belief that her daughter is of a new generation that will break the mold and make something more of herself than has been their family's tradition ("Cleanin' Women"). Meanwhile, Ralph Werner, a 19-year-old salesman, is sharing his life plan for living, working and a family. Another 19-year-old who is currently collecting unemployment, Charlie Blossom tells of an incredible job that he had with a Chicago newspaper... and how he got fired through a plan that he had concocted in the hopes of being different.
Mike comes back and is reminded of his son by Ralph and Charlie. He speculates on how quickly his child grew up and how quickly he must have grown up in his father's eyes ("Fathers and Sons"). The workers come back to restate the importance of taking pride in their work and acknowledge the impact that their work has had on so many other people's lives ("Something to Point To").
Show History
Inspiration
The musical is based on the Studs Terkel book, Working: People Talk about What They Do All Day and How They Feel about What They Do (1974), which has interviews with people from different regions and occupations. With his knowledge confined to his life of work in and around the theatre at the time, Stephen Schwartz felt compelled to explore the voices of the men and women who comprise the fabric of America after reading Terkel's extensive collection of interviews and, thus, the idea for the musical, Working, was born.
Productions
Working, with a book by Stephen Schwartz and Nina Faso, music by Schwartz, Craig Carnelia, Micki Grant, Mary Rodgers and James Taylor, and lyrics by Schwartz, Carnelia, Grant, Taylor and Susan Birkenhead, was first staged at the Goodman Theatre in Chicago from December 1977 through February 1978.
A follow-up production at Washington, D.C.'s, Arena Stage was then scrapped as the musical moved straight to Broadway, opening at the 46th Street Theatre on May 14, 1978. There, it ran for twelve previews and 24 performances before closing on June 4, 1978. The musical was directed by Stephen Schwartz with choreography by Onna White.
In 1982, Schwartz and Nina Faso adapted the show for a 90-minute telecast on the PBS series, "American Playhouse," directed by Schwartz and Kirk Browning.
In March 1999, a revised, updated and pared-down version of Working was presented at Long Wharf Theater in New Haven, Connecticut, with direction by Christopher Ashley and adaptations by Stephen Schwartz.
The musical then continued to undergo revisions, falling into the hands of Gordon Greenberg and Lin-Manuel Miranda, the latter of whom contributed two new songs, both collaborating with Schwartz to bring the musical into the 21st century. Three developmental productions at Asolo Repertory Theatre of Sarasota, Florida (in May 2008), the Old Globe Theatre of San Diego, California (in March 2009), and then at the Broadway Playhouse at the Water Tower Place in Chicago (in February 2011) were all directed by Greenberg.
Happy with the revisions and feedback, Working then came back to New York, opening Off-Broadway for a four-week limited run at the 59E59 Theater on December 12, 2012, after previews that began on December 1, 2012. Directed once again by Gordon Greenberg, the cast featured Joe Cassidy, Donna Lynne Champlin, Jay Armstrong Johnson, Nehal Joshi and Kenita Miller.
Working was produced at the second annual Hollywood Fringe Festival of Los Angeles in June 2011 by the group, theTRIBE.
The show's Asian premiere was in Singapore, performed by LASALLE College of the Arts at the Creative Cube in September 2011.
In addition to these high-profile productions, even throughout its many revisions, Working has become a regional, college and community favorite around the country, showing the everyday life of the everyman.
Cultural Influence
A cast album from the original Broadway cast of Working was released in 1978.
Trivia
Working was nominated for six Tony Awards, including Best Book of a Musical and Best Original Score, as well as four Drama Desk Awards, aside from the two it won, which included Outstanding Musical .
Working contains the only songs that singer/songwriter, James Taylor, ever wrote for the stage.
Critical Reaction
"The musical's celebration of even the most seemingly marginal contributions as intrinsic elements of nation-building gives it stirring resonance."
– New York Times
"Entertaining, funny and touching, it is worth catching, not the least because Working has been smartly updated, with wonderful new songs by Lin-Manuel Miranda, and new characters, based on new interviews, that reflect how dramatically the world of work has changed just in the past three decades."
– New York Theatre
"Winningly reimagined, enhanced and fully engaging... not only pays subtle homage to Studs, the Chicago icon, but also to the work of theater, for which he was a lifelong enthusiast."
– Chicago Sun-Times
"Working remains a moving piece of musical theater, with one of the best scores of the latter 20th century."
– Talkin' Broadway
"Has the power to rejuvenate."
– Herald Tribune
Connect
Billing
Adapted by

With additional contributions by

Songs by
From the book by Studs Terkel
Requirements
You must give the authors/creators billing credits, as specified in the Production Contract, in a conspicuous manner on the first page of credits in all programs and on houseboards, displays and in all other advertising announcements of any kind.
Percentages listed indicate required type size in relation to title size.
WORKING
A Musical
From the book by 

STUDS TERKEL

Adapted by

STEPHEN SCHWARTZ and NINA FASO
With additional contributions by Gordon Greenberg
Songs by
CRAIG CARNELIA 
MICKI GRANT 
LIN-MANUEL MIRANDA
MARY RODGERS and SUSAN BIRKENHEAD 
STEPHEN SCHWARTZ 
JAMES TAYLOR 
As an integral part of this license, licensee further agrees to insert in each program of the Play, the following credit line exactly as listed for each of the following compositions:
"WORKING" Song Credits
ALL THE LIVELONG DAY
Music and Lyrics by Stephen Schwartz (with acknowledgments to Walt Whitman)
DELIVERY
Music and Lyrics by Lin-Manuel Miranda
NOBODY TELLS ME HOW
Lyrics by Susan Birkenhead, Music by Mary Rodgers
BROTHER TRUCKER
Music and Lyrics by James Taylor
JUST A HOUSEWIFE
Music and Lyrics by Craig Carnelia
MILLWORK
Music and Lyrics by James Taylor
IF I COULD'VE BEEN
Music and Lyrics by Micki Grant
THE MASON
Music and Lyrics by Craig Carnelia
IT'S AN ART
Music and Lyrics by Stephen Schwartz
JOE
Music and Lyrics by Craig Carnelia
A VERY GOOD DAY
Music and Lyrics by Lin-Manuel Miranda
CLEANIN' WOMEN
Music and Lyrics by Micki Grant
FATHERS AND SONS
Music and Lyrics by Stephen Schwartz
SOMETHING TO POINT TO
Music and Lyrics by Craig Carnelia
The following credit shall also appear on a solo line on the title page, in the same size, style and prominence as the choreographer:
"New Orchestrations by Alex Lacamoire"
Video Warning
In accordance with the Performance License, you MUST include the following warning in all programs and in a pre-show announcement:

ANY VIDEO AND/OR AUDIO RECORDING OF THIS PRODUCTION IS STRICTLY PROHIBITED.
Included Materials
| Item | Quantity Included |
| --- | --- |
| KEYBOARD1 - CONDUCTOR SCORE | 1 |
| LIBRETTO/VOCAL BOOK | 10 |
| PIANO VOCAL SCORE | 1 |
Production Resources
Resource
FULL SCORE
HOW DOES THE SHOW GO ON-10/CS
HOW DOES THE SHOW GO ON?
KEYBOARDTEK
PRODUCTIONPRO-DIGITAL SCRIPT/SCORE
REFERENCE RECORDING
REHEARSCORE APP
SCENE PARTNER
STAGE WRITE APPLICATION
STREAMING LICENSE
TRANSPOSITIONS-ON-DEMAND
VIRTUAL STAGE MANAGER
STANDARD ORCHESTRATION
| Instrumentation | Doubling |
| --- | --- |
| BASS | ACOUSTIC BASS , ELECTRIC BASS |
| DRUMS | CASTANETS , CELESTE , CHIMES , CONGAS , DRUM KIT , FLEXITONE , GLOCKENSPIEL , HARP , MARK TREE , MOUNTED TAMBOURINE , SHAKER , SMALL SHAKER , TAMBOURINE , TIMBALES , TINY SHAKER , TRIANGLE , VIBRAPHONE |
| GUITAR | ELECTRIC GUITAR , NYLON STRG ACOUSTIC , STEEL STRG ACOUSTIC |