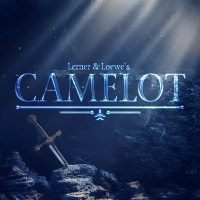 Camelot - Small Cast Version
The legendary love triangle of King Arthur, Guenevere and Sir Lancelot leaps from the pages of T.H. White's novel in Lerner and Loewe's award-winning, soaring musical.
Full Synopsis
Act One
A group of Revelers enter and address the audience, explaining that they will tell them the tale of King Arthur and his court. They then go about setting the scene for the beginning of their story. King Arthur nervously frets about meeting his future wife and queen, Guenevere. ("I Wonder What the King is Doing Tonight"). Guenevere arrives and successfully avoids the pestering crowds. She is also anxious about the upcoming nuptials ("The Simple Joys of Maidenhood"). An accidental meeting occurs between Arthur and Guenevere, who are delighted to recognize mutual affection ("Camelot"). They are subsequently wed.
Years pass, and Arthur creates the Round Table, where no man shall take the head of the table and all will be viewed equally. A haughty Knight in France, Lancelot, hears of the Round Table and sets off for Camelot ("C'est Moi"). Lancelot arrives during a May Day Celebration ("The Lusty Month of May"), and all but King Arthur find him disagreeable. After she and Lancelot have a heated exchange, Guenevere encourages some of Arthur's knights to test Lancelot's prowess in combat and promises that whoever wins the fight will escort her to the fair ("Take Me to the Fair"). Arthur is dismayed by Guenevere's dislike towards Lancelot, but he cannot be angry with her ("How To Handle A Woman").
Three knights, inspired by Guenevere, challenge Lancelot ("The Jousts"). Lancelot defeats all three, and even seemingly brings one knight back to life. Guenevere, noticing the adoration of the crowd, discovers herself falling in love with Lancelot, and wishes him to leave so as not to break her marriage vows ("Before I Gaze at You Again"). Lancelot, despite claiming immunity to love's traps and his fealty to Arthur, is madly in love with Guenevere. Arthur is aware of this, but hopes it will blow over.
Act Two
Years later, Lancelot and Guenevere are still tormented over their unfullfilled love ("If Ever I Would Leave You"). She has remained devoted to Arthur. Mordred, Arthur's illegitmate son, arrives in Camelot with sinister plans to destroy the chivalrous Knights of The Round Table ("The Seven Deadly Virtues"). He then rallies the Knights with tales of glory, making them miss their former days of fighting and pillaging ("Fie On Goodness"). Meanwhile, a downtrodden and exhausted Arthur discusses with Guenevere the simpler pleasures in life ("What Do the Simple Folk Do?").
Lancelot, unable to contain his passion, visits Guenevere, who confesses her love for him. ("I Loved You Once In Silence"). Mordred and the incited knights catch them. Lancelot escapes, but Guenevere is caught, tried, and sentenced to burn at the stake for her treason. ("Guenevere"). At the execution, a conflicted King Arthur is struggling with what to do. At the last moment, Lancelot arrives, rescues Guenevere and escapes, after killing some knights. Arthur now must wage war on Lancelot, all while Mordred is waging war on Camelot through England.
Beaten down by the waging war, and the Round Table dissolved, Arthur meets Lancelot and Guenevere. Their fiery relationship failed and Guenevere is now a nun. They offer to give themselves up, but good King Arthur will not see his former love burned or Lancelot beheaed. He forgives them both and they depart.
Later that night, Arthur meets a young boy named Tom who wants to join the Round Table. Arthur is inspired by this idealistic young man, knights him and sends him back to England to grow up there — to pass on King Arthur's ideals of chivalry and Camelot ("Finale").
Show History
Inspiration
Camelot is and adaptation of T.H White's The Once and Future King, a fictional telling of the Medieval King Arthur. 
Productions
Camelot opened on Broadway on December 3rd, 1960 at the Majestic Theatre, where it played for 873 performances. The London production played 518 performances at the Drury Lane Theatre. The original company included Richard Burton, Julie Andrews, Robert Goulet and Roddy McDowall.
Camelot has been revived on Broadway many times, including a 2011 production starring Jeremy Irons as King Arthur.
Billing
Book and Lyrics by

Music by
Original Production Directed and Staged by Moss Hart
Based on The Once and Future King by T.H. White
Requirements
You must give the authors/creators billing credits, as specified in the Production Contract, in a conspicuous manner on the first page of credits in all programs and on houseboards, displays and in all other advertising announcements of any kind.
Percentages listed indicate required type size in relation to title size.
Lerner and Loewe's
CAMELOT
(100%)
Book and Lyrics by

ALAN JAY LERNER

Music by 

FREDERICK LOEWE
Original Production Directed and Staged by Moss Hart
Based on The Once and Future King by T.H. White
Book Adapted by David Lee
New Orchestrations by Steve Orich
Such credits for all purposes shall be in a type size equal to that of any other credits except for those of the producer and star(s) above the title. The credit for the authors shall be in a type size at least 75 percent of the size of the title of the play; and wherever the name of one of the authors appears, the other name(s) shall also appear. In the programs, the credits shall appear on the title page thereof.
Steve Orich's (orchestrator) billing credit shall be in the form of "New Orchestrations by" in the same size and prominence, and the same location, as received by the other elements of the music staff.
In addition, you agree to include the Authors' and David Lee's approved biographies in all programs of the Play that include biographies of any other creative team members. Bios can be found at
www.mtishows.com/about/author-bios
. 
Video Warning
In accordance with the Performance License, you MUST include the following warning in all programs and in a pre-show announcement:

ANY VIDEO AND/OR AUDIO RECORDING OF THIS PRODUCTION IS STRICTLY PROHIBITED.
Included Materials
| Item | Quantity Included |
| --- | --- |
| LIBRETTO/VOCAL BOOK | 10 |
| PIANO VOCAL SCORE | 2 |
Production Resources
Resource
HOW DOES THE SHOW GO ON-10/CS
HOW DOES THE SHOW GO ON?
LOGO PACK DIGITAL
PRODUCTIONPRO-DIGITAL SCRIPT/SCORE
STAGE WRITE APPLICATION
TRANSPOSITIONS-ON-DEMAND
STANDARD ORCHESTRATION
| Instrumentation | Doubling |
| --- | --- |
| BASS | |
| CELLO | |
| HORN | |
| PERCUSSION | CONCERT BASS DRUM , COWBELL , DRUM SET , FRAME DRUMS , GONG , SUSPENDED CYMBAL , TABOR DRUM , TAMBOURINE , TEMPLE BLOCKS , TIMPANI , TRIANGLES , VIBRAHARP , VIBRASLAP , WOOD BLOCK , XYLOPHONE |
| REED 1 | BASS CLARINET , CLARINET , FLUTE , OBOE |
| REED 2 | BARITONE SAXOPHONE , BASS CLARINET , CLARINET , FLUTE |
| VIOLIN | |