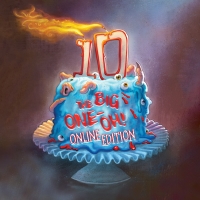 The Big One-Oh! Online Edition
Bring the party online in this brand-new, first-of-its-kind musical experience!
Full Synopsis
Charley Maplewood is turning ten - today! - but his birthday party is a complete disaster. ("Why?") you might ask? Well, according to Charley, it all started about a month ago, when his nosy neighbor Mrs. Cleveland told him there was a letter in his mailbox. It was a birthday card from Charley's Dad ("Happy Birthday From Scotland") but Charley's birthday was still a month away. Even though his dad is absent-minded, Charley is excited to receive two issues of his favorite comic book ("Monsters & Maniacs - Part 1"). Charley is particularly fond of three monsters who have become his imaginary friends: Swampy, Zombie King, and Alien ("Monsters & Maniacs - Part 2").
When Charley reads the birthday card, Dad turns his whole world is turned upside down when he asks if Charley has plans for his big day. Charley thinks through what he would like to do for his birthday ("Some Sort Of Celebration"). When Charley's Mom gets home, she reminds him she must work on his birthday. Charley's teenaged sister Lorena points out that Dad is terrible with dates ("So Lame - Part 1"). Lorena also points out that, though Charley wants to throw a birthday party, he has no friends to invite ("So Lame - Part 2").
Charley thinks through the three things he needs for a party, which he learned from his mom's ex-boyfriend, obnoxious party planner extraordinaire Vince Champagne: a theme, cake, and friends. Charley's imaginary friends help him think through the party. His theme will be "Charley Maplewood's House of Horrors Birthday Celebration." Mom will take care of the cake. And as for the friends, Charley has enough construction paper to make six invitations to pass out at school.
At school, Charley's Monsters try to help him decide who he can count as a friend. He speaks to popular girls Donna, Dina, and Dana ("Can You Call This Person A Friend? - Part 1"), Darryl, the smartest kid in fourth grade ("Can You Call This Person A Friend? - Part 2"), and Cougar and Scottie, the elementary school's resident tough guys ("Can You Call This Person A Friend? - Part 3"). Then there's Jennifer, another new kid at school who Charley finds annoying ("Can You Call This Person A Friend? - Part 4"). Charley realizes that he can't call any of them friends and calls off the party, but the Kids talk him back into it ("This Is Big"). By the end of the song, Charley has given out his six invitations, accidentally leaving nothing for Jennifer. Mrs. Cleveland watches the scene unfold.
Feeling guilty, Charley finds Jennifer and apologizes, again thinking about cancelling his party. Jennifer talks him out of it ("That Could Be Me"). Charlie invites her to his birthday party as Mrs. Cleveland watches.
The next morning, Mom and Lorena wish Charley a happy birthday. Mom promises him a big cake when she gets home from work, and leaves. Charley confesses to Lorena that he's invited seven kids from school to his party without Mom's permission. To his surprise, Lorena is thrilled and offers to make his birthday cake. Charley decorates the house and begins to feel optimistic, but Lorena's cake is a disaster.
The guests arrive and all seems lost until the kids notice… there is a Ghost in the room! The lights go out and the kids get more and more scared, until Mom reveals herself! Mrs. Cleveland told her everything and has brought over a cake for Charley's birthday!
As he blows out his candles, Charley realizes he doesn't need his imaginary friends anymore - he's made real friends. Though everything went wrong for his big one-oh, somehow everything also went right ("Finale").
Billing
Music by

Lyrics by

Book by
Based on the novel The Big One-Oh by Dean Pitchford
Requirements
You must give the authors/creators billing credits, as specified in the Production Contract, in a conspicuous manner on the first page of credits in all programs and on houseboards, displays and in all other advertising announcements of any kind.
Percentages listed indicate required type size in relation to title size.
THE BIG ONE OH!
Online Edition
Music 

Doug Besterman

Lyrics

Dean Pitchford
Libretto
Timothy Allen McDonald
Based on the novel The Big One-Oh by Dean Pitchford
Vocal Arrangements and

Incidental Music by

Britt Bonney

Additional Arrangements

and Incidental Music by

Daniel J. Mertzlufft
Orchestrations by
Michael Starobin
Originally directed and choreographed by MK Lawson
The Underlying Work credit and the names of the Composer, Lyricist and Bookwriter shall be equal in size, type, coloring, boldness, and prominence. No billing shall appear in type larger or more prominent than the billing to the Authors except for the title of the Play.
With respect to stage productions, the following credit shall appear on the title page of the Playbill or equivalent house program and in advertisements (including posters, window cards and house boards) in which full production credits are given:
"World Premiere Presented by
Atlantic Theater Company, Atlantic for Kids New York City, September 28, 2019"
In advertisements of 1/4 page size or less, or where only the title of the play, performance dates and venue are provided, the following "shortened billing" is permissible:
THE BIG ONE-OH! ONLINE EDITION
COPYRIGHT NOTICE
The Big One-Oh! Online Edition Music by Doug Besterman and Lyrics by Dean Pitchford © 2022 Doug Besterman Music (ASCAP)/Pitchford Music (BMI)
The Big One-Oh! Online Edition Libretto © Timothy Allen McDonald -2022
The videotaping or other video or audio recording of this production is strictly prohibited
Included Materials
| Item | Quantity Included |
| --- | --- |
| LOGO PACK DIGITAL | 1 |
| ACTOR'S BOOK DIGITAL | 1 |
| DIRECTORS GUIDE DIGITAL | 1 |
| GUIDE VOCAL AND PERF TRACKS DIGITAL | 1 |
| PIANO VOCAL SCORE DIGITAL | 1 |
Production Resources