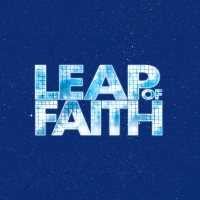 Based on the hit film, an unscrupulous faith healer finds unsuspecting love and finally sees the light.
Full Synopsis
Act One
The curtain opens on a Broadway theatre in New York City. It has been transformed into the site of a three-night tent revival. The choir and preachers appear. Jonas Nightingale, a charismatic pastor, steps forward to greet the audience. As Jonas begins prophesying, we are taken to a dusty Kansas plain ("Rise Up!").
Zak, a crew member, pushes himself out from under a bus sitting at an Arco station. The crew's transmission has been shot, and it has been revealed that the traveling cons owe thousands of dollars to various towns that they have visited in the past; crew members are not being paid and Jonas' checks are bouncing, left and right. It becomes clear that Jonas has swindled hundreds of innocent Christians out of money over the years. Eventually, Jonas convinces his number two, Sam, to set up in Sweetwater; a drought-stricken town in the Midwest that may be looking for a miracle.
The tent is now being put up as Jonas prepares for his last chance at a major payday. Marla McGowan, Sweetwater's buttoned-down Town Alderperson, comes across Jonas and his crew. She inquires further and voices her skepticism as Sam and Jonas insist that they can perform miracles ("Fox in the Henhouse!"). Suddenly, Marla reveals that she is the County Sheriff. After grilling the duo, Marla informs them that the tent revival team has three days to fix their bus and leave town.
Marla departs as Jonas' crew gets to work, passing out flyers and approaching the locals. As time goes by, the "angels" begin to canvas the town and collect stories, secrets and other gossip to use in the tent revival ("Working in the Fields of the Lord").
Later that evening, the first night of the tent revival; Zak introduces Jonas in a dramatically theatrical fashion, and the con man begins his sermon ("Step Into The Light – Revival #1"). Through a bluetooth device, with Sam feeding information on the other end, Jonas begins to "heal" the crowd and pass out offering baskets. In the midst of his healing, however, a young crippled boy – begging to be blessed – calls out to Jonas. Out of fear, he skips the child and moves on to an elderly woman, inexplicably performing a miraculous act on the woman.
We shift to backstage to find Ida Mae collecting the cash from the evening's service. Isaiah, Ida Mae's son, appears unexpectedly; he is on break from Bible College. When Isaiah reminds one of the helpers of his father, he and his mother reminisce about the man who is no longer with them ("Walkin' Like Daddy"). The conversation makes Ida Mae stop and reflect on her life and how she has made a living as a liar ("Lost"). Elsewhere, we see Jake with his mother, Sheriff McGowan, telling her about the tent revival – he is hurt to find that she is trying to push him out of town.
Later, outside of his motel room, Jonas is taking sips from his flask. Marla approaches to confront the con man. She hands him a thousand dollar fine and threatens to issue a second summons if he continues his act. Marla then reveals to Jonas that the crippled child is her son, Jake. Jonas uses it as an opportunity to flirt with Marla, much to her shock and dismay; the two begin sipping the flask together ("I Can Read You"). Marla is eagerly challenging Jonas on both his manhood and his level of tolerance when, in an impulsive moment, the two kiss passionately and Marla pulls Jonas into the motel room.
Just as the door closes, Jake arrives to address the audience about his belief in God and how miracles can be like magic tricks ("Like Magic"). Eventually, Jake runs into Jonas outside of the motel room, and the two bond as Marla secretly looks on. When Jake departs, Marla and Jonas share one final tender moment before Sam arrives. When Sam realizes that Jonas has slept with the Sheriff, however, she expresses concern for involving emotions with the con act ("I Can Read You – Reprise").
Later, on Night Two of the tent revival, Sam is prepping the team. Isaiah, who has overheard Sam's speech, has become tired of the hypocrisy and deception ("Dancin' in the Devil's Shoes"). We transition to the climax of the Second Revival, as Jonas is concluding his sermon. When audience members begin to yell out for prayers, Sam attempts to direct Jonas to Jake; Jonas refuses. Eventually, it is too much for Jonas to ignore... but Marla stops him and stands up to expose Jonas and his crew for what they really are. Seeing an advantageous opportunity, Jonas quells the gasps and uses the "truth" as a false story of redemption ("King of Sin").
Beginning to sway the audience back to his side, Marla tries to regain control. When Sam forces Jonas to heal Jake, however, the young boy falls on his face in front of the audience; all are riveted and shocked. Marla has reached her boiling point and promptly arrests Jonas. As the Deputy drags the con man from the tent, he makes one final promise: if the tent is filled on the final night, there will be an astonishing miracle for the entire town!
Act Two
We find Jonas confined to a simple jail cell. Outside, on the street, the townspeople hold a vigil ("Rise Up! – Reprise"). Jake, who insists that he is okay, brings toast to Jonas. When Marla arrives, she informs Jonas that the citizens of the town have put up his bail. Despite the rift, Jonas tries to find out more about Marla's past and her bitterness ("Long Past Dreaming").
Now, at the tent, the crew prepares for its final revival. With everything that has occurred over the last 24 hours, many of the Angels question their commitment to the con. Ornella and Zak try to motivate the crew while others question Jonas' act ("Are You on the Bus?"). Throughout the preparations, opposition is intensifying; Jonas is confronted by Sam, Isaiah and his Angels. But, because of his stubborn ways, the con man ignores the warnings. Isaiah, who can take more, rushes to Marla at the Sheriff's office. He possesses the company books, which show proof of embezzlement and tax fraud. In haste, Isaiah agrees to hand over the records as long as everyone, except Jonas, walks free – Marla agrees, and a deal is struck.
Meanwhile, at the tent, Jonas sits alone, staring at the stage. Jake comes in, and Jonas insists that he stay at home for the final night, but Jake refuses, as he continues to believe that a miracle might happen ("Like Magic – Reprise"). Finally, Jonas screams at Jake and strides away. Marla is waiting for him, revealing that she has been given confidential information about his operations and plans to use it against them to shut the tent revival down. With Jonas storming off upon hearing the news, Sam tries to reason with Marla and help her to understand who Jonas is ("People Like Us").
The final night of service is now in full swing ("Last Chance Salvation"). As Jonas begins his healing, the crowd goes wild – stuffing money in basket after basket. Commotion ensues when Jake finally wheels himself over to Jonas; the crowd quiets down. Seeing this, Marla enters and surprises Jonas when she, too, demands "one final miracle" ("If Your Faith Is Strong Enough"). After a moment of healing, Jake attempts to take a step... but falls. The audience gasps. An unfazed Jake cries out for Jonas to begin praying for him, and the crowd joins in. Slowly, step by step, Jake walks. He eventually falls into Jonas' arms as everyone celebrates; Jonas is frozen by shock as he processes what has happened ("Jonas' Soliloquy").
The next day. Sunrise. We find Jonas' crew packing up equipment at the Arco station. Sam takes roll and notices that Jonas is not present. Isaiah was the last to see him as he went walking off into the fields. Suddenly, Jonas appears. Much to Sam's dismay, Jonas informs her that he is not leaving. He will step down and allow Isaiah to take over. Ida Mae and the others overhear this and come over to say their goodbyes ("Leap Intro"). As the bus finishes loading up, Jonas stands outside; Marla and Jake arrive. Jonas reveals that he has given a portion of their earnings to Jake's mom, and Marla offers Jonas a new life in Sweetwater, Kansas. The two passionately embrace as the skies open up. Rain pours down as the curtain falls, and Jake, Jonas and Marla stand in wonderment about all that has happened ("Leap of Faith").
Show History
Inspiration
Leap of Faith is a musical based on the 1992 American dramedy film of the same name. The film starred Steve Martin, Debra Winger and Liam Neeson. The film is about Jonas Nightingale, a fraudulent Christian faith healer who uses his revival meetings in Rustwater, Kansas, to bilk believers out of their money.
Productions
Leap of Faith received its first series of workshops in May of 2008. In early 2010, the musical was given a developmental workshop with director Rob Ashford. Leap of Faith made its world premiere at the Ahmanson Theatre in Los Angeles on September 11, 2010. The Los Angeles run was a limited engagement and was positively received.
Leap of Faith moved to Broadway on April 3, 2012, at the St. James Theatre. The production featured Raul Esparza, Jessica Phillips and Kendra Kassenbaum. The production closed on May 13, 2012, after 24 previews and 20 performances.
Trivia
The book was revised between its Los Angeles engagement and Broadway run – including major changes to the character of Jonas Nightingale's potential love interest – by Pulitzer Prize finalist and Tony Award winner Warren Leight.
Alan Menken's score was inspired by the sounds of gospel, country and American roots music.
Leap of Faith was nominated for several Drama Desk Awards and nominated in the Best Musical category for the 2012 Tony Awards.
Critical Reaction
"Pure Broadway razzmatazz! Leap of Faith delivers the goods!"
– Wall Street Journal
"High-energy entertainment! Ridiculously fun!"
– New York Post
"Far and away the best musical of the year!"
– WOR
Connect
Billing
Music by

Lyrics by

Book by
Based on the motion picture, Leap of Faith, produced by Paramount Pictures and written by Janus Cercone.
Requirements
You must give the authors/creators billing credits, as specified in the Production Contract, in a conspicuous manner on the first page of credits in all programs and on houseboards, displays and in all other advertising announcements of any kind.
Percentages listed indicate required type size in relation to title size.
LEAP OF FAITH
Based on the Motion Picture, "Leap of Faith", 
produced by Paramount Pictures and written by Janus Cercone
Music by

Book by

Lyrics by

ALAN MENKEN

(50%)

JANUS CERCONE and WARREN LEIGHT

(50%)

GLENN SLATER

(50%)
You agree to provide clear, legible and prominent credit on the title page of any and all Playbills and programs for your productions of the Play substantially as follows:
Original Broadway Production Produced by
Michael Manheim, James D. Stern, Douglas L. Meyer
Marc Routh Richard Frankel Tom Viertel Steven Baruch
Annette Niemtzow Daryl Roth Robert G. Bartner Steven and Shanna Silva
Endgame Entertainment Patricia Monaco Debi Coleman
Dancap Productions, Inc. Steve Kaplan, Relativity Media, LLC Rich/Caudwell
and
Center Theatre Group
in association with Michael Palitz Richard J. Stern Melissa Pinsly/Celine Rosenthal, Independent Presenters Network Diana Buckhantz
Pamela Cooper Vera Guerin Leading Investment Co., Ltd Christina Papagjika Victor Syrmis, Semlitz/Glaser Productions
and
Jujamcyn Theaters
(iii) In advertisements of 1/4 page size or less, or where only the title of the play, performance dates and venue are provided, the following "shortened billing" is permissible:
LEAP OF FAITH
The videotaping or other video or audio recording of this production is strictly prohibited
Included Materials
| Item | Quantity Included |
| --- | --- |
| LIBRETTO/VOCAL BOOK | 30 |
| PIANO VOCAL SCORE | 2 |
Production Resources
Resource
HOW DOES THE SHOW GO ON-10/CS
HOW DOES THE SHOW GO ON?
KEYBOARDTEK
LOGO PACK
LOGO PACK DIGITAL
PRODUCTIONPRO-DIGITAL SCRIPT/SCORE
REFERENCE RECORDING
STAGE WRITE APPLICATION
TRANSPOSITIONS-ON-DEMAND
STANDARD ORCHESTRATION
| Instrumentation | Doubling |
| --- | --- |
| BASS | (ELECTRIC BASS) |
| CELLO | |
| DRUMS | BELL TREE (SAMPLER) , CHIMES (SAMPLER) , DRUM KIT , MARK TREE (SAMPLER) , SMALL TRIANGLE |
| FULL SCORE VOL 1 OF 3 | |
| FULL SCORE VOL 2 OF 3 | |
| FULL SCORE VOL 3 OF 3 | |
| GUITAR | ACOUSTIC GUITAR , ACOUSTIC W/SLIDE , ELECTRIC GUITAR , NYLON ACOUSTIC , ROCK GUITAR , STEEL ACOUSTIC |
| KEYBOARD 1 | |
| KEYBOARD 2 | |
| REED 1 | ALTO SAXOPHONE , CLARINET , FLUTE |
| REED 2 | ALTO SAXOPHONE , CLARINET , ENGLISH HORN , OBOE |
| REED 3 | BASS CLARINET , CLARINET , FLUTE , TENOR SAXOPHONE |
| REED 4 | BARITONE SAXOPHONE , BASSOON , CLARINET |
| TROMBONE | BASS TROMBONE , TROMBONE |
| TRUMPET | FLUGELHORN , TRUMPET |
| TRUMPET 2 | FLUGELHORN , TRUMPET |
| TRUMPET 3 | FLUGELHORN , TRUMPET |
| VIOLA | |
| VIOLIN | |