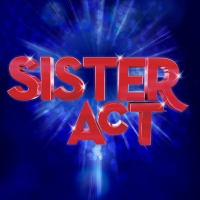 A woman hiding in a convent helps her fellow sisters find their voices as she rediscovers her own. This feel-good comedy smash is based on the hit film.
Full Synopsis
Act One
It is Christmas Eve in 1977 at a disco nightclub in Philadelphia. Club singer, Deloris Van Cartier, and her two back-ups are performing in front of an empty house. A gangster and four henchmen appear. Van Cartier's boyfriend, Curtis Jackson, owns the nightclub ("Take Me to Heaven"). Deloris is overjoyed as she believes her boyfriend is going to introduce her to a record producer on that day. She soon learns, however, that this is not to be. Jackson tells her he cannot join her for Christmas Day but gives her a coat, which she discovers belonged to his wife. Hurt and frustrated, Deloris goes to her backup singers, Michelle and Tina, about her dreams of stardom and fame ("Fabulous, Baby!") She decides to break up with Jackson and head out of Philadelphia to go fulfill her dreams on her own. When she happens to witness Jackson and his crew murder someone accused of "squealing" to the cops, though, she becomes terrified. Deloris promptly runs away as Jackson orders his men to get her and bring her back.
Some time later, Deloris runs into a police station and tells the desk chief, Eddie, about what has happened. The two recognize each other as old friends from school, with Deloris calling him "Sweaty Eddie." Eddie decides that Deloris needs to go into the witness protection program and sends her to the place he believes Jackson will never find her: a convent! When Deloris arrives, she is disappointed to learn from the Mother Superior that contact with the outside world is limited and that she cannot smoke, drink or wear any of her less-than-appropriate clothing ("Here within These Walls").
Deloris joins the other nuns for dinner and is introduced as Sister Mary Clarence. After several comedic interactions with the overly perky Sister Mary Patrick, Deloris discovers just how much is limited when she is a nun ("It's Good to Be a Nun"). Deloris then asks them about what they're missing, and Mother Superior makes Deloris go on a fast. Meanwhile, back in his nightclub, Jackson is frustrated that he cannot find Deloris anywhere. He tells Joey, TJ and Pablo how he will not stop until he finds and kills Deloris ("When I Find My Baby").
Back at the convent, Deloris is hungry from the fast. She goes across the street to a slinky bar and is followed by Sister Mary Patrick and Sister Mary Robert, a shy and quiet nun. When the two nuns arrive, they see how fun things can be outside of the convent. However, Deloris recognizes Joey, TJ and Pablo entering the bar. Suddenly, there is a fight in the bar, giving Deloris, Sister Mary Patrick and Sister Mary Robert a chance to escape. Eddie and Mother Superior meet them back at the convent. Mother Superior confronts Deloris, telling her that she must conform to the life of the nuns. Eddie agrees and reveals that Jackson has upped the price on her head, so she needs to be careful. Deloris storms back to the convent after being informed that she has to wake up at 5 a.m. and join the choir. Eddie, now alone with only the drunks and homeless on the street, privately reflects on his desire to just let go and impress Deloris ("I Could Be That Guy").
The following morning, Deloris attends the choir practice and realizes how bad the situation is. Deloris offers to teach them, thus taking over from Sister Mary Lazarus, an older nun. Deloris teaches the nuns how to sing in key and on time. She also manages to break the quiet and timid Sister Mary Robert out of her shell ("Raise Your Voice"). That Sunday, the choir performs a rousing, up-tempo hymn ("Take Me to Heaven – Reprise"). Although the church is struggling, the improved performance and new material bring an influx of donations and membership. Mother Superior, however, is horrified at how the simple, traditional choir she knew has changed and become modern.
Act Two
Mother Superior wants to get rid of Deloris, but Monsignor O'Hara reminds her that the men who were planning to buy the church love the choir and have given their money to improve and keep the church... specifically because of the choir. Over the last few weeks, the choir has become incredibly successful, and the money from donations has paid for the church to be remodeled and fixed ("Sunday Morning Fever").
Later, Monsignor O'Hara bursts in with exciting news: the choir has been asked to perform a special concert in front of the Pope. Deloris is thrilled but also regretful; Jackson and his goons have spotted Deloris with the choir on the television accepting the invitation. Jackson orders his henchmen to get into the convent and bring Deloris back. TJ, Joey and Pablo discuss how they will do this ("Lady in the Long Black Dress"). Meanwhile, Mother Superior prays to God, asking why He has given her the challenge that is named Deloris ("I Haven't Got a Prayer"). She soon receives a call from Eddie.
Deloris is approached by the Nuns before they go to sleep, asking her to lead them in prayer for their show for the Pope on the following day ("Bless the Show"). Mother Superior arrives shortly thereafter and informs Deloris that the court date for Jackson has been moved up to the next day and she must leave immediately. The other nuns overhear, and Deloris is forced to tell them the truth about who she really is and that she cannot perform with them. Deloris quickly runs off to get her things, followed by Sister Mary Robert while the other nuns disappointingly go back to their rooms.
As Deloris prepares to leave, Sister Mary Robert begs to come with her, claiming that she has been inspired to become a stronger person and go after the things she wants ("The Life I Never Led"). Deloris tells her that she doesn't need her to do that and that she can do it all herself if she really wants to. Deloris runs from the convent and stays at Eddie's house for the night. While there, she is initially overjoyed that, the following day, she will testify against Jackson and his boys to go back to pursuing the career she's dreamed of ("Fabulous, Baby! – Reprise"). But feeling immense guilt for abandoning her sisters when they needed her, she begins to reflect on her life, finally realizing that the choices she is making will leave her with nothing but fame and money. She decides to return to the convent and sing with her sisters ("Sister Act").
Elsewhere, Jackson thinks up a new way to get into the convent ("When I Find My Baby – Reprise"). Dressed as nuns, Jackson, Joey, TJ and Pablo sneak into the convent. They find and chase Deloris. The Nuns see this and they all prepare to protect Deloris. Mother Superior, however, is adamant that they stay away and call the police, which prompts an outburst from Sister Mary Robert, who tells her that she won't be quiet anymore ("The Life I Never Led – Reprise"). The other nuns agree and all go running through the convent to look for Deloris.
Deloris eventually runs into Jackson, leading to a final confrontation. He is armed and dangerous, and she is scared but calm. Jackson demands that Deloris to get on her knees and beg for her life. However, all the sisters and nuns run in, unafraid; they stand in front of her, telling Jackson that they will have to go through them first ("Sister Act – Reprise"). Jackson is about to start firing at the nuns when Eddie comes in and fights Jackson off. He arrests Jackson and his boys. He and Deloris then share a passionate embrace. Mother Superior and Deloris come to a truce and agree to accept each other – warts and all. As the curtain begins to fall, we transition to the performance in front of the Pope as the nuns stand in unison with their voices ringing in harmony, led by a changed Deloris Van Cartier ("Spread the Love Around").
Show History
Inspiration
Sister Act is based on the hit 1992 comedy film of the same name, originally starring Whoopi Goldberg. With a movie so popular and musically focused, Stage Entertainment decided to produce a stage adaptation. They brought on Oscar- and Tony-winning composer, Alan Menken, along with lyricist and frequent collaborator, Glenn Slater. Bill and Cheri Steinkellner were hired to write the book.
Menken wanted to inspire his score off of 1970s music, specifically disco and gospel. As a result, the setting was changed from the original in the movie (Reno and San Francisco in the 1990s) to Philadelphia in the 1970s. In the transfer from the West End to Broadway, not only did Whoopi Godlberg herself jump on as as a producer, but the script underwent several revisions. Douglas Carter Beane kept the structure of the show and made several large changes.
Productions
Sister Act, based on the hit film of the same name, premiered at the Pasadena Playhouse in California, running from October 24, to December 23, 2006. While in residence, it broke various box office records. The production ended up moving to the Alliance Theatre in Atlanta, Georgia, and ran from January 17, to February 25, 2007. The musical then moved "across the pond." The West End premiere was on June 2, 2009, at the London Palladium, starring Patina Miller, Sheila Hancock and Ian Lavender. It ran for more than a year and closed on October 30, 2010.
Sister Act opened on Broadway at the Broadway Theatre on April 20, 2011. After the West End production closed, the show went through a multitude of revisions, helmed by book writer, Douglas Carter Beane. Patina Miller transferred with the production in the role of Deloris, costarring with Victoria Clark, Fred Applegate and Chester Gregory. It closed on August 26, 2012, after 561 performances.
The musical has launched two tours: one in the UK and Ireland that ran from October 2010 to October 2012, and one in North America that opened during the fall of 2012. Sister Act has also been performed in quite a few countries around the world, including Germany, Italy, the Netherlands, Australia, South Korea and Mexico.
Critical Reaction
"One of the season's happiest surprises.... Menken evokes the lush, funky sound of Philly soul without falling into mere pastiche."
– The NY Post

"Composer Alan Menken and lyricist Glenn Slater provide original tunes that nod cheekily, but with genuine affection, to that pop era while also propelling the story with a style and exuberance specific to well-crafted musical theater.  Librettists Cheri and Bill Steinkellner, enlisting additional material from Douglas Carter Beane, adapt the screenplay with disarming wryness."
– USA Today

"When the wimples start quivering, the pinched mouths break into sunbeam smiles, and the nuns start rocking to raise the Gothic rafters, all s right in the kingdom of musical comedy."
– The New York Times
Tony® Award
2011
-
Best Musical,
Nominee
(Sister Act)
2011
-
Best Book Of A Musical,
Nominee
(Cheri Steinkellner, Bill Steinkellner, and Douglas Carter Beane)
2011
-
Best Original Score,
Nominee
(Alan Menken and Glenn Slater)
2011
-
Best Performance By A Leading Actress In A Musical,
Nominee
(Patina Miller)
2011
-
Best Performance By A Featured Actress In A Musical,
Nominee
(Victoria Clark)
Drama Desk Award
2011
-
Outstanding Musical,
Nominee
(Sister Act)
2011
-
Outstanding Actress in a Muscial,
Nominee
(Patina Miller)
2011
-
Outstanding Featured Actress in a Musical,
Nominee
(Victoria Clark)
2011
-
Outstanding Music,
Nominee
(Alan Menken)
2011
-
Outstanding Lyrics,
Nominee
(Glenn Slater)
Connect
Billing
Music by

Lyrics by

Book by

Additional Book Material by
Based on the Touchstone Pictures Motion Picture, Sister Act, written by Joseph Howard.
Requirements
You must give the authors/creators billing credits, as specified in the Production Contract, in a conspicuous manner on the first page of credits in all programs and on houseboards, displays and in all other advertising announcements of any kind.
Percentages listed indicate required type size in relation to title size.
SISTER ACT 
Music by

ALAN MENKEN 

Lyrics by

GLENN SLATER 

Book by

CHERI STEINKELLNER

& BILL STEINKELLNER 
Additional Book Material
DOUGLAS CARTER BEANE
You agree to provide the following credit on (i) the title page of the program in a size of type equal to 50% of the size of the Authors' credit, (ii) all houseboards and (iii) all advertising in which any individual other than stars above the title except ABCs and awards and congratulatory ads (such credit to be placed immediately following the credits for book, music and lyrics of the Play):
Based on the Touchstone Pictures Motion Picture "Sister Act" written by Joseph Howard
You agree to provide the following credits on the title page of the program for your production of the Play (with respect to the credit to Pasadena Playhouse and Alliance Theatre, such credit shall appear at the bottom of the title page for all first- and second-class productions of the Play in the United States, Canada, British Isles, Australia and New Zealand)
Orchestrations by Doug Besterman
Vocal and Incidental Music Arrangements by Michael Kosarin
Dance Music Arrangements by Mark Hummel
Produced on Broadway by Whoopi Goldberg & Stage Entertainment in association with The Shubert Organization and Disney Theatrical Productions
Original Production Developed in Association with Peter Schneider & Michael Reno and Produced by Stage Entertainment
World Premiere Produced by
| | | |
| --- | --- | --- |
| Pasadena Playhouse, Pasadena CA | and | Alliance Theatre, Atlanta GA |
| Sheldon Epps, Artistic Director  |   | Susan V. Booth, Artistic Director |
| Lyla White, Executive Director   |   | Tom Pechar, Managing Director |
| Tom Ware, Producing Director |   |   |
In addition, the approved biographies of the Authors must appear in all programs of the Play.  You can find them at MTISHOWS.COM/authorbios.
In advertisements of 1/4 page size or less, where in each case only the title of the play, performance dates and venue are provided and in taxi ads where no other person is billed, the following "shortened billing" is permissible:
SISTER ACT
Video Warning
In accordance with the Performance License, you MUST include the following warning in all programs and in a pre-show announcement:

ANY VIDEO AND/OR AUDIO RECORDING OF THIS PRODUCTION IS STRICTLY PROHIBITED.
Included Materials
| Item | Quantity Included |
| --- | --- |
| KEYBOARD-CONDUCTOR ACT 1 | 1 |
| KEYBOARD-CONDUCTOR ACT 2 | 1 |
| LIBRETTO/VOCAL BOOK | 30 |
| PIANO VOCAL SCORE | 1 |
Production Resources
Resource
ALT: FULL SCORE VOL 1 OF 4
ALT: FULL SCORE VOL 2 OF 4
ALT: FULL SCORE VOL 3 OF 4
ALT: FULL SCORE VOL 4 OF 4
CUSTOMIZABLE SHOW POSTER
FULL SCORE VOL. 1 OF 4
FULL SCORE VOL. 2 OF 4
FULL SCORE VOL. 3 OF 4
FULL SCORE VOL. 4 OF 4
HOW DOES THE SHOW GO ON-10/CS
HOW DOES THE SHOW GO ON?
KEYBOARD PATCH SOLUTIONS
KEYBOARDTEK
LOGO PACK
LOGO PACK DIGITAL
ORCHEXTRA
PERFORMANCE ACCOMPANIMENT RECORDING
PRODUCTIONPRO-DIGITAL SCRIPT/SCORE
REFERENCE RECORDING
REHEARSAL ACCOMPANIMENT RECORDING
REHEARSCORE APP
SCENIC PROJECTIONS
SCENIC PROJECTIONS PRO
SCENIC PROJECTIONS-ANIMATED
SCENIC PROJECTIONS-STILL
SOCIAL MEDIA MARKETING KIT
STAGE MANAGER SCRIPT
STAGE WRITE APPLICATION
SUBPLOT CUSTOMIZED SHOW POSTER
TRANSPOSITIONS-ON-DEMAND
VIRTUAL STAGE MANAGER
STANDARD ORCHESTRATION
| Instrumentation | Doubling |
| --- | --- |
| BASS | ACOUSTIC BASS , ELECTRIC BASS |
| DRUMS | DRUM KIT , MARK TREE , SHAKER , SUSPENDED CYMBAL , TAMBOURINE , TD-20 , TRIANGLE |
| GUITAR | ACOUSTIC GUITAR , ELECTRIC GUITAR , NYLON STRING GUITAR , STEEL STRG ACOUSTIC |
| KEYBOARD 1 | |
| KEYBOARD 2 | |
| PERCUSSION | BELL TREE , BIGGER SHAKER , BONGOS , CHIMES , CLAPS , CONGAS , COWBELL (FOOT) , CROTALE , GLOCKENSPIEL , HIGH COWBELL , KAT , LOW COWBELL , MARK TREE , SHAKER , SMALL COWBELL , SUSPENDED CYMBAL , TAMBOURINE , TIMPANI , TRIANGLE , WOODBLOCK (FOOT) , XYLOPHONE |
| REED 1 | ALTO FLUTE , ALTO SAXOPHONE , CLARINET , FLUTE |
| REED 2 | CLARINET , FLUTE , TENOR SAXOPHONE |
| TROMBONE | |
| TRUMPET | FLUGELHORN , TRUMPET |
| TRUMPET 2 | FLUGELHORN , TRUMPET |
ALTERNATE ORCHESTRATION
| Instrumentation | Doubling |
| --- | --- |
| ALT: BASS | ACOUSTIC BASS , ELECTRIC BASS |
| ALT: CELLO | |
| ALT: DRUMS | DRUM KIT , MARK TREE , SHAKER , SUSPENDED CYMBAL , TAMBOURINE , TD-20 , TRIANGLE |
| ALT: GUITAR | ACOUSTIC GUITAR , ELECTRIC GUITAR , NYLON STRING GUITAR , STEEL STRG ACOUSTIC |
| ALT: KEYBOARD 1 | |
| ALT: KEYBOARD 2 | |
| ALT: PERCUSSION | BELL TREE , BIGGER SHAKER , BONGOS , CHIMES , CLAPS , CONGAS , COWBELL , COWBELL (FOOT) , CROTALE , GLOCKENSPIEL , KAT , MARK TREE , SHAKER , SMALL COWBELL , SUSPENDED CYMBAL , TAMBOURINE , TIMPANI , TRIANGLE , WOODBLOCK (FOOT) , XYLOPHONE |
| ALT: PIANO VOCAL SCORE | |
| ALT: REED 1 | ALTO FLUTE , ALTO SAXOPHONE , CLARINET , FLUTE |
| ALT: REED 2 | CLARINET , FLUTE , TENOR SAXOPHONE |
| ALT: REED 3 | BARITONE SAXOPHONE , BASS CLARINET , BASSOON , CLARINET |
| ALT: TROMBONE 1 | |
| ALT: TROMBONE 2 | |
| ALT: TRUMPET 1 | FLUGELHORN , TRUMPET |
| ALT: TRUMPET 2 | FLUGELHORN , TRUMPET |
| ALT: VIOLIN 1 | |
| ALT: VIOLIN 2 | |