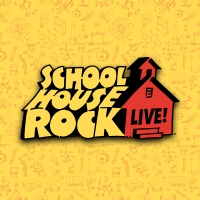 Based on the 1970s cartoon, this fast-paced musical teaches lessons with clever, catchy tunes.
Full Synopsis
In the dark, we hear the sound of an alarm clock ringing, and Tom, a young teacher preparing for his first day of school, appears. As he nervously rehearses what he will say, the Ensemble enters, speaking out his thoughts. These characters are Tom's many emotions, personified: there is George – the romantic side, Dori – the goofy side, Schulie – the sweet side, Joe – the cool side, and Dina – the mature side. His thoughts range from being excited to terrified.
Tom watches some TV to calm himself down. When he turns on the TV, one of his old favorites, "Schoolhouse Rock," is on. As he watches, he gets swept up in the excitement ("Verb: That's What's Happening"). When it ends, he is startled to find his "sides" have come to life and are standing in front of him. They explain that they represent everywhere he has been, everyone he has known and every person that he has ever met ("A Noun Is a Person, Place or Thing"). They are here to help Tom remember that teaching is as easy as counting to three ("Three Is a Magic Number"). Tom thinks he is hallucinating and tries to get rid of them, but he needs them – that's why they're there ("Mother Necessity"). They encourage Tom to remember that he wants to be a teacher because both his grandmother and her mother were teachers. In their lifetimes, teaching was one of the few job opportunities open to women ("Sufferin' 'til Suffrage"). He also remembers working at his grandfather's hardware store as a child and sneaking away on Saturday mornings to watch "Schoolhouse Rock," which taught him about adverbs ("Lolly, Lolly, Lolly"). It also taught him about adjectives ("Unpack Your Adjectives"). But Tom has to teach more than that – math, science and social studies ("Just a Bill / The Preamble"). By revisiting these moments from his childhood and getting caught up in them, Tom remembers that learning can be fun... and that's why he wants to be a teacher ("Ready or Not, Here I Come").
When the gang becomes exhausted from all of the excitement, Tom encourages them to stay active ("Do the Circulation"). Joe is ready to do a song about pronouns, but he needs some help from the group ("Rufus Xavier Sarsaparilla"). Schulie plays Tom's guitar; the instrument is shaped like a figure eight, which inspires her to remember how she and Tom learned multiplication tables ("Figure Eight"). Next, George gives a rock and roll physics lesson ("A Victim of Gravity"). Staying on the math and science track, George and Schulie introduce us to a hero who changed counting ("Zero, My Hero").
Although they have covered many parts of speech, Tom thinks of one that they've left out: conjunctions ("Conjunction Junction"). Joe reminds Tom that school will be a very important transition to America for many of his students who are not native English speakers, just as America went through an important transition as it expanded ("Great American Melting Pot / Elbow Room / Interplanet Janet"). The thought of going to the moon has the whole group energized; they use words that properly express that energy ("Interjections"). Tom thanks everyone for helping him. He has one last song for them about sentence structure ("The Tale of Mr. Morton"). As the song ends, all of the characters are gathered around Tom as if he were teaching. He asks if there are any questions, and Schulie's hand goes up.
Show History
Inspiration
Schoolhouse Rock Live! is based on the original "Schoolhouse Rock" television series. This series was the brainchild of an advertising executive who noticed his son could remember all the words to popular songs on the radio, but could not remember the multiplication tables. He reasoned that, if important educational information was coupled with exciting animation and catchy music, children would be able to learn and remember it. From this simple idea, :Schoolhouse Rock" was born and quickly adopted by ABC-TV, which broadcast the series on Saturday mornings from 1973 to 1985. It returned due to popular demand in 1992 as a part of "The ABC Bugs Bunny Hour," and many new songs were added to the repertoire.


Productions

On August 26, 1993, Theatrebam Chicago's musical hit, Schoolhouse Rock Live!, opened at Chicago's Cabaret Voltaire. The show was originally conceived by writer/director, Scott Ferguson. Schoolhouse Rock Live! played for eight months to sold-out houses in a record breaking run.
Schoolhouse Rock Live! moved to The Body Politic Theatre in June of 1994 and continued to sell out for another seven months.
Theatrebam Chicago teamed up with Move On Productions and took Schoolhouse Rock Live! to New York City in 1995. The show opened first at the AtlanticTheatre and then at the historic Lamb's Theatre for an Off-Broadway run of eleven months. It then moved triumphantly back to Chicago in 1996 and ran for a year at the Victory Gardens Theatre and The Theatre Building. Its final performance was March 2, 1997.
Cultural Influence
Forty years, 41 songs and four Emmy Awards later, those of us who grew up with "Multiplication Rock," "America Rock," "Science Rock" and "GrammarRock" can still sing the "Preamble to the U.S. Constitution" and know that "and," "but," and "or" all belong in "Conjunction Junction."
In 1991, a student at the University of Connecticut collected over 2,000 signatures from her peers, professors and neighbors in an effort to convince ABC to return "Schoolhouse Rock" to the morning lineup. The effort was successful, and it returned in 1992.
Trivia
Tony-winning lyricist, Lynn Ahrens, is a mainstay songwriter and singer for the "Schoolhouse Rock" TV show and contributed material to Schoolhouse Rock Live!, as well.
Due to the success of Schoolhouse Rock Live!, additional "Schoolhouse Rock" stage shows have been created, including Schoolhouse Rock Live, Too! and Schoolhouse Rock! JR.
The original production of Schoolhouse Rock Live! premiered in the basement theatre of an eclectic vegetarian restaurant.

Lynn Ahrens not only wrote music and lyrics for several of the original Schoolhouse Rock songs, but sang them, too, including "The Preamble."
Critical Reaction
"A phenomenon...."
– Entertainment Tonight



"Can't get enough!"
– MTV News



"Nostalgic blast from the past"
– CNN



"A rollicking, robust stage show"
– Insight Magazine



"Sheer joy!"
– Chicago Sun-Times
Connect
Billing
Book by

Music and Lyrics by
Based on an idea by David McCall and a television series created by George Newall and Tom Yohe.
Special thanks to Original Cast Members, Joseph Beal, Dina Joy Byrd, Shulie Cowen, Dori Goldman and Tom Mizer
Requirements
You must give the authors/creators billing credits, as specified in the Production Contract, in a conspicuous manner on the first page of credits in all programs and on houseboards, displays and in all other advertising announcements of any kind.
Percentages listed indicate required type size in relation to title size.
SCHOOLHOUSE ROCK LIVE!
Originally Adapted and Produced for the Stage by Theatre BAM
From the Series Created by George Newall and Tom Yohe
Based on an Idea by David McCall
Book by
SCOTT FERGUSON, GEORGE KEATING and KYLE HALL
Music and Lyrics by
LYNN AHRENS, BOB DOROUGH, DAVE FRISHBERG, KATHY MANDRY, GEORGE NEWALL and TOM YOHE
The videotaping or other video or audio recording of this production is strictly prohibited
Included Materials
| Item | Quantity Included |
| --- | --- |
| ERRATA LIST | 1 |
| LIBRETTO/VOCAL BOOK | 20 |
| PIANO CONDUCTOR'S SCORE ACT 1 | 2 |
| PIANO CONDUCTOR'S SCORE ACT 2 | 2 |
Production Resources
Resource
CUSTOMIZABLE SHOW POSTER
CUSTOMIZABLE SHOW POSTERS
DIRECTOR'S SCRIPT
HOW DOES THE SHOW GO ON-10/CS
HOW DOES THE SHOW GO ON?
LOGO PACK DIGITAL
PRODUCTIONPRO-DIGITAL SCRIPT/SCORE
REHEARSCORE APP
STAGE WRITE APPLICATION
STREAMING & REMOTE LICENSE
TRANSPOSITIONS-ON-DEMAND
VIRTUAL STAGE MANAGER
STANDARD ORCHESTRATION
| Instrumentation | Doubling |
| --- | --- |
| BASS | BANJO , BASS |
| DRUMS | BONGO , GUIRO , KIT , WOOD BLOCK |