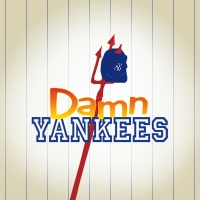 Faust meets professional baseball in the Broadway sendup of love and the American pastime.
Full Synopsis
Act One
We open to Joe and Meg Boyd, a couple in their forties, sitting in their living room. Joe is watching baseball while Meg is sewing nearby. No matter how hard Meg tries to interest Joe in conversation, he is too obsessed with the game to pay attention. Meg complains that, during the six months of baseball season, it is as if she doesn't even exist to Joe ("Six Months out of Every Year"). At the end of the game, Joe is angry that his team, the Washington Senators, has lost to the Yankees. Meg goes to bed, but Joe stays up, dreaming about being a baseball hero, claiming that he would sell his soul for one long ball hitter for his team.
Joe moves to his porch, where a mysterious stranger, Applegate, has appeared. Applegate sympathizes with Joe's baseball views and makes him an offer to fulfill his dream of being a baseball player. Joe is wary of Applegate for knowing so much about his personal life, but Applegate shows him a few tricks and begins to win him over. Shortly after, two of Meg's friends come by and accuse Joe of talking to himself. At this moment, Joe realizes that Applegate is invisible and learns that he is actually the Devil. Applegate offers Joe the chance to save the Senators by becoming Joe Hardy, the 22-year-old baseball star. Joe is tempted, but insists on an escape clause in case he changes his mind. Confident in his abilities, Applegate gives him the clause by agreeing that he can have one chance to escape on September 24th at midnight. Otherwise, Joe's soul would become his forever. Joe agrees and, as Applegate goes to call a cab, he writes a note for his wife, telling her that he loves her ("Goodbye, Old Girl"). Joe and Applegate then depart for the baseball stadium, with Joe transformed into the young Joe Hardy.
In the Washington Senators' dugout, the team's manager, Van Buren, is encouraging his players to keep trying to win against the Yankees. He encourages them by telling them that they've got the talent they need, they just have to get their minds and hearts in the right place ("Heart"). As they leave, a reporter named Gloria Thorpe enters to interview Van Buren, shortly followed by Applegate, who convinces Van Buren to let Joe try out for the team. Joe amazes the team with his skills and is hired. Gloria probes to learn more about him, and Joe quickly claims he is from Hannibal, Missouri, Meg's hometown. The only other thing that she can find out is that, when Joe arrived, he had to borrow somebody else's shoes since his were too small. Gloria decides to make him famous with some publicity ("Shoeless Joe From Hannibal, MO").
Later, Sister and Doris are outside the ballpark, trying to see the new baseball sensation, Joe Hardy, who has led the team to second place in the American League. Joe, however, is complaining to Mr. Welch and Van Buren about all of the questions that reporters are asking about his past. Applegate then scolds him for sneaking around his old house, and Joe admits that he is lonely for Meg. Applegate says that he is going to bring Joe a fascinating woman who will make him forget his wife, but Joe insists that he isn't interested. He reminds Applegate that Applegate doesn't own his soul until September 24th. Left alone, Joe reflects on all that he has given up to join the Senators ("A Man Doesn't Know"). Joe then tells Gloria and a group of reporters that the Senators will win the pennant. He is informed that the season goes until September 25th.
Elsewhere, Applegate gets together with Lola – his female assistant and the fascinating woman promised to Joe. She is just as manipulative and evil as Applegate. Applegate lets her in on his plot to build up everyone's hope for the Senators, then have the Yankees win the pennant, but he needs Joe to forget about his wife so he won't back out on the 24th. Lola insists that she can make any man forget about his wife ("A Little Brains, a Little Talent").
Increasingly lonely, Joe returns to his house to see Meg, who doesn't recognize him, and convinces her to let him rent a room in her house. They begin talking and, together, acknowledge their feelings of loneliness ("A Man Doesn't Know – Reprise"). While Joe is meeting Meg's friends, Sister and Doris, they are interrupted by Applegate, who has come to stop Joe from renting the room. He is unsuccessful.
Later, in a locker room corridor, the Senators are celebrating another win. Gloria presses Applegate for information about Joe's past, but Applegate evades her questions. Applegate then brings Lola to the locker room to begin working on Joe. Joe refuses her obvious advances; Lola is relentless ("Whatever Lola Wants"). Joe is flattered, but he remains true to Meg. When he leaves, Applegate accuses Lola of using old fashioned methods. He decides to cause a scandal over Joe living in a house with a married woman.
We next find a group of teenagers and Sister rehearsing their fan club presentations for a Senators Pep Rally ("Heart – Reprise"). Soon, they discover that the team lost the day's game... on the 23rd of September. Lola, claiming that she is on Joe's side, explains that Applegate made the team lose that afternoon because he is worried about losing Joe's soul. Gloria finds Applegate and tells him that she has been to Missouri to research Joe's past, but nobody from Hannibal knows him. In a panic, Applegate suddenly begins insisting that Joe is not Shifty McCoy. This tips Gloria off as she quickly discovers that Shifty McCoy was a ballplayer in Mexico who took bribes.
The rally begins, and Lola has an act as a part of the "I Love Joe" fan club ("Who's Got the Pain?") Suddenly, Welch appears, claiming that the Commissioner has accused Joe of being Shifty McCoy. There will be a hearing in the morning, and if he can't prove himself innocent, he will not be allowed to play.
Act Two
In the locker room, the team members discuss their support for Joe and insist that they need to stop thinking of anything else and focus on the game ("The Game"). Joe meets with Meg outside of the ballpark; she apologizes for asking him to give up his room. Meg admits that she misses her husband, and Joe assures her that he will come back ("Near to You").
At Applegate's apartment, he tells Lola that, once Joe is trapped after the 24th, he will make him throw the pennant game. Lola expresses empathy for Joe. Then, Joe comes in and says that he is going to exercise the escape clause on the 24th. Applegate reminds him that he must wait to enforce it until midnight. After Joe leaves, Applegate chastises Lola for her feelings of sympathy and reminisces of the days when pain and chaos were rampant ("Those Were the Good Old Days").
It is now September 24th, and the hearing is beginning at the Commissioner's office. Gloria has a postmaster from Hannibal, who claims not to know who Joe Hardy is. Applegate, meanwhile, is stalling until midnight, claiming that a witness will arrive at 12:15. Suddenly, Meg, Sister and Doris appear, who are from Hannibal, and claim that they can identify Joe. They convince the postmaster that he remembers Joe, too. At five minutes before midnight, Joe asks to leave the room to initiate the escape clause, but the Commissioner won't let anyone leave. Meg is giving a speech to vindicate Joe as the clock strikes 12:00. Joe has surrendered his soul by default.
Later, Lola finds a despondent Joe. Much to his surprise, Lola then admits that she knocked out Applegate by giving him pills with his drink; she goes on to admit her ugly past in Rhode Island prior to meeting Applegate and selling her soul. Joe insists that he will find a way to win the pennant in spite of Applegate – he will attempt to make the best of his new life. He kisses Lola and they go off to spend the evening dancing together ("Two Lost Souls").
Outside of the ballpark, Doris and Sister join a crowd that is waiting for tickets to the big game. The time comes for the game to start when Applegate finally awakens. He quickly heads to the game and intends to make Joe throw the game, even if he has to change him back into Joe Boyd on the field. In the dugout, Lola and Van Buren are nervously watching the game. Applegate arrives just in time for the finish and changes Joe back to his old self, but Joe miraculously still catches the ball, thus winning the game! As the team gathers in the locker room corridor, they look for Joe, who has disappeared into the crowd.
Back at his house, Joe returns to find Meg crying on the sofa. When she sees him, however, she joyfully welcomes him home and they embrace. Now sitting together, the two reaffirm their love for each other. Then, Applegate and Lola appear. Applegate tries to convince Joe to come back and lead the team to win the World Series, but Joe finally ignores him as Meg continues to speak to him and the curtain falls ("A Man Doesn't Know – Finale").
Show History
Inspiration
Damn Yankees is based on Douglass Wallop's novel, The Year the Yankees Lost the Pennant. The novel is a modern retelling of the Faust legend, where a man exchanges his soul to the devil in exchange for extraordinary powers. Wallop chose to take the classic story and set it in Washington, D.C., during the time when the New York Yankees were dominating Major League Baseball.
Composer/lyricist team, Richard Adler and Jerry Ross, fresh from their success of their first Broadway musical, The Pajama Game, took a large risk in writing a musical based on a sport. They brought on Wallop to work on the book and partnered him with renowned Broadway director and playwright, George Abbott.
Productions
The original production of Damn Yankees opened on Broadway May 5, 1955, and closed October 12, 1957, playing for a total of 1,019 performances. Directed by George Abbott, the musical featured Gwen Verdon, who went on to legendary mainstream status with a string of well-received shows. It was choreographed by superstar, Bob Fosse – his first of many successful shows.
Damn Yankees received its Broadway revival opening on March 3, 1994, at the Marquis Theatre and was considered a success. The 1994 Damn Yankees revival eventually transferred to the West End, opening at the Adelphi Theatre on June 4, 1997.
Damn Yankees was produced by the City Center Encores! series from July 5, to July 27, 2008. It starred Jane Krakowski, Sean Hayes and Randy Graff. Directed by John Rando, with original Fosse choreography reproduced by Mary MacLeod, some considered it the first authentic revival of the original production.
Trivia
The cast album for Damn Yankees originally featured Gwen Verdon in a baseball shirt, against a green background. It was quickly replaced with another cover, showing Verdon in her skimpy Lola costume on a red background. Record sales skyrocketed.

In 1995, Jerry Lewis became the highest paid performer in Broadway history for his role as the Devil in Damn Yankees.
Critical Reaction
"A truly tremendous musical"
– John McClain, Journal-American

"Here's a pennant winner if we ever saw one."
– Robert Coleman, Daily Mirror

"What fun it is, in this fantasy about the national pastime, to watch the Devil scheme, a temptress vamp, an old man turn young and scrappy athletes reverse their fortunes."
– The New York Times
Tony® Award
1956
-
Choreographer,
Winner
(Bob Fosse)
1956
-
Conductor And Musical Director,
Winner
(Hal Hastings)
1956
-
Best Musical,
Winner
(Damn Yankees)
1956
-
Musical Actor,
Winner
(Ray Walston)
1956
-
Best Actor in a Musical,
Winner
(Ray Walston)
1956
-
Musical Actor,
Nominee
(Stephen Douglas)
1956
-
Best Actor in a Musical,
Nominee
(Stephen Douglass)
1956
-
Musical Actress,
Winner
(Gwen Verdon)
1956
-
Best Actress in a Musical,
Winner
(Gwen Verdon)
1956
-
Supporting Or Featured Musical Actor,
Winner
(Russ Brown)
1956
-
Best Featured Actor in a Musical,
Winner
(Russ Brown)
1956
-
Supporting Or Featured Musical Actress,
Nominee
(Rae Allen)
1956
-
Best Featured Actress in a Musical,
Nominee
(Rae Allen)
1956
-
Best Choreography,
Winner
(Bob Fosse)
1956
-
Musical,
Winner
(George Abbott and Douglass Wallop (book and lyrics), Richard Adler and Jerry Ross (music), Frederick Brisson, Robert Griffith, Harold S. Prince in association with Albert B. Taylor (producers))
1956
-
Best Conductor and Musical Director,
Winner
(Hal Hastings)
1994
-
Musical Revival,
Nominee
(Mitchell Maxwell, PolyGram Diversifed Entertainment, Dan Markley, Kevin McCollum, Victoria Maxwell, Fred H. Krones, Andrea Nasher, The Frankel-Viertel-Baruch Group, Paula Heil Fisher, Julie Ross, Jon B. Platt, Alan Schuster, Peter Breger (producers))
1994
-
Best Featured Actor in a Musical,
Winner
(Jarrod Emick)
1994
-
Best Choreography,
Nominee
(Rob Marshall)
1994
-
Choreography,
Nominee
(Rob Marshall)
1994
-
Featured Actor In A Musical,
Winner
(Jarrod Emick)
1994
-
Best Revival Of A Musical,
Nominee
(Damn Yankees)
1994
-
Leading Actor In A Musical,
Nominee
(Victor Garber)
1994
-
Best Actor in a Musical,
Nominee
(Victor Garber)
Theatre World Award
1994
-
Best Debut Performance,
Winner
(Jarrod Emick)
1995
-
Special Award,
Winner
(Jerry Lewis)
Drama Desk Award
1994
-
Outstanding Orchestration,
Nominee
(Douglas Besterman)
1994
-
Outstanding Revival of a Musical,
Nominee
(Damn Yankees)
1994
-
Outstanding Supporting Actor in a Musical,
Winner
(Jarrod Emick)
Connect
Billing
Book by

Music and Lyrics by
Based on the novel, The Year the Yankees Lost the Pennant by Douglass Wallop
Requirements
You must give the authors/creators billing credits, as specified in the Production Contract, in a conspicuous manner on the first page of credits in all programs and on houseboards, displays and in all other advertising announcements of any kind.
Percentages listed indicate required type size in relation to title size.
DAMN YANKEES
Words and Music by

RICHARD ADLER and JERRY ROSS

Book by

GEORGE ABBOTT and DOUGLASS WALLOP

 

Based on the novel by Douglass Wallop "The Year the Yankees Lost the Pennant"
In advertisements of 1/4 page size or less or where only the title of the play, performance dates and venue are provided, the following "shortened billing" is permissible:
DAMN YANKEES
Video Warning
In accordance with the Performance License, you MUST include the following warning in all programs and in a pre-show announcement:

ANY VIDEO AND/OR AUDIO RECORDING OF THIS PRODUCTION IS STRICTLY PROHIBITED.
Included Materials
| Item | Quantity Included |
| --- | --- |
| ERRATA LIST | 1 |
| LIBRETTO/VOCAL BOOK | 26 |
| PIANO CONDUCTOR'S SCORE | 1 |
| PIANO VOCAL SCORE | 1 |
| STUDY GUIDE | 1 |
Production Resources
Resource
HOW DOES THE SHOW GO ON-10/CS
HOW DOES THE SHOW GO ON?
LOGO PACK
LOGO PACK DIGITAL
LOGO TEES SIX-PACK ADULT LARGE
LOGO TEES SIX-PACK ADULT MEDIUM
LOGO TEES SIX-PACK ADULT SMALL
LOGO TEES SIX-PACK ADULT X-LARGE
LOGO TEES SIX-PACK ADULT XX-LARGE
LOGO TEES SIX-PACK CHILD LARGE
LOGO TEES SIX-PACK CHILD MEDIUM
LOGO TEES SIX-PACK CHILD SMALL
ORCHEXTRA
PERFORMANCE ACCOMPANIMENT RECORDING
PRODUCTIONPRO-DIGITAL SCRIPT/SCORE
REFERENCE RECORDING
REHEARSAL ACCOMPANIMENT RECORDING
REHEARSCORE APP
STAGE MANAGER SCRIPT
STAGE WRITE APPLICATION
VIRTUAL STAGE MANAGER
STANDARD ORCHESTRATION
| Instrumentation | Doubling |
| --- | --- |
| BASS | |
| CELLO | |
| GUITAR | |
| HORN | |
| PERCUSSION | BONGO , CONGA , COWBELL , GLOCKENSPIEL , KIT , SANDPAPER , SLAPSTICK , TEMPLE BLOCKS , TYMPANI , VIBRAPHONE , WOOD BLOCK , XYLOPHONE |
| REED 1 | ALTO SAXOPHONE , CLARINET , FLUTE , PICCOLO |
| REED 2 | ALTO SAXOPHONE , CLARINET , FLUTE , PICCOLO |
| REED 3 | CLARINET , ENGLISH HORN , OBOE , TENOR SAXOPHONE |
| REED 4 | BASS CLARINET , BASSOON , TENOR SAXOPHONE |
| REED 5 | BARITONE SAXOPHONE , BASS CLARINET , BASSOON , CLARINET |
| TROMBONE | |
| TROMBONE 2 | |
| TROMBONE 3 | |
| TRUMPET | |
| TRUMPET 3 | |
| VIOLA | |
| VIOLIN | |
| VIOLIN 2 | |