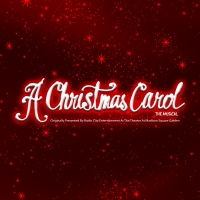 A Christmas Carol (Broadway Version)
Ebeneezer Scrooge and his ghostly encounters come to life in this lavish and thrilling Broadway adaptation.
Full Synopsis
The musical opens at the Royal Exchange. "London Town Carol" is sung, and lamps glow. Christmas is near, and all are awaiting the early close of the Exchange so that the holiday can officially start. From bankers to charwomen, all wish each other "A Jolly Good Time," looking forward to the holiday fun ahead. Mr. Smythe and his daughter, Grace, enter, looking for Ebenezer Scrooge, hoping that he will give them a bit more time to pay their mortgage. In a draft of cold wind, Scrooge enters with his clerk, Bob Cratchit. Mr. Smythe approaches Scrooge to ask for more time to pay – he needs money for his wife's funeral – but Scrooge denies the request and tells little Grace, "You'll learn soon enough, child, that Christmas is a HUMBUG!" When asked for charity for the poor, Scrooge replies, "Are there no prisons? Are there no workhouses?" Cratchit tells him about his sickly youngest son, Tiny Tim, but Scrooge pays little mind to him and grudgingly gives him Christmas off. Scrooge believes that charity has "Nothing to Do with Me," as he ventures home through the streets, encountering some of the denizens of the city and treating them all rudely. The funeral of Mrs. Smythe passes, giving Scrooge a chill.
We travel to Cratchit's humble home, where Bob Cratchit and his son, Tiny Tim, set off to buy the makings of their meager Christmas feast. Bob tells his son that "You Mean More to Me" than anything. Meanwhile, Scrooge meets his nephew, Fred, who invites him for Christmas dinner. Scrooge has never met Fred's wife, Sally. Fred assures his uncle that he wants nothing from him, but Scrooge sends him on his way.
Scrooge's harsh treatment of his fellow Londoners includes a sandwich board man, advertising a Christmas pantomime, a blind old hag and a lamplighter (all of whom we will meet again as the Ghosts of Christmas Past, Christmas Present and Christmas Yet-to-Be). He refuses to buy tickets to the pantomime, refuses to help the lamplighter and refuses to give alms to the blind old hag.
When he arrives at his home, he has a vision – the face of his deceased business partner, Jacob Marley. Later, in his parlor, the Ghost of Marley materializes, bound in chains that he, himself, forged. Marley conjures up all of the mournful ghosts of greedy former business associates, who scare Scrooge silly and try to convince him to change his ways ("Link by Link"). Marley tells Scrooge that he will be visited by three ghosts "who yet may stop you ending up like me."
The clock chimes one, and Scrooge is awakened by a visit from the Ghost of Christmas Past (who looks remarkably like the Lamplighter). The ghost sings of "The Lights of Long Ago" and shows Scrooge scenes from his past: his father being taken to jail for non-payment of debts and his separation from his mother and his beloved sister, Fan. Next, we see Scrooge at the age of twelve, saving every cent he earns, working in a boot factory. The young boy writes to Fan and dreams of "A Place Called Home," but Fan will die giving birth to Fred. Next, Scrooge is reminded how joyous he used to be at "Mr. Fezziwig's Annual Christmas Ball." Here, Scrooge realizes that an employer can make his workers happy. While the festivities continue, Scrooge watches his younger self, still filled with light, as he proposes to his beloved, Emily ("A Place Called Home").
Young Scrooge and Marley go into business, growing more ruthless as they become more and more successful. They turn on their former benefactor, jolly Mr. Fezziwig, and demand that he repay a debt to them. Later, Emily breaks off her engagement with Ebenezer, returning her gold engagement ring, which she feels he will value more than her. Desperate to end these painful visions, Scrooge chases the Ghost of Christmas Past away and is left desolate and alone.
The clock strikes two, and Scrooge is visited by the Ghost of Christmas Present (Sandwichboard Man.) The ghost presents Scrooge with a lavish array of Christmas treats, which all come to life and dance ("Abundance and Charity"). Next, the ghost whisks Scrooge off to Bob Cratchit's house, where the family enjoys "Christmas Together." "Christmas Together" continues with a visit to Fred's house, where everyone toasts Scrooge, despite his absence; finally, all of London celebrates love, friendship and family – the true joys of Christmas, "together, all over the earth." The ghost shows Scrooge how fragile Tiny Tim is; then he reveals two more children in a desperate state of need: they are Ignorance and Want. When asked if Tiny Tim will live, Scrooge is told that, if these shadows remain unaltered by the future, the child will die.
Scrooge begs to know what he can do to change the future, but the clock strikes three, and he is whisked to St. Paul's graveyard by the ominous Ghost of Christmas Yet-to-Be. (Blind Old Hag). Gravediggers are digging a grave. ("Dancing on Your Grave.") Scrooge doesn't know who has died.
A corpse is unceremoniously dumped from its bed while the undertakers strip the body of its clothes and bedclothes. Scrooge sees the Cratchit family grieving over the grave of Tiny Tim. Finally, he sees his own name on a gravestone and understands that he will die alone and unmourned. He vows to change his ways, "Yesterday, Tomorrow and Today." Scrooge has a miraculous vision of children singing like angels ("God Bless Us Every One"), but his joy is interrupted by the ghost, who tries to wrap him in a shroud and wrestle him into his own grave.
It is suddenly Christmas morning, and Scrooge wakes up, wrestling with his own bed sheets! Thrilled to realize that he hasn't missed Christmas, he gives a young boy money to buy a prize turkey. Dancing through the streets of London, Scrooge sings "let it all have to do with me!" as he hands out charity, forgives Mr. Smythe his debt and amazes the Lamplighter, Blind Old Hag and Sandwichboard Man with his generosity; he then goes out into the audience, giving out candies and treats.
Scrooge delivers the prize turkey to the Cratchits and promises to raise Bob's salary and help his struggling family. Carrying Tiny Tim on his shoulders, Scrooge goes to his nephew's house, hoping to be allowed to come to dinner. Fred and Sally sing, "Welcome home, Uncle Scrooge, welcome home to family."
It starts to snow as everyone sings a reprise of "Christmas Together," and all build a giant snowman. Tiny Tim calls out, "And God bless us, every one!" The musical ends with the song, "God Bless Us Every One." "Star by star up above, and kindness by human kindness, light this world with your love / And God bless us every one."
Show History
Inspiration
A Christmas Carol, with music by Alan Menken, lyrics by Lynn Ahrens and a book by Mike Ockrent and Lynn Ahrens, is an adaptation of Charles Dickens' novella of the same name, considered a classic Christmas story. The creators were drawn together by the desire to make a show that could appeal to children who had never or rarely experienced live theatre. Ockrent in particular was inspired by the "Pantomimes" that he would attend as a young child every holiday season in North London. As Ockrent says in his original director's note, "I hope that kids and families will experience the same thrill I had all those years ago of enjoying the show and the wonderful reminder that nothing need remain the same, that within us all we have the capacity to share, communicate and love each other.
Productions
A Christmas Carol first hit the Broadway stage on December 1, 1994, at the Paramount Theatre at Madison Square Garden, originally choreographed by Susan Stroman. It was then performed in a limited engagement every December from 1994 to 2003. In 2004, the musical was adapted for television in a production produced by Hallmark Entertainment. The television special features performances from such talents as Kelsey Grammar, Jason Alexander, Jesse L. Martin and Jennifer Love Hewitt. The musical received its UK premiere at the Tabard Theatre in London, running from December 6, 2013, to January 5, 2014.
Cultural Influence
A Christmas Carol ran for eleven straight holiday seasons, the only major show to run for so long by strictly being a holiday engagement. This has helped pave the way for theaters to put up annual holiday musicals such as A Christmas Story and Elf The Musical.
Trivia
The original Broadway production received Drama Desk and Outer Critics Circle Award nominations for Best Musical.
Several notable men have come into the role of Ebeneezer Scrooge over the years, including: F. Murray Abraham, Tim Curry, Tony Randall, Frank Langella, Tony Roberts, Jim Dale, Roger Daltrey and Roddy McDowall in his final role on Broadway.

Kelsey Grammer, who plays Scrooge in the Menken/Ahrens A Christmas Carol on NBC in 2004, was in a workshop production of Sunday in the Park with George when he read for the guest role of Frasier Crane in "Cheers."
Critical Reaction
"A Christmas Carol is soaring, delightful musical theatre with a treasure house of beautiful, evocative music... every element contributes to the joy of the occasion."
– Talkin' Broadway
"A tonic for adults, and for children a transfixing journey.... Musically speaking, Mr. Menken is an optimist, which... makes him the right man when it comes to spreading good cheer. Ms. Ahrens keeps her lyrics simple."
– The New York Times
"The music itself that gives the show its amusing and heart-warming edge. Many of Menken's catchy tunes... continue to dingdong after the show."
– The Public Review
Outer Critics Circle Award
1994
-
Best Broadway Musical,
Nominee
(A Christmas Carol)
Outer Critics Circle Award
1994
-
Best Choreography,
Winner
(Susan Stroman)
Drama Desk Award
1995
-
Outstanding Costume Design,
Nominee
(William Ivey Long)
1995
-
Outstanding Musical,
Nominee
()
Connect
Billing
Music by

Lyrics by

Book by
Based on the story by Charles Dickens
Requirements
You must give the authors/creators billing credits, as specified in the Production Contract, in a conspicuous manner on the first page of credits in all programs and on houseboards, displays and in all other advertising announcements of any kind.
Percentages listed indicate required type size in relation to title size.
A CHRISTMAS CAROL
The Musical
Music by

ALAN MENKEN

Lyrics by

LYNN AHRENS

Book by

MIKE OCKRENT &

LYNN AHRENS 
Based on the story by Charles Dickens
Original Choreography by
Susan Stroman
Originally directed by Mike Ockrent
Originally Presented by Radio City Entertainment
At the Theater at Madison Square Garden
Video Warning
In accordance with the Performance License, you MUST include the following warning in all programs and in a pre-show announcement:

ANY VIDEO AND/OR AUDIO RECORDING OF THIS PRODUCTION IS STRICTLY PROHIBITED.
Included Materials
| Item | Quantity Included |
| --- | --- |
| CHOREOGRAPHY & DIRECTION MANUAL | 1 |
| LIBRETTO/VOCAL BOOK | 35 |
| PIANO CONDUCTOR'S SCORE | 2 |
Production Resources
Resource
PERFORMANCE ACCOMPANIMENT RECORDING
CUSTOMIZABLE SHOW POSTER
FULL SCORE VOL 1 OF 2
FULL SCORE VOL 2 OF 2
HOW DOES THE SHOW GO ON-10/CS
HOW DOES THE SHOW GO ON?
KEYBOARD PATCH SOLUTIONS
KEYBOARDTEK
LOGO PACK
LOGO PACK DIGITAL
ORCHEXTRA
PRODUCTIONPRO-DIGITAL SCRIPT/SCORE
REFERENCE RECORDING
REHEARSAL ACCOMPANIMENT RECORDING
REHEARSCORE APP
STAGE WRITE APPLICATION
TRANSPOSITIONS-ON-DEMAND
VIRTUAL STAGE MANAGER
STANDARD ORCHESTRATION
| Instrumentation | Doubling |
| --- | --- |
| BASS | (ACOUSTIC BASS) |
| CELLO | |
| DRUMS | COWBELL , DRUM KIT , FINGER CYMBALS , GONG , MARK TREE , RATCHET , TRIANGLE , WOODBLOCKS |
| HARP | |
| HORN | |
| KEYBOARD 1 | |
| KEYBOARD 2 | |
| PERCUSSION | ANVIL , BASS DRUM W/PIATTI , BELL TREE , BOXING BELL , CHAINS , CHIMES , FINGER CYMBALS , FLEXATONE , GONG , MARK TREE , ORCHESTRA BELLS , POP GUN , SIREN WHISTLE , SLEIGH BELLS , SMALL CABASA , SUSPENDED CYMBAL , TAMBOURINE , TEMPLE BLOCKS , TIMPANI , TRIANGLE , WOODBLOCK , XYLOPHONE |
| REED 1 | CLARINET , FLUTE , PICCOLO , SOPRANO SAX |
| REED 2 | CLARINET , ENGLISH HORN , OBOE , TENOR SAXOPHONE |
| REED 3 | ALTO SAXOPHONE , Bb CLARINET , Eb CLARINET , FLUTE , PENNY WHISTLE , PICCOLO |
| REED 4 | BASS CLARINET , CLARINET , FLUTE , TENOR SAXOPHONE |
| REED 5 | BASS SAXOPHONE , BASSOON , CLARINET , FLUTE |
| TROMBONE | EUPHONIUM , TROMBONE |
| TROMBONE 2 | BASS TROMBONE , TUBA |
| TRUMPET | FLUGELHORN , TRUMPET |
| TRUMPET 2 | FLUGELHORN , TRUMPET |
| TRUMPET 3 | PICCOLO TRUMPET , TRUMPET |
| VIOLA | |
| VIOLIN | |
| VIOLIN 2 | |