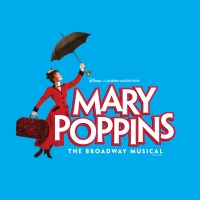 Disney and Cameron Mackintosh's Mary Poppins
Everyone's favorite practically perfect nanny takes the stage in this Supercalifragilisticexpialidocious musical adventure.
Full Synopsis
Act One
Bert, a man of many trades, informs us that something big is about to happen to the Banks family. At No. 17 Cherry Tree Lane, Jane and Michael Banks are constantly misbehaving, and Katie Nanna – the latest in a long line of nannies – has had enough ("Cherry Tree Lane"). She leaves, and George Banks asks his wife, Winifred, to place an advertisement in the newspaper for a new nanny, but the children decide to write their own ad ("The Perfect Nanny"). Mary Poppins arrives and fits the children's requirements exactly ("Practically Perfect").
Mary Poppins takes the children to the park, where they meet Bert, who is creating his latest works of art. Bored with the park and wary of Bert's scrappy appearance, the children try to escape, but Mary urges them to see the magic in everyday life. Then, the park bursts into brilliant colors as the statues come to life and dance with them ("Jolly Holiday").
As Mary Poppins begins to win over the children, George informs Winifred that they must maintain order and convention. Winifred feels that she is disappointing both her husband and children, struggling to understand her role within the family... and within the world ("Let's Hope She Will Stay"). The household prepares for Mrs. Banks' party ("A Spoonful of Sugar") but, even with a dose of magic from Mary Poppins, no one shows up. Mrs. Banks is left feeling more lost than ever.
Mary Poppins takes Jane and Michael on a trip to visit their father at the bank where he works ("Precision and Order"). There, George has a choice: to give a loan to Herr Von Hussler, a businessman with a dubious money-making scheme, or to John Northbrook, who presents a solid plan for a factory that would help many, but offers little collateral. An innocent question from Jane prompts George to remember the ideals and values he once held ("A Man Has Dreams"). He decides to take a chance on Mr. Northbrook and gives him the loan.
On the way home from the bank, the children and Mary Poppins run into the Bird Woman, who is feeding the birds in front of St. Paul's Cathedral. Jane is still worried about outer appearances and shuns her, but Michael gives the Bird Woman money ("Feed the Birds").
Mary Poppins, Jane, Michael and Bert meet Mrs. Corry, the mysterious owner of an unusual "talking shop," where people purchase words along with gingerbread. The children are surprised to hear that, when their father was a boy, he came to this shop to enjoy its magic and spirit of invention ("Supercalifragilisticexpialidocious").
Things begin to go very wrong for George. Von Hussler goes to another bank and makes millions, and George is blamed for passing on the deal and is suspended without pay. In his stress, George yells at the children. In turn, an angry Jane and Michael fight over their toys, which magically come to life to teach them a lesson ("Playing the Game"). Recognizing the children are not yet ready for the lessons she has to teach them, Mary says goodbye to Bert ("Chim Chim Cher-ee"), leaving a note that reads, "au revoir," or "till we meet again."
Act Two
The fall has turned to winter. The house is bustling again because a nanny is returning to No. 17 Cherry Tree Lane. However, it's not the much-missed Mary Poppins, but Miss Andrew, who raised George. Miss Andrew is a harsh woman, who believes that children should be punished on a regular basis with a horrible-tasting medicine ("Brimstone and Treacle"). In a panic, the children escape the house and run to the park, where they meet Bert, who explains that the cure for every ill can be found at the end of a kite string ("Let's Go Fly a Kite"). Their kite flies up into the London sky and, when it comes back down, Mary Poppins is with it. George has also been hiding from Miss Andrew ("Good for Nothing"). With her entire family missing, Winifred worries that she is to blame, but resolves to assert herself and fight harder for the people she loves ("Being Mrs. Banks").
Mary returns home with the children and defeats Miss Andrew in an epic battle of wits and will. George returns, relieved to find that Miss Andrew has left, but still anxious about supporting his family. Winifred reminds him he can count on her and the children to stick by him.
Whisked up to the rooftops, Mary Poppins, Jane and Michael meet Bert and his fellow chimney sweeps ("Step in Time"). The sweeps dance across the rooftops of London and into the Bankses' house, wishing good luck to George and shaking his hand as they go.
The Bank Chairman asks to see George immediately. George fears the worst, but Bert reminds him that his family is more important that his ambitions ("A Man Has Dreams – Reprise / A Spoonful of Sugar – Reprise"). George leaves for the bank as Winifred wishes that she could go with him. Mary Poppins and the children encourage her to do what she believes is right ("Anything Can Happen").
In front of the bank's board of directors, George launches into a defense of his actions before they can tell him that he was right all along: Von Hussler's scheme has fallen through, and the competing bank that approved his loan has been ruined. Northbrook's business, on the other hand, is thriving and earning a healthy profit. Winifred shows up, ready to defend her husband, but, when she finds the board is promoting him, she negotiates his raise for him. George announces that, from now on, his family comes first. As George and Winifred walk along the streets of London, Mary Poppins takes Jane and Michael on one more magical adventure – this time, through the heavens.
Her job done, Mary Poppins says her goodbyes and flies off to her next task. Although the Banks family is sad to see her go, they are glad that they have finally found one another.
Show History
Inspiration
Mary Poppins is a musical based on the book series by P.L. Travers of the same name and, more notably, the 1964 musical film starring Julie Andrews and Dick Van Dyke.  The stage show features many of the original songs made famous by the Oscar-winning duo of Richard and Robert Sherman, with additional music and lyrics from George Stiles and Anthony Drewe, respectively, and a book by Julian Fellowes, creator for the television series, Downton Abbey.
The genesis of the musical came at the hands of mega-producer, Cameron Mackintosh (Les Misérables, Cats, Miss Saigon).  In 1993, he met with Pamela Travers, the author of the original book series, to get her permission to musicalize the stories of Mary Poppins.  When Travers agreed, he got in contact with Disney Theatrical in 2001, sparking a partnership that would allow the show to use music from the original movie.
Around 2002, Stiles and Drewe (Olivier winners for Honk!) had heard about the new collaboration and wrote a demo song entitled "Practically Perfect" for the producers.  Once they listened to the song, they were brought onto the creative team.  Fellowes was then brought aboard for his "clear understanding of the social niceties of the English class system that prevailed in the Edwardian era."  Rounding off the production team for original production were director, Sir Richard Eyre, and Bob Crowley, a multi-Tony winner who had previously worked with the Royal Shakespeare Company, Royal Ballet and Royal Opera.  A workshop of the musical was held at the end of 2003 at the Old Vic Theatre, using the cast from a recently closed production of My Fair Lady.
The stage adaptation pulls some elements from the original book that were eliminated from the film, including the walking statue and the ladders to the stars.  Several scenes from the film were omitted, most notably the scenes of Uncle Albert laughing on the ceiling and the dancing penguins in "Jolly Holiday," which were replaced with dancing statues and a trip to Mrs. Corry's shop, respectively.  The musical generally places more emphasis on Jane and Michael being naughty children and on their parents having more of a dysfunctional relationship.  Mrs. Banks is no longer a suffragette, but a former actress, and Mr. Banks' back story is much more fleshed out.  A handful of musical sequences have also been placed in a different chronology, including bumping up "Let's Go Fly a Kite" to the middle of the show, rather than the end.
Productions
Mary Poppins had its world premiere at the Bristol Hippodrome in London with a limited engagement from September 18, to November 6, 2004.  The production, starring Laura Michelle Kelly and Gavin Lee, then moved to the Prince Edward Theatre on December 15, running more than three years until January 12, 2008.  With a very successful production, the producers' eyes turned west, and the New Amsterdam Theatre housed the Broadway premiere on November 16, 2006.  Initially starring Broadway performer, Ashley Brown, and returning player, Gavin Lee, it made minimal changes to the songs and staging.  After almost seven years of success, the Broadway production closed on March 3, 2013, to make room for Disney Theatricals' new production of Aladdin.
For the touring productions of the show, the sets were significantly reduced in size and intermediate scenes were removed to accommodate for smaller houses.  The first tour began in the UK on June 4, 2008, playing until April 18, 2009.  The US tour started in Chicago on March 25, 2009, featuring performances from the leads of the Broadway production, Ashley Brown and Gavin Lee.  Like its Broadway equivalent, the tour was extremely successful, playing its last performance in Anchorage, Alaska, on June 2, 2013.
Mary Poppins has also seen a significant amount of play outside of the UK and the US.  The first foreign-language production opened on October 18, 2008, in Goteburg, Sweden, performed entirely in Swedish.  Other locations for international productions include Finland, Mexico City, Australia, Japan and France.  The first regional production of the musical was staged at the Dunfield Theatre Cambridge in Ontario, Canada.
Cultural Influence
Mary Poppins is the first Disney Theatrical show to open in the UK.  It is also the first show to open in collaboration with another theatre company.
At the time of writing, Mary Poppins was the 30th longest-running show in Broadway history.
Mary Poppins was the first live-action Disney movie to be adapted to the stage.  Its success gave Disney Theatrical confidence to adapt other live-action films: High School Musical, High School Musical 2, and Newsies.
Trivia
The West End production of Mary Poppins was nominated for eight additional Olivier Awards in 2005, including Best New Musical and Best Director.
The Broadway production of Mary Poppins was nominated for seven Tony Awards, including Best Musical and Best Choreography.  It was also nominated for six Drama Desk Awards (including Outstanding Musical, Outstanding Book of a Musical and Outstanding Choreography), eleven Outer Critics Circle Awards (including Outstanding New Broadway Musical and Outstanding New Score), and a Drama League Award nomination for Distinguished Production of a Musical.
Celebrities that have starred in Mary Poppins (aside from those listed above) include: Christian Borle (Bert), David Haig (George Banks), Scarlett Strallen (Mary), Gavin Creel (Bert), Philip Quast (George Banks), Lisa O'Hare (Mary), Robert Madge (Michael), Louise Gold (Miss Andrew/Miss Smythe), Rebecca Luker (Winifred Banks), Daniel Jenkins (George Banks), Jack Montgomery (Michael), Carrie Hope Fletcher (Jane), Aden Gillett (George Banks), Harry Stott (Michael), Jenny Galloway (Mrs. Brill), Linzi Hateley (Winifred Banks), Jane Carr (Mrs. Brill), Henry Hodges (Michael), Jonathan Freeman (Admiral Boom/Bank Chairman), Andrew Keenan-Bolger (Ensemble), Martin Ball (George Banks) and Simon Burke (George Banks).
Critical Reaction
"Practically perfect"
– The Journal News
"Nobody does magical entertainment like Disney except Cameron Mackintosh. The two have teamed up for a Mary Poppins that s a roof-raising, toe-tapping, high-flying extravaganza!"
– New York Daily News
"Irresistible! A fresh fountain of youth that will make many a grown-up feel like a kid again!"
– USA Today
"LOVELY.... Four stars! A super hit!"
– New York Post
"The most bewitching thing to hover over a Broadway audience in years."
– The Washington Post
"[An] entertaining narrative that both expands on the time-honored story from the film while largely reinventing it by going back to the source books of the late Pamela Travers."
– Variety
Connect
Billing
Original Music and Lyrics by

Book by

New Songs and Additional Music and Lyrics by

Co-Created by
A Musical based on the stories of P.L. Travers and the Walt Disney Film
Requirements
You must give the authors/creators billing credits, as specified in the Production Contract, in a conspicuous manner on the first page of credits in all programs and on houseboards, displays and in all other advertising announcements of any kind.
Percentages listed indicate required type size in relation to title size.
Licensee shall incorporate the following credits and comply with all size and other restrictions on the title page of all playbills and programs, and in all houseboards, displays and in all other advertising, press release and any other promotional material, except as otherwise provided below, as follows: 
The (Licensee)
Production of
Disney and Cameron Mackintosh's
MARY POPPINS
A Musical based on the stories of P.L. Travers
and the Walt Disney Film

Original Music and Lyrics by
Richard M. Sherman and Robert B. Sherman
Book by
Julian Fellowes
New Songs and Additional Music and Lyrics by
George Stiles and Anthony Drewe
Co-Created by
Cameron Mackintosh
The Licensee Billing must be in the form specified above, including the words "Production of" below your billing, which shall be visually contiguous with the title, all so that the audience is informed that you are the producer. As specified above, your billing shall be no less than 50% of the size of the logo or artwork title, as measured by the proportion of the average size of your name to the largest letter in the logo or artwork title. The names "Disney and "Cameron Mackinstosh's" above the title shall be in plain type font, shall be no more than 33 1/3% of the title, as measured by the proportion of the size of the "D" in "Disney" to the size of the largest letters in the title, and in no event may you duplicate the Broadway logo or title, nor the logo and title from the Walt Disney film "Mary Poppins" (the "Film"), unless you separately license the right to use the Broadway logo. If you do separately license the Broadway logo, then you shall duplicate such logo and billing credits exactly as provided, including the fonts.
(For professional licensees): If you elect not to purchase the Broadway logo, then you shall submit your logo or artwork title for approval prior to any public use thereof.  The size of the credit to the authors, P.L. Travers, the Walt Disney Film and Cameron Mackintosh shall be no less than 50% of the regular title, and if there is no regular title, then no less than 20% of the logo or artwork title. 
SHORTFORM BILLING FOR LEAFLETS AND CLASSIFIED ADVERTISEMENTS (Point sizes must be in same proportion as set forth for full billing above):
The (Licensee)
Production of
Disney and Cameron Mackintosh's
MARY POPPINS
A Musical based on the stories of P.L. Travers
and the Walt Disney Film
The following credits shall be included in the program only on one of the two pages following the title page, in a box, and shall be no less than 40% of the regular title, and if there is no regular title, then no less than 16% of the logo or artwork title, and in all events 80% of the size of the credit to the authors, P.L. Travers, the Walt Disney Film, and Cameron Mackintosh as they appear on the title page: 
Original London and Broadway Production Credits:
Produced by
Cameron Mackintosh and Thomas Schumacher
| | |
| --- | --- |
| Co-Choreographer | Lighting Design |
|  Stephen Mear | Howard Harrison |
Scenic and Costume Design
Bob Crowley
Co-Direction and Choreography
Matthew Bourne
Video Warning
If you purchase a separate license to allow non-commercial video recording of this production, you must print the following in your program. ANY VIDEO RECORDING MADE OF THIS PERFORMANCE IS AUTHORIZED FOR PERSONAL, AT-HOME, NON-COMMERCIAL USE ONLY. THE SALE OR DISTRIBUTION OF SUCH RECORDING IS STRICTLY PROHIBITED UNDER FEDERAL COPYRIGHT LAW. If you do not purchase the separate license for video recording, you must print the following in your program. The videotaping or other video or audio recording of this production is strictly prohibited
Included Materials
| Item | Quantity Included |
| --- | --- |
| ERRATA LIST | 1 |
| LIBRETTO/VOCAL BOOK | 28 |
| PIANO VOCAL SCORE | 2 |
| PRODUCTION HANDBOOK | 1 |
| PRODUCTION HANDBOOK DIGITAL | 1 |
| PROMOTIONAL ITEMS | 1 |
| VIDEO SAMPLER | 1 |
Production Resources
Resource
ALT: FULL SCORE VOL 1 OF 4
ALT: FULL SCORE VOL 2 OF 4
ALT: FULL SCORE VOL 3 OF 4
ALT: FULL SCORE VOL 4 OF 4
CHOREOGRAPHY MANUAL
CUSTOMIZABLE SHOW POSTER
FULL SCORE VOL. 1 OF 4
FULL SCORE VOL. 2 OF 4
FULL SCORE VOL. 3 OF 4
FULL SCORE VOL. 4 OF 4
HOW DOES THE SHOW GO ON-10/CS
HOW DOES THE SHOW GO ON?
KEYBOARD PATCH SOLUTIONS
KEYBOARDTEK
LOGO PACK
LOGO TEES SIX-PACK ADULT LARGE
LOGO TEES SIX-PACK ADULT MEDIUM
LOGO TEES SIX-PACK ADULT SMALL
LOGO TEES SIX-PACK ADULT X-LARGE
LOGO TEES SIX-PACK ADULT XX-LARGE
LOGO TEES SIX-PACK CHILD LARGE
LOGO TEES SIX-PACK CHILD MEDIUM
LOGO TEES SIX-PACK CHILD SMALL
ORCHEXTRA
PARROT UMBRELLA (ADULT)
PERFORMANCE ACCOMPANIMENT RECORDING
PRODUCTIONPRO
REFERENCE RECORDING
REHEARSAL ACCOMPANIMENT RECORDING
REHEARSCORE APP
SCENE PARTNER
SCENIC PROJECTIONS 2.0
SCENIC PROJECTIONS PRO 2.0
SCENIC PROJECTIONS-ANIMATED
SCENIC PROJECTIONS-STILL
STAGE MANAGER SCRIPT
STAGE WRITE APPLICATION
TRANSPOSITIONS-ON-DEMAND
VIDEO LICENSE
VIDEO LICENSE
VIRTUAL STAGE MANAGER
STANDARD ORCHESTRATION: 16-PIECE ORCHESTRATION
| Instrumentation | Doubling |
| --- | --- |
| BASS | ACOUSTIC BASS , ELECTRIC BASS |
| CELLO | |
| GUITAR | BANJO , ELECTRIC GUITAR , NYLON STRG ACOUSTIC , STEEL STRG ACOUSTIC |
| HORN | |
| HORN 2 | |
| KEYBOARD 1 | |
| KEYBOARD 2 | |
| PERCUSSION | BELL TREE , BIRD WHISTLE , BOO BAMS , CABASA , CHIMES , CROTALES , GLOCKENSPIEL , GRAN CASSA , MARIMBA , MARIMBA/KALIMBA , MARK TREE , PIATTI , SUSPENDED CYMBAL , TAM TAM , TAMBOURINE , TIMPANI , TUBULAR BELLS , VIBES , WASHBOARD , XYLOPHONE |
| PERCUSSION 2 | BELL TREE , BONGOS , CLASH CYMBALS , COWBELL , CRICKET , CROTALES , CUICA , DRUM KIT , FINGER CYMBALS , GONG , GUIRO , LARGE TRIANGLE , MARK TREE , MEDIUM TRIANGLE , METAL RATTLE , PIATTI , PICCOLO WOOD BLOCK , RATCHET , RODS (ON HI HAT) , SHIP'S BELL , SMALL GONG , SMALL TRIANGLE , SPOONS , SUSPENDED CYMBAL , TAMBOURINE , TEMPLE BLOCKS , TOY DRUM , WHIP , WIND CHIMES , WIND MACHINE , WOODBLOCKS |
| PIANO CONDUCTOR'S SCORE ACT 1 | |
| PIANO CONDUCTOR'S SCORE ACT 2 | |
| REED 1 | ALTO RECORDER IN F , FLUTE , PICCOLO |
| REED 2 | ENGLISH HORN , HARMONICA , OBOE |
| REED 3 | Bb CLARINET , BASS CLARINET , Eb CLARINET |
| TROMBONE | EUPHONIUM , TROMBONE |
| TROMBONE 2 | BASS TROMBONE , TROMBONE , TUBA |
| TRUMPET | CORNET , FLUGELHORN , TRUMPET |
| TRUMPET 2 | CORNET , FLUGELHORN , TRUMPET |
ALTERNATE ORCHESTRATION: 11-PIECE ORCHESTRATION
| Instrumentation | Doubling |
| --- | --- |
| ALT: BASS | |
| ALT: CELLO | |
| ALT: HORN 1 | |
| ALT: HORN 2 | |
| ALT: PC ACT 1 | |
| ALT: PC ACT 2 | |
| ALT: PERCUSSION | |
| ALT: PIANO 1/KEYBOARD 1 | |
| ALT: PIANO 2/KEYBOARD 2 | |
| ALT: REED 1 | FLUTE , PICCOLO |
| ALT: REED 2 | Bb CLARINET , BASS CLARINET , Eb CLARINET |
| ALT: TROMBONE | |
| ALT: TRUMPET | CORNET , FLUGELHORN , TRUMPET |