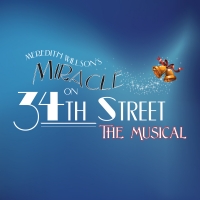 Meredith Willson's Miracle on 34th Street The Musical
Kris Kringle takes on the cynics in this musical adaptation of the beloved holiday classic.
Full Synopsis
Act One
At rise, we are in New York City on Thanksgiving Day. Passersby notice that the floats for the Macy's Thanksgiving Day Parade are even more impressive than last year. ("Opening – Act I").
Susan Walker, age six, sits on the steps of a brownstone, reading the New York Times. A silver-bearded gentleman enters and tells one of the parade workers that the reindeer on the Santa float are out of position. Fred Gaily, a marine captain, enters. He tries to make small talk with Susan about the parade, but she clearly has no interest in him or the commotion going on around her; besides, she doesn't believe in Santa Claus. The parade balloons arrive and the excitement begins ("Big Ca-lown Balloons"). Fred insists on taking Susan to get a closer look, so she hops on his shoulders and they follow the parade.
The next scene takes place on a side street near Macy's, in a staging area for the parade. Doris Walker, Susan's single mother, is in charge. She's concerned because her Santa Claus hasn't shown up yet. The bearded gentleman we previously met approaches her, and she initially mistakes him for the Macy's Santa. She realizes that this isn't the case, however, after she sees her Santa quite drunk and unable to ride in the parade float. Out of desperation, she quickly convinces the bearded gentleman to substitute for the drunk Santa, and he agrees to help out. The bearded gentleman dons the costume, mounts the sleigh and saves the day.
The parade goes by in a choreographed fashion ("Parade"). At first, it appears to be a rainy day, but the sun suddenly comes out as the Santa Claus float rounds the corner. Fred and Susan watch. Doris stands on top of Macy's roof with Marvin Shellhammer, a Macy's junior executive. They both comment about how good the substitute Santa seems to be. Later that same day, Doris comes home to find Susan typing at a typewriter. Doris gives Susan a present of bunny slippers and asks about her day. The two go through a fun ritual that shows how close they are ("Arm in Arm"). Susan tells her mother about her meeting with Fred and asks her if she ever believed in Santa Claus. Doris avoids the question and puts Susan to sleep. Alone, Doris explains why she will never allow Susan to believe in fantasies: they don't come true ("You Don't Know").
The next morning in the Manager's Briefing Room at Macy's, Mr. Shellhammer is training the new clerks; he has ordered too many plastic alligators and is teaching the new clerks how to push them on customers by using a jingle he wrote ("Plastic Alligator"). His theory is that you can sell anything if you sing it. Mr. Macy enters and is not impressed by Mr. Shellhammer or his jingle.
The action moves to Macy's Toy Department. The Bearded Gentleman is now playing Santa Claus. He is sending parents to other stores to purchase toys that Macy's doesn't have in stock. This seems strange, but he tells the parents that Macy's is just demonstrating the true spirit of Christmas. He also starts speaking in Dutch to a little girl who doesn't speak English ("Bugles"). Fred brings young Susan to see Santa; but she knows that he's not the real deal... that he's just someone her mother hired. But this Santa is different. Susan isn't sure what to make of his authenticity, especially when he refers her to Gimbels, as well. The Bearded Gentleman explains to Susan that Christmas is about love, even love between Macy's and Gimbel's ("Here's Love"). The customers are delighted that Macy's really understands the Christmas spirit, as they march over to Gimbel's to find the items not found at Macy's.
Lights come up on Susan and "Uncle Fred" at a playground. She asks him to be her father, but he tells her that he is a confirmed bachelor and plans on staying that way. As they talk, Susan tells Fred that her birthday is on Christmas, so she never has a party. He decides to make today her honorary birthday and be her honorary father... just until they go home ("My Wish").
Back at Doris' office, Ms. Shellhammer reports that Macy's Santa is steering everyone off to Gimbel's. It also seems that this gentleman goes by the name of Kris Kringle. Mr. Macy shows up, furious. Doris suggests a sales idea – what if they follow Santa's lead and have all of their employees send customers to other stores where the prices are cheaper? Macy's will be the store with the heart. They'll put public service ahead of profits and subsequently make more profit than ever. Mr. Macy loves the idea.


Doris gives Mr. Kringle a lifetime contract. She tells him that Macy's is following his lead on sending people to other stores. This news cheers him up immensely; he was going to give up on Christmas because of commercialism and cynicism, but she has given him hope ("Pine Cones and Holly Berries"). Doris, Mr. Shellhammer and Mr. Kringle all sing. Mr. Macy comes back in saying excitedly that the new campaign is working. Doris tells her secretary to call home and tell Susan that she's coming home for dinner. Shellhammer informs her that he saw Susan at the store earlier with a man whom he didn't know. Doris is determined to check this out.
The scene shifts to Fred's apartment, where Doris confronts him about why he took Susan to see Santa Claus. She has told Susan that Santa is a myth and doesn't want her daughter to think any differently. Also, Doris doesn't trust men. Susan's father walked out on them the day that Susan was born. She doesn't want Susan to suffer as she has, so she tells Fred to stay away from her. Fred assures Doris that he is not looking to settle down with her; he's just passed the bar after three tries and wants to focus on his career. Despite being vehement in his disinterest, he ends up kissing her ("Look Little Girl"). She leaves; they're both confused about why that just happened ("Look Little Girl – Reprise").
The following Monday morning, Mr. Sawyer, the Macy's store psychologist, puts Mr. Kringle through a series of tests; he is being subjected to this exam because he claims to be Santa Claus. Mr. Sawyer tells his secretary that Mr. Kringle should be dismissed from work as soon as possible. His secretary is appalled; Mr. Kringle got all of the answers right. Mr. Sawyer fires her, and Mr. Kringle approaches him and demands that he retract her firing. Sawyer refuses and fakes being attacked by Mr. Kringle.
That night at the toy department, Susan visits Mr. Kringle. He helps her use her imagination to create a world of her own ("Expect Things to Happen"). She imagines herself having a birthday party and a father, who turns out to be Fred ("Toy Ballet"). Mr. Kringle breaks Susan's spell – she is no longer lost in her imagination. Mr. Macy enters with the Governor, Mayor and many press people, all of whom have come to witness Mr. Kringle being offered a lifetime contract at Macy's. Doris is honored, too. Mr. Gimbel is there, as well; he has embraced the same philosophy of sending customers to Macy's if his store doesn't have an item. Doris discovers that Susan is also there and is upset that Fred brought her to the store after being told to stay away. Police then arrive to take Mr. Kringle to Bellevue because of Mr. Sawyer's recommendation, as Mr. Kringle thinks he's Santa. Doris asks Mr. Kringle to simply say that he isn't Santa; he doesn't need to pretend for Susan. But he says that he is not pretending. The police escort him off. Susan confronts her mother, saying that Mr. Kringle is Santa. Doris tries to tell her that's nonsense as Susan runs off.
Act Two
The following Thursday morning in the Chambers of Judge Martin Group. Fred is there and wishes to speak to the Judge about Mr. Kringle, but his secretary refuses. As she exits, Fred tries on the judge's robe but gets himself stuck in it as the Judge and Doris come in arguing. He quickly ducks behind the door. Doris says that she believes that Mr. Kringle deserves a fair trial... and she also believes that he really is Santa Claus. The judge informs her that Mr. Kringle has failed the mental test at Bellevue. If he has, she insists that it's because he did it on purpose. She continues to fight for Mr. Kringle and even claims that she has a lawyer – Fred will represent him. She leaves. Fred gets the robe off just before the judge needs it and goes into court. Having heard the entire conversation between Doris and the judge, he is now quite prepared to have Doris call upon him... tonight.
In the meantime, Mr. Kringle has all but given up at Bellevue. He even passes up a temporary release, just because he doesn't seem to care. Susan shows up and tells Mr. Kringle that he can't stop believing in himself. She shows him a picture that Fred gave her of his farmhouse with a swing and cow. She tells Mr. Kringle that if he really is Santa, he'll get her what she wants for Christmas: the swing and a cow. He promises to try, and she insists that if he really is Santa, nothing is impossible ("Pinecones – Reprise").
Later that night, Fred plays poker with four of his Marine buddies. He tells the guys that they must go because a dame is arriving. They tease him, and Fred bets them that he knows just when she'll be over ("She Hadda Go Back"). The door buzzes as Fred takes a bow, expecting to win the bet when Doris walks through the door. Instead, it is a Girl Scout selling cookies. Fred has lost the bet and pays the men as they leave. Doris then buzzes and enters. She apologizes to Fred for what she said the last time that she was over and asks him to defend Mr. Kringle. He beats her to the punch and says that he was behind the door at the Judge's chambers and heard her entire conversation. She's a bit upset that he made her grovel like this. The two fight, and she finally leaves.
It's now 8:30 the following morning in a corridor of the New York State Supreme Court building. The District Attorney thinks that this will only take a few minutes. Mr. Macy is there with Mr. Shellhammer, who is spouting another dumb idea for an ad campaign. Mr. Kringle and Fred are now planning their strategy, especially since this is Fred's first case anywhere. The Judge enters as Mr. Kringle takes the stand. Mr. Kringle claims to be Santa Claus, and Fred sets out to prove that to be the case. Fred calls Mr. Macy to the stand, who says that he believes that Mr. Kringle is truthful and is of sound mind. The D.A. questions Mr. Macy and asks him if he believes Mr. Kringle to be Santa Claus. Mr. Macy gulps and gets a signal from Doris, which reminds him that you can claim anything if you sing it, so he does ("That Man over There"). The D.A. is upset and tries to discredit Fred. The judge orders a break. Macy, Doris, Mr. Shellhammer and one of the political bosses attempt to win the judge to their side by making him see how unfavorable it would look in the next election for him to say there is no Santa Claus ("My State, My Kansas").
The next scene takes place in the Courthouse corridor. It is Tuesday, December 24th. There is a special mail delivery from Susan to Mr. Kringle at the courthouse. The mailman comments that he's got tons of mail for Mr. Kringle that he'd love to unload. Fred gets an idea and goes off to make a phone call. Mr. Kringle tells Doris that she can pick up Susan's gift at Macy's in the living room display. Mr. Kringle tries to do a bit of matchmaking between Doris and Fred, but Doris claims not to be interested ("Nothing in Common"). She realizes that she loves Fred and embraces Mr. Kringle.
Back in the courtroom, the judge decides that, rather than dismissing the case, he'll hear evidence from both sides. Fred calls the district attorney's son to the stand. The boy recognizes Mr. Kringle to be Santa and when asked who told him so, responds that his father did. There is roar of laughter in the courtroom. The D.A. demands that Fred only give authoritative proof that Mr. Kringle is Santa. Fred offers Susan's letter, addressed to Santa and delivered to Mr. Kringle, as positive proof that a competent Federal Authority at the post office believes Kringle to be Santa Claus. One letter isn't enough, so Fred has the Post Office – with his friends, the U.S. Marines – deliver bags and bags of letters. The case is won! Doris decides to take a chance on love ("That Man over There – Reprise").
Later, Doris enters the living room display at Macy's. She is there to find the farmhouse that Mr. Kringle promised. She sees Fred. They embrace and kiss. They are in a Macy's window display, with pedestrians watching them. One pedestrian happens to be Mr. Kringle, who gives the audience a wink as he goes on his merry way.
Show History
Inspiration

Meredith Wilson, famous for penning The Music Man and The Unsinkable Molly Brown, adapted Miracle on 34th Street The Musical from the classic holiday film of the same name, which opened at the Roxy Theatre in New York City on June 4, 1947. The film starred Edmund Gwenn and Maureen O'Hara.
Productions
Miracle on 34th Street The Musical opened on Broadway at the Shubert Theatre on Thursday, October 3, 1963, after two previews. It played for 338 performances and closed on July 25, 1964. At that time, the show was titled Here's Love.
The Broadway production was directed by Stuart Ostrow and choreographed by Michael Kidd. The cast included Laurence Naismith, Janis Paige, Craig Stevens, Lisa Kirk, Fred Gwynne, Kathy Cody, Michael Bennett and Baayork Lee.
Cultural Influence
An original cast recording of Here's Love was released in 1963.
Miracle on 34th Street is one of the most beloved holiday movies of the twentieth century. A remake was made in 1994 that starred  Richard Attenborough, Elizabeth Perkins, Dylan McDermott, J. T. Walsh and Mara Wilson. It was adapted by John Hughes from the original script and directed by Les Mayfield.
In addition to the films and the musical, there have been radio and television adaptations of Miracle on 34th Street.
Critical Reaction
"If happiness and cheer for the holiday season is what you're after than Toby's has it ringing through the rafters with their festive production [of Miracle On 34th Street]."
– DC Metro Theater Arts
"Here's Here's Love, right off the assembly line, shrewdly engineered, the model of an efficient musical."
– The New York Times (1963)
Connect
Billing
Book by

Music and Lyrics by
Based on the 20th Century Fox Picture of the same name, with story by Valentine Davies and screenplay by George Seaton
Requirements
You must give the authors/creators billing credits, as specified in the Production Contract, in a conspicuous manner on the first page of credits in all programs and on houseboards, displays and in all other advertising announcements of any kind.
Percentages listed indicate required type size in relation to title size.
MEREDITH WILLSON'S
MIRACLE ON 34TH STREET, THE MUSICAL
Book, Music and Lyrics by MEREDITH WILLSON
Based on the 20th Century Fox Picture 
Story by Valentine Davies Screen        Play by George Seaton
The videotaping or other video or audio recording of this production is strictly prohibited
Included Materials
| Item | Quantity Included |
| --- | --- |
| LIBRETTO/VOCAL BOOK | 24 |
| PIANO CONDUCTOR'S SCORE ACT 1 | 2 |
| PIANO CONDUCTOR'S SCORE ACT 2 | 2 |
Production Resources
Resource
HOW DOES THE SHOW GO ON-10/CS
HOW DOES THE SHOW GO ON?
LOGO PACK
LOGO PACK DIGITAL
PRODUCTIONPRO-DIGITAL SCRIPT/SCORE
REFERENCE RECORDING
STAGE WRITE APPLICATION
STREAMING & REMOTE LICENSE
STANDARD ORCHESTRATION
| Instrumentation | Doubling |
| --- | --- |
| BASS | |
| CELESTE | |
| CELLO | |
| GUITAR | ACOUSTIC BASS , ACOUSTIC GUITAR , BANJO |
| HORN | |
| PERCUSSION | BELLS , BIRD WHISTLE , CHIMES , COWBELL , FINGER CYMBAL , MARACAS , ORIENTAL GONG , POLICE WHISTLE , RACHET , SLEIGH BELLS , TAMBOURINE , TEMPLE BLOCKS , TOY DRUM , TRIANGLE , TYMPANI , VIBRAPHONE , WIND WHISTLE , XYLOPHONE |
| REED 1 | ALTO FLUTE , ALTO SAXOPHONE , CLARINET , FLUTE , PICCOLO |
| REED 2 | ALTO SAXOPHONE , CLARINET , Eb CLARINET , FLUTE , PICCOLO |
| REED 3 | CLARINET , ENGLISH HORN , OBOE , TENOR SAXOPHONE |
| REED 4 | CLARINET , FLUTE , PICCOLO , TENOR SAXOPHONE |
| REED 5 | ALTO SAXOPHONE , BARITONE SAXOPHONE , BASS CLARINET , CLARINET |
| TROMBONE | |
| TROMBONE 2 | |
| TROMBONE 3 | |
| TRUMPET | |
| TRUMPET 3 | |
| VIOLA | |
| VIOLIN | |